Charlottesville
Charlottesville
, in central
Virginia
, is a lovely university town of about 40,000 with lots to offer.
Understand
Charlottesville is a town steeped in history and culture. Of the eight U.S. presidents who came from Virginia, two — Thomas Jefferson and James Monroe — were from Charlottesville, and two more came from neighboring counties. Central Virginia was a major battlefield during the Civil and Revolutionary Wars. Jefferson, whom locals affectionately call "Mr. Jefferson," or "TJ," continues to cast a long shadow, particularly over local architecture. Many of Charlottesville's public buildings are made of brick and built in a Jeffersonian style, and many private homes are colonial. His home at Monticello and the Jefferson-designed University of Virginia have set the tone for the communities' beautiful buildings. When visiting Charlottesville, be sure to stop by the Albemarle Charlottesville Historical Society to learn more about the area's rich history.
The culture of Charlottesville revolves around two points: the University of Virginia and the Historic Downtown Mall. Charlottesville is a major cultural center for central Virginia, and features more fine dining, shopping, and entertainment than one might expect for a town of its size. Ensconced in beautiful Albemarle County, Charlottesville is also surrounded by vineyards and horse country - the best of all worlds.

Get in
By plane
Charlottesville Albemarle AirportThe closest airport to Charlottesville. it is a cute, small airport with connections to major hubs of Atlanta Airport, Charlotte, Chicago O'Hare, Dulles, LaGuardia, and Philadelphia. This airport is 8 miles from downtown, and there is no public transport, so a rental car, taxi, or hotel courtesy shuttle are the main alternatives. Rental cars are available at CHO through Avis, Hertz, or National, and the drive to Charlottesville is straightforward.
By train
Charlottesville station

address: 810 W Main St

Charlottesville is served by Amtrak via its Cardinal, Crescent, and Northeast Regional routes. Two or three northbound and two or three southbound trains stop in Charlottesville each day (the number depends on the day). Plan to call for taxi service or take the CAT bus or trolley if you are not walking.
By car
The major highways leading into Charlottesville are US-29 and I-64. I-64 is a four-lane interstate leading to Charlottesville from east and west. There is rarely traffic on I-64 near Charlottesville, and the only major hill is crossing Afton Mountain, about 30 minutes west of town. US-29 is an extremely variable road. To the south, it is a four-lane road with frequent curves and at-grade crossings, but few traffic lights. To the north, the road alternates between being a four-lane commercial center with frequent traffic lights and buisnesses and being more similar to US-29 south of town. Traffic on US-29 north of town can be slow or dense at rush hour and around special events in Charlottesville, but speeds below 25mph are rare.
Travel times from nearby cities are:
By bus
Greyhound
. The bus station is on West Main Street, about two blocks east of the Amtrak station. If you are traveling to or from Washington, DC, the train is generally faster, cleaner, and more comfortable than the bus.
Get around
University of Virginia
Getting around the University of Virginia, often called UVA (with each letter pronounced), is easy using the free
University Transit System (UTS)
buses. The Central Grounds area is very walkable, but some areas of campus (called "Grounds" by students) can be over a mile away. From the University to the downtown mall is a walk of 20-30 minutes and there is a free trolley bus that runs in a loop from the University to the Downtown Mall approximately every 20 minutes. It is not easy to find parking around the University area, including the Corner and between 14th Street and Rugby Road. There is a parking garage at the University Bookstore, on Emmet Street, that only fills up during certain University events (e.g., Days on the Lawn).
City of Charlottesville
The city is reasonably well connected by city buses, the
Charlottesville Area Transit (CAT)
. Parking in nearly all areas of the city is free and easy to find. Parking at the Downtown Mall will often require paying a modest rate at a lot or parking garage.
There is a free trolley that operates along East Main Street/Water Street between downtown and the University of Virginia. Stops include the Virginia Discovery Museum, the downtown mall, the Greyhound bus stop, Amtrak station, and the Rotunda and chapel of the University of Virginia.
Surrounding Area
Transportation outside of the city is best accomplished by car, although taxi and certain buses may be available for some locations. Main roads are well signed and in good repair, but can be hilly and curvy. If traveling to an unusual location or taking a shortcut through smaller country roads, be prepared for unpaved roads, limited signs, and frequent curves.
Taxis
With the possible exceptions of the airport and the Downtown Mall, you must call for taxi service in Charlottesville. There are several taxi companies in the city.
A & W Taxi Service, William Walker: +1 434 882-1822
ABA Taxi: +1 434 981-6800
A&A Taxi: +1 434 842-4851
A&W Taxi: +1 434 882-1822
Accent Taxi: +1 434 981-1913
Access: +1 434 974-5522
Ariana Transport : +1 434 987-6910
Arrow Taxi, James Collier, Jr.: +1 434 760-2035
Doni Taxi: +1 434 227-2321
Herring Shuttle: +1 434 953-6025
Midnight Special: +1 434 760-0916
Monticello Cab: +1 434 760-0055
New York City: +1 434 825-1669
Peter's Shuttle: +1 434) 760-5740
Ride Rite Airport Service: +1 434 327-3815
Shuttle & Safari Taxi: +1 434 227-6825
Skyline Cab: +1 434 981-0473
Tommy's Taxi: +1 434 242-8959
Star Taxi: +1 434 227-2324
Wahoo Taxi: +1 434 981-0585
Yellow Cab: +1 434 295-4131
See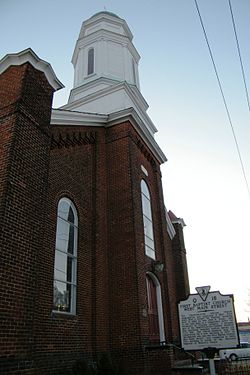 phone: +1 434 924-0311

AKA "Mr. Jefferson's University", and together with his residence a UNESCO World Heritage site. Quite possibly the most beautiful college campus on this side of the Atlantic. Walk around the university and visit the Lawn and the Rotunda. Thomas Jefferson considered the founding of the university to be the crowning achievement of his life, to the point that he requested that this be mentioned on his gravestone instead of his presidency.

phone: +1 434 984-9800

address: 931 Thomas Jefferson Parkway

The residence of Thomas Jefferson. The grounds include the house itself, the gardens, slave quarters, and Thomas Jefferson's grave. Open daily.

phone: +1 434 293-8000

address: 2050 James Monroe Parkway

The residence of James Monroe. Open daily.

Michie TavernAn inn dating to 1784, now a museum and restaurant. The fried chicken and peach cobbler here are life-changing experiences. Open daily.

address: East Main Street

Several blocks in downtown Charlottesville have been closed off to traffic, creating a pedestrian-friendly area full of shops and restaurants. The old brick buildings, eclectic stores, and people make this a great place to walk around. Just north of the Downtown Mall on Park Street is the town hall and some of the oldest buildings in town.

phone: +1 434 977-1025

On the Downtown Mall, has a variety of child- and family-oriented exhibits. Closed Monday, open until 5PM other days.

Dazzling fall colorsFor the best sights in the Fall, drive into the hills south of town, or out US-250 West toward Afton Mountain. Skyline Drive and the Blue Ridge Parkway, west of town off US-250 or I-64, offer some of the best views.

The View from Carter MountainLocated on the same ridge as Monticello, Carter Mountain is home to the popular Carter Mountain Orchard and offers views of the Virginia Piedmont, Charlottesville, and the Blue Ridge Mountains. Accessible either by trails or by car (groomed gravel road open April to December).

Horse and Wine CountryDrive west of town to see farms, fences, and vineyards to make you feel as if you've stepped back into the 18th century. Garth Road is a particularly nice drive.

phone: +1 434 924-8821

UVA sports teams, competing in 12 men's and 13 women's sports in the Atlantic Coast Conference, are a big deal in the Charlottesville area. As with most big schools, football and men's basketball are the biggest draws, with several other sports, notably baseball, men's lacrosse, and men's soccer, also being national powerhouses. Most venues are on Grounds, with the best-known being Scott Stadium (football) and John Paul Jones Arena (aka the "JPJ"; basketball).
See Monticello, Ash Lawn-Highland, and Michie Tavern for $36 total with a President's Pass combination ticket.

address: 522 2nd St SE

A walk-through, sculptural, mural-festooned space that's free and open for the public to wander, night and day.
Do
Wine Tours
The countryside around Charlottesville is filled with dozens of wineries. All are members of the
Monticello Wine Trail
. There are several companies that provide guided tours. If you're driving yourself, be sure to have a designated driver, as DUI enforcement is strict. If traveling in a large group, call ahead as some wineries have limits on maximum group size.
Dance
Social, Ballroom, Swing, Salsa
Festivals
Buy
The Downtown Mall, Main Street between McIntire Rd. and Avon St., is Charlottesville's best and most eclectic shopping district. The street is open to pedestrians only, is paved entirely with brick, and features fountains, public art, flowering trees, and many benches. Both sides of the street are lined with local boutiques, outdoor cafes and other fine restaurants, three theaters, an ice rink, and the Virginia Discovery Museum.

Barracks Road Shopping CenterBarracks Road and Emmett Street. This outdoor shopping center contains higher end stores, as well as mid-level clothing outlets and a variety of inexpensive restaurants. Conveniently located near the University North Grounds.

Seminole Square Shopping Center, Over fifty fine shops located on Route 29 just north of Hydraulic Road in Charlottesville. ATA Leadership Martial Arts,Ace Shoe Repair, Andrew Minton Jewelers, Asian Fusion Buffet,Big Lots, Bike Factory of Charlottesville,Boathouse Restaurant,Bounce-n-Play, Boy Scout Shop, Burger King, C'ville Oriental, Ci Ci's Pizza, CosmoProf, Crystal Cleaners, Dover Saddlery, Downtown Athletic, ERA Bill May Realty Co., Ebony Images, Edible Arrangements, Enterprise Rent-A-Car, F-Stop Photo, Family Christian Store, Fashion Bug, FastFrame, GNC (General Nutrition Center), Giant Food, Hair World, It's A Stitch, Kim's Hair Salon, Maharaja Restaurant, Marco & Luca, Marshalls, Mykonos Café, Nail Expo, Office Depot, Performance Bicycle Shop, Pete's Pet Forum, Plan9 Music, Premier Rental Purchase, Professional Optical, Royal Indian Restaurant, Seminole Carpet & Floors, Seminole Total Health, Snap Fitness 24/7, The Crystal Connection, The Party Starts Here, Tobacconist & Gifts, Total Soccer, Virginia School of Massage.
Pantops Shopping Center , Convenient to Eastern Albemarle and Interstate 64, Pantops Shopping Center is located just east of the Free Bridge in Charlottesville, ABC Store, Aaron's, Advance America, Cash Advance, Advance Auto, Alpha Medical Aids, Animal Medical Center of Charlottesville, Beauty Nail & Spa, Cellular Express, Chic Hair, Dollar Tree, Enterprise Rent-A-Car, Food Lion, H & R Block, Insurance Dr. of Charlottesville, Jiffy Lube, Lazy Parrot Grill, Lloyd's Hallmark, Mid-Atlantic Fasteners, Mountain Kim Martial Arts Academy, Pack 'N' Mail, Pantops Pet Salon & Spa, Purrin' at Pantops, RadioShack, Rivanna Gear & Apparel, Roses, Rudy's Cleaners, Shanghai Chinese Restaurant, Subway, The Party Starts Here, Tuesday Morning.

Fashion Square MallOn 29 North. The main indoor mall, with the usual variety of chain clothing stores, bookstores, department stores, and restaurants.
Eat
There are a ton of great restaurants in Charlottesville, offering a variety of cuisines at reasonable prices. Main hubs of restaurants include 'The Corner,' an area of student-friendly shops in a traditional student area right next to the University, and around the downtown mall. From spring through fall, the outside seating on the pedestrian-only outdoor mall is highly recommended.

Downtown Mall
Belmont
The Corner
Shopping centers
Elsewhere
Drink
Like the eating options, the main hubs are either at 'The Corner', which has a predominantly student crowd, or downtown. Many options at both.
phone: +1 434 984-2337

address: 156 Carlton Rd #203

Close to downtown and Belmont, has hundreds of craft beer bottles for sale, 14 rotating draughts, growlers to go, a full restaurant and lively atmosphere with patio seating. Frequent beer tastings and a focus on all natural, organic, local foods.

phone: +1 434 977-3697

address: 1427 University Avenue

On the corner, Has one of the best and widest selection of beers in town, and specializes in Belgian and European beers.

phone: +1 434 293-6550

address: 106 South Street

Downtown, a good micro-brewery and restaurant

phone: +1 434-972-9366

address: 1321 West Main Street

On the Corner, has lots of beers on tap and drink specials when it rains.
For wine, both the C&O Restaurant (downtown) and Zocalo (downtown) have excellent selections. Fellini's #9 (downtown) also has many Italian wines. Mas Tapas Bar (Belmont) has a good selection of Spanish wines.
For beer and wine to go, visit Market Street Wine Shop just off the Downtown Mall and they have an uptown location in Shoppers World near Whole Foods Market.

phone: +1 434 293-9947

address: 414 East Main Street

To experience a world of teas in Charlottesville, head over to the Twisted Branch Tea Bazaar on the Downtown Mall. Also available is a fine selection of wines, beers and sake. The evenings frequently bring music and cultural activities.
Nightclub: R2, a dance club located inside Rapture restaurant; Club 216, a gay and lesbian dance club (that also welcomes straight people) downtown

address: 633 West Main St

Southern comfort food done right.

Virginian

address: Corner

Oldest bar at the UVA Corner. A classic, weeknights and weekends, for UVA students aged 18-24.

address: 2104 Angus Road

Best food around and coldest, cheapest beer in town.
Sleep
Full range of options. Hotels fill up early for UVa football and basketball games and for graduation.
Go next
Blue Ridge Parkway and Shenandoah National Park - Beautiful drives along the Appalachians, with many hiking trails, some of which connect to the Appalachian Trail.
Montpelier, the home of James Madison, is half an hour north on Route 20.
Hike at the Ivy Creek or Ragged Mountain Natural Areas
Tube the James River in Scottsville
Golf at the many public and semi-private golf courses
Explore Nearby Towns and Cities Washington DC, Richmond, Lynchburg, Roanoke etc, are within 3 hours drive from Charlottesville