Chattanooga
Chattanooga
is the 4th largest city in
Tennessee
. It is the seat of
Hamilton County
. It is in Southeast Tennessee on the Tennessee River and near the border of
Georgia
. It is famous for being immortalized in the popular 1941 song Chattanooga Choo Choo, made famous by Glenn Miller.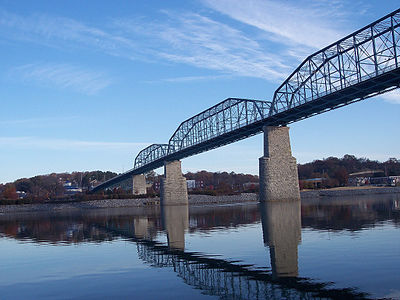 Understand
Chattanooga played an important role during the American Civil War, when it was a major railroad hub and one of the most industrialized parts of the Confederacy along with the nearby city of Atlanta, resulting in Chattanooga and being at the center of numerous pitched battles. Many of the tourist attractions center around Civil War history such as numerous battlefield parks in and around the city. It is less prominent today because of the decline of its famed railroad, immortalized in the popular song Chattanooga Choo Choo, which is also commemorated in numerous tourist attractions and the popular Chattanooga Choo Choo hotel. As of the census of 2000, there are 155,554 people, 65,499 households, and 39,626 families residing in the city. There are 72,108 housing units at an average density of 205.9/km² (533.3/mi²). The racial makeup of the city is 59.71% White, 36.06% African American, 0.29% Native American, 1.54% Asian. 2.11% of the population are Hispanic or Latino of any race.
Despite its economic loss and a small population, the city has become notably modernized, urbanized, and economically revitalized, receiving nationally recognition for the renaissance of its once-dilapidated, post-Industrial downtown and redevelopment of its riverfront. Within the last ten years the city has won three national awards for outstanding "livability", and nine Gunther Blue Ribbon Awards for excellence in housing and consolidated planning. An early cornerstone of this project was the restoration of the historic Walnut Street Bridge, which is now the world's longest pedestrian bridge. Chattanooga is the corporate headquarters and home of Blue Cross & Blue Shield of Tennessee, Rock Creek Outfitters, Krystal, Chattem, Unum, The Chattanooga Bakery (home of the Moon Pie), and Miller Industries, and the largest tow truck manufacturer in the world (Chattanooga is the birthplace of the tow truck, so you'll also find tourist attractions such as the tow truck museum to commemorate this). Chattanooga is also home to the Tennessee Valley Authority, a self-funding government agency which operates numerous power plants in the South. Following the city's industrial decline, many businesses in the banking and insurance industries also set up operations in Chattanooga; the city is home to large branch offices of Cigna, AT&T and UBS.

Get in
By car
I-75 (
North-South
) and I-24 (
East-West
) intersect in Chattanooga.
By plane
By bus
By boat
Chattanooga is accessible by way of the Tennessee River by personal water craft.
Get around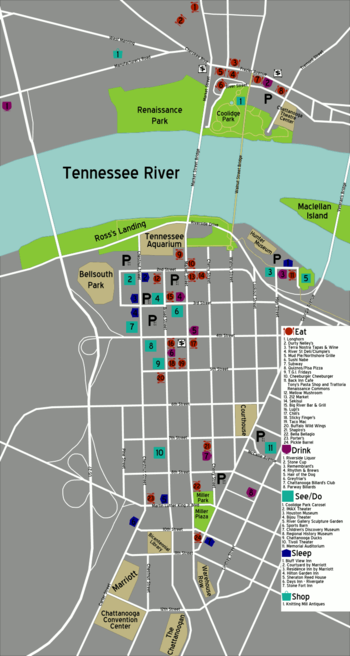 By car
When a speed limit is not posted, assume that it is , especially when downtown or in a residential area.
Rental Car Companies:
National Car Rental, Chattanooga Metropolitan Airport, +1 423 855-2229.
Dollar Rent A Car, +1 423 855-2232.
Avis Rent A Car, Chattanooga Metropolitan Airport, +1 423 855-2232.
Enterprise Rent A Car, Chattanooga Metropolitan Airport, +1 423 296-9902.
Donna's Rent A Car, 1419 South Moore Road, +1 423 899-5621.
Thrifty Car Rental, Chattanooga Metropolitan Airport, +1 423 892-8983.
Access Car Rental, 2114 Chapman Rd, +1 423 894-3833.
Access Car Rental, 3150 Broad Street, +1 423 634-7771.
Hertz Rent a Car, Chattanooga Metropolitan Airport, +1 423 855-8131.
By bus
The
Chattanooga Area Regional Transportation Authority
, better known as CARTA, provides one of the easiest way to move around downtown Chattanooga via a free electric shuttle that operates between the Holiday Inn Choo-Choo and Tennessee Aquarium, along with new service to Chattanooga's North Shore shops and Coolidge Park.
There are also buses servicing the remainder of the city for a fare. As of January 2012, the fares are:
Adult - $1.50
Seniors - $.75
Persons with Disability - $.75
Students - $.75
Children 5 and under are free with a paying passenger
Special reduced fares require a photo ID issued at the CARTA bus depot.
CARTA schedules are available at many of the local banks, shopping malls, social service agencies, hospitals, colleges, universities, the downtown post office, libraries and through CARTA.
By Bike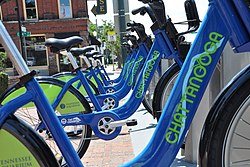 There are bike sharing services in Chattanooga.
See
Attractions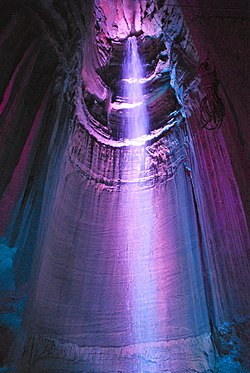 phone: +1-800-854-0675

address: 1400 Patton Road

Located on Lookout Mountain, Rock City has been an attraction in some form or another since 1823. However, when Garnet Carter, inventor of Miniature Golf, and his wife opened Rock City Gardens in 1932 it became a huge draw. Carter hired Clark Byers to travel the nation's highways, offering to paint farmer's barns in exchange for letting them paint "See Rock City" on them. Rock City Gardens features a 4100 ft walking trail, a 90 foot waterfall, a 180-foot long suspension bridge, and Lover's Leap where you can "see seven states." Open year round, except Christmas Day, at 8:30AM. From the middle of November until the end of the year, they have the "Enchanted Garden of Lights" from 6PM-9PM which features local school/church groups performing and the entire gardens decorated in holiday lights. Adult admission is $18.95, Children ages 3 – 12 are $10.95, 2 and under are free. Combination tickets in form of Double play (Save $4) - Ruby falls + rock city for $33.90 ($18.90 for children, ages 3–12), or Triple play (Save $5) covering Rock City, Ruby Falls, and the Incline are available at any of the three attractions for $45.90 ($23.90 for Children, ages 3–12).

phone: +1 423 821-2544

address: 1720 South Scenic Highway

This thundering 145-foot waterfall inside Lookout Mountain has been a popular attraction since 1929. Named after the founder's wife, Ruby Falls was found by Leo Lambert in 1923 as he and his corporation were drilling a shaft to open the historic Lookout Mountain Cave to the public. During the drilling, a small opening was located and after a 17-hour trip, Leo emerged with tales of beautiful rock formations and a spectacular waterfall. Parking is on-site, attended and free. Allow approximately two hours for your visit. Those with claustrophobia may be a little unnerved by the elevator ride into the caverns. No strollers are permitted, and the cave tour is not wheelchair accessible. Ruby Falls is weatherproof and 60 degrees year round. Combination tickets covering Rock City, Ruby Falls, and the Incline are available at any of the three attractions.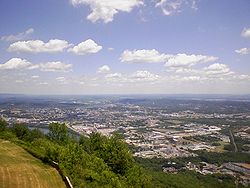 phone: +1 423 821-4224

address: 3917 St Elmo

In November of 1895, the Incline in its second incarnation made its first ascent up Lookout Mountain on what is the steepest passenger incline in the world. Renovation in that was completed in 1986 has brought the station back to its original splendor. Traveling at a 72.7% grade, the trolley-styled cars pass at the midpoint of the 10 minute one-way trip. After arriving at the upper station, a short walk will take you to Chickamauga & Chattanooga National Military Park where a spectacular view of Mocassin Bend and the Tennessee River await you.

Chattanooga Choo Choo Historic Hotel

phone: +1 423 266-5000

address: 1400 Market Street

Erected in 1908 with an 85-foot cast-iron dome rising majestically over the lobby, the Terminal Station served thousands of passengers until 1970, when the trains stopped running. In 1973, after a 4 million dollar renovation, it was reopened to the public as a hotel. Authentic private rail cars were furnished as unique sleeping quarters. The dome is decorated with magnificent colors and it is stunning when lit up at night, and the Choo Choo Holiday Inn is preparing to enter its second century as a premier hotel and convention center. The private rail car rooms are still available, and there are a variety of shops and dining options on the 35-acre complex. While there, see the world's largest model railroad setup showing a scale version of the Chattanooga Valley, an authentic 1880s steam engine (the only one of its type in the area), and the beautifully restored Terminal Station.

Chattanooga Zoo at Warner Park

phone: +1 423 697-1322

address: 1101 McCallie Avenue

Also referred to as the "Warner Park Zoo", it is on 6 acres in the middle of Warner Park. March – October the park is open 9AM–5PM, everyday, November – February 10AM–5PM, everyday, and closed New Years Day, Christmas Day, Martin Luther King Day, and Thanksgiving Day.
Museums
address: 10 Bluff View

Perched on an 80-foot bluff on the edge of the Tennessee River, the Hunter Museum of American Art offers stunning views of the river and the surrounding mountains. This panorama is equaled only by the exceptional collection of American art inside recognized as one of the country's finest.

phone: +1 423 756-2738

Corner of Chestnut and 4th. Search for Lost Dinosaur Bones! Build Slot Cars! Create Your Own Music! Walk Through A Picture! Captain a ship in RiverPlay! Creative Discovery Museum isn't just for children, although it was designed for them in mind. There are lots of interactive exhibits here, enough to keep even the most hyperactive of kids entertained. Revolving exhibits, such as "Clifford, the Big Red Dog" and "Curious George" keep the Museum fresh for multiple visits. Creative Discovery Museum was voted as one of the top 20 children's museums in the nation by Child magazine. Plan on spending approximately 2 hours in the Museum. 2008 admission is $8.95 for adults and children ages 2 and up. Family memberships are available. Value-pack tickets for the Aquarium, IMAX and Creative Discovery Museum are also available. Visit the website for current hours.

Tennessee Valley Railroad Museum

phone: +1 423 894-8028

address: 4119 Cromwell Rd

Ride the 50 minute Missionary Ridge Local for a guided tour of their restoration shop or grab the 4 hour roundtrip ride into Chickamauga, Georgia. Special tours like the Autumn Leaf special or the Steam All the Way available seasonally.

Houston Museum of Decorative Arts

address: 201 High Street

Located in a century-old Victorian house in the Bluff View Art District. It is home to antique glass and ceramics, as well as antique furniture, music boxes, coverlets and other rare pieces from the collection of the late Anna Safley Houston. It boasts the world's largest collection of pitchers.
Area parks and greenspaces
Coolidge Park. This park features a beautifully restored carousel, a pavilion, an interactive play fountain, and lots of open space where the Navy and Marine Reserve Center once stood. A short walk across the Walnut Street Bridge allows visitors to enjoy Chattanooga's most popular park. It is part of the Tennessee Riverpark, a 22 mile long public park along the Tennessee River. Coolidge park is also a Wi-Fi Hotspot thanks to the City of Chattanooga and AirNet Group.
Walnut Street Bridge. The renovation of this 113-year old historic bridge as a linear pedestrian park was completed in May 1993. It is the oldest and largest surviving truss bridge in the South. The Walnut Street Bridge was condemned and slated for demolition when local citizens convinced the City of Chattanooga to commit the funds earmarked for the bridge's demolition to its restoration, providing the balance of the renovation cost could be raised. As the World's longest pedestrian bridge it serves as the link between downtown Chattanooga and the now thriving Northshore District.
Renaissance Park. Another Northshore park. Adjacent to Coolidge Park, this 23 acre urban wetland park is a product of Chattanooga's 21st Century Waterfront project. Plans are underway to create an outdoor center to promote outdoor activities in the Chattanooga area, as well as a nature trail through the park.
Tennessee River Walk. A continuous 10 mile path stretching from Ross's Landing in the heart of downtown Chattanooga to the Tennessee Riverpark and the Chickamauga Dam, stopping various times along the way to open up into picnic areas. Start the trail in any number of places along Amnicola Highway, Riverside Drive, or Downtown. This linear greenway continues to grow and expand through several different projects.
Ross's Landing. A site of great significance for its relevance in Cherokee Indian and Chattanooga history, Ross's Landing has been renovated, adding a large pier, natural amphitheater and a large greenspace. Wrapping underneath Riverfront Parkway is a unique water feature for visitors to cool off in. Several mooring posts are available for boaters to make a stop off at this beautiful space.

Miller Park

address: 910 Market Street

The park, one-acre in the middle of downtown, is very popular with the downtown lunch crowd. It has an outdoor amphitheater, a large fountain and beautiful grassy areas. Homeless people are known to relax in the shade here and a number of mission organizations stop here to offer free lunches to them. Some residents have complained that these free lunches bring more homeless to the park area, but the ones that do frequent the area tend to leave well enough alone. Panhandling or begging is rare.

Heritage park

address: 1428 Jenkins Road

A 22-acre park featuring a walking track, picnic tables with grills, and a bocce ball court.

Reflection Riding Arboretum and Nature Center

phone: +1 423 821-1160

address: 400 Garden Road

Established in 1979, the Reflection Riding Arboretum and Nature Center includes a 1400 foot boardwalk meandering through seasonal wetland and lowland forest. The RRANC sponsors summer camps each year and space is always limited.

phone: +1 423 821-9582

Located at the Chattanooga Nature Center. This 300-acre arboretum, botanical garden and historic site located on Lookout Mountain. The seasons are most evident as your travel through the grounds, with summer's wildflowers and autumn's changing of colors. There are also rental facilities available on the acreage, perfect for parties, weddings or other occasions. Cost of admission is $6 per car, or you can pay per individual for admission to both Reflection Riding and the Chattanooga Nature Center.

Maclellan IslandLocated under Veteran's Bridge in the middle of the Tennessee River. An 18 acre island that was granted by Robert J. Maclellan to the Chattanooga Audubon Society in with to intent for it to be used as a wildlife sanctuary. Tours of the island are available through the Chattanooga Ducks.

River Gallery Sculpture Garden

address: 400 East 2nd Street

Located in the Bluff View Art district, this piece of greenspace on the bluff near the Veteran's Bridge offer a little peace and a lot of beautiful art.
Theaters and auditoriums
address: 400 River Street

It was founded in 1924 as the "Little Theatre", but this community theater has grown up: it has a modern facility and grown up name. Classes, as well as auditions for the more than 15 productions are held year round.

address: 201 Chestnut Street

This six-story high IMAX 3D Theater features two 3D films that change regularly, often themed closely to the latest special attraction at the Aquarium, and feature films. Tickets purchased at the box office may not be for an immediate showing, so advance purchases are best for planning purposes. Single movie tickets are $11.95 for adults, $9.95 for children 3-12 (or higher for feature films). Combination tickets for the Aquarium, IMAX and Creative Discovery Museum are available.

Memorial Auditorium

address: 399 Mccallie Avenue

Home to dozens of events, from graduations to live music, throughout the year.

Tivoli Theater

address: 709 Broad Street

Known as the "Jewel of the South," the Tivoli has entertained Chattanoogans, offering everything from silent movies to Broadway blockbusters, for over 75 years. One nugget of its history: in 1926 the Tivoli became one of the first public buildings in the country to be air-conditioned. The Tivoli was placed on the National Register of Historic Places in 1974 and received a $7-million renovation that was revealed to an excited audience in 1989. The Tivoli is the home of the Chattanooga Symphony and Opera Association. It also offers a venue to other music artists, Broadway shows and dance troupes. The Tivoli has installed a movie projector, calling back to its early days a first-class movie house.
Other sights
phone: +1 423 855-6590

address: 1200 Bailey Avenue

It was designated as a national cemetery "in commemoration of the Battles of Chattanooga, Nov. 23 - 27, 1863" by Maj. Gen. George H. Thomas on Christmas Day of 1863. In addition to Civil War veterans, there are 78 German prisoners of war from the First World War and a number of prisoners of war from Germany and other Axis countries dating from the Second World War, the largest number of German (and other Axis) POWs interred in the United States. The 120-acre cemetery was listed in the National Register of Historic Places in 1996 and it features one of five memorial entrance archways built in national cemeteries. The archway approaches 40 feet in height. A number of other monuments have been erected throughout the cemetery.
Do
Climb the Walnut Street Bridge Climbing Wall

phone: +1 423 266-5709

Inside Coolidge Park, (The Adventure Guild). From April through November, the wall is open F 6PM-9PM, Sa 1PM-9PM, and Su 1PM-5PM. Climb on one of the limestone towers that supports the Walnut Street Bridge. Located within Coolidge Park, the wall is open seasonally to the general public and for groups on a reservation basis. There are as many as 30 distinct climbing routes perfect for novices to experienced climbers. All equipment is provided! The price for open climbing $5 per-hour-per-person with a three climb minimum or $15 for the entire day, with the capability to come and go as you'd like.

Ride the Carousel in Coolidge ParkAll of the various animals represented on the carousel were hand carved in St. Elmo, a historic neighborhood in Chattanooga. The carousel is 50 cents for children 12 or under and Seniors 55 or over. There are no wet clothes allowed on the carousel since it is all hand carved wood.

Play in the fountain at Coolidge ParkIf you've got kids, be sure to bring them either a change of clothes or a swimsuit as the fountain is nearly irresistible. If they are still in diapers, swim diapers are required. Water spouting animals ring the fountain area and are fair game for climbing. Adults have been known to thoroughly enjoy playing in the water as well.

Walk the RiverwalkEnjoy the natural beautiful of Chattanooga's riverfront by taking a walk down its linear greenspace. This project has drawn and inspired civic leaders from around the country. Take a picnic lunch and slip under the shade to watch time pass you by in any one of a number of picnic areas along the way.

Take a ride on the Southern Belle Riverboat

phone: +1 423 266-4488

address: 201 Riverfront Parkway

Pier 2. The Southern Belle is a lovely paddlewheel boat that cruises the Tennessee River near Chattanooga. Lunch, dinner or just sightseeing cruises are available. The "Dixeland Dinner Cruise" features delicious slow-cooked prime rib, shrimp creole and live music. Starting in mid-October, the Fall Leaf Cruises begin allowing you to take a ride up the river and marvel at the changing colors of the trees. The Riverboat is also available for private parties, including the opportunity to be wed on the promenade deck. Sight seeing cruises are $12 for Adults, and $5.25 for Children ages 3 - 12. Lunch Cruises, $17 for Adults and $8 for Children, and the Dinner Cruise is $31 for Adults, $17 for Children. Expect to spend between 1 hour and 2 1/2 hours on the river, depending on your cruise type.

Attend the Annual Riverbend FestivalAn annual nine-day music festival that just celebrated its 30th year that consumes the riverfront part of downtown. 6 stages, including one on a barge, and vendors are set up all over the area. Don't expect big, crazy headliners, though - the organizers of the festival have said time and time again that they bring in acts that A) They can afford and B) Will make the majority of the attendees happy. Some nights can get a little rowdy, as this is the south and beer certainly is popular, but the local Sheriff's Department and Police Department bring out their finest to keep things safe. For fans of the blues, be sure to check out the Bessie Smith Strut, which features great blues artists and the town's finest BBQ.

See a Chattanooga Lookouts baseball game

phone: +1 423 267-4849 (Box Office Telephone), +1 423 267-2208 (Office Telephone)

address: Bellsouth Park, 201 Power Alley

The Chattanooga Lookouts, an AA farm team for the Minnesota Twins, have moved from Historic Engle Stadium into the brand new, $10 million, AT&T Field. The brick walled stadium sits on Hawk Hill and offers the majority of their seating along the first base line.

Catch the Chattanooga MocsThe Mocs represent the University of Tennessee at Chattanooga in NCAA Division I sports, competing in six men's sports and nine women's sports as a member of the Southern Conference. The most popular sports, as at most schools, are football (competing in the second-level Division I FCS) and men's basketball, with women's basketball gaining a higher profile.

Enjoy Lake Winnepesaukah Amusement ParkLakeview Drive, Rossville, Georgia. (Just over the state line). Lake Winnie, as it's referred to amongst the locals, has been putting smiles on faces for over 80 years. With rides for the whole family and concerts featuring famous country artists, Lake Winnie is open Thursday through Sunday from late April through early August. They are also open on weekends in the beginning of April and after the end of the summer season into September. An unlimited ride pass, with admission to Lake Soakya, is $35 ($25 for seniors 60+ and children 1-2). Other packages available. All guests under 21 must accompanied by a parent or adult chaperone - it seems that too many people were just dropping their kids off.

Explore the Raccoon Mountain Caverns

phone: +1 423 821-9403

address: 319 West Hills Drive

Visit Raccoon Mountain's 5½ miles of explored and mapped passageways in the Lookout Valley either on a 45 minute, come-as-you-are walking tour or on a deeper cave expedition. The front portion of the cave, the Crystal Palace, is where you'll take a guided walking tour. Admission for this trip is $11 for adults (13 - 64), $10 for seniors (65+), and $5.50 for children (5 - 12). The "wild cave" tours have a number of different packages, prices and times. They range from 1 hour to 8 hours, even overnight if you'd like and from $25 to $100 per person, with discounts for groups. All equipment, lights, helmets, pads, and gloves, are part your wild cave admission. The caves are open year round except Thanksgiving Day and Christmas Day, rain or shine, because it's underground.

Take a ride with the Chattanooga Ducks

address: 201 West 5th Street

Climb aboard a World War II era amphibious vehicle for a tour of downtown Chattanooga before it glides into the water for a tour of the Tennessee River. Tours run from 10AM to around dusk and last approximately 1 hour.

Walk with Chattanooga Sidewalk Tours

address: 100 Walnut Street

The Bluff and Bridges tour includes the Walnut Street Bridge, Bluff View art district, and Coolidge Park area. It lasts about 90 minutes and covers about a mile and a half. Also available for an additional but identical charge: "Walk downtown with Chattanooga Sidewalk Tours," which gathers at 827 Broad Street in front of the Read House.
Buy
Chattanooga offers many shopping opportunities and generally lower prices than many other cities.
North Shore District
On the north shore of the Tennessee River, just across from downtown Chattanooga, the North Shore represents a great triumph in city growth and development. What was once a street of abandoned buildings and run-down homes has become one of the city's focal points. Mixed-use business and residential developments are underway, bringing even more people to the area. Coolidge Park, one of the city's most popular greenspaces, is the centerpiece of the North Shore District. The renovation of the Walnut Street Bridge as a pedestrian bridge is also heralded as part of the dramatic growth in the area. Frazier Avenue is considered to be the "Main Street" of this area, and many unique businesses are located here, such as ...
Southside District
This area between the Chattanooga Choo-Choo and Finley Stadium is still being renovated but has been popular for redevelopment. Several retail businesses have opened along Market Street near the Choo-Choo, but these listed here a little off the well-beaten tourist path:
St. Elmo District
In contrast to the more metropolitan downtown, the quaint, historic St. Elmo district at the foot of Lookout Mountain offers a walkable residential area with several small boutique shops and restaurants, including
Eat
Budget
Plenty of fast food restaurants litter the town, although not as many in the downtown area.
address: 26B Frazier Avenue

A great little ice cream shop on Frazier Avenue in the heart of the Northshore.

Nikki's Drive Inn

address: 899 Cherokee Blvd

Great hush puppies and short-order food. A Chattanooga institution for more than 20 years.

Bea's Restaurant

address: 4500 Dodds Avenue

A little off the beaten path, Bea's offers real home cooking. Take a seat at a table, any table, occupied or not, and start grabbing what you'd like off the lazy susan in the center of the table.

Zarzour's Restaurant

address: 1627 Rossville Avenue

This fabulous "meat and 3" defines down-home atmosphere. Established in 1918, it's certainly one of Chattanooga's oldest establishments. The menu changes daily, but you can always get the best burger in town. Featured in Gourmet magazine and the book "Road Food".

Lee's Armandos

phone: +1 423 894-1413

address: 4767 highway 58

These are the best burgers you will ever eat.a great place to order in or carry out,a true mom and pop joint.it also has various other locations throughout Chattanooga.
Southern Burger Co. A local food truck that you can find downtown any given day of the week. They are also at the Chattanooga Market on Sunday's. They offer an assortment of gourmet burger combos for under $11. Call at +1 423 413-1533.

Marsha's Backstreet Cafe

address: 5032 Brainerd Road

Local home cookin' - every day a different set of entree's. Everything from turnip greens, to fried okra and meatloaf. When you think of homestyle southern cookin', you'll think of Marsha's.
Mid-range
Downtown
Sushi Nabe of KyotoOpen 7 days. Some of the best Sushi in Chattanooga. Located inside Coolidge Park, this restaurant is extremely convenient and serves fantastic food. Not only is traditional sushi available, but also simpler fare such as Chicken Teriyaki. If you're eating sushi, keep in mind that rolls are 6 pieces and Nigiri are 2. The bill at the end of the meal depends on how much and what you ate! Casual, family dining.

Sluggo's North

address: 501 Cherokee Blvd

Vegan restaurant in the North Shore district. Frequently hosts live music, all ages admitted. Serves beer.

Sticky FingersSome of the best BBQ in Chattanooga! Top rated ribs: Memphis Style Wet, Memphis Style Dry, Tennessee Whiskey, Habanero Hot, Carolina Sweet. Casual, family dining.
phone: +1 423 265-RIBS

address: Jack's Alley at 420 Broad Street

phone: +1 423 899-RIBS

address: Hamilton Place
Big River Grille & Brewing Works

address: 222 Broad Street

Open 7 days. It's in a large, renovated warehouse a 1/2 block from the Tennessee Aquarium, Big River is a part of the Gordon Biersch family and Chrissy's favorite spot along with the sister location in Nashville. The restaurant, separated from the main bar by a beautiful brick wall, features an amazing menu with an average price of $15. Expect it to be very busy on summer weekends. Patio seating available. Casual, family dining.
Hair of the Dog, An English Neighborhood Pub

address: 334 Market Street

With the look and feel of an old English pub, this is quickly becoming a local favorite. A custom hand operated dumb-waiter delivers food and drinks to their second level where there are dart boards, pool tables and a great jukebox. A full bar with an assortment of over 50 beers compliments their small but exceptional "un-ordinary" menu. Be sure to check out their rotating specials.
phone: +1 423 267-8226

address: 423 Market Street

Sports-bar style restaurant showcasing Buffalo wings and a wide range of beers on tap or in a bottle.
Out of The Blue Bakery Cafe. Located in the center at the Riverpark on Amnicola. In addition to delicious sandwiches, pick up a kite for a flight through the park! Casual, family dining.
River Street Deli

address: 151 River Street

A New York deli sitting in Coolidge Park. These fantastic deli sandwiches from an actual New Yorker are perfect fare for a day lounging in the park. Open for lunch M-Sa, but if you can squeeze a reservation, you may be lucky enough to attend one of the famous themed dinners on a Friday night! Casual, family dining.
address: 551 River Street

Established in 1999 near what was to become Coolidge Park, Pisa Pizza has 38 toppings, five pasta dishes and six different hot hoagies in its Chattanooga decorated dining room. Featuring lunch specials from 11AM to 2PM, they are open seven days a week. Casual, family dining.
Lupi's Pizza Pies

address: 406 Broad Street

The Chattanooga Pulse calls Lupi's tomato sauce "the city's best" and their calzones are "football-sized." Casual, family dining.
address: 205 Broad Street

Part of the Atlanta-based chain featuring Spring Water-based dough and excellent ingredients. Next to the Bijou Movie Theater and less than a block from the Aquarium, the 1960s and 70s-themed pizzeria features outdoor seating. Casual, family dining.
River Inn Restaurant

address: 2134 Suck Creek Road

A little catfish house nestled alongside the river. In addition to Catfish, Flounder, Trout, Frog Legs, are available as well as the standard steak and chicken fare. Two large decks, one covered, the other screened and a large inside room with fireplace. Docking facilities available. About 20 minutes from downtown Chattanooga. Casual, family dining.
Porker's Bar-B-Que

address: 1251 Market Street

BBQ near the Choo-Choo. Casual, family dining.
phone: +1 423 698-4643

address: 1600 McCallie Avenue

Breakfast from 6AM-11AM. Classic meat-and-three (vegetables) style restaurant that has been serving Chattanooga for over 70 years.
Sekisui

address: 200 Market Street

Japanese dining just across from the Aquarium, on the same block as 212 Market restaurant, upstairs.
Pickel Barrel

address: 1012 Market Street

Housed in the historic Park Plaza building, a unique triangular building with traditional Victorian architecture. Serves a wide range of pub foods to a wide range of customers. Casual environment with some outdoor seating.
St. Elmo
phone: +1 423 822-MOJO

address: 3815 St. Elmo Avenue

and 138B Market Street (right by the aquarium), +1 423 266-2255. In Historic St. Elmo, Mojo Burrito makes some of the best, fresh, healthy, customizable food you can find. Expect to spend around $7 - $9 for your meal including a big fat burrito. Casual, family dining.

Mr. T's Pizza

phone: +1 423 825-6787

Purple Daisy Picnic Cafe

address: 4001 Saint Elmo Ave

Great, homestyle barbeque. Have the "dirt pie" for dessert!
Brainerd/Hamilton Place Mall
The Chop HouseA Chattanooga favorite for great steaks and chops in a warm, friendly environment. Well-known for their famous, delicious and massive onion rings.

NaGoYa Sushi Bar

address: 4921 Brainerd Road

M-Sa. Small Japanese family restaurant. Nigiri, Maki and home made oriental dishes and fresh sauces. Fourteen tables, five cooks, five wait staff, excellent service.

Acropolis

address: 2213 Hamilton Place

Blvd. Serving a large menu of Greek fare in a family-style restaurant.

address: 2200 Hamilton Place

Blvd. Hibachi style Japanese cooking as well as sushi.

Shogun

address: 1806 Gunbarrel Rd

Hibachi style cooking in the main dining area and a small but accomplished sushi bar to the side. Monday nights feature dollar sushi night with a portion of the menu at specially reduced prices.

Sweet Basil Thai Cuisine

address: 5845 Brainerd Rd

Fantastic thai food tucked away along Brainerd Road, near Hooters and Eastgate Town Center.

Golly Whoppers Sandwich Shoppe

address: 6337 East Brainerd Rd

Golly Whoppers serves fantastic food, sandwiches to soups.

Out of the Blue Bakery Cafe

address: 3230 Brainerd Road

A delightful sandwich shop with a second location in the Riverpark plaza on Amnicola.

Na Go Ya

address: 4921 Brainerd Rd

Located near the corner of Brainerd and Moore Road in an old Taco Bell building, Na Go Ya offers sushi and other Japanese meals at affordable prices.
Hixson/Northgate Mall
Ichiban Japanese Steak House

phone: +1 423 875-0404

address: 5425 Highway 153

Located in the Bi-Lo shopping complex, this restaurant has hibachi style cooking and a light sushi menu.

Amigo's

phone: +1 423 875-8049

address: 5450 Highway 153

Standard Mexican fare featuring fifty cent tacos and one dollar domestic beers on Monday nights.

Cancun Mexican Restaurant

phone: +1 423 875-9785

address: 5307 Highway 153

Standard Mexican fare in a family-friendly environment.
Splurge
The
Bluff View Art District
is host to several restaurants, art museums and galleries, as well as lodging.
phone: +1 423-265-5033

Located in the Bluff View Art District, upscale global cuisine with an extensive wine list is offered. Patio seating is available, offering stunning views of the river. Featured on The Food Network's "$40 A Day"! Average entrée prices are Breakfast: $7; Lunch: $10; Dinner: $22.

Tony's Pasta Shop and Trattoria

phone: +1 423-265-5033

address: 212 High St

Located in the carriage house of Bluff View Inn's Thompson House, with a classic Italian menu featuring fresh, house-made pastas, sauces, and breads. Outdoor deck views of the Tennessee River. Average entrée price is $11. Open for lunch and dinner seven days a week.
Drink
Alcohol
Big River Grille & Brewing Works

address: 222 Broad Street

Located in a large, renovated warehouse, Big River is a part of the Gordon Biersch family. The bar, separated from the restaurant by a beautiful brick wall, features pool tables and generous amounts of seating, both at the bar and at tables. Big River is also a brewery, creating their own award-winning ales and lagers and features seasonal specials as well. Expect it to very be busy on summer weekends.

Bud's Sports Bar

address: 5914 Lee Highway

Bud's is probably the best place in town to grab a beer and watch a game on the television. The lively crowd will keep you entertained even when, man, when the television doesn't.oh and not to mention the best wings in town!

phone: +1 423 267-7740

address: 1/2 Cherry Street

725. Climb the tall flight of stairs to enter the downtown location of CBC is the original and has the classic pool hall environment. Friendly bar staff, plenty of pool tables, and a bunch of smoke. 21 and up after 6PM nightly. Serving a range of bar foods. Their second location is near Hamilton Place Mall at 110 Jordan Dr, +1 423 499-3883. Go there for more billiards, live music, and a cigar lover's heaven.

Riverside Wine and Spirits600 Manufacturer's Road. An excellent liquor store only a few blocks from the Northshore heart of Frazier Avenue. Wines and spirits from around the world. From Old Crow Whiskey to the best of wines. Beer, including kegs also available.

address: 221 Market Street

Located on the back side of Big River, Rhythm and Brews offers live music every night around 9PM. All shows are 21 and up, unless otherwise noted.
Coffee and tea
Chesnut Roast Coffee CafeOffers a variety of options, from coffees to sandwiches.

GreyFriar's Coffee and Tea

Rembrandt's Coffee House

address: 204 East High Street

In the Bluff View Art District. It is the ultimate Chattanooga spot for coffee and mouth-watering desserts and candies. You'll find fine coffees, handmade chocolates and fresh-baked pastries and sandwiches.

Stone Cup Roasting CompanyIn the Northshore District, the Stone Cup serves coffee that is freshly roasted on site once a week. They serve more than coffee, though, with a menu covering all your day's meals. Be sure to try one of their 5 unique Stone Cup Signature Blends!
Sleep
Budget
phone: +1 423 648-8393

address: 29 Johnson St

Chattanooga's only hostel, located on the Southside. Free parking, free wifi, free breakfast. Restrooms located in the hallways on each floor. Security lockers provided in the dorms. 24 hour access.

Days Inn - Rivergate/Convention Center

address: 901 Carter St

Centrally located between the tourist attractions such as the Aquarium and the Convention Center, just off of US 27. Rates start at $60 per night.

La Quinta Inn

address: 7015 Shallowford Rd

Located near Hamilton Place Mall just off of Interstate 75, 8 miles from downtown. Rates start at $55 per night.

address: 6650 Ringgold Road

Travelodge Chattanooga/Hamilton Place

phone: +1 423 855-2090

address: 2361 Shallowford Village Dr

Wingate by Wyndham Chattanooga

phone: +1 423 893-7400

address: 7312 Shallowford Rd
Mid-range
address: 1400 Market Street

Part of the Holiday Inn family. Standard rooms from $99 - $149. The hotel is an end-point for the free electric shuttle that services downtown.

Courtyard by Marriott - I-75

address: 2210 Bams Drive

Located just outside Hamilton Place Mall off of Interstate 75. Free high-speed Internet access available. Rates start at $94 per night.

address: 407 Chestnut Street

Suites and Rooms available, rates vary so check site for details. Newly remodeled with a nice contemporary style. Saltwater Pool is an unexpected plus as well.

address: 1920 Hamill Rd

This is in the northeast or Hixon area. Rates around $100 per night. Free High-Speed Internet access in the rooms. Free hot breakfast - actual hot food, not just a waffle maker and a toaster. Has a pool and an exercise room.

phone: +1 423 308-9000

address: 311 Chestnut St

Great location, close to attractions and restaurants as well as on the free electric shuttle route. Rates around $140 per night.

address: 7030 Amin Drive

This extended stay hotel offers guests fully equipped kitchens, free continental breakfast and an exercise room.

address: 215 Chestnut St

An all suite hotel located one block from the Tennessee Aquarium and an easy walk from many restaurants. Rates around $145 per night.
Splurge
Stay safe
The Chattanooga Police Department operates a police precinct located on Walnut Street in Downtown Chattanooga. (Closed)
The Chattanooga Police Department's Traffic Division uses patrol cars without emergency lights on their roof. Instead they have numerous blue lights mounted in the front grill and rear window. In September 2006 the police department announced increased speed limit enforcement due to numerous recent speed-related fatal accidents.
The City of Red Bank, which is very close to the North Shore district, employs photo enforced traffic lights. A rolling right turn on red will very likely result in a citation.
Avoid travelling at night except near the Waterfront areas, as much of Chattanooga is still in poor shape economically and thus prone to crime.
Connect
Telephone
Local Phone Numbers
- The Area Code for Southeastern Tennessee (which includes Chattanooga) is 423.
Internet
(Many of the city's parks have WiFi hotspots in them. See WirelessInTheParks.com for more information regarding this venture.)
Chattanooga Area Convention and Visitors Bureau - 2 Broad Street, next to the Aquarium. The Chattanooga Visitors Center provides maps of downtown, sample itineraries, attraction tickets, and more. Official Chattanooga Tourism site.
Coolidge Park - The area centering around the Carousel is a Wi-Fi Hotspot thanks to the City of Chattanooga and AirNet Group. It uses 802.11b. WEP security is turned off.
Grey Friars Coffee - Using 802.11a/b. SSID "Greyfriar24"
Chattanooga Choo Choo/Holiday Inn - Located at 1400 Market Street.
Panera Bread -
Located near the Target in the Hamilton Place Mall Area. 1810 Gunbarrel Road.
417 Market Street, Near Jack's Alley
Stone Cup Roasting Company - Located in the Northshore Distinct. 224 Frazier Avenue.
The Walden Club - 633 Chestnut Street, 21st floor. The Walden Club is a members-only restaurant in the Republic Center.
University of Tennessee at Chattanooga Lupton Library - Located at the center of the UTC campus offering 802.11b on an open network.
Barnes & Noble - Near Hamilton Place Mall at 2230 Hamilton Place Blvd.
Chattanooga Metropolitan Airport
Holiday Trav-L-Park - Free 802.11 WiFi for all campers.
Located near Northgate Mall, next to the TJ Maxx strip mall. 620 Northgate Mall.
The UPS Store - Located near the Best Buy in the Hamilton Place Mall Area. 2288 Gunbarrel Road. May require subscription to Boingo Wireless service
Krystal Restaurants, - Nearly every Krystal Restaurant in the Chattanooga area.
McDonald's - Service is $9.95/day or $29.95/month through the provider Wayport.
2003 Dayton Blvd in Red Bank
4502 Rossville Blvd, 6220 Lee Hwy
1117 E 3rd Street. This location very close to Erlanger Hospital and the University of Tennessee at Chattanooga campus.
Amigo's Mexican Restaurant - Located in Hixson at 5450 Highway 153.
Newspapers
Chattanooga Times Free PressThis is the city's mainstream newspaper providing local, regional, and national news.

EnigmaWeekly Anternative Newspaper available for free all over the city.

The PulseChattanooga's Alternative Newsweekly is available free in over 250 locations throughout the city. Provides local news, arts, dining, music and entertainment information as well as a weekly calendar of events. All content as well as expanded calendar listings and a dining guide is available online as well.
Radio
WUTCTransmitting at 88.1 FM and located on the University of Tennessee at Chattanooga campus, WUTC is a National Public Radio (NPR) affiliate. When not playing NPR programs, the format is a mix of blues, jazz and alternative music.

phone: +1 423 697-4406 (Requests at are very welcome)

transmitting at 91.5 FM, streaming on the web and located on the Chattanooga State Technical Community College campus, WAWL's format is college radio at its best with a very wide variety of music and with specialty shows in the afternoons and evenings.
Cope
Medical
The Chattanooga area has three major hospitals with 3 full-service Emergency Departments and 3 limited-service Emergency Departments:
phone: +1 423 495-2525, +1 423 495-8 (plus ROOM# to call patient room)

address: 2525 de Sales Avenue

Their main hospital is located minutes from downtown Chattanooga. Memorial is a part of the Catholic Health Initiatives. This hospital has a full-service Emergency Department. Anybody with an Emergency medical condition may present to this hospital regardless of ability to pay.
Memorial North Park Hospital

phone: +1 423 495-7100 (General Number), +1 423 495-7124 (Patient Information), +1 423 495-7 (plus ROOM# for patient room direct)

This hospital has a limited-service Emergency Department. Anybody with an Emergency medical condition may present to this hospital regardless of ability to pay.

Memorial North Shore Health Center

phone: +1 423 756-1506
phone: +1 423 778-7000

address: 975 East Third Street

Erlanger is a non-profit, academic teaching center and is a Level One Trauma Center for adults. This is a very busy tertiary care referral center, expect long wait times if presenting to the Emergency Department for a non-emergency complaint. If you have a primary care need, please call to get a referral to an Erlanger Physician near you. Erlanger maintains the LifeForce Air Ambulance, the region's only air medical service.This hospital has a full-service Emergency Department. Anybody with an Emergency medical condition may present to this hospital regardless of ability to pay. Children are not seen primarily at this facility as they are seen at T.C. Thompson's next door.
T.C. Thompson Children's Hospital

phone: +1 423 778-6011

T.C. Thompson's is the only hospital in the region with immediate availability of pediatric subspecialists, providing a special environment of healing for all children. This hospital has a full-service Emergency Department. Anybody with an Emergency medical condition may present to this hospital regardless of ability to pay. Adults are typically not seen here as they are seen next door at Erlanger.

Erlanger North Campus

phone: +1 423 778-7811

This hospital has a limited-service Emergency Department. Anybody with an Emergency medical condition may present to this hospital regardless of ability to pay.
phone: +1 423 698-6061

address: 2333 McCallie Avenue

This hospital has a full-service Emergency Department. Anybody with an Emergency medical condition may present to this hospital regardless of ability to pay.
Law Enforcement
Of course in any emergency situation, call 911!
Chattanooga Police Department

phone: +1 423 698-2525 (non-emergency number)

Hamilton County Sheriff's Department

phone: +1 423 209-7000

For matters outside of the city limits
Hamilton County Jail

phone: +1 423 209-7050

The Hamilton County Sheriff's Department administers the jail
Weather
Summer (Jun-Aug), average temperature of , with maximums in the low 100s (38°C). Scattered thundershowers quite often appear and disappear almost as quickly, sometimes dropping almost an inch of rain in 30 minutes or less.
Autumn (Sep-Nov), average temperature of .
Winter (Dec-Feb), average temperature of , with a number of days below freezing. Very little snow or ice in the valley, but fairly often in the higher elevations such as Lookout and Signal Mountains. Almost any amount of snow or ice in the valley will stop nearly all activity in the city.
Spring (Mar-May), average temperature of .
Go next
Nearby:
(While they may not necessarily be huge tourist attractions, they are nearby)
Not quite as nearby, but still reasonable: