Cheektowaga
Cheektowaga
is a town in the
Northtowns
of Erie County,
New York
.
Get in
By plane
(BUF

), 4200 Genesee St., ☎ +1 716 630-6000.
By train
address: 55 Dick Rd.

Cheektowaga is accessible from the east and west by Amtrak, served by the following Amtrak lines:
The Empire Service runs from New York City via Yonkers, Croton-on-Hudson, Poughkeepsie, Rhinecliff, Hudson, Albany (Rensselaer), Schenectady, Amsterdam, Utica, Rome, Syracuse, and Rochester, and continues past Buffalo to Niagara Falls.
The Maple Leaf, which runs from Toronto via Oakville, Burlington (Aldershot), Grimsby, St. Catharines, Niagara Falls, Ontario, and Niagara Falls, USA, then continues to New York City along the same route as the Empire Service.
The Lake Shore Limited. Eastbound trains on this route travel from Chicago via South Bend, Elkhart, Waterloo, Bryan, Toledo, Sandusky, Elyria, Cleveland, and Erie. Westbound trains begin either at Boston or New York City; trains from Boston proceed to Albany via Framingham, Worcester, Springfield, and Pittsfield; with trains from New York City making stops at Croton-on-Hudson and Poughkeepsie. At Albany, the two routes converge and trains follow the same route as the Empire Service, stopping at Schenectady, Utica, Syracuse, and Rochester.
See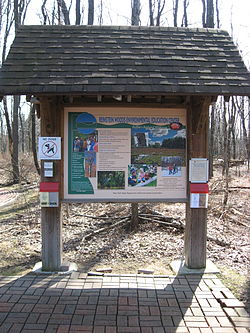 Do
Polish-American Arts FestivalThe Polish-American Arts Festival has been held annually since 1979 at Cheektowaga Town Park to honor Casimir Pulaski, the Polish nobleman and mercenary who played a pivotal role in the American Revolution. Aside from the General Pulaski Parade down Harlem Road that kicks off the festivities each year, the Polish-American Arts Festival offers polka dancing, food and drink, and live music over three days in mid-July.
Buy
Check out the Walden Galleria on Walden Avenue, located 10 minutes from downtown Buffalo via the Kensington Expressway and/or Interstate 90. The Walden Galleria, as the region's largest mall, has recently added 60 new stores and services to their original 200+. Original stores include many standards such as Macy's, JCPenney, Sears, Lord & Taylor, Dick's Sporting Goods, Old Navy, and more. New stores include Bebe, Lucky, Sephora, Coach, and other high-end retailers. New restaurants include Bar Louie, the Cheesecake Factory, P.F. Chang's, Hyde Park Steakhouse and more.
There's also plenty of other big-box department stores, plazas etc. along Union Rd. and Walden Ave. in the general vicinity of the Galleria.
Eat
phone: +1 716 906-3730

address: 3525 Genesee St.

From the looks of it, tucked between an auto body shop and a tired-looking suburban strip mall out by the airport, you'd never peg this as the place where locals flock to enjoy the best Mexican food on the Niagara Frontier. But appearances are deceiving at Los Mayas — and the word "flock" is apropos too; rare is the time when there's not a long wait for a table. Tacos come on house-made corn tortillas with a variety of fillings from the familiar (ground beef, chicken, al pastor) to the more esoteric (cactus leaf and potato; chorizo with buche, i.e. beef chitterlings), with a full toppings bar to visit once you've been served; the balance of the menu consists of familiar Tex-Mex standbys enhanced with an extra zing of authenticity. Service is friendly, but slow and rather inattentive.
Sleep