Chelmsford (England)
Chelmsford
is in
Essex
,
England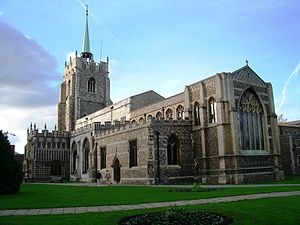 Understand
World-famous for being the birthplace of radio, Chelmsford is the county town of
Essex
,
England
. It lies 30 miles (48.5 km) northeast of Liverpool Street
London
, approximately halfway between there and
Colchester
. It is almost exactly in the centre of the county and it has been the county town of Essex since 1215. It is also the seat of the Borough of Chelmsford, which covers a wider area than the city, including the new (ca. 1970s) settlement of South Woodham Ferrers on the banks of the River Crouch. The Borough Council celebrated its centenary in 1988 (it had been incorporated as a municipal borough in 1888 under the Municipal Corporations Act 1882), and the city its 800th anniversary in 1999. Chelmsford was made a city on the Queen's diamond jubilee in March 2012.
Climate
Summer
Being in the south east of England, the city enjoys a warmer climate than most of the United Kingdom and has some of the hottest summers in Britain; it is also one of the driest places in the country. Temperatures often reach 30°C in the summer. The hottest day on record in the city was on the UK-wide temperature record-breaking day on August 10, 2003 when 35.2°C or 95.4°F was recorded. Thunderstorms mostly occur during July/August however they can occur anytime of the year.

Winter
During the winter the temperature rarely stays below 0°C during the day and even with night-time winter temperatures, it's extremely rare to fall below -5°C. Air and ground frost is very common from November through to March.
Snow is sometimes seen in the winter months because the town is near to the east coast where cold, moist air is brought in from the North Sea. There has been up to three inches of snow on days in January and February which has resulted in minor disruption to transport and caused some schools to close. However, the snow tends not to persist for a significant length of time in any noticeable quantity.

Get in
By road
Chelmsford is on the A12 London to Lowestoft main road. Connecting to Colchester 25 miles to the NE and to London 25 miles SW.
The A130 main road connects the town to Rayleigh (near Southend) to the S.
The A131 connects the town to Braintree to the N.
The A414 runs eastwards to the M11 (25 miles) and beyond.
By plane
Heathrow Airport is about two hours drive via the M25 London Orbital Motorway and the A12 dual carriageway (westbound) motorway. Alternatively the Heathrow express train service (running every 20 minutes) connects with London Paddington to Heathrow Airport Terminals 1, 2 and 3. Connection can easily be made from Chelmsford via London Liverpool Street; expect the total journey to take slightly over two hours. Dot2Dot run shuttle buses from Heathrow to Liverpool Street station. National Express can be used from Chelmsford but the journey must be made via London or Cambridge – with a 40-60 minute wait at the interchange (there is not a direct bus service to Heathrow Airport).
Gatwick Airport is about an hour and a half drive away via the M25 motorway (anti-clockwise) and A12 dual carriageway (westbound). Alternatively a complicated rail and underground combination from Chelmsford connects with the main London to Gatwick rail service at London Liverpool Street station; expect the total journey to take slightly over two hours.
Stansted Airport is about half an hour's drive away via the A414 national route, then the M11 (nothbound) motorway. Taking the Stansted Express train is indirect and expensive, requiring a change at London Liverpool Street or Stratford. Instead, express coach X30 take 30–45 minutes from Stansted Airport to Chelmsford Bus Station and run 24 hr a day on an hourly basis. Return fare to Stansted is £13.50.
By train
address: Duke St, Chelmsford CM1 1HT
A fairly busy train station for through passengers; so the service and regularity is very good.
London Liverpool Street
is 35 minutes away, where the line terminates. Trains to London run every 12 minutes, while northbound services run to
Braintree
,
Colchester
,
Ipswich
and beyond. There's an hourly intercity service to Norwich (90 minutes). Like many major stations near London, you need a ticket to enter/exit the platforms as there are automatic barriers by the platform entrance. As the station is elevated there's only 2 platforms - all southbound services go to London but if heading north several trains going to different destinations will arrive within minutes of each other so keep an eye on the information screens and PA announcements to make sure you don't board the wrong train. This situation becomes worse if there's delays as there is only 2 tracks through the station and trains will easily become backlogged. The station has a WHSmith convenience store on the lower level and a couple of cafes on the upper (platform) level.
By bus
Chelmsford's bus station is on Duke Street adjacent to the rail station and is a hub for urban and interurban bus services which connect to most towns within Essex as well as a frequent shuttle service to Lakeside Shopping Centre in Thurrock, and non-stop coach services to Stansted Airport. The station has real-time departure information screens so finding your bus is relatively easy. Facilities include toilets, ATMs, a pharmacy, a Subway sandwich shop and a Tesco Express convenience store. There are 2 Park&Ride services: one serving a car park in Sandon, just off the A12 south of Chelmsford, and the other, called Chelmer Valley. This is to the north of the town on the A130. This service is especially convenient for those going to Anglia Ruskin university as the bus passes right through the campus.
By bicycle
Chelmsford in on
National Cycle Route 1
(
Shetland
to
Dover
) running to
Colchester
to the NE and
London
via the Lee Valley.
The town is on
National Cycle Route 13
Fakenham
to
London
.
Get around
By foot
The town centre is easily navigated on foot. The high street is fully pedestrianised and the two largest shopping malls have no vehicle access. Chelmsford benefits from being fairly flat and there are also good provisions for the disabled.

By car
Access into Chelmsford is very good although be prepared to wait in queues in the centre of town, particularly along Victoria Road and Parkway. Rush hour is between 7-10AM and again from 4:30-7PM. The Park and Ride service has helped things, although on occasion it can take a while, especially in the late afternoon, to leave the town. There are plenty of car parks, costing between £2 and £8 for a day, however be careful about parking in some areas as traffic wardens are notorious in the town. If in doubt ask a local the best areas to get free parking.

By bus
The internal bus service is very good although schedules are rarely stuck too. Most of the stops have electronic displays to show when the next bus is due so it is best to just turn up and see how long the wait is. Inside the town limits most locations can be walked to inside an hour, however most shelters are pleasant enough and nearly all have seats. Average bus prices are between £1 and £3 for a return inside of the town. Almost all local services use small midi-buses which can only seat around 25 passengers so they can become crowded. If heading for a destination along one of the main arterial roads it's usually more comfortable (and sometimes cheaper) to take an interurban bus as they'll follow a more direct route, have larger (often double-deck) buses and charge lower fares; although they're less frequent. Fares are charged by distance and the driver usually can provide change for smaller bills. Return fares are generally better value than single fares, but are not transferable between operators, e.g. a return ticket on a First service cannot be used on a Regal Busways service. Bus services can also take travellers as far as Stansted Airport and Colchester, although services are very slow and infrequent. There is a direct service to Lakeside Shopping Centre called service 100 which calls via Billericay, Basildon, Stanford-Le-Hope and Grays. Service 100 buses come every 20 minutes on Monday to Saturday (No Sunday service), but the journey between Chelmsford and Lakeside does take around 2 hours.

By taxi
There are many taxi firms available in the town and all are clearly marked, so never accept a ride from one that isn't. Nearly all are saloon cars although there are more black cabs available. Cars can be booked or found at locations or 'ranks'. These are found at the station and along Market Road. In the evenings more surface, the most easily located being the Baddow Road rank, located outside Pizza Express at the bottom of the High Street. Cabs are rarely hailed from the street, as you are never too far from a rank and cars will generally be full if seen on the roads.

By bike
The Town Centre is not particularly bike-friendly and you will often be told of this by a local if you try and weave in and out of pedestrians! Cycling is prohibited in the high street and will result in a fine if you are over the age of 16, however there are many cycle routes to and from the town. Council initiatives have lead to more and more cycle racks installed in the town.

See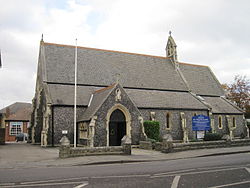 phone: +44 1245 294492

address: New Street, CM1 1TY

The church of St Mary the Virgin in Chelmsford was probably built along with the town 800 years ago. It was rebuilt in the 15th and early 16th centuries, with walls of flint rubble, stone and brick. There is also a tower and spire with a ring of thirteen bells. The nave was again rebuilt in the early 19th century, after it had partially collapsed. Enclosed in beautiful gardens which offer a haven for the local populace, especially summer lunchtimes, the cathedral is open year-round and entry is free.

Hylands House and ParkHylands House and Park just to the west of the town is a country house and parkland, saved from dereliction and purchased by the local council in 1966 after the death of the last private owner. Much damaged by fire and vandalism by the time of the sale, the house has now been completely restored by Chelmsford Borough Council. The house dates from 1730, and the park (574 acres or 232 ha) was landscaped by Humphry Repton. Open to the public and used for a wide range of community events, it is also available for weddings and other private hires including conferences, etc. The park has been the site of annual music festivals, such as the V Festival and the ill-fated Council-run Chelmsford Spectacular. It was the site for the 21st World Scout Jamboree in 2007 and hosted Eurojam two years before in the summer of 2005.

The Shire HallThe Shire Hall Chelmsford. The Shire Hall is at the top of the High Street. Opened in July 1791 and built by local architect and County Surveyor John Johnson, it features a Portland Stone façade. One of the oldest and most prominent buildings in Chelmsford, it was built as a Court house, which it has remained.

address: Chelmsford CM2 6DN

phone: +44 1245 605700

address: Oaklands Park Moulsham St, Chelmsford CM2 9AQ

phone: +44 1245 605 700

address: Oaklands Park, Moulsham St, Chelmsford CM2 9AQ

phone: +44 1245 400256

address: Creephedge Lane, Rettendon CM3 8RA
Do
Go to the races at City Racecourse (aka Great Leighs, Chelmsford CM3 1QP), which has flat racing year-round on a Polytrack surface. It's been bust and re-opened and bust several times but is back in business, using its all-weather surface to host events washed out elsewhere. On A131 London Rd two miles south of Chelmsford.
Events
Buy
Chelmsford does not offer the traveller much in the way of unique gifts or products, but the town does feature enough for the passer through to stock up on essentials.
The high street is dominated by the Debenhams department store, which offers the latest fashion, fragrance and electronics. Opposite this is the Marks and Spencer store, offering food and fashion for the older generation. There are numerous other shops, most notably Waterstones Books, Currys Digital, Next and GAP. The 'Quadrant' just over the stone bridge, is Chelmsford's only independent department store. It has three floors and sells fashions for the over-30 customer including East, Kalico, Jane Shilton and Brook Taverner for men. It is also the only store in the town centre stocking leading furniture brands.
address: 42-47 High St, Chelmsford CM2 6FD

The newest mall in the town was completed in the late 1990s. It is built on ground floor level and includes Waterstones (another one), Boots, Burtons Menswear and many more. Despite its status as the newer and better mall, Chelmsford already had its fill of good retailers when it was built, and as such it is normally fairly quiet and serves best as a car park.

High ChelmerThe older of the two malls, retailers include Primark, Office, Topshop/Topman, River Island, Boots and many more. Expect a crush at Christmas time.
Chelmsford is also served by two large retail parks offering warehouse-style shopping and big car parking queues on Bank Holidays.
Supermarkets
phone: +44 345 677 9191

address: Princes Rd, Chelmsford CM2 9XW

Petrol & pharmacy (different hours). Wi-Fi

phone: +44 1245 466566

address: Chelmer Village Centre, Chelmsford CM2 6RE
Cyclists
phone: +44 1245 782400

address: Unit 5, Army and Navy, Chelmsford CM2 7GY

phone: +44 1245 264477

address: 39 Victoria Rd, Riverside Retail Park Chelmsford CM1 1AN
Eat
Chelmsford's situation means that there are not any foods considered 'local cuisine', however there are countless restaurants and food outlets from street vendors and take away shops to Michelin Star restaurants to satisfy any gastro-hungry traveller.
phone: +44 1245 256783

address: 37 Arbour Lane, Chelmsford CM1 7RG

phone: +44 1245 491466

address: 219 Moulsham St, Chelmsford CM2 0LR 219 Moulsham Street, Chelmsford, Essex, CM2 0LR

Offers a fine selection of Italian-style pizza and pasta at good prices and far better quality than the nearby Pizza Hut. Expect to pay about £12 for a meal.
There are plenty of options for Indian in the town, again, most of these are located around Baddow Road towards the South of the Town Centre.
address: 6 Baddow Rd, Chelmsford CM2 0DG

A good option, light, airy and with a good menu, expect to pay £8-10 for a curry.
Most of the pubs and bars in the town offer some sort of food menu.
phone: +44 1245 266881

address: Victoria Rd, Chelmsford CM2 6LJ

Pub, food & rooms. Its water-side location makes for excellent outdoor dining in splendid gardens.
Nearly all the Chinese offerings are 'all you can eat' and the quality, and clientele are reflected by the £10 asking price. Be prepared to be asked for ID also, however old you claim to be!
Empire Palace

phone: +44 1245 352568

address: 147-149 Springfield Rd, Chelmsford CM2 6JW

Possibly the best Chinese restaurant, meals are rarely under £30 a head but the quality is worth it.
Chelmsford is overrun by takeaway options, from fish and chips to Chinese its all available late night and for pocket change. None of which can really be recommended as serious dining options, however, for after a night on the town, they are always a welcome sight.
address: 209 Moulsham St, Chelmsford, CM2 0LG

Does a roaring trade on Friday and Saturday night, but watch out for the hygiene, its not great.

phone: +44 1245 290099

address: 136 Moulsham St, Chelmsford CM2 0JT

address: 8a Anchor St, Chelmsford, CM2 0JY
All the usual fast food suspects such as McDonalds, Burger King, Pizza Hut, and Starbucks, can be found on the High Street. On Saturdays, the market on the High Street also serves fast food.
Drink
Chelmsford has a vibrant nightlife scene with many nightclubs, pubs, wine bars and restaurants in the town centre area, particularly in Duke Street and Moulsham Street. Its central Essex location and good public transport links make the town ideal for revellers to visit from surrounding areas. Though there is a wide range of bars and pubs in the town center, there is a large antisocial behavior problem as the only form of entertainment in Chelmsford is cheap drinks and loud music, resulting in the town centre becoming a no-go area after 10PM on the weekend.
Chelmsford lacks any form of alternative nightlife which is seen as a problem, there is no longer an under 18 club night on the weekend, and no live music venue for touring bands. Many people have to travel out of Chelmsford to either southend/Colchester or Romford and on into London if they are to find any other form of entertainment outside of what is on offer in chelmsford. This includes even the cinema where people will drive to
Romford
or
Braintree
to see a film as it offers a higher level of comfort.
A popular destination is Moulsham Street, the former High Street of the Town but now more reliant on the nightlife than anything else. Hardcore revelers often attempt a 'pub crawl' of the entire length, usually called the 'Moulsham 9', although the 'Rising Sun' is on New London Road, and Moulsham Street carries on past Parkway, so there are several more pubs and bars on the other side. Often this pub crawl is attempted in fancy dress so don't be surprised to be standing at the bar next to Scooby Doo at some point!
phone: +44 1245 348696

address: 6 Moulsham St, Chelmsford CM2 0HR

phone: +44 1245 251119

address: 7 Springfield Rd, Chelmsford CM2 6JE

A young crowd.

phone: +44 1245 256752

address: Duke St, Chelmsford CM1 1JP

A pub for the alternative reveller. On Fridays, Satrudays and sometimes in the weekhas bands (often cover bands) and also has a pool table. It has a large smoking area with tables, patio heaters and cover and serves beer from a Brentwood Brewery.

phone: +44 1245 260535

address: 24-26 Viaduct Rd, Chelmsford CM1 1TS

Near the train station, in the viaduct, the Ale House serves a wide range of real ales and ciders. The staff are friendly and always happy to recommend beers and offer samples. The building is also very clean and close to the local Strip Club, convenient for the customer who has enjoyed many ales.

phone: +44 1245 268211

address: 143 Moulsham St, Chelmsford CM2 0JT

Normally the first stop for people attempting 'the 9', however this shouldn't put you off as most of the revelers have left by 8PM, leaving colourful locals and the fisherman who enters about 10PM on a Friday and Saturday selling fresh catches of the day. The beer on tap is more of a traditional selection, although among the ales you will find a good selection of lagers, ciders and bottled brews from the four corners of the world. There is a little known lounge area to the rear and although empty and comfortable, is not as much fun as the front of house. Sky TV is in place and they show match of the day on Saturday nights, just don't slag off West Ham too much or the landlord will bar you!

The Anchor

phone: +44 1245 250865

address: 151 Moulsham St Chelmsford CM2 0LD

Looks almost like an old country pub from the outside but inside its dark and rather intimidating. The staff though are friendly and the whole place gives you the impression that its bark is worse than its bite. Possibly had the same carpet since 1750, but fine for a stop off, most of the customers will be on some sort of pub crawl. Does have rather a good DJ on the Saturday though who likes to be challenged, and a quiz on Sunday that is friendly and well-supported.

phone: +44 1245 600009

address: 159 Moulsham St, Chelmsford CM2 0LD

Should definitely be paid a visit, in a rather sad homage to the bars of New York, pictures of all who have visited the bar are displayed all around. While the faces of John Pertwee and Frank Bruno are hardly movie stars, there will always be a collection of revellers deep in conversation about who is who on the walls, and more often and not shouts across the small bar of lookalikes seated across the room will echo before too long. Not a big place or huge drink selection but all good fun. Watch the step to the bathroom on the way in, and your head on the way out, the toilet door opens onto the dartboard!

phone: +44 1245 492954

address: 165 Moulsham St, Chelmsford Essex CM2 0LD

Seems to have a different owner each week and good evenings there seem to come with the tides. More of a locals pub, apart from a very random Reggae album in the jukebox it should probably be avoided until it's finally taken on by new owners.

phone: +44 1245 2991265

address: 7 Hall St, Chelmsford CM2 0HG

Just off Moulsham St and is a roughly Irish-Theamed pub, expect wood floors, leather armchairs and high spirits. A good selection of beers and the only bottled Staranpramen in town make this a popular all night venue, particularly in the summer when the small but perfectly formed patio opens up. Sky TV is installed but don't expect volume after the match!
Sleep
There are a number of hotels and bed and breakfasts in and around the town.
Connect
Post Office

address: 73-75 High St, Chelmsford CM1 1EJ
Stay safe
Out of all of the large towns in Essex, Chelmsford is probably the safest and easiest for the traveller to feel comfortable in. The majority of the locals will be helpful and happy to point out directions or places of interest. While violent crime is fairly low, walking the streets at night should be done with great caution, and it is ill-advised to confront gangs of youths however insulting they may be.
Central Park and West Park should be avoided at night - it is big, dark, fairly deserted and the only other people around will probably be the sort you don't want to meet and also avoid any large groups. Since the pathways are fairly long and straight, these can easily be avoided by choosing an alternative route.
The Melbourne and Springfield areas of the town have got a bad reputation amongst locals, although perhaps, certainly with Springfield, it is a case of a few bad apples spoiling the crop. Melbourne should be avoided at night on foot and its pubs should be avoided all together by non-locals (they get very rough) with the exception of the Athletic Stadium and Park, which surprisingly is safe at night, mainly due to the various sports clubs who use it for training.

Go next