Cheonan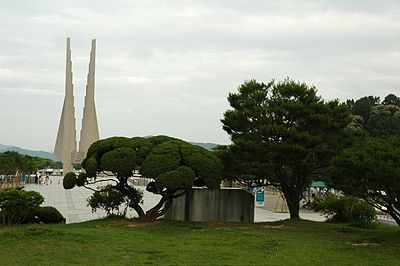 Cheonan
(천안, 天安) is a city in
South Chungcheong
,
South Korea
. Chonan is a name derived from heaven. This is because King Taejo of Goryeo named it the "Most important place under the sky." Also, to this day, Cheonan citizens still call Cheonan the most comfortable place under the sky and joke that it is safe from natural disasters such as typhoons.
Cheonan is located in the northeastern area of Chungcheongnam-do Province. It is adjacent to Cheongju-si and Jincheon-gun of Chungchengbuk-do on the east, Asan-si on the west, Gongju-si and Sejong Metropolitan Autonomous City on the south, and Pyeongtaek-si and Anseong-si of Geonggi-do on the north. Cheonan, located at 83.6㎞ south of Seoul, is considered a central city, geographically speaking. It is a gateway to the Seoul National Capital Area and the western region of Chungnam, a transportation hub connecting national roads, railways, expressways and local roads, and a junction of the three southern provinces.
Understand
Climate
The average temperature in Cheonan city is 11.8 °C each year. The average annual rainfall is 1229 mm. Recently, fine dust levels can affect travel. Cheonan has a lower density than Seoul, but due to the influence of a coal power plant in Chungcheongnam-do, it has a higher density than Gangwon-do. Therefore, it is necessary to check the concentration of fine dust
here
.
Districts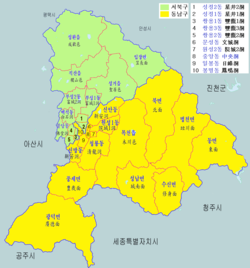 yellow area is Dongnam-gu, green area is Seobuk-gu.
Get in
By train
The
KTX
from
Seoul
takes just 35-40 (depending on which train) minutes to zip to Cheonan-Asan Station, but you'll need to connect to the painfully slow #20 or #13 bus (₩1,200 without a card) to get to central the Shingsegae/Bus Terminal area of Cheonan. Alternatively, you can walk about 200m to Asan Station, where for ₩1,000 you can get a 5 minute subway (not underground) train ride into Cheonan Station. From here you can connect to both north lines going towards Suwon/Seoul or to the south lines heading to either Busan or Gwangju/Mokpo.
Alternatively, you can take a 급행 (express) subway directly to Seoul or Yongsan stations in about an hour and a half. These trains run roughly once per hour. You can find the up-to-date timetables in the ticketing area of Cheonan station where you enter for the subway only lines.
Reservations for train tickets can be made
here
. As the site runs in English, Chinese and Japanese, foreigners will also be able to book it easily. You can also see information about reservations, cancellations, refunds, and charges
here
.
phone: +82 1544-7788

address: Cheonan-si Dongnam-gu Daeheung-ro 239 Cheonan Station

phone: +82 1544-7788

address: Asan-si Baebang-eup Huimang-ro100 Cheonan-Asan Station

Cheonan Asan Station is a KTX-only line, and it is convenient to transfer to Saemaul, Mugunghwa, and subway lines 1.
By bus
Watching bus schedules and booking bus tickets can be done
here
. If it is difficult to book online, it is also possible to purchase tickets on the app or on-site. But be careful that bus tickets between Seoul and Cheonan can be sold out quickly.
phone: +82 41-640-6400

address: cheonan-si Dongnam-gu Sinan-dong Mannam-ro 43

From seoul: 1hr, 6,200won

phone: +82 41-640-6400

address: cheonan-si Dongnam-gu Sinan-dong Mannam-ro 43

From Incheon Airport: 2hr, 16,400won
From Gimpo Airport: 100min, 9,500won
By taxi
call-taxi number is . Tell the receptionist where you are and the receptionist will text you the taxi number. The taxi driver will then arrive there. Perhaps it is possible to communicate only in Korean. If you can't tell your current location in Korean, use the app. Download the
Kakao T
. It's like an Uber. Registering a card makes automatic payment without paying the driver, and you don't have to worry about overcharging. The fare to the destination is automatically paid and the remaining amount will be returned after arriving at the destination.
Get around
A complex and confusing system of buses covers the area, but there is no information whatsoever in English at the stops or in the buses themselves. However, nearly all services start from or terminate at the intercity bus terminal.
The subway line has been extended from Cheonan Station to KTX Cheonan-Asan station and continuing to Asan.

See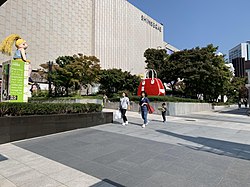 phone: +82-41-560-0114

address: 95 Sambang-ro, Mokcheon-eup, Dongnam-gu

The largest museum in Korea, The Independence Hall of Korea shows the spirit and efforts of the Korean people in overcoming the national crises they faced in the modern period and especially during the Japanese colonial era. At the same time, the Hall conducts research on the history of Korean national efforts while educating the Korean people about their history. Note that this is a privately funded operation and thus even more slanted towards a nationalist version of history than usual. Most 3xx/4xx-series buses pass by, board them either at Cheonan Station or in front of the intercity bus terminal (₩1350, 30 minutes). If you take a taxi from Cheonan Station, you have to pay 10,000 won to the Independence Hall.

phone: +82 41-561-3545

address: Gakwonsagil 245, Dongnam-gu

It's quite a big temple in Cheonan. The Buddhist temple has a very large sitting Buddha. A nice place to go hiking.

ARARIO Small City

address: Mannam-ro 43, Dongnam-gu

In 2007, ARARIO Small City was selected as the most beautiful square in Korea, for which it was awarded the Prime Minister Award. At present, there are a total of 28 contemporary installation artworks

phone: +82 41-551-5100

address: Mannam-ro 43, Dongnam-gu

For years ARARIO GALLERY collected number of significant artworks which also has been internationally acknowledged. It is also where BTS' RM visited.

Statue of Peace

address: 815 Sinbu-Dong, Dongnam-gu

A Statue of peace was made to solve the problem of Japanese military sexual slavery victims. It has held regular protests every Wednesday since 1992 and Statue of Peace was first built in front of the Japanese Embassy in central Seoul on Dec. 14, 2011, the 1,000th anniversary of the demand rally. There are 129 statues in the country and several in other countries. The statue in Cheonan is one of them.

Byeongcheon Sundae Street

address: 82 Aunaesundae-gil, Byeongcheon-myeon, Dongnam-gu

There is a famous sundae (Korean sausage) street situated near the Aunae (Byeongcheon) Market, where patriotic martyr Yu Gwan-sun led an independence movement. With the establishment of a ham manufacturing plant near Byeongcheon in the 1960s, people in the area began making sausages using vegetables and pork byproducts such as intestines and clotted blood, and a couple of sundae restaurants began springing up along this street. Its fame grew through word-of-mouth, and the "special restaurant" designation began to be given in 1998. There are now dozens of sundae restaurants lining up this street.

phone: +82-41-521-2891

address: 429-13 Cheonan-daero, Dongnam-gu

The Cheonan museum presents artifacts and relics that sheds light on the history of Cheonan from the prehistoric times to the modern times through permanent exhibitions.

phone: +82 41-560-5901

address: 11-14, Yangjimal 1-gil, Dongnam-gu

It is easy to get to the Postal Museum by bus. It's a good place for young children to see.

Ligak Museum of Art

phone: +82 41-565-3463

address: 245 Taejosan-gil, Dongnam-gu

This is a contemporary art museum that honors the memory of sculptor Lee Jong-gak. There are many sculptures in the park.

Memorial hall of Patriotic martyr Yu Gwan-sun

phone: +82 41-521-2821

address: 38 Yu Gwan-sun-gil, Byeongcheon-myeon, Dongnam-gu

Yu Gwan-sun was a great Korean independence activist. Visitors are able to see the life story of Yu, Gwan-sun, from her birth to her entry into martyrdom, through exhibits, videos, and various different experiences.

Cheonan Heungtaryeong Center

phone: +82-41-521-2893

address: 412 Cheonan-daero, Dongnam-gu

the theme of dance and liquor. You can experience traditional liquor and traditional dance.

Jung-ang market

phone: +82-41-551-2226

address: Sajik-Dong, Dongnam-gu

There are many delicious foods in the market. Hotteok store is especially famous. There is a store that closes after 6 o'clock, but the food truck opens and you can eat something different from daytime.
*
Cheonhoji Lake

address: 562-1, Anseo-dong, Dongnam-gu

It's a nice place to see the night view.
Do
Festival
The are several regular festivals in Cheonan
Heungtaryeong festival

phone: +82-41-900-7020

address: Samgeori Park, Dongnam-gu

It is held every September for four days. It is the biggest dance festival in Korea.

Gwangdeok Walnut Festival

phone: +82-1544-1122

address: 250, Gwangpung-ro, Gwangdeok-myeon, Dongnam-gu

What comes to mind when it comes to Cheonan is a nutcracker. This is because good quality walnut is produced, and because of this history, walnut festivals are held.
Cheonan Buk-myeon Wirye Cherry Blossom Festival

address: 10, Yongam 3-gil, Buk-myeon, Dongnam-gu

The Wirye Cherry Blossom Festival is held for 2 days every April in Buk-myeon. The Buk-myeon Beokkotgil (cherry blossom street) stretching 15km from Yeonchun-ri to Unyong-ri becomes surrounded by cherry blossoms.

Ipjang Geobong Grape Festival

address: 19, Hajang 4-gil, Ipjang-myeon, Seobuk-gu

free tasting booths offering grapes and food made with grapes. This festival is held on a yearly basis in September.
Movie theaters
Sports
Ryu Gwansun Gymnasium

phone: +82-41-529-5000

address: 208 Beonyeong-ro, Seobuk-gu

It is the home stadium of Hyundai Capital Skywalkers, a professional volleyball team.
Learn
There are five universities in Anseo-dong. It is not too much to say that there are only college students in the neighborhood, so visitors can experience the culture of young people.
phone: +82-41-550-9114

address: 76, Munam-ro, Dongnam-gu

phone: +82-41-550-0407

address: 58, Munam-ro, Dongnam-gu

phone: +82-41-550-1114

address: 119, Dandae-ro, Dongnam-gu

phone: +82-41-560-8114

address: 12, Hoseodae-gil, Dongnam-gu

Sangmyung University

phone: +82-041 550-5114

address: 31, Sangmyeongdae-gil, Dongnam-gu
In addition, there are six more universities in Cheonan.
Buy
As of late 2010, the old Galleria shopping complex which doubled as the Cheonan Bus Terminal was remodeled and renamed to Shinsegae. The new Shingsegae is where most Cheonanites go for their local shopping of luxury items in Cheonan.
There is also a new Galleria now opened which is an architectural marvel. It's won many design awards and is set over 9 floors. Definitely worth a taxi ride of ten minutes just to see the building. (If you go planning to buy take a LOT of money).
An Emart is located in the basement of the Shinsegae shopping complex.
Across the street from Shinsegae Department Store is a whole host of other venues to buy you much needed items. Once you exit the Bus Terminal, you'll see the crowds flowing across the street at every green pedestrian light. Over there you'll also find many more food options awaiting your tongue and stomach.
phone: +82-1588-1234

address: 43 Mannam-ro, Dongnam-gu

phone: +82-41-559-9114

address: 227, Gongwon-ro, Seobuk-gu

E-Mart

phone: +82-41-411-1234

address: 43 Mannam-ro, Dongnam-gu

It is located in the basement of Shinsegae Department Store.

phone: +82-1899-9900

address: 77, 3 Gongdan6-ro, Seobuk-gu
Eat
Mount Fishtail

phone: +82 41-555-3612

address: 4 Beodeul-ro, Dongnam-gu

A South Asian curry restaurant, which is decidedly uncommon in Cheonon. It's owned by a lovely Nepalese couple.

MOMO Steak

phone: +82 41-903-5051

address: 1470 Ssangyong3-dong

It's a comfortable atmosphere and it's not expensive, so you can eat steak comfortably with your kids and friends. There's no parking lot, so public transportation is good. There is a bus stop for bus number 12 or bus number 14.
*
Sam-ukga

phone: +82-41-552-1937

address: 21-1 Meokgeori-Gil, Dongnam-gu

It's a good place for foreign travelers who are not used to Korean BBQ. Because the staff cook it all.

Dono marco

phone: +82-41-553-4554

address: 20 Mukgeori3-gil, Dongnam-gu

It's an Italian restaurant suitable for a date.

Mr. veteran

address: 22 Mukgeori9-gil, Dongnam-gu

It is a tteokbokki restaurant that has been loved for a long time in Cheonan. The tteokbokki here is not spicy, so foreigners can easily eat it. When you finish eating tteokbokki, you must eat fried rice.

phone: +82-41-555-5161

address: 719 Seobu-daero, Seobuk-gu

A little expensive but delicious

Hang-ari Bossam

address: 7 Wondujeong10-gil, Seobuk-gu

Bossam and noodles are delicious.

Sultaryeong

phone: +82-41-566-3355

address: 227 Dujeong-ro, Seobuk-gu

Makgeolli, Jeon, Gopchang...

Eumjugamu

phone: +82-41-552-0110

address: Dusin Building, 5 Wondujeong7-gil, Seobuk-gu

cocktail(Free refill) is 15,000 won.
Drink
Banana Bar

address: 464-7, Sinan-dong, Dongnam-gu

Banana Bar in Shinbudong, across the road from Shinsegae Department Store is a great place to fellow expats and Koreans. Pool competitions, open mic night, quiz night and a full stage for performers and bands are available. You can call 010-3424-6309 and speak to Mr Oh.

phone: +82-41-565-5863

address: 중앙동 버들로 12, Beodeul-ro, Jung-ang-dong, Dongnam-gu

Dolce Bar is another really good bar near Cheonan Station. Walk out the east exit and walk towards Mount Fishtail Indian Restaurant. A few stores past Mount Fishtail is Dolce bar on the basement level. They usually have some kind of theme on Fridays or Saturday nights, decent selection of bottled beers and usually flat draft Korean beer. Complementary chips and salsa and peanuts are common. The owner is Korean and speaks very good English. He's a good guy to talk if you happen to stroll in by yourself.
Sleep
There are plenty of motels in the alleys across the street from the bus terminals and near the train station.
phone: +82 41-622-7942

address: Sinbu-dong 455-8

This clean motel has spacious, well-equipped rooms, including PCs, fancy showers and big round bathtubs. No room keys, but the staff will let you in and out on request. Some English spoken.

phone: +82 41-622-8211

address: 57-9, Daeheung-dong, Cheonan-si, Chungcheongnam-do
Go next