Cherrapunji
Cheerapunji
(also spelled as Cherrapunjee and Charrapunji or called by its historical name,
Sohra
), is a town in
East Khasi Hills
district in the
India
state of
Meghalaya
. The town receives of rain per year, but that is less than half as much rain as in the days a few decades ago when it was still known as the wettest place on Earth.
Understand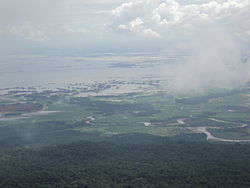 History
The original name for this town was Sohra, from the days when it was the capital of a local chieftainship. The town's name was pronounced "Churra" by the British before morphing into Cherrapunji. There is a monument to David Scott (British Administrator in NE India, 1802–31) in Cherrapunji Cemetery.
Although Cherrapunji still receives a lot of rainfall, locals nevertheless have to walk for several kilometres for potable water and also face agricultural difficulties associated with topsoil erosion.
Geography
Cherrapunji is in a dramatic location, on a plateau 600 metres above the surrounding valleys which, given the amount of rainfall, are naturally lush and full of diverse vegetation.
Climate
Cherrapunji receives both the Southwest and Northeast Monsoons, which combine to form a single monsoon season locally. The months with the highest rainfall are June and July, followed by August, September and May, but effectively, April through October can be considered the monsoon season. November through February constitutes the dry season, with March a transitional month of moderate rainfall. The dry season is also the cooler season, with average low temperatures at approximately 5°C (41°F) during January, the coldest month.
Get in
By plane
Shillong
, the capital of Meghalaya, is the nearest airport to Cherrapunji, and is accessible from
Guwahati
.
By car
Shared Sumos are available from Mawlong Haat, Barabazar in
Shillong
, for ₹70 per seat.
Local taxis also travel to Cherrapunji, and give you the option of stopping at a few viewpoints and sights on the way from Shillong to Cherrapunji (Elephant Falls, Mawkdok Dympep Valley View and others), as well as visiting spots in Cherrapunji (the Mawsmai Cave, Cherrapunji Eco Park, the
Nohsngithiang Falls
or Seven Sister Falls). The cost is ₹1300 - ₹1500 for a 7 hour trip from Shillong to Cherrapunji and back.
Shared sumos are also available near the petrol pump at Cherrapunji back to Mawlong Haat, Barabazar, Shillong for ₹70 a seat.
Get around
Upper Cherrapunjee (Sohra), where main market area, and lower Cherrapunjee, "By the Way" hostel area, are separated by 4km. Both location have Sumo stand and if you are dropped off at the wrong location, shared taxis (8 people in Maruti Alto) ply between for ₹20 per person.

See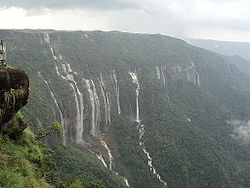 Living Root BridgesThe Living Root Bridges created by people of Khasi tribe is one of the most amazing examples of bio engineering. Created over years by carefully guiding the roots of Ficus benghalensis these bridges can last up to 500 years. The most famous Living Root Bridges are in the village of Nongriat and Mawlynnong.

Mawlynnong Village - Asia's cleanest village. Must see for the amicable relationship between humans and nature and for the clean environs that's offered.
Do
River Canyoning
Swimming
Trekking, Multiple treks exist in and around Cherrapunji. One of the most popular one is to the "Double Decker Living Root" bridge in Nongriat village starting from Tyrna. Stairs are constructed from the beginning of the trek to Nongriat village, and the trek takes about 2 hours each way.

Mawsmai CaveAn exciting and beautiful for adventure seekers. Most tourists explores the caves bare foot as the floor is damp. Some passageways are narrow and steep so a minimum level of fitness is required to view the cave in its entirety.
Eat
Avron Restaurant

phone: +91 87947 13223

address: Sohra-Shella Rd

Good vegetarian and non-vegetarian food. Diverse range of India, Chinese and international.
Drink
Bars are available in some of Cherrapunji's hotels.

Sleep
phone: +91 94361 15925, +91 96153 38500, +91 98630 79856

address: Village Laitkynsew, Cherrapunjee Pincode

Nongriat Guest house

phone: +91 8575913994 (Mary)

address: Nongriat

The guesthouse is very basic but reasonably priced. Recommended for people who can tolerate little discomfort to enjoy pleasures like taking bath in natural swimming pool and spot beautiful butterflies.

phone: +919863020718

Saimika Park is a 65-acre plot of land with a restaurant, 7 guest rooms, two of which are made in traditional design using locally available construction material,a dormitory is available for backpackers. A conference hall is also available. Some of the amenities include a plunging pool, a basketball court,tennis court, fishing pond and trekking guides to take you to visit community forests. There are also indoor board games available.

By the way

phone: +91 98566 30274

address: Sohra-Shella Rd, Lower Cherrapunjee

Great place for backpackers. Both rooms and shared bathroom (hot water) are well maintained and clean. The owner is very knowledgeable local who knows the area well. Do not bother trying to make reservation, just show up and he will find you a spot.

Polo Orchid Resort

phone: +91 8794 701 636

Rooms with elegant decor and a magnificent view of Nohsngithiang Falls. A jacuzzi and spacious balcony facilities are also provided. On-site, there is an Irish bar serving a wide range of cocktails, a round-the-clock café, and a grill restaurant, perched on the cliffs.
Go next