Chester
Chester
(
Welsh
:
Caer
) is a very pretty and historic
English
city on the river Dee in the
North-Western
county of
Cheshire
. Although maybe not worth a whole holiday, it's well worth a day trip to see the Roman ruins. This fine city is also the gateway to
North
Wales
, standing as it does directly on the border with the Principality. It is the nearest city of any size for a sizeble population in North Wales.
Understand

Chester originated in the Romano-British period at the latest, when it formed the settlement known as Deva or Castra Devana, the fortress city of the 20th Legion (Legio XX Valeria Victrix). As a result some parts of Chester are around two thousand years old. It was a Royalist stronghold during the English Civil War in the 1640s, and along the walls one can see the tower from which King Charles I watched his troops do battle.
A native of Chester is called a 'Cestrian'. Just as Cockneys must be born within earshot of the Bow Bells to be classed a 'true' Cockney, local tradition dictates that to be strictly deemed a 'Cestrian' the person must have been born within the boundaries of the city's Roman walls.
However, the last maternity ward within those defined limits was relocated to its current site a couple of miles outside the city walls in the early 1970s.

Get in
By train
Wikivoyage has a guide to Rail travel in the United Kingdom.
Chester is on the North Wales Coast line, over which trains starting at Crewe and Manchester run to
Llandudno
and
Holyhead
; direct trains also run from and via Chester to
Birmingham
,
Cardiff
and
Shrewsbury
.
From London (2 hr 10 min) - Virgin Trains provide an hourly service to and from London Euston; otherwise a single change of trains at Crewe connects with many other London trains.
From Liverpool (40 min) and Birkenhead (30 - 35 min) - Chester is a southern terminus on Merseyrail's Wirral Line which provides direct trains from Liverpool City Centre and the Wirral.
From Manchester (60 min) - a second line runs between Chester and Manchester, via Northwich and Altrincham - the journey is the scenic route in all senses of the word. The trip takes substantially longer, but travels through rural Cheshire before reaching Manchester's outer suburbs. The main line saves around half an hour in travelling time.
By car
Chester is near the eastern end of the A55, which becomes the M53, which crosses the M56. London is approximately 170 miles by road, Birmingham approximately 90 miles, Manchester approximately 40 miles, Liverpool approximately 15 miles.
By coach
National Express
operates coaches to Chester from various UK cities and towns. Chester coach station is permanently closed, so coaches set down passengers at a bus stop on Vicars Lane, opposite the Visitor Centre near the Roman Amphitheatre.
Get around
The city centre is relatively small with everything within walking distance. During the day, there are regular buses, or one can take a taxi:
phone: +44 1244 318318

address: 100 Foregate Street

Taxis & private hire vehicles.

phone: +44 1244 421024

Taxis, minibuses and airport transfers available.

phone: +44 845 260 8 360

address: Deeside Lane

Self-drive supercar hire. Drive around Chester in style.
See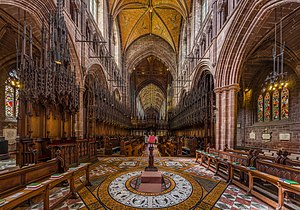 phone: +44 1244 324756

address: 12 Abbey Square

Grosvenor ParkThe main ornamental park in Chester and includes a pond, miniature railway, open air theatre and children's play area.

The Eastgate ClockIt is claimed to be the second most photographed clock in the UK. Gatehouse from 1768-9 and clock dating from 1899.
Roman Chester
Chester (or "Deva" in Latin) was one of the great military bases in Roman England, and as such, has its fair share of Roman ruins. Historians have even speculated that had the Roman departure not happened, Chester would have become the Roman Capital of England.
WallsThe city centre is enclosed by the walls, which offer a pleasant strolling route for visitors and locals alike. Walk around the top of Roman walls that surround the city.

address: Vicars Lane, Chester

Believed to have been the site of the largest wooden structure amphitheatre in the Roman Empire outside of Rome for its time, with a larger stone amphitheatre later built on-top of the foundations

Roman GardensWith reconstructed hypocaust.

Spud u Like

address: Bridge Street

The basement of this shop gives access to an original hypocaust.
Do
The Groves

address: riverside

The Groves is Chester's own riverside promenade running alongside the River Dee from the Grosvenor Park to the Old Handbridge (which gave its name to one of the suburbs on the other bank).
:The Groves is one of Chester's premier open spaces, running along the city bank of the River Dee. It became a promenade in the early 1700s and is now part of a longer Riverside Promenade.
:In 1726, the area was leased to Charles Croughton who secured the river bank and planted an avenue of trees. By the late 18th century it had become known as The Groves. The City Walls also became a fashionable place and during the 18th century, the circuit was modified and the Groves and the walls were connected through the construction of Recorder's Steps. In Roman times, this section of riverside was a series of quarries where stone was extracted for building the fortress. In Saxon times, The Groves was probably the main port area and may have had a concentration of leatherworking.
:The Groves is also the best place to go to take a trip down the river itself through all manner of vessels from motorised tour-boats to row boats and, in warm weather, even pedaloes.
Grosvenor ParkGrosvenor Park is a classical, 19th century designed park with a typical Victorian layout that includes formal avenues lined with trees, large sweeping lawns surrounded with ornamental shrub beds and bedding plants, which provide a colourful display throughout the spring and summer months. The park is located near the River Dee and with views across the river to the meadows and Queen's Park and out towards the south of Chester.
Grosvenor Park was one of the first public parks in Britain outside of the big industrial cities and was given to the city of Chester in 1867 by Richard Grosvenor, the Second Marquess of Westminster.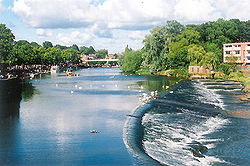 BoatingAlong the river. Rowing boats can be hired, or if you don't want to exert yourself, there are many boat trips that go from the river bank on the city centre side between Handbridge Suspension bridge and the walls, and they show you everything you will want to see!

phone: +44 1244 304600

It's on the Roodee, and used to be the site of the Roman port. If you're really keen on horseracing, find out the dates of the 'races days' Chester hosts a few times a year. You may have to book/ will have to book tickets in advance, check with Chester racecourse, and there is quite a range of prices. Chester is a racecourse that holds flat races only, it is a very tight left hand course. If you just want to see a bit of the race atmosphere for free, the walls walk you right past a view of the action down below. City centre bars are best avoided before and after the races, unless you wish to be very sociable because they are usually full and difficult to get a drink.

phone: +44 1244 380280

address: Upton-by-Chester, Chester, CH2 1LH

Well worth a visit, the zoo is absolutely superb and reportedly one of the best in Europe. The elephant collection is world class and it has a unique bat cave where they fly freely around visitors. It's best to leave 3-5 hours to do it properly. It's a little way out of the city centre, so either catch a bus from the bus station, or take the train from Chester Station to Bache on the Wirral Line. The latter option is extremely quick (under five minutes) and correspondingly cheap.

phone: +44 1244 402008

address: 27 Grosvenor Street, CH1 2DD

Small but informative museum majoring on the city's Roman heritage.

address: Pierpoint Lane, Bridge Street, CH1 1NL

Interactive museum about Chester's Roman history, with hands-on exhibits. If visiting in term time worth waiting until after 3PM to avoid parties of schoolkids.

phone: +44 1244 327617

address: The Castle, Chester, CH1 2DN

Museum remembering the county's military past, with archives, a shop and changing exhibitions.

Open-top Bus TourWill get you round all the main tourist sites in 30 minutes. Several bus operators run tours.

Christmas Lights

address: city center

Chester is the prettiest city in the run up to Christmas when the streets are tastefully decorated with lights. The shops are hectic but try a walk round the walls after 5PM.

address: Warrington Rd, CH2 3PD

A world-class day spa offering an exhilarating sensory journey with an extensive treatment menu. Definitely worth a visit when in Chester, but lots to do so need to set aside enough time to make full use of the facilities.
Buy
Chester has fantastic shopping for its size. All the major stores are based in one of the most attractive city centres in the country. Traditional black and white Tudor buildings and
The Rows
(an historic two-tiered shopping gallery, the only one of its kind in the world!) coupled with good shops and great places to eat, such as
The Watergates Wine Bar
, are sure to make this a pleasant shopping trip.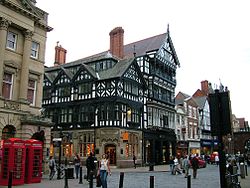 If that doesn't satisfy your consumerist needs,
Cheshire Oaks
is a designer outlet 10 miles away by bus or car.
Also Chester has a traditional indoor Market located behind the town hall.
Eat
Good choices for food are:
The Watergates Bar

address: 13 Watergates Street

A historic Norman crypt dating from the 11th century on the main cobbled streets just under The Rows. An extensive menu with loads of choice all at a reasonable price.

address: 33 Pepper Row, Pepper St, CH1 1EA

Italian restaurant with a large selection of dishes and good service.

Siam

address: City Road

A well-converted canal-side building (above Harkers Arms).Upstairs is good-quality Thai menu. Downstairs is Teppan-yaki style Japanese food, prepared in front of you with all the performance of juggling utensils, fire etc.

Pastarazzi

address: 29 Grosvenor Street

It's in a beautiful old building near the racecourse. Offers fine dining at expensive prices.

Brasserie 10-16

address: Brookdale Place, CH1 3DY

phone: +44 1244 325822

address: 33 Northgate St, CH1 2HQ

Very high quality fish and chips at a decent price. Delicious northern fare!
Drink
Chester has plenty of historic, old-fashioned English pubs, with beer at around £2.50-3 a pint. However, most places will stop serving at around 23:30, and even a little earlier on Sundays. The only true exception being Watergates which trades until 2AM on Fridays and Saturdays.
Pubs
The Watergates Bar

address: 13 Watergate Street

A great setting in an old church crypt under The Rows. Generally relaxed by daytime with a stunning rooftop garden with outside bar. Attracts a lively crowd in the evening with good music and a wide range of cocktails, beers, shooters, spirits and bottles.

The Bear and Billet

address: Lower Bridge Street

A renovated 17th-century tavern that features a wide selection of beers in convivial surroundings. Decent food.

Ye Olde Cottage Inn

address: Brook Street

Good local pub, serving a selection of beers, wines and spirits. Real log fires in winter, excellent beer garden at rear. Traditional English pub, oak beamed and bar, with pool and darts.

The Falcon

address: Lower Bridge Street

An old tavern situated at the top of Lower Bridge Street - allegedly haunted in its basement - it serves an excellent range of beer from the Sam Smith's brewery.

The Marlbororough ArmsWhen it needed its sign painting, the artist stopped to quench his thirst half-way through, and the rest is history. Very close to the city centre, outside it offers a 'husband-creche', where women can deposit their hapless other halves for an afternoon's shopping in peace.

address: Park Street, CH1 1RN

Defiantly traditional, 'family-hostile' pub with walls covered in First World War memorabilia. Excellent beer and good home cooking.

address: Wrexham Rd, Pulford

Ciro's Brasserie at the Grosvenor Pulford Hotel & Spa is a magnificent Mediterranean style restaurant offering modern European cuisine and an excellent selection of fine wines from around the world.

Marco Pierre White's Steakhouse, Bar & Grill

phone: +44 1244 408830

address: Hoole Hall, Warrington Road

Set on the outskirts of Chester at the Doubletree by Hilton Hotel, the menu comprises everything you would expect from a traditional Steakhouse with the superior quality you would expect from Marco Pierre White.

address: 59 Northgate Street, CH1 2HQ

A traditional pub of character, reknowned for its eclectic range of real ales and its good quality pub food.
Bars
Watergates

address: 13 Watergate Street

For late night drinks in a superb setting, you have to visit Watergates. An old church crypt under The Rows that is deceptively large with long barrels rooms and a hidden snug. Attracts a lively crowd in the evening with great music and a wide range of cocktails, beers, shooters, spirits and bottles. Open until 2AM on Fridays and Saturdays.

Amber Lounge

Bar Lounge

Bar 69

address: 1 Boughton

Chester's main gay bar
Clubs
There are only a handful of night clubs and late bars to choose from. The latest any club will stay open in Chester is 03:00.
Telford's WarehouseOne of the best clubs, alongside the canal.

RB's (Rosie's)Ground floor is a 1990s bar, Babylon. Two more floors playing different music. Good security, lively venue.

address: 4 St.John's Street, CH1 1DA

New club with four bars in six distinct themed areas, specific rooms for different persuasions. Classy and always a good night out.
Sleep
There are many good hotels in and around the city. Contact the tourist office for details.
Budget
Mid-range
Most B&Bs are clustered to the East of the City in Hoole. This has its own centre, with good local pubs, some restaurants and shops. Its about a mile into the city centre and not a very attractive walk, but is convenient for the train station.
Splurge
The Chester Grosvenor Hotel and Spa

phone: +44 1244 324024

address: Eastgate, CH1 1LT

For the seriously moneyed, there is only one choice. The Grosvenor is the height of luxury and is in the centre of town.

Best Western Queen Hotel

phone: +44 1244 305000

address: City Road
Stay safe
Chester is not an especially dangerous city, with no particular reputation for crime. The general rule is the nearer the racecourse (thus more expensive), the safer the area. However, the usual
UK rules
apply. Be aware that, between midnight and 3AM or so, especially on Friday and Saturday nights, there will be plenty of drunken people about, so stick to well-lit areas and main roads. If you
are
one of these people and don't know the city well, consider taking a cab home. Some parts of the city, especially Blacon and The Lache should be strongly avoided if you don't know the area, as they are considered unsafe.
Go next
Wales
- Chester is on the border with Wales, and the Victorian seaside resort of
Llandudno
is 50 miles (80 km) away.
Liverpool
- vibrant and friendly port city, home of the Beatles, the Liver bird and a great skyline.
Manchester
- old Cottonopolis is now a cosmopolitan metropolis.