Chișinău
Chişinău
(Russian
Kishinyov
, Ukrainian
Kishiniv
, pronounced "Kishinau" with "nau" as in the English word "know") is the capital of
Moldova
with a population of around 790,000 plus 250,000 people coming each day for work and entertainment from all over the country and abroad. The city's territory with nearest suburbs cover the area of 635 km 2 .
Understand
Chişinău is very wealthy compared to the rest of the country, as Moldova is not a very rich country, and the countryside especially is poor. As is common in developing countries, you are likely to see great disparities in wealth. It's also very much a post-Soviet city, with both the good and bad qualities associated with it. By other side you'll see many modern and great buildings of steel, concrete and glass.
The majority of the middle and working class population lives in blocks of flats. These look standard, maybe not too nice but are not "dangerous" as similar areas may be considered to be in Western Europe. Do not expect Western standards everywhere, but the situation is improving every year. There are 4- and 5-star hotels, good restaurants and cafes, coffee houses and bars. Many restaurants and almost all the hotels in the city accept the credit cards. There are hundreds of ATMs throughout the city.

Get in
By plane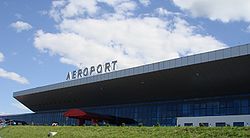 Chişinău International AirportServed by many airlines like AirBaltic, Air Moldova, Austrian, Lufthansa, Moldavian Airlines, Tarom, Turkish Airlines, S7 Aircompany, Wizz Air with flights around the Europe and Asia, notably to Athens, Bucharest, Budapest, Frankfurt, Istanbul, Madrid, Milan-Bergamo, Moscow, Munich, Riga, Rome, Timisoara, Vienna, Vilnius, Saint Petersburg, Varna, Paris, London, Bologna and Surgut.
There are three taxi companies which operate at the airport. The fixed fares range from 80 to 120 lei depending on where in the city you are going. While better than in the past, the taxi system is still not perfect and it is likely they will try to come up with a reason to charge you extra. It is cheaper to wait for a taxi dropping someone off at the airport and use that one to return to your destination. Always agree the price before entering the taxi.
Cheaper alternatives are minibus 165 and trolleybus 30:
N. 165 takes you through Botanica to the center, Izmail street. Tickets cost 3 lei; luggage will cost you another ticket. The minibuses are white vans leaving from the airport parking lot. If you leave the airport building from the arrivals area, turn right and walk towards the end of the building. The buses are marked with the number 165 on a sign behind the windshield and you can flag one down passing you, or walk up to the ones still parking. Don't open the sliding door even though you have luggage; for some reason they always use the co-drivers door to get on and off.
N. 30 leaves just out of the arrivals door and is marked by a sign with the times. Pay the girl with an apron 2 lei (July 2018) once the bus is running. It takes you to Botanical Gardens, Ismail Street and Bulevardul Stefan cel Mare si Sfint (main street).
By train
See
Calea Ferata Moldova
(CFM) -
Moldovan Railways
.
There is one Central Railway Station and a few suburban stations at the city's ends. The trains depart to Europe through Romania and to the Community of Independent States, especially to Russia, Ukraine and Belarus.
From Western Europe, the train is much cheaper than a flight. The downside is that they are slow, particularly when crossing the borders into the former Soviet Union, where they need to stop to have their wheels changed due to different rail gauge.
The most popular route is from
Bucharest
, daily overnight trains leave
Gara de Nord
station at 19:15 and arrive at 09:30. The 'couchette' - shared sleeper cabin, cost approximately 136
Romanian lei
purchased the day of in Bucharest.
Another useful route is from
Warsaw
, departing every second day taking two nights (38 hr). Chişinău is served by three routes from Russia, one from
Moscow
via
Kiev
, one from
Saint Petersburg
and one from
Rostov-on-Don
. Several cities in Ukraine also have daily connections.
A direct train from
Odessa
leaves Odessa at 16:00 and arrives at ~22:00 the same evening, running
only on Saturdays and Sundays
. This train crosses the unrecognised breakaway state of
Transnistria
and makes a quick stop-over in its capital,
Tiraspol
. A single journey costs 244
грн
as of May 2015.
By car
Roads in Moldova are quite bad. The road leading from Chişinău to Leuseni is pretty nice. You are likely to be sharing the road with trucks, cars, and livestock, all moving at various speeds without a lot of regard for safety.
Because the driving and quality of the roads in Moldova is different from what a Westerner would probably be used to, it is thus better to rely on public transport, which is very cheap and (mostly) reliable.
By bus
Chişinău has three bus stations:
Gara Centrală

phone: +373 22 542185

address: Strada Mitropolitul Varlaam 58

Serving mainly in-country destinations including Transnistria. Buy your ticket at the Kassa. Tickets for international trips have to be bought inside the bus station instead of directly from the driver.

Gara de Nord

address: Strada Calea Moșilor 2/1

For in-country destinations on the northern part of the country like Sorocca, Rezina, Ocnita, for travel to Odessa, Kyiv and elsewhere in Ukraine.

Gara de Sud

phone: +373 22 723983

For in-country destinations in the southern part of the country like Comrat, Cahul and for journeys to Romania. Getting there/away: from central Chişinău on rutiera (microbus) number 120, 124, 180 or 192 for 3 lei. Gara Nord is served by rutiera 163 and trolleybus #9, along with a bunch of others.
You can check bus timetables (for in-country, and international destinations) at
this website
.
From specific destinations:
Transnistria – From Tiraspol (leaving from the train/bus station: gara) and Bendery there are semi-hourly marshrutkas taking 90 min and 40 rubles. You can also pay in Moldavan lei, about 37 lei.
Bucharest – Many companies operate 'rutieras' during the day and larger coaches during the night heading to Bucharest. The journey is 8-9 hr journey with hourly departures in the evening. There often is no toilet on the bus but several stops were made by the bus driver. Most companies run to/from the central bus station behind the Central Market.
Iași – Coach services are operated to/from Gara de Sud. There are nine services a day. The trip takes around 3½–5 hr.
There are also several buses throughout the day from
Chernivtsi
, and
Lviv
.
Get around
By bus
For budget travelers, just do like the locals do: ride the trolley-bus (24 lines through the city), bus or maxi-taxis. A trolley-bus ride costs 2 lei while a bus ride costs 3 lei, collected by a conductor who walks up and down the bus after each stop. When the a maxi-taxi approaches you on the street, flag the driver down with your hand, just like you would with a taxi. Maxi-taxis cost 3 lei, which is paid to the driver upon entry. There are few set stops for maxi-taxis. It is usually fine to just tell the driver when you want to get off, although there are new rules and drivers may not do this so much anymore but will stop on street corners, etc.

By taxi
There are 40 taxi services operating throughout the city and its suburbs. Call 14222, 14333, 14444, 14747, 14448 or other 14xxx numbers to get a taxi. Taxi service 14700 frequently has an English-speaking person, although this is not guaranteed. Travelers who do not speak Romanian or Russian should ask a local person at a hotel or a restaurant to call a taxi, because few taxi drivers speak English. If you need a receipt for your travel, ask for a receipt when requesting the taxi. Taxi drivers do not accept payment by credit card. Bring small bills because, rarely, the taxi drivers will not be able to change anything larger than 50 lei bills. Prices vary by company and the individual taxi driver, and prices are fairly inconsistent. Expect prices from 30 lei to 60 lei for shorter rides and from 50 lei to 150 lei for longer rides. From Moldova to the airport, the prices vary and should be expected to be between 80 lei and 130 lei.

See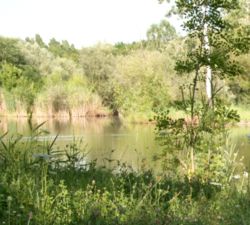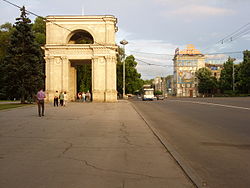 Cathedral ParkThe centre is adorned with the Nativity Cathedral, the main church for the city. To the southwest is the Triumphal arch constructed in 1841, which is the center piece of the Great National Assembly Square. Across Stefan cel Mare Boulevard is the Government House. The city's biggest flower market is on the north side of the park along Banulescu Bodoni street. At the intersection of Stefan cel Mare and Banulescu Bodoni, there is a statue of Stefan cel Mare.

Stefan Cel Mare MonumentThe monument to Stephen III of Moldavia who, in the 15th century, achieved European fame by resisting the Turkish advances. The monument is the gateway to the beautiful park of the same name.

Rose ValleyA 9-hectare park featuring three major lakes with pedal boats and several restaurants. It is possible to walk there for the center, and thus allows to visit the Cathedral Theodor Tiron on the way.

Riscani ParkA 32-hectare wooded park offering pleasant, almost secluded walks.

Botanica ParkThe largest and most beautiful park in Chişinău.

Village MuseumNext to Botanica, if you head west after you exit the gates, cross Strada Aeroportului, and then you can find a path which will take you towards the first, and so far only building, that is on the land designated as the Village Museum. It is a wooden church built in the 1600s brought piece by piece to Chisinau from the village of Hiriseni, 74 km north. There is a new wooden gate with traditional carvings leading up to the museum.

Parcul Valea MorilorVery large park with a lake and which offers acres of largely untouched countryside scenery in the heart of the city. There is a popular 2.5-km running and cycling marked circuit of the lake

Parcul DendrariuA large park in Buiucani. Costs 2 lei to enter. Nice gardens, lake, forests and sports field.

Parcul AlunelulNear a former Soviet theme park, this contains a strange doorless and windowless house, and a memorial to the pogroms in Chişinău in the first part of the 20th century.

Jewish CemeteryThe Jewish Cemetery is still in use. It contains new and very old graves. It used to be one of the largest Jewish cemetery in Europe. At one point, between 40% and 60% of Chişinău's population was Jewish. The Jewish Cemetery also contains an old destroyed synagogue and a monument for the Torah scrolls.

Military MuseumContaining all sorts of Soviet-era military vehicles, such as tanks and a MIG fighter jet.

Memorial ParkA little way-out of the center is the is a memorial commemorating the victory of the Soviet army in World War II. There is also an eternal flame in memory of Chişinău's unknown soldiers who died in World War II. It is behind the military and civilian cemeteries.
Museums
Pushkin Museum

address: Str Anton Pann 19

You can visit the house where the Russian poet Alexander Pushkin lived when in exile from Russia from 1820 to 1823.

National Archaeology & History Museum

address: Str 31 August 1989, 121A

Spend a few hours exploring the exhibits, and pay attention to the walls, floors and roofs of the building. There are some explanations in English.

National Ethnographic and Natural History Museum

address: Str M Kogălniceanu 82

The palaeontological part of the exhibition includes a skeleton of Deinotherium, a fearsome prehistoric relative of elephants. There is a good collection of traditional dresses, and a scale model of Moldova. Even if you don't enter the Islamic inspired exterior facade is quite stunning, particularly late afternoon when it catches the sunshine

address: 115, 31 August 1989 Street
Do
Buy
There are excessive number of shops, malls and trade centers in Chişinău. Only market places are at about 41.
If you are just visiting Chişinău, consider buying a special brandy selection of about 30 small bottles, with different sorts of brandy. It can make a nice gift. Moldovan wines are deservedly famous across the former Soviet Union, yet are little known in Europe. Take the opportunity to sample them. Cigarettes are also much cheaper in Moldova than in the EU, so you might do well to stock up before leaving the country (although there are strict limits on the number of cigarettes you can bring across an EU border).
Chişinău Souvenir Bazaar - The city's main artisan market. One can find hand made crafts, paintings and relics from the Soviet days. English is limited, but many products have a marked price. Negotiating prices is acceptable. It's on Stefan cel Mare boulevard adjacent to the Mihail Eminescu National Theatre at Stefan cel Mare 152.
Unic - An all purpose shopping center in Chişinău, but it is rather soviet-style. For a better shopping experience, go to MallDova or Sun City One can buy just about anything needed when in Moldova. The selection on souvenirs is smaller and many will not be hand made. It's on the corner of Stefan cel Mare and Ismail.
Stefan cel Mare - This is Chişinău's main street. Not only is it great for people watching, it is also lined with numerous shops and restaurants.
Piata Centralâ - Chişinău's outdoor market.
Mall Dova - The largest western-style mall in Chişinău. Most stores and products are generic and could be found at any other mall in any country in the world.
Eat
Chişinău is a good place for food lovers. There are plenty of good places to eat all over Chişinău. The cheap, tasty food that is very popular with the locals is served in most places. For better service and more diverse food selection, there are a lot of small restaurants and cafes. Some restaurants have prices comparable to Europe, although if you eat only in those you may find yourself being ripped off. For a quick lunch, try fast food stores and pizzerias, these can be found on nearly every corner. Beef is often under the veal part of the menu.
For groceries, there are small shops all over. Some are even right in front of the apartment blocks just a few steps away from their entrances. For harder-to-find items, head to a supermarket. You will frequently also see markets or even one or two random people selling fruit and vegetables, and sometimes other products such as honey or "brinza" (type of cheese). The majority of these are fresh and perfectly safe to eat and frequently better than what is found in a supermarket.
For fresh fruits and vegetables, open-air markets are the best option. 'Piata Centrala' - 'Central Market' is - as the name implies - in the center of the city and runs more than two whole city blocks. Other districts and neighborhoods such as Ciocana also have large markets. Most of the items for sale are locally-produced, but there are a lot of sellers who sell imports; mostly oranges, bananas and other tropical fruits and vegetables. Some say that it is best to buy meat and dairy products from supermarkets or shops because they think the quality is much better than in the market for nearly the same prices.
However, the vendors at the market will let you taste the cheese prior to your purchase so you can decide if it is something that you want to eat. When you first walk into the 'cheese halls', it may look like all of the vendors standing next to each other are selling the same product For hard cheese which tend to be re-sold from larger distributors, it may be the same. However, for cheeses that are locally-made, there are slight variations that arise from even slight differences in technique, variations in the level of salt for curing, differences in feed. 'Oi' means sheep, so this will have a slightly different flavor than cow 'vaca' or goat 'capra' cheeses. 'Cas' is a softer cheese, that is not aged like some of the other 'branza' which tends to be harder and saltier and recommended for Mamaliga - corn polenta. If you are uncertain about how to communicate the quantity you want, you can start by giving the vendor 20 lei or 40 lei depending on if you want a smaller or larger piece. Or, when they suggest a certain piece that might look too large, you can say 'jumatate' which means 'half', and then they will weigh it and tell you the price. You can ask them to write it down if you need by showing a pen and paper.
A classic 'fast-food' is the 'langos' which are fried dough with either 'cartofi' - potatoes, 'branza' - cheese, 'varza' - cabbage, or 'ficat' - liver. These are all made in the bakery in the second story of one of the buildings near the market and are sold by different vendors in identical glass wheel carts in different parts of 'Piata Centrala'.
A quick meal can also be put together with the marinated or pickled dishes that are sold at 'Piata Centrala'. Depending on the vendors, you might find marinated eggplant with onions, marinated shredded carrot, squash or mushrooms. There are also re-hydrated sea grasses (they said from the Black Sea) in white or green curly varieties in whole bunches, or smoother grasses that are more shredded. I didn't catch the names, but again, they will give you samples.
Budget
Supermarket Nr.1
in Dacia with Bucaresti has 30% discount of prepared food between 21:00 and 23:00.
Galbenus
, in Puskin Street, offers a selection of dishes paid per weight. Open 08:00-21:00, 20% discount after 19:00.
The orange
Beleas
stalls all around the city offer cheap and warm food which is very good in winter, and usually "quick and tasty" as advertised (
repede si gustos
) in Romanian. However they may not always heat it up properly which can mean it might not be so good so ask for
fierbinte
(boiling). Also, although it is usually nice, don't think about where it might have been before you bought it.
Foisor
for cheap blini (pancakes/crepes) and zaema at 16 lei.
The
canteen
in the basement of the court building in Banulescu Bodoni Street is open from 11:00-12:00 and 13:00-16:00. The simple food is great value for money (25 lei for soup, main dish, and chefir; 40 lei maximum for a meal; 2 lei for tea). Walk up the street from the two parks, the court building is on the right just before ASEM University (Academia de Studii Economice din Moldova) on the left.
phone: +373 22 558 008
address: Decebal 91, Botanica
Sandwich Express is small, friendly and budget-friendly cafe that offers large sandwiches, coffees, fresh juices, free WiFi.
Express Bravo Cafenea Bar
address: Stefan cel Mare si Sfant 130
Food is arranged in trays and on plates behind glass. The menu changes and depending on who is working they might let you taste some before choosing a particular dish. The staff doesn't know English, but you can pick up a tray and point to what you want to eat. There is a better choice at lunch time.
You might also enjoy eating on the roof of McDonald's where the menu is virtually the same as in America (plus beer).
address: str. Ismail 84
Chain of fast food restaurants in the style of McDonald's, serving kebab & falafel.
Mid-range
Andy's PizzaA fast food restaurant which is found all over the city. The quality of the food is very good depending on which dish and which outlet you go to, with some of the food being absolutely gross especially the pizza.

address: str. Puskin

nice pizzas, chain famous in Ukraine, has three branches.
Pizza House, 133 Stefan Cel Mare, +373 23-51-62, serves a variety of dishes including pizza, pasta and local favorites. They have a lunch special for about 50 lei. Prices for a full meal range 40-100 lei.

phone: +373 22 211 211

address: Bd Moscova 9 1

Another restaurant owned by the same people, serving traditional Moldovan cuisine. The quality of the food is far more reliable and good, at decent affordable prices far below that found in Western Europe. Bright, colourfully decorated place.
Robin pub - medium-sized place with a friendly English-style pub atmosphere. This pub has a wide variety of meals from fish to pasta. Staff know a little English and menu is in English as well. This place is all smoking area. The food is fast, hot and decent.
The restaurant owned by the Green Hills company on Stephan Cel Mare is excellent, prices are comparable to European ones.

phone: +373 (60) 619777

address: 128 Stefan Cel Mare

American BBQ in Chisinau. Smokehouse is run by 2 Americans and a Moldovan who have brought American-style pulled pork, ribs, baked beans and other bbq specialties to Chisinau. Additionally they have 6 Moldovan craft beers on tap which is the most diversity in the city and their 1.5-litre "beer flight" sampler is cheaply priced and a good way to jumpstart your knowledge of Moldovan beers
Splurge
phone: +373 22 227 692

address: Str. Bucuresti, 67

Traditional, family-run Moldovan restaurant in a cellar serving Moldovan specialties. English-language menu. It caters to tour groups and parties, so calling ahead to reserve is a good idea. Excellent list of Moldovan wines, many by the glass.

Salciora

phone: +373 22 211 187

address: Str. Pushkin, 39
Drink
Drinks such as vodka are served on their own. So don't be surprised if your Vodka Sprite is served as a 2 separate drinks. Also club soda seems difficult to procure, at least in English.
Wines - Moldavan wines, cognac, liquor and juice are all on par with the best of Eastern Europe. For one thing, manufacturers tend to use only organic products. Secondly, these products are made in the traditional way. Restaurants tend to sell only local wines, but only those of the highest standards. One of the very best wines of Moldova is from the wine plantation of Purcari and even if you live in the United States you can buy Purcari wines from Purcari and their importer Moldova Traders.
Beer - Moldovan beer is one of the best in Europe. A very famous is named "Bere Chişinău". It was awarded with the Nr.1 Gold Medal at the Nuremberg beer competition in 2007, beating German, Czech and others. It can be found in all the bars on every street in Chişinău, so finding a place for a drink is not a problem. However, good bars and restaurants with a pleasant atmosphere can be difficult to find. So watch where you stop.
Beer House bar and restaurant on bd C. Negruzzi, has a wide range of beers (some brewed on the premises) and a good menu. Prices for a full meal with drinks range from 150-500 lei.
Clubs
There are more than 40 night clubs in Chişinău, making its night life vibrant and dynamic. Here are some of the best of them.
City club - tucked in behind the parliament buildings this dome-shaped club offers tables that can be reserved for 300 lei in the back and 200 lei right on the dance floor. All the tables may look reserved but they are open for purchase. Listen to the electronic music among the red decor. 35 lei cover. 2 floors. Coat check is available. Do not be surprised if the bouncers begin shoving you around - if you get too close to a VIP table, take a drink too far from the bar, or do not move out of the way quickly enough when performers enter the dancefloor.
Booze Time Club - a club with a slight rustic feel as it is nearly all wood. Somewhat of a university bar feel. Electronic music. Upstairs bar and lounge area. No cover. Connected to City Club but for staff only. Booze Time will be more full than city on off nights. Coat check available. Bartenders here like to put on a show as well.
Deja vu - a smaller basement pub club. Quite intimate but watch out for the harmless bar top antics where staff pour drinks down customers' throats in a sexually suggestive manner. Be sure to order the flaming sambuca. It's a good show. A mix of pop electronica and club rnb. just don't be surprised if your bar tab ends up being twice as high as expected. But as some shots involve 3-4 staff working to keep you safe as the entire bar is engulfed in flames while bar tenders juggle liqueur bottles turned Molotov cocktails. Cash only (they take euros).
Drive - destination for those who appreciate the real quality club recreation. Powerful energy and surrounding you absolutely powerless sound and modern rhythm will make you to love it at a glance. A wide bar range and a variety of recipes will surprise even the most demanding taste. Also, there is always fresh beer, and a huge selection of cocktails and alcoholic drinks.
Military - the place where Military Club now occupies, brought together people that were symbols of their times. People like Vladimir Visotsky, Andrei Tarkovsky, Andrei Mironov, Nona Mordukova, Stefan Petrache, and Mashina Vremeni.
Sleep
Budget
In the main train station, there is a decent hostel. Just enter the train station and ask the guards there. Price is 220 lei per night.
Hotel Turist is close to the centre and charges 440 lei a night for a double room with shower and WC (price as of August 2008).

phone: +373 60030094, +373 69165529

address: Pruncul 6, Apartment 1

120 lei/night for one bed in a six-bed room. 50 lei key deposit. One bathroom with a shower in it. It is in the heart of Chişinău. This is the cheapest hostel in Chişinău. This is a nice and clean place. Laundry service available at €5. Hot water may be limited. Free internet is very good Checkout 11:00, check-in 13:00.

phone: +373 60079998, +373 697 11 918

address: 5/4 Arborilor str.

Well-managed, friendly and social hostel. Staff are helpful for finding international marshrutka routes. It is in its own building with a porch/patio for BBQs and hanging out near MallDova.

phone: +373 22 578 506

address: 7 Negruzzi blvd.

Hotel Chişinău claims to be the oldest central hotel in the city. An "aging beauty" with friendly staff and clean rooms.

Retro Moldova Hostel

address: Strada George Cosbuc 3, Apartment 24

€12/night for dorm bed. Silent and central location with very friendly and helpful staff. Laundry service. Wi-Fi and lockers are available. The hostel is in a large flat in a lovely communist-style apartment block. Interior is a lot nicer than the exterior. Some of its interior such as wall posters dates back to Soviet times. The entrance is in the backyard and not towards the street. A small sign is sprayed on the concrete at the entrance and that is the only hint you get that there is a hostel inside apartment 24 of that gate.

phone: +373 68408626

address: 27a Armeneasca Street, Chisinau

Friendly and helpful English-speaking hostel, with Wi-Fi, fans, lockers, kitchen and washing machine as well as the usual facilities.
Mid-range
Splurge
*
phone: +373 22 210-822
A very posh but small (18 rooms) hotel close to the airport. Excellent service and good food, with extremely large rooms and comfortable beds.
Hotel VisPasA very cozy 4-star boutique hotel about a 15-minute walk to the city center. It has a good restaurant with mid-range prices. A full meal with drinks will cost about 300 lei.
*A very nice hotel in front of Chişinău's central park on a street with no traffic. Superbly quiet. Rooms are at the minimum of 4-star standards. This hotel also has a gym which is only accessible to guests.
Manhattan HotelA smaller 4-star boutique hotel in the centre. A few quirks but a good hotel. Opened early in 2010.

Prezident Hotel 5
* Newest 5-star hotel in Moldova.
*Modern, located in the centre.
Connect
There is a large
Internet Cafe
at Strada Cosmonautilor.
Important phone numbers:
Ambulance - 903
Police - 902
Fire brigade - 901
Gas intervention -904
Telephone directory service by Moldtelecom - 1189 (taxable)
Emergency (calls are made by mobile phones with no SIM card) - 112
Stay safe
Pedestrians should pay attention to the vehicles on the roads, because driving skills tend to be rather poor and no one really follows normal traffic laws. Accidents often occur, and pedestrians should be very careful while crossing streets.
Crime is relatively low although usual precautions apply.
When entering some buildings at night, you will have to walk through unlit alleyways. So when traveling through Chişinău, always carry a small torch. The street lights are quite sparsely positioned and it is a good idea to plan your arrival for day-light hours.
Watch out about night life: the U.S. State Department warns about Russian dating schemes being also common in Moldova and other kind of financial scams. Though, the average backpacker has very little to worry about unless looking for a Russian bride.
There is occasional police corruption aimed at foreigners. This will usually involve getting arrested for something ridiculously minor, with extra fictional offences added on for dramatic effect, in an attempt to scare you into paying a "high" bribe (maybe a few euros). Most police will not speak any English, and you can expect a lengthy lecture in Romanian/Russian. Be sure to always carry at least a good quality photocopy of your passports. However, this corruption is rare and usually only happens after being caught doing something illegal.

Cope
English is spoken in restaurants and some of the markets, and some taxi drivers speak a little English. Young people are much more likely to speak English than the older generation. In Chişinău most people know Russian and Romanian . If you plan to travel outside Chişinău it would be helpful to pick up some Romanian and about the only language spoken outside of the city is Romanian. In Gagauzia a Turkic language is spoken. Only 30% of the people in Moldova speak some English and the country is far behind with schools that teach the English language.
There is only a single national broadcast television station. For the most part, TV channels are piped in from Russia, Ukraine, Romania and Georgia. Euronews, Eurosport, CNN, Discovery Channel, etc. are on cable, but in Russian mostly. Not every home in the city has continual hot water so ask if staying in a private home.

Embassies
There are many embassies and consulates in Chişinău. here are some of them.


Go next
Nearby
Cricova – A Chişinău suburb close to the city. Famous for its fabulous winery with an underground cellar over 100 km long. An tour, including tasting the dishes in its restaurant, plus wine souvenir will cost you 500 lei. Tours must be booked before arriving. Tours booked on the same day as the tour do not include tasting of wine or food.
Ghidighici – A lake and Chişinău suburb close to the city in its northern part. It is 9 km. in length and at about 1 km. in width. Ghidighici is also, called as "Chişinău sea". There are many resorts and recreation facilities along its shores. One of the most preferable place for recreations for city locals.
Orheiul Vechi – One of the most visited sites outside of Chisinau and a one hour bus ride from the capital. It features a nature reserve, monasteries, museums, and archaeological sites.
Mileștii Mici – With over 200 kilometres (125 miles) of underground roadways, Milestii Mici is registered in the Guinness World Records as the biggest wine collection in the world. It may be easier to book a tour through a travel agency as one must provide a car for the tour. Website, phone: +373 22 382 333.
Further away
Transnistria – This unrecognized, de facto republic claims eastern Moldova; visiting it comes closest to what life in a communist state in the Cold War must have been like.
Iaşi – The second largest Romanian city, it was the capital of the Moldavian principality until 1861 and then briefly capital of Romania. Today it remains one of the major economic and cultural centres in the country. The contrasts between Chişinău and Iasi are quite significant and that makes this trip an interesting option if you are heading into Romania from Chişinău. Coach services are operated from Gara de Sud.
Odessa – Relaxing Ukrainian city on the shore of the Black Sea.