Chiang Rai
Chiang Rai
(เชียงราย) is the capital of
Chiang Rai Province
,
Northern Thailand
.
Understand
The town proper has a population of around 62,000. It is the commercial centre of the
Golden Triangle
border region of
Thailand
,
Myanmar
, and
Laos
. It is an excellent base for exploring the region. Chiang Rai is essentially a service city for the surrounding province. The greater area has a relatively small population of 200,000 people, but also has a respected university and other civic facilities.
The character is distinctly Northern and is distinct from Chiang Mai to the south in various ways. The food is spicier and the ethnic composition includes a good percentage of hill tribes and Burmese exiles.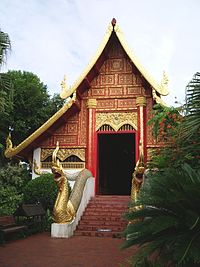 Get in
By plane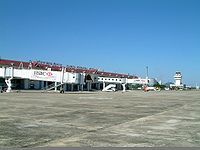 A new bus service, started on October 2018, is now connecting the airport to central city. An airconditioned bus runs every 20-40 minutes and costs 20 baht per ride.
Car rental is available on arrival from
Avis
,
Hertz
,
Sixt
and
Thai Rent A Car
.
At a desk in the airport you can hire a pre-paid taxi. It costs 200 baht to the city centre and more to other places (the prices are on display). It will take you to your hotel, or the driver will find you one if you give him the price range you want to pay.
Metered taxis are no cheaper than the pre-paid taxis. The meter-taxis refuse to use the meter, covering it up with tape, so the pre-paid taxis are the best option.
By boat
You can travel up the Kok River via Ban Ruam Mit to
Thaton (Thailand)
. For details see
Thaton / Get in
.
By bus
There are two bus stations in Chiang Rai. The old bus station and new bus station. There is a
songthaew
(officially a "minibus")
connecting the two bus terminals
. It costs 15 baht per person and takes 15 minutes. Some drivers ask you to pay more if there are fewer than 10 passengers, despite what the official price list posted inside the songthaew says. You can just wait for the next one and pay 15 baht.
Old Bus Station (Bus Terminal 1)In the centre of town. Buses coming from Chiang Rai Province stop here. From here you take the bus south to Phayao, and north to Mae Sai. There is enough English written on the signs and buses at the terminal to tell where the bus is going. You board the bus and pay the ticket collector (confirm with him/her first that the bus is actually going where you want to go. They stand outside the entrance door of the bus as well as help load large luggage to the top of the bus). Local buses to the White Temple or the Black House leaves from here.

New Bus Station (Bus Terminal 2)Buses from elsewhere in Thailand stop here.
From Chiang Khong (Thai town to Laos border)
Local (red) buses leave every hour or so and have the destination clearly marked. The journey takes 2½ hours and costs 60 baht. You can hop on/off anywhere along the bus route.
From Chiang Mai
Operated by Greenbus, departs Chiang Mai Arcade Terminal 3 on a regular basis. Green bus stops at
both
Chiang Rai terminals. As May 2017, there are three types of bus:
V-Class Bus (VIP): 24 or 30 seat bus, air-con, toilet on board, free water, nuts and hand-towel. Travelling time 3 hours. 258 baht
X-Class Bus (1st class): 40-seat bus, air-con, toilet on board. Travelling time 3 hours 20 minutes. 166 baht
A-Class Bus (2nd class): 48-seat bus, air-con, no toilet. Travelling time 3 hours 30 minutes. 129 baht
Different class buses leave at different times. Make sure to check the
timetable
.
By train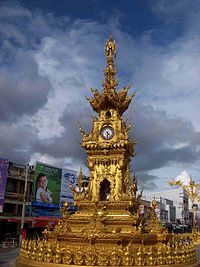 The nearest train station is in
Chiang Mai
.
By car
Chiang Rai is about 820 km north of Bangkok and is easily accessible from Bangkok via Hwy 1, Hwy 32, and from Chiang Mai via Hwy 118.
Get around
Public transport consists mainly of tuk-tuks and
songthaews
, plus a smaller number of taxis. The city itself can be explored on foot, but for trips into the province consider renting a car or a motorbike. Budget and Avis have offices in Chiang Rai and there are several local agencies. If you don't feel up to driving in what may be a very different environment, then consider hiring a car with driver. It doesn't cost much more. Rental bicycles are difficult to find.
Chiang Rai has a few cyclo-rickshaws, which can be a pleasant way to see the main sights if you want a fairly quick tour.
By motorcycle
A motorbike is a good way to see these parts; there are several trails and a 250 cc dirt bike is a great way to see the countryside.
ST Motorcycle is in the centre of town. It has most brands of motorbike.
Soon's is another place that delivers motorcycles to some guest houses and may have a pick-up location.
Chiang Rai Big Bikes is near the Clocktower. Scooters start at 250 baht/day with 5000 baht deposit.
Itinerary
For a suggested itinerary, see
Chiang Mai to Chiang Rai in 3 days
See
Museums
Art Bridge Chiang Rai (ABCR)The provincial art gallery of Chiang Rai.
phone: +66 53 705834, +66 53 776333

address: 414 Moo 13 Nanglae

Created by Thailand national artist, Thawan Duchanee, the grounds include nearly 40 small black houses made of wood, glass, concrete, bricks, or terracotta in various unique styles and design scattered around the temple's area. The cluster of houses accommodates Thawan's collections of paintings, sculptures, animal bones, skins, horns, and silver and gold items from around the world. Several of the houses exhibit Balinese and Burmese architecture and art dating back to the Ayutthaya period. The artist uses bones as a source of inspiration to paint. It is definitely not a place for animal lovers. There are also various kinds of baskets and drums from many regions and countries on display at Baan Dam. Not all exhibits are open to public. Open to everyone.
Chiang Rai Cultural Centre
Cultural Hall MuseumVisitors can find prehistoric tools, two medieval cannons, costume examples, ancient pottery and examples of ancient Lanna literature in the Dhamma script. There are also videos available, a model of the city and a display of five major areas of Thai culture.
Haw Shan Art GalleryA large, dark-wood, Shan-style pavilion. It can be opened for special showings.
Hilltribe Museum and Education Centre

phone: +66 53 740088

address: 620/1 Tanalai Rd

Aimed at promoting a better understanding of hill tribes and their cultures. The dusty low-key displays include that of housing styles, tools, utensils and traditional hunting, fishing and agricultural equipment, but it's worth a visit for an unsanitised view of how the hill tribes are exploited by some Thais and the tourist industry. The centre also runs their own hilltribe tours, where the money goes to employ and help the tribesmen. There is a branch of Bangkok's Cabbages and Condoms restaurant downstairs, whose profits go to support family planning and sex education projects in Thailand.
Lanna MuseumOpen on request.
Mae Fah Luang Art & Cultural ParkTwo lakes, a barge and several large Shan-style small ponds. There is an interesting Haw Kam Golden Temple with two Shan halls containing accoutrements collected by Princess Maha Chakri and examples of Lanna craftsmanship: seven-armed candelabra, Buddha Images, wooden altars, embroidered cloths for wrapping Buddhist scriptures, carved wood screens, swords and monks' fans.
Oub Kham Museum

phone: +66 53 713349

address: 81/1 Na Khai Rd

The collection displayes objects used in the royal courts such as Lanna, Khum Chao Phare, and Khum Chao Chiang Mai. Some are from northeast Myanmar, southwest China and Vietnam and are about 500-1,000 years old. Visitors can view 120 year-old ancient fabrics, Sin Mai Kham-golden silk skirt-from the Mandalay, the golden throne, king's golden costumes and silver ornaments. A golden bowl used by royals, is a masterpiece. All of those show the glory of the kingdom in the past.
Princess Mother '90 MuseumA sizable fascinating pavilion dedicated to the life of the princess mother (grandmother of the present king, King Rama X). On display are fine collections of lacquer boxes, wood pulleys, pottery, weaving equipment and some old handwritten folded texts with drawings.
Sirindhorns Chinese Language and Culture Centre

phone: +66 53 917093, +66 53 917097

Established through the cooperation of Mae Fa Luang University and the People's Republic of China. The centre was built as a memorial to honour the princess mother as a symbol of friendship between the two nations. Construction took 7 months to complete at a cost of approximately 60 million baht. The architecture replicates the Suzhou Chinese structure, building decorations and the garden ornaments by complying with the design layouts and using authentic materials shipped from China. The roofing tiles, the doors and the marble tiles laid at the entrance are all examples of a few of the materials brought from China.
Other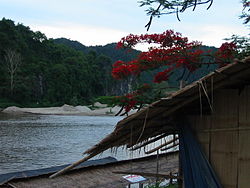 Gate of SiamYou stand high up on a mountain. Laos and the Mekong River are in front of you.
King Mengrai Great MemorialKing Mengrai was the ruler of Nakhon Hiran Ngoen Yang (an ancient town on the bank of the Mae Khong around Chiang Saen) before Chiang Rai was established as the administrative centre in 1262. He consolidated his power by merging the different city in the north and founded the Lanna Thai Kingdom in 1296 with Chiang Mai as the capital.
King Mengrai StupaBuilt by King Chaisongkram to contain the remains of his father (King Mengrai).
Namtok Khun Kon Forest ParkThe highest and most scenic waterfall in Chiang Rai, Khun Kon is some 70 m in height. Along the route to the site are cool, shady natural surroundings suitable for relaxation and nature walk. It is somewhat of a walk from the parking area, and it is quite hilly, so if you are not reasonably fit for a half hour walk over undulating terrain, then do not try it.
PhucheefahGreat sunset view.
Thai Professional Football

address: Singha Stadium

Chiang Rai is the home of Chiangrai United, which plays in Thai League 1. The club has won domestic competitions, 2-times Thai FA Cup, Thailand Champions Cup, and Thai League Cup.
Views of the CityBuffalo Horn Hill has a splendid overview of Chiang Rai. Other sweeping views can be gained from the top of Doi Kong Kao (Rice Box Hill), 4 km west of town. There's a steep walkway up its west side. Well worth it, plus a 3 m standing golden Buddha statue is at its summit. The summit of the 90 m vertical limestone cliff at Boomerang Park affords a view of the city and miles of the river valley, though it's a bouldering scramble up its west flank to get there.
Sacred places
Chiang Rai First ChurchBuilt in 1914 at PratuSiri corner. It's Presbyterian.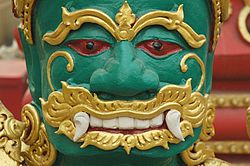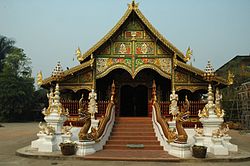 Munniti Chiang RaiTaoist and Mahayana Buddhist temple, a rare sight in Theraveda Buddhist Thailand. There is a Shan house nearby. And on the road to Pattaya Noi is a temple dedicated to the Chinese Goddess of Mercy featuring a large statue. In the Ban Kheck area is another Goddess of Mercy temple.
Wat Klong WiangDating back to 1432, this is an excellent, but little-visited temple showcasing exuberant Lanna-style at its best. Noteworthy are the colourful guardian statues, the elephants in the back and the "No Killing Area" admonition at the entrance.
Wat Ming MeuangSmall temple housing the spirit of the city (ming meuang) in an exquisitely carved and decorated Lanna-style, almost Laotian wiharn.
Wat Phra KaewBeautiful Buddhist temple famous for having housed, in the 14th century, the Emerald Buddha, one of the most famous Buddha images in Thailand. According to legend, the statue was (re)discovered when a bolt of lightning hit a chedi (stupa) on the grounds, cracking it open and revealing the Buddha inside. The temple grounds are lush with greenery and house a compact but excellent two-story air conditioned museum, with a near-exact replica (1mm shorter!) of the Emerald Buddha. The original is now housed in Bangkok in the temple of the same name, on the grounds of the Royal Palace.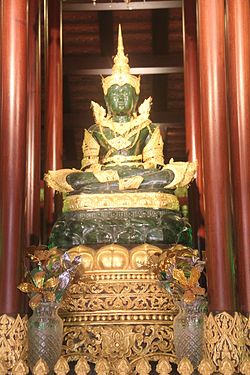 Wat Phra Sing

phone: +66 53 745038

Used to house a major Buddha statue, the Phra Buddha Sihing, which is now enshrined in Chiang Mai. Like Wat Phra Kaeo, the temple now houses a replica instead. A special feature is the Lanna-style Ubosot and the wooden door panels carved by Chiang Rai contemporary craftsmen.
Wat Phra That Doi Chom Thong

phone: +66 53 716055

Contains what is believed to be the oldest Holy Relic even before King Mengrai built Chiang Rai. The chedi containing the holy relic was probably renovated at the same time the town was being built. A major religious site in Chiang Rai, it was from here that King Mengrai spotted the strategic location on which to establish the town.
Wat Rhong Sua TenCalled the Blue Temple, inspired by the White Temple.
White Temple

phone: +66 53 673579

This unique modern temple was designed and built by artist Chaloemchai Khositphiphat starting in 1998. A beautiful white ordination hall, Phra Ubosot, is decorated with silver glittering pieces of mirrors. There are large mural paintings of the Lord Buddha in different gestures. A gable is decorated with a gable apex, a leaf-shaped gable-edging, in the shapes of Phya Naga, dragon and mythical creatures, which are entirely made of white stucco. There are viharn, small hall for recitation surrounding the ordination hall, museum and reception pavilion. The gallery exhibits paintings of Chaloemchai Khositphiphat. Work on the temple continues, and it is not expected to be completed for the next few decades. The temple and its closer surrounding area could not be entered due to some damages causes by an earthquake in April 2014. Access was restored in March 2015, although damage is still visible on some parts of the temple.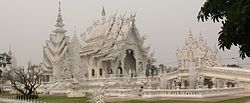 Do
Central Plaza Movie TheatreA movie theatre showing English-language movies.

Crouching Lion HillOn its west end there's a Buddha Cave and a pleasant picnic/park area. Close to its east end, there's a 3-chambered cave, and each chamber has a natural skylight at its apex. The largest chamber is as big as a basketball court and as high as a large tree. Trekkers can hike right through the hill from the river side (south) to the road side (north). Volunteers from nearby Boomerang Park have kept the south entrance path clear of weeds, and have cut a new path leading from the north opening to the road below. The hill also hosts the area's largest fig tree, halfway along the hill on the river side, with bright red figs adorning its stout branches in the summertime.

Frisbee Golf9-hole (or 9-basket) disk golf course, no cost. Frisbees provided. At same site are twin 160 m zip lines.

GolfThere are two high-class golf courses east of Chiang Rai. Santiburi is 10 km east of the town and Waterford Valley is 35 km northeast of the town. In town there are two 9-hole courses: the army course that you find close to Mae Fa Luang Bridge and The Old Airport course, which also has a driving range. You can find golf instructors for hire there.

Chiang Rai BeachThe 130 km long Kok River (แม่น้ำกก) flows through Chiang Rai. Chiang Rai Beach lies on the banks of this river and is a popular picnic spot in summer. Longtail boat cruises can be made from town to travel along both sides of lovely sceneries. Stops can be made at hill tribe villages of the Akha, Lisu, Lahu and Karen. Elephant rides are available but not recommended due to animal abuse. For more information, contact C.R. Pier Tel: +66 53 750009. Another river route starts from Thaton in Chiang Mai Province going north to Chiang Rai. The trip takes about four hours. Bamboo raft trips take 3 days and 2 nights. Contact Thaton Boat Club Tel: +66 53 459427, Thip Travel Tel: +66 53 459312.

Prataap JaiThis three-storey shop aims to be a place "where cultures align", offering a number of affordable activities in both English and Thai: bilingual movie nights, open mic nights, yoga, monthly art exhibitions and workshops.

Rock ClimbingSome free crags for the adventuresome, though they're mostly vine covered. There are also some cliffs at Boomerang Park with at least two dozen routes, all skill levels, which have been cleared of vines and debris and fixed with sturdy top rope anchors. Free outdoor activities for all ages.

TrekkingOrganise a trekking tour to the hill-tribes. Various companies in the area can organise this.

Wanna FarmAn interesting place, the farm has ostriches which you can feed or ride for 100 baht. It has a low-quality midway section with old country fair games to play. Offers camping and other activities as well.

Waterfalls and Hot SpringsKun Korn is a 70 m waterfall about 15 km south of town. Take a right at the wooden sign of the same name. Take the scenic windy road to its end. A smaller set of waterfalls is northwest of town at Mae Sai hill tribe village (not the border town of the same name). There's also a hill tribe museum at that village. Yet another pair of rather large waterfalls is west of the town at an Akha village. Go west from town, along the south side of the river, for about 19 km, and look for signs which lead you left into steep hills. Pong Phra Bat Hot Springs: Take Hwy 1 north out of Chiang Rai, to the first village (Bandu). Turn left just after the big market on the highway. Go about 5 km. If you continue on that road to its end, you get to Pong Prabat Waterfall, which is a year-round stream winding through a very nice forest. Another hot springs is Pha Soet, near the river. It's on a winding road going directly west out of town, which parallels the river, about 29 km. Huai Hin Fon Hot Springs and nearby waterfall are 7.5 km west of Mae Chan, on the south side of the road.
Festivals
Lychee FairHeld around mid-May every year. There is a float competition, lychee beauty contest, and booths of many local products at the Chiang Rai provincial stadium.

Solar FairHosted by Boomerang Park, showcases products and services related to alternative power, organic farming and alternative building.

Wai Sa Phaya Mengrai or Phokhun Mengrai Maharat Festival

phone: +66 53 711612

Held 23 Jan–1 Feb. See the Buang Suang worshipping ceremony which commemorates Phokhun Mengrai Maharat. The fair is organised by Chiang Rai Province.
Buy
The north of Thailand has its own distinctive art and crafts including bronze casting, carving,
mulberry
paper,
Buddha
images, and sign painting. Local handmade items popular with tourists are clay charcoal stoves, tea sets, brooms and dust pans, and umbrellas for shade and decoration.
Central PlazaCentral Plaza is Chiang Rai's mall. It is 4 storeys tall and has cinema which shows English-language films. It is located across the highway from Big C and is connected by a pedestrian bridge. Big C has a number of small shops surrounding it and acts as a mini mall. Both Big C and Central Plaza have food courts.

Morning MarketIn the morning there is a good market in Chiang Rai that sells a lot of good local foods meaning you get a real feel for the place.

Night Bazaar & Food CourtThe market consists of many small stands lining the narrow street running between Phaholyothin Rd and the bus station. Everything on display from silk ready-made garments to tattoo etching, even pets. The hill tribes old coins, high quality needlework and very fine quilted bedspreads.

Saturday Walking StreetThe market is 4 blocks long with a attached food area with music near the east end.

Sunday Walking StreetThough slightly smaller than the Saturday Market, the Sankhongnoi Happy Street features more performances and cultural activities.
Eat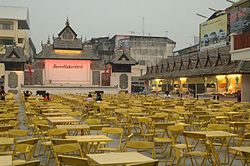 The staple diet of local people consists of sticky rice (glutinous rice) which is rolled into balls and served in small handmade bamboo containers. The rice is served steamed and some add sweeteners for a dessert rice. Typical main dishes in the area are dishes of curried chicken or shrimp and particularly
kaeng khanun
(spicy jackfruit curry),
kaeng yuak
(banana stalk curry),
sai ua
(grilled pork sausage), and Yunnan cuisine and Burmese rice noodles. Khao soi is a noodle dish with chicken stock and chicken that is also popular. Nam ngiao is a traditional noodle dish with chicken or pork.
There is lots of good food in Chiang Rai, but most tourists seem to end up eating at the
Night Bazaar
. There are two separate places to eat here: "Centrepoint", run by a single restaurant with a Western-Thai menu and comparatively high prices (dishes 100-200 baht), and then the "actual" night bazaar food court (dishes 30-100 baht). Both have free music and dance performances almost nightly. Centrepoint has comfortable wooden furniture while the food court uses rather ugly yellow metal tables and chairs. While there are over 50 food stalls to choose from, the fare on offer is mostly quite touristy, with food toned down for the
farang
palate. About half the stalls seem to be devoted to selling deep-fried stuff (fritters, French fries, tempura) to accompany beer. There are also a few non-Thai stalls, offering Italian, Indian, German, plus the obligatory insect stall for creepy-crawly cravings.
Budget
Chiang Rai BeachDuring the day or the early evening is an excellent spot. There are around 20 cafes and restaurants overlooking the Mae Kok River. Bring your dictionary with you for there are no English menus to be found.
Coconut BarHas good vegetarian options including a good vegetable stew and a chili-sin-carne.

Crêpe corner (Boon Bun Dan Inn)

phone: +66 83 4707755

address: 1019/69 Jed Yod Soi 3

Inexpensive French crêpes & galettes (80-110 baht) and Thai food. Breakfast starts at 50 baht for muesli to 110 baht for American breakfast. Served by a lovely Thai lady.

address: 188/8 Moo 20

Thai food.

Muang Thong RestaurantDelicious Chinese food, very popular with locals.

Nam Ngiao Pa Suk

address: 197 Sankhongnoi Rd

Very popular lunch spot with locals. Serves Nam Ngio, a great noodle soup/curry from northern Thailand for 35 bahts (May 2017). No english menu and very little english spoken.

Nakhon PathomFamous khao moo deng (rice with red sauteed pork, or as shown on the menu: rice with BBQ pork, 30 baht) tastes best at this big Chinese restaurant. Big cold coffee machines attract the locals to having lunch there.

Phetburi

address: Banphaprakan Rd

Local curry-and-rice restaurant. Just pick your favorites from the display. Ratburi, right next door, is very similar.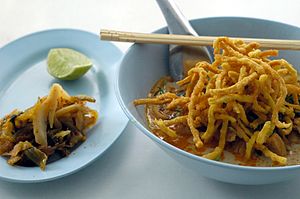 Khao Soi Phor Jai

address: Jet Yod Rd 1023/2

Famous for its khao soi (ข้าวซอย) (Shan-style chicken curry with noodles 40 baht May 2017) and other northern dishes like special northern Thai sausage (25 baht) and nam phrik num (dip made of aubergine and peppers). No English sign or menu, but some English spoken.

Tong Tung RestaurantServes northern Thai food. Their kaeng hung lay curry is recommended.
Mid-range
Aye's RestaurantGreat restaurant, serving both European and Thai quality food. From German schnitzels and English breakfast to traditional Thai food. There's a nice atmosphere and a live music every night.

Coffee P2Nice coffee shop. Their food is organic and they grow their own hydroponic lettuce. They also have delicious steaks and good pastries. You can also get a beer.

Doi ChangA popular coffee shop that is usually packed. The owner has been steadily increasing his prices, but still the farang come. Their coffee is pretty famous in Thailand and they have a nice cross section of Western and Middle Eastern food.

phone: +66 94 717 6165

Excellent authentic American food including pizzas (they have 25-inch pizzas), burgers, pastas, wings, salads, etc., which they also deliver. Have a large beer selection and draught beer. The owners are American and Australian.

IngfaA vast menu of Thai and Western food including pizzas. Their hamburger are amongst the best in Chiang Rai.

Muang ThongOpen air Chinese restaurant selling good quality, clean Chinese food at low prices. No website, no email, no English sign, though some English spoken. Just tasty food.

The NorthSpecialises in homemade northern-style food. Here you can find northern Thai sausage, kaeng hunglay (northern pork curry) and a variety of northern-style dishes made by the mother of the owner. Their family recipes give you a real taste of northern cuisine.

OasisA vegetarian restaurant serving delicious meals.

Rico'sThis is the place to be if you're over an older farang who likes to play golf: there is a lively expat community of retirees. Plenty of Western food (including pizzas) and a nice drink selection. Also Rico is very friendly and spends most of his time hanging out, he'll probably come say hi if he sees you.

Siam Corner

address: Jet Yod Rd

Very good Thai food, some Western dishes also.

phone: +66 84 209 9529

Organic coffee & tea coming from nearby Doi Chan hill tribes, to have on the spot or to buy in small packages. Food consists of homemade bagels, burgers, salads, crepes, etc., served on banana leaves. They sell bottles of flower honey, shampoo. Cosy with walls and ceiling covered with bamboo mats for more authenticity. Friendly & smiling manager who speaks great English.
Splurge
phone: +66 53 719167

address: 620/25 Thanalai Rd

Classy (if somewhat toned-down) Thai food in a chic setting, with condoms cropping up in all sorts of unexpected places. Profits go to support family planning and sex education in Thailand.
Drink
Bars and pubs
Cat Bar

address: Jet Yod Rd

Jam sessions almost every day and a pool table.

Easy Bar

address: Jet Yod Rd

Open all day. You can have a meal here, read the Bangkok Post, watch cable TV.

Reggae BarGood variety of music and drinks. Later local farangs meet here.

SiTSip Bar&Coffee House

phone: +66 53 711800

The place is decorated in modern style. Serving drinks, food, snacks, and lots of cocktails.

Teepee Bar

address: 542/4 Phaholyothin Rd

Great ambiance and an eclectic collection of artifacts, friendly staff, and fairly low-priced drinks. Also is a great place for pictures with rock-style wigs and guitars, and there is a good selection of music.

Turntable Jazz Bar, the North Hotel

phone: +66 53 719873,

A wide range of jazz records from the 40 year-old collection of the hotel's Norwegian co-owner. Jazz-related books also. The bar offers cheap beer and drinks and a friendly atmosphere.
Coffee
Ban Chivit Mai BakeryScandinavian style coffee shop / bakery and restaurant. Prices are high but go to BanChivitMai, an NGO helping local hill-tribe communities.
address: 430, Prasopsook Rd

A bit on the expensive side (50-100 bahts) but great place to hang out for animal lovers. Very clean and the animals are well cared for.
address: Jetyod Rd

Popular little cozy cafe. Serves also food and alcohol. Live music on Saturday night.
Drinking water
It is possible to refill your empty water bottles with drinking water using these blue vending machines. One baht refills approximately one liter. Using one saves money and a lot of plastic waste.
Water refill station on Jetyod Rd

address: Jet Yod Rd
Water refill station on Thanon Thaiviwat

address: Jet Yod Rd
Water refill station on Trirat Rd

address: Jet Yod Rd
Sleep
Budget
phone: +66 89 7775505

23 km to the west of Chiang Rai in the jungle covered hills, a great retreat from the hustle and bustle of the city. Rooms have views of the jungle and sun rising over the misty mountains, and the nearby waterfall and hot springs are well-worth a visit. The staff have been variously described as "friendly and eager to learn or practice their English" and "lazy and most of them don't seem to have any interest in having contact with their guests". Open air restaurant, (good food, mediocre plate size, a bit more expensive than in town, but still OK for being 20 km out in the jungle), electric hot water, free Wi-Fi, pick-up (every day 16:30 at Akha River House) and drop-off (every morning at 09:30 back to Chiang Rai, expect to sit in the back of a pick up truck).

Boon Bun Dan Guest house

phone: +66 53 717040

address: 1005 Jed Yod Soi 3

Good value budget guesthouse, possibly the cheapest in town - 200 baht for a double room with a fan and hot shower. 300 baht with air con room and hot shower.

Chat HouseGood attached restaurant and friendly staff. Free Wi-Fi. Laundry for 40 baht/kg.

Easy House

phone: +66 53 600963

address: 869/163-4 Premaviphat Rd

Simple fan rooms with shared baths. Baths and rooms are clean though the mattresses are rather worn. Nice bar/restaurant downstairs. No laundry but laundromats nearby.

Jansom House

address: 897/2 Jet Yod Road

Nice guest house in the centre. Clean rooms with air-con, TV, bathroom with shower and free water in the fridge. You can choose double bed or single bed rooms, there are also rooms for three. Simple breakfast with coffee or tea and toasted bread with orange jam and fruits included. There are some bars in the same street (Jet Yod road) where most of the night life happens. Free WiFi in the rooms.

Jitaree Guest HouseTwin/double with private bath.

Mae Hong Son Guest House

phone: +66 53 715367, +66 86 5864764

address: 126 Singhaklai Rd

Rooms are basic, but clean and staff are very friendly. Free Wi-Fi. Good restaurant & bar, bicycle/motorbike rental, laundry service (40 baht/kg), and tour service.

Maleena Ville Hotel

address: 863 Watpranom Rd

Two yards with spotless cottages. The cottages have attached bathroom with hot shower, AC, TV, small desk, mirror, and even a fridge and small table and chairs in front of each. Free tea and coffee at the reception. Free WiFi (good quality).

Orchids Guest House

phone: +66 53 718361

address: 1012/3 Jet Yod Rd

15 new very clean, spotless double rooms with air-con, TV, free Wi-Fi, coffee/tea included. Central location, quiet rooms (March 2017, big works outside) Noisy, they also offer car, bicycles or motorcycle hire and trekking options with a licensed guide.

Ruangnakorn Hotel

Sport Inn Hotel

phone: +66 53 756959

address: 557 Prachasanti Rd

Very nice hotel, free Wi-Fi.

phone: +66 53 713785, +66 53 702763

address: 70 Phaholyothin Rd

address: 1005/22 Jet Yord rd., T.Vieng, A.Muang

Dorm of 4 beds. Nice, clean and great social area, modern style.
Mid-range
phone: +66 53 717952, +66 84 9506304

address: 1047/2 Jet Yod Rd

Baan Lanna Hotel

phone: +66 53 712555

address: 395 Moo 2, Rimkok

Clean air-con rooms, minibar, and friendly staff.

Baan Warabordee

phone: +66 53 754488

address: 59/1 Sanpanard Rd, Moo 18

Beautiful, clean, air-con, well decorated rooms. English is spoken reasonably well. It is a 300 m walk to a main road, and close to the bus station and night market. You can drop laundry 300 m up the road, give them your hotel details, and they will return it by evening if you put it in before 09:00 (they do not speak English). Another 50 m at the main road intersection is a restaurant where you can get a good Thai breakfast for under 100 baht, and a cheap dinner with beer also.

Ban Khun Yom

phone: +66 53 716216

address: 155 Thanalai Rd

42 rooms.

Ban Silp

phone: +66 53 756335-6

address: 260/44 Moo 15 Sankongnoi Rd

27 rooms.

Ban Suan Nanglae Resort

phone: +66 53 772490-1

address: 298 Moo 5 Phahonyothin Rd

60 rooms.

phone: +66 53 600155

address: 868 Phahonyothin Rd

20 rooms, fan/air, cable TV. Good location. Clean rooms, good value for money.

Lek House

phone: +66 53 711550 and +66 86 2831868

address: 95 Rachayotha Rd

4 backpacker rooms (350 baht), 8 superior rooms with TV, DVD, minibar, hot showers (550 baht), 1 Jacuzzi room (1,300 baht). All rooms include breakfast. Friendly staff, swimming pool, genuine Thai kitchen at budget prices, bar, free Wi-Fi.
Splurge
Cope
Hospitals
Overbrook Hospital (semi-private) Founded in 1903 by Dr. William A. Briggs, as a missionary hospital.
Kasemrad Sriburin General Hospital, Private hospital.
Chiangrai Prachanukroh Hospital, Public hospital.
Fort Mengraimaharaj Hospital, Military public hospital.
Chiang Rai Inter Hospital, Private hospital.
Bangkok Hospital - Chiang Rai, Private hospital by BDMS chain.
Go next