Chiang Rai Province
Chiang Rai Province
is a region in
Northern Thailand
.
Cities
Other destinations
Understand
Populations have dwelled in Chiang Rai since the 7th century and it became the centre of the Lanna Thai Kingdom during the 13th century. The region, rich in natural resources and textiles, was occupied by the Burmese until 1786.
Chiang Rai Province's Golden Triangle bordering Laos and Burma was once the hub of opium production which had much influence on cultural practices and lifestyles. To this day, entire clans live together in bamboo houses and each village has its own individual character.
The province is rich in natural attractions and antiquities, evidence of its past civilisations. It is also home to various hill tribes who follow fascinating ways of life. Chiang Rai is also a tourism gateway to Burma and Laos.
Geography
Chiang Rai is Thailand's northernmost province and a beauty it is. It occupies the Kok River basin well above sea level with an area of some 11,678 square kilometres. It is about 785 km from Bangkok. Mostly mountainous, it reaches the Mekong River to the north and borders both Myanmar and Laos.
Culture
Popualtions have dwelled in Chiang Rai since the 7th century and it became the centre of the Lanna Thai Kingdom during the 13th century. The region, rich in natural resources and textiles, was occupied by the Burmese until 1786.
Chiang Saen, Mae Chan, and Doi Mae Salong are three substantially different places. Chiang Saen's rich culture has been influenced by its collection of Buddhist scriptures and temples. It was once the provincial capital. Mae Chan's reputation stems from its silver and tribal handicrafts. Once officially unrecognized by the Thai government, Doi Mae Salong is a Chinese KMT (Kuomintang) area renowned for its natural beauty and unique Yunnanese culture. Besides the Chinese 93rd Infantry Division of the Kuomintang Army, several other ethnic minorities have settled down in the region including the Tai Yai, Tai Lue, Tai Khoen and Tai Yuan.
People
Akha have the largest population of any hill tribe in the region. Originating in Tibet and Southern China, they dwell on high ground, about 1,200 m above sea level. In their villages they build spirit gateways to protect themselves from evil spirits.
Chin Hor, former Kuomintang who took refuge in the area, mainly Doi Mae Salong.
Hmong from southern China, prefer high ground. They raise livestock and grow rice, corn, tobacco, and cabbage. They are known for their embroidery and silver.
Karen live in the valleys and riverbanks of the region.
Khon Muang are city folk who originally came from Chiang Mai, Lamphun, Lampang, and Phrae. Culturally, they design their houses having only one floor with wooden gable-decorations called ka-lae. They are known for their craftsmanship in wood carving, weaving, lacquer ware, and musical instruments.
Lahu are from Yunnan originally and live in high areas. They are known as hunters and planters.
Lisaw from southern China and Tibet are renowned for their colourful dress and for building their dwellings on stilts. They harvest rice and corn and are skilled hunters.
Tai Lue live in single room wooden dwellings built on tall piers. They are skilled weavers.
Tai Yai Burmese in origin, harvest rice, farm, raise cattle and trade. Their skills lie in weaving, pottery, wood carving, and bronze ware.
Yao reside on mountainsides and grow corn and other crops. They are skilled blacksmiths, silversmiths, and embroiderers.
Get in
By plane
Chiang Rai
(
CEI
) has flights to Bangkok, Chiang Mai, and Kunming.

By train
The nearest train station is in Chiang Mai.

By bus
The 12 hour journey from Bangkok can be made on air conditioned coaches originating from the Northern Bus Terminal (Mo Chit) daily. Call +66 2 9362852-66, +66 2 5765599, or The Transport Company, Ltd.. Chok Rung Tawee Tour, call +66 2 9364275-6, +66 53 714045. Siam First Tour, call +66 2 9543601-4, +66 53 719064, +66 53 714386. Sombat Tour, +66 2 9362495, +66 53 714971, +66 53 715884
There are services from Chiang Rai's bus terminal to various districts in Chiang Rai. For local buses to nearby provinces, call Chiang Rai bus terminal +66 53 711224, +66 53 711154 for details.

By car
Hwy 1 (Phaholyothin Rd) is the main road in Chiang Rai Province. It passes through the areas of Phan Mae Lao, Muang, Mae Chan and Mae Sai districts. Along the highway, there are links to other districts in the province, such as Rte 108 to Mae Suai, Rte 1126 to Pa Daed, Rte 1233 to Wang Whai and Rte 1016 to Chaing Saen.
From Bangkok drive on Hwy 32 to Singburi, then take Hwy 11 to Phare, and Hwy 1103 to Chiang Rai. The route is 829 km.

Get around
By bus
There is a decent enough bus service in the province, but in more remote areas, songthaews (public passenger pick-up vehicles) are the norm.

See
Visitors to Chiang Rai can expect to see some splendid mountain and valley views, while being blessed with excellent weather which is much cooler than in the central plains.
Many visitors choose to spend some of their time in Chiang Rai visiting fascinating hill tribes such as the Akha, Lisaw, Hmong, Lahu, Karen, Mien, and Yao. Many visitors go with a certified guide, but other simply go on their own. It is possible to stay overnight with the villagers. Solo travellers not going with a guide are advised to stay with the village headmen; a small donation is welcome.
Sadly, some opportunists exploit hill tribe people to extract money from tourists. A village just near the road between
Mae Sai
and
Chiang Rai
(it is frequented by tourist minibuses returning from the
Golden Triangle
) is actually privately-owned, and, while entrance to the village is free, visiting long-necked Karen people there costs 200 baht. Most tourists (and backpackers) have already paid this price in their tour package, thinking that 1,000 baht or more for a day trip is "cheap". Needless to say, the poor Burmese Karens working there for tourists, get only a tiny fraction of the money. Their home, Burma (
Myanmar
), is one of the poorest countries of the world. Be aware that this is just a tourist trap. It's better to visit a remote, but genuine, Karen village, than to help rich people make money from the poor.
When trekking off the beaten track and away from hill tribes, it is possible to sleep at any temple, but again a little donation is appreciated.
phone: +1 604 689 3312

Great coffee grown and roasted in the mountains. It is organic and the farmers own 50 percent of the company. They also make the Wild Thai Civet Coffee. Next to the coffee company there is a cafe where you can order a cup of coffee and also buy a bag of coffee beans. Also try their honey.

Doi Nang NonThe silhouette of the mountain range takes the shape of a reclining woman with long hair when seen from certain angles. There is a viewpoint at Mae Chan from where the "sleeping lady" can be observed best in good weather. There are a number of caves and water courses in these karstic hills. Tum Luang and Khun Naam Nang Non, have been developed as tourist attractions.

Doi WawiChinese community in the northern part of Thailand. Wawi is one of the biggest tea-producing areas in Thailand. You can visit the village, taste the tea and buy some tea. It is also possible to visit the tea plantation.

Golden TriangleThe point where Thailand, Myanmar, and Laos meet. It used to be notorious for its drug trafficking until the Royal Thai government cleaned up the area and turned into a tourist destination.

World's Tallest FlagpoleThe Chiang Saen District is to have the world's tallest flagpole sometime in 2017. The pole will be 189 m tall, the equivalent of a 63-storey building. Its purpose is to promote Thainess and Thai identity. The flagpole will be in a park complete with a museum and a learning centre.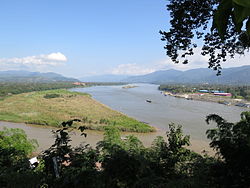 Itineraries
Chiang Mai to Chiang Rai in 3 days a 3-day tour starting from Chiang Mai and going through Doi Ang Khang, Fang, Thaton, Doi Mae Salong, Mae Sai, Golden Triangle, and finishing in Chiang Mai.
Do
VolunteerTeaching English to Akha hill tribe (probably the poorest hill tribe in Thailand) children or help with their website.
Sleep
phone: +66 53 724226-9

address: 49 Chiang Mai-Chiang Rai Rd, Takok, Mae Suay

Very isolated retreat. Beautiful buildings in Lanna style, especially the Pkakeryor villas.
Cope