Chiapas
Chiapas
is a state in
southern Mexico
.
Chiapas is about as far south as you can get in Mexico. It borders
Guatemala
on the southeast, the Pacific on the southwest, and the states of Oaxaca, Veracruz, and Tabasco from west to northeast.
Regions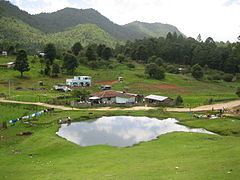 Cities
– the state capital: large, hot, relatively modern (Sam's Club, Office Depot, Wal-Mart), and home to one of the world's great zoos.
– a nice fishing village on the pacific coast of the state. Cheap palapas available.
– a small, sleepy village close to Palenque
– the oldest Spanish city in Chiapas.
– surprisingly sophisticated.
– gateway to the Mayan ruins of Toniná
– also known as Jovel, 2,200m, beautiful, Mayan, lots of handicrafts, small ex-pat community.
– Tsotsil indigenous village.
Other destinations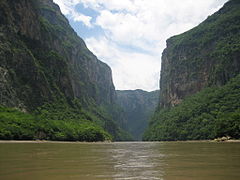 – Mayan ruins
– Mayan ruins
– Mayan ruins
– Maya ruins
– Waterfall
– Waterfall
– Canyon and Reservoir (includes Christmas Tree Falls)
– Ecotourism in the heart of the tallest mangroves in North America
Understand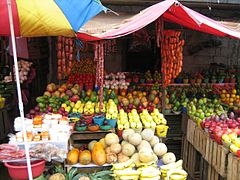 Suggested reading
The Lawless Roads by Graham Greene. Graham Greene describes his journey to San Cristobal de las Casas through Chiapas and Tabasco in the 1930s. ()
The Power and the Glory by Graham Greene. A whiskey priest, a corrupt church, and Chiapas all set in one of Greene's most powerful books. ()
Talk
Most people will speak Spanish, but this is less common among the indigenous peoples, where Tsotsil and Tseltal are the most common languages. Very few who can speak English, almost always very badly.

Get in
It has a small international airport in the state capital, Tuxtla Gutiérrez (TGZ) and also at Palenque (PQM), and is also connected by highways (some are toll roads, or cuota) with the surrounding states and Guatemala.

Get around
The easiest way to get around within cities is probably by private car, taxi, or colectivo. Colectivos are small vans or buses that are very cheap and follow specific routes. The main destinations on the route of each colectivo are listed on the right side of its windshield, though it is sometimes hard to tell if it is really going your way. Asking the driver usually works, but don't expect him or her to speak English.
Outside of cities, the best way to get around is by private car, bus (slow, with frequent stops), colectivo (a little more expensive than in the city), taxis, or pickups (camionetas). Taxis outside of cities charge very high rates if it is not their regular route, so make sure the driver knows you do not want a "viaje especial" (special trip). Sharing taxis is very common, and almost universal outside cities. The pickups that are for public transportation are usually identifiable. Try to get a seat in the cab, unless you enjoy being pressed against a large group of sweaty locals in the hot sun. Pickups are also fairly slow and make frequent stops, but they are faster than the bus.

See
Itineraries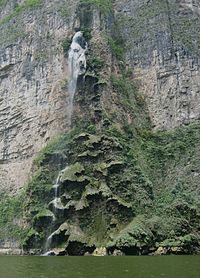 Do
Volunteering
Volunteer as a Human Rights Observer in the autonomous Zapatista communities contact Capise (brigadas@capise.org.mx) for short (5 days) activities or for longer volunteership contact Frayba .
Participate as a volunteer or group coordinator on sustainable projects in Maya communities. The NGO NATATE A.C. focuses on the following fields: alternative technologies, waste management, water(capture and filtering), Education, reforestation, construction. Opportunities are available for short and long term voluntary service.
Eat
Mole: Like happiness sauce. Made from several or many varieties of chili peppers.
Drink
PozolChocolate/maize drink from Chiapas.
Stay safe

Like any other city and remote location in the world has its problem, but be aware of your personal belongings all the time, and do not walk with jewelry and expensive objects in sight. Chiapas is usually in secure state, where the warmth of people will make you feel at home.

Go next