Chichibu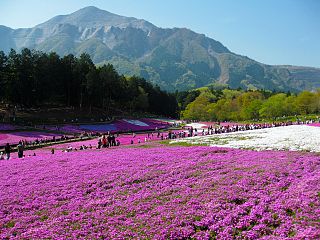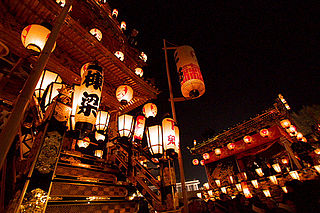 Chichibu
(
Chichibu-shi
) is a city in
Saitama Prefecture
. Chichibu is a beautiful town about one and a half hours from Tokyo. It is very famous for autumn leaves and the Chichibu Yomatsuri, a night festival that attracts thousands of people from around Japan. In
Chichibu-Tama-Kai National Park
.
Get in
The Seibu Chichibu Line (西武秩父線) from Ikebukuro is the quickest way to get to Chichibu from Tokyo. You can catch either a local train, which requires you to change trains at Hanno but is cheaper, or pay the extra surcharge for the speed and comfort of the Limited Express "Red Arrow" which is quicker and you don't have to change. Catch either of these from Seibu Ikebukuro Station. If you have time, go though the food hall in the basement of the Seibu department store and grab something to eat on the train — local commuters often eat their dinner or lunch on the train.
JR Skinkansen trains depart Tokyo and Ueno stations 45 minute ride to Kumagaya , where you can transfer for a Chichibu Railway to Chichibu.

See
Hijiri ShrineThe large wado kaichin coins are the stand-out features of this shrine. The wado kaichin is known as Japan's first standardized coin.

Chichibu ShrineAn old shrine with colorful ornate carvings commissioned by Tokugawa Ieyasu. If it reminds you of Toshogu Shrine in Nikko, it's because the same sculptor was hired for both. The shrine hosts the famous Chichibu Night Festival every December (See "Do").

Hitsujiyama ParkA large park known for its shibazakura (phlox flowers) that bloom in the late spring.
Do
Chichibu Temple PilgrimageIn Chichibu and the surrounding area are a circuit of 34 temples, dedicated to Kannon, the goddess of mercy and compassion. These are traditionally visited by walking, but this would take more than a few days. A bicycle is a wonderful way to not only visit some of the temples, but also see some of the surrounding area.

Chichibu Night FestivalHeld every year on December 2nd and 3rd, with the main parade of floats on the 3rd.

NagatoroSail down the Ara River (荒川) on a traditional Japanese wooden boat, taking in the beautiful nature of Nagatoro.

SL PALEO EXPRESSTravel on steam locomotive
Eat
Oomura

phone: +81 494-22-4147

address: Miyakawacho 17-3

This is a friendly soba restaurant. They also have very delicious tonkatsu pork cutlets. The mimosa salad is very good and has a lot of fried shrimp on it.