Chicken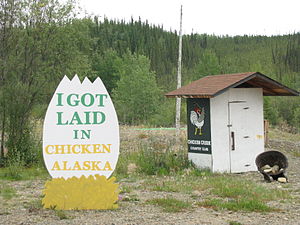 Chicken
is a small village located at milepost 66.8 on the Taylor Highway in
Alaska
. As one of the few places along this highway where fuel is available, it is a popular rest stop.
Local legend is that the town was named after a group of miners decided to name it Ptarmigan after the local birds, but unable to agree on the spelling finally decided "Hell, let's just call it Chicken" (the nickname for ptarmigan).
Understand
Founded in 1886 as a gold rush town, Chicken served a remote river valley with almost 400 settlers by 1903. The Pedro Dredge, built in 1938 to mine Pedro Creek north of
Fairbanks
, was moved to Chicken in 1959 and used to mine 55,000 ounces of gold over the next dozen years. As the amount of remaining gold dwindled, commercial mining operators left; the Dredge was moved to its present location at the Chicken Gold Camp in 1998. While operation is now largely seasonal, a thousand acres of mining claims along the Chicken Creek remain open for temporary lease (days or weeks) to recreational part-time prospectors looking to pan for the last few bits of gold.
Climate
Get in
By car
The vast majority of visitors arrive by car along the gravel Taylor Highway. The road is not maintained year-round, so travel by road may be impossible once snow falls.
By plane
Chicken Airportsmall dirt runway that is accessible to private planes year-round.
phone: +1 907 883-5191

address: Mile 1313 Alaska Highway, Tok, Alaska 99780

Twice-weekly airline service to Chicken International Airport with flag stops at Eagle and Boundary. Price includes 30 lbs baggage per passenger.
Get around
There are 3 businesses in Chicken: "Chicken Gold Camp & Outpost", "Downtown Chicken" and the "Goldpanner". The first two are located a short distance off of the highway on the Airport Road spur road. The Goldpanner gift shop is located along the Taylor highway.
Given the town's small size (the official population was 38 in 2002) the most obvious way to get around is by foot. Those unwilling to walk the short distances between the town's three businesses may want to ask themselves what they're doing in the wilds of Alaska!

See
Pedro Gold Dredge #4This gold dredge operated on Chicken Creek from 1959 until 1967, and was previously used on Pedro Creek outside of Fairbanks. The Pedro Dredge is a National Historic Site and is open to daily tours. It is one of the most complete Alaska gold dredges, an example of the type of equipment used to mine the area's gold deposits.

Tisha's School HouseAbandoned 1920s schoolhouse originally run by teacher Anne Hobbs Purdy, author of "Tisha: The Story of a Young Teacher in the Alaska Wilderness" (1976) and "Dark Boundary" (1954). Tours 9AM and 2PM daily (summer only) from Goldpanner to the town and schoolhouse.
Do
Chicken Gold Camp & Outpost$10 to $50/day for mining activities and $30 for 1/2 day kayak rentals. Gold panning and recreational mining are provided on their claims for daily fees. Rental equipment, kayaking adventures on the nearby Fortymile River. Daily tours of the Pedro Dredge and museum, a National Historic Site.

phone: +1 907 590-2681

Two-day annual gathering of global 'chickenites" and 'chickenuts' and local bluegrass music, mid-June, since 2007. Pack up your 'nest', 'comb' your feathers and come 'strut' your stuff in the midnight sun.

GoldpannerOffers recreational gold panning on their claim on Chicken Creek.
Buy
Chicken Creek Café, Saloon and Mercantile Emporium

address: Airport Rd

phone: +1 907 505-0231

T-shirts, postcards, jewellery, furs, souvenirs, ice cream, soda, coffee, fudge, gas, diesel, wi-fi.

phone: +1 907 782-4427

address: at the Chicken Gold Camp

Alaska-made clothing, jewelry, art, pottery, hand-made knives and ulus, children's gifts and clothing, t-shirts, hats, Native arts, crafts carvings and clothing, ivory, gold, hand-dipped ice cream, smoothies, espresso, beer & wine.
Eat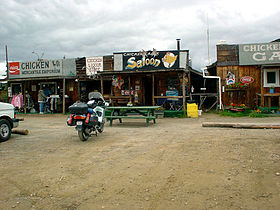 Chicken Creek CaféPies, buffalo burgers, reindeer bratwurst, potato salad and baked wild Alaskan salmon.

Chicken Gold Camp & OutpostCafé with fresh baked scones, egg soufflés, deli style paninis, soup du jour, BBQ chicken, ice cream, espresso and other beverage concoctions.
Drink
Chicken Creek SaloonBest bar in town. Only bar in town.
Sleep
phone: +1 907 883-5081

address: at Goldpanner shop

Campground beside Chicken Creek, wi-fi, firewood. Store with local gold jewellery, ice cream, t-shirts, fuel station, walking tours thru historical Chicken, goldpanning.

phone: +1-907-399-0005 (winter), +1-520-413-1480 (summer)

address: 1/4 mile Airport Rd

Camping on 50 sites with hookups and amenities including free wireless internet, free firewood, BBQ pits, picnic pavilion, dump station, potable water and access to public restrooms and pay-showers. Offers cabins for up to six or rooms with two single beds, propane heat, free wireless internet, kitchenettes, and access to public restrooms and pay-showers. Daily tours of the Pedro Dredge, gold panning and recreational mining on their claims. Tours of an active gold mine available.
Connect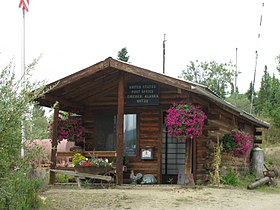 There is one small post office in Chicken, Alaska 99732 which receives mail twice weekly. As Chicken is off the grid, there is no telephone exchange or other utility service in the area. Any Internet access, presumably, is via satellite.
Internet telephony
may suffice to get a call through, using phone numbers from some other community closer to the beaten path.
Go next
Tok - 78 miles away at the southern end of the Taylor Highway at its junction with the Alaska Highway.
Dawson City - One of the most famous and historic gold mining towns in the North, 108 miles away along the Taylor and Top of the World highways.