Chicoutimi-Jonquière
Chicoutimi
and
Jonquière
are communities in the city of Saguenay (145,000 inhabitants in 2011) in the
Saguenay-Lac-Saint-Jean
region of
Québec
.
Understand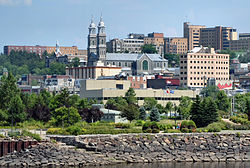 Chicoutimi
and
Jonquière
are former cities in the
Saguenay
region of
Quebec
which (with Bagotville, Ville de la Baie and other surrounding towns) were merged in 2002 into one municipality named "Saguenay" for the Saguenay River.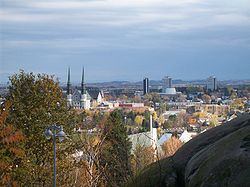 The region is strongly unilingual francophone; principal local industries have historically been forestry, paper (Abitibi, Price, Stone-Consolidated) and aluminium smelting (Alcan). CFB Bagotville is the local air force base; a community college (Collège de Jonquière) offers an intensive three-week immersion programme in French as a second language which has long attracted civil servants from
the nation's capital
and draws students from as far as
New Brunswick
.
Chicoutimi-Jonquière is geographically isolated as the 2½ hours of four-lane road leading into the municipality from
Québec City
runs almost entirely on provincial parkland with just one opportunity to stop for fuel at the midpoint. There is cellular telephone service on the main road in, but along many other roads (such as Chicoutimi-Nord to Tadoussac) there is truly nothing.
Get in
;By air: While there is some service to Bagotville, the local Royal Canadian Air Force base, the closest major airport to the region is in the Québec City suburb of Sainte Foy.
phone: +1 418-677-2227

address: 7000, chemin de l'Aéroport, La Baie

Scheduled service to Montréal, not inexpensive.
;By bus:
phone: +1 418-549-2463

address: 4511, boulevard Talbot, Chicoutimi

Intercity bus south to Quebec City, east to Tadoussac and west via Lac-Saint-Jean (Dolbeau, St. Felicien, Alma, Roberval) to Chibougamau. An express bus from Jonquière-Arvida-Chicoutimi to Sainte Foy and Montréal runs four days a week; another option is to connect at Québec City for Orléans Express buses to Montréal.
;By train:
Via Rail
runs a train from
Montréal
to Jonquière which does not pass through the Québec City region.
;By ship: Various cruise ships include the Saguenay River as one stop on a longer tour
;By automobile:
from Québec City, Route 175 is the main road through the Laurentian provincial park.
from Tadoussac or Saint-Siméon, a highway follows the full length of the river on each side (Route 172 on the north shore, Route 170 on the south shore). There are no villages and no services on most of this route.
from New Brunswick, follow the Trans-Canada Highway to Rivière-du-Loup then cross by ferry to Tadoussac
from Trois-Rivières, Route 155 meets the ring road (Route 169) around Lac-Saint-Jean
Ride share may be available through Allô-Stop in Québec City
Get around
phone: +1 418-545-2487

address: 1330, rue Bersimis, Chicoutimi

Local city bus.
Taxis in Chicoutimi include A52 Taxi (+1 418-543-3868), Taxi Saint-Ambroise (+1 418-718-1414) and Taxis Unis (+1 418-543-3868)
Taxi service in Jonquière is offered by Taxi Diamond (+1 418-548-2121)
See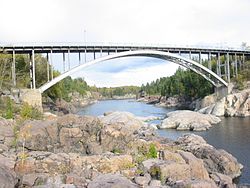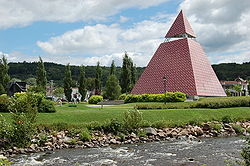 address: Le parc des Ha! Ha!

21-metre-tall aluminium pyramid covered in 3000 reflective "yield" signs, with (seasonal) live performance stage, stairs and observation deck, in riverside park. A memorial to the 1996 flood which destroyed 250 buildings and displaced 3000 people, tours available in high season from Musée du Fjord.

Saint-Jean-VianneyVillage near Shipshaw, abandoned after thirty-eight houses were destroyed in a landslide on May 4, 1971. A stone memorial marker, a crater and some damaged road are all that remain.
Do
phone: +1 418-543-7630

"Marjolaine II" cruises, charter and shuttle on Saguenay river, depart from La Baie (east of Chicoutimi).
Buy
The main street of downtown Chicoutimi is la rue Racine; construction of shopping malls has greatly diminished the number of downtown businesses. Local confections such as maple syrup or chocolate blueberries are usually less expensive in the main street shops frequented by locals in the city than at tourist establishments... even for blueberries in Lac-Saint-Jean.

Eat
The region is known for two dishes. Tourtière, a traditional French-Canadian meat pie, is named for la tourte (the passenger pigeon), a bird of prey which was once common in Lac-Saint-Jean but now extinct worldwide. More famous are the region's blueberries. Various farms around Lac-Saint-Jean invite you to pick your own blueberries in season (usually August, weather permitting).

Steak
Pizza
Asian
European
Drink
The main street of Jonquière (la rue Ste. Dominique, the "Saint Do") has a fairly extensive and notorious bar strip with several bars in close proximity. Some other options include:
phone: +1 418-548-8491

address: 1983 Davis, Jonquière

Sports bar and restaurant. Steak, seafood, sandwiches.

Café-Théâtre Côté-Cour

phone: +1 418-542-1376

address: 4014, rue de la Fabrique, Jonquière

Cinema, music and live performance venue.

phone: +1 418-545-7272

address: 517 rue Racine Est

Microbrewery with eight local beers; a "sampling tower" offers a four-ounce taste of multiple beers on one tray. Brewery tours available for groups. Bistro with patio, live music on summer weekends.

phone: +1 418-549-4141

address: 777, boulevard Talbot, Chicoutimi

Microbrewery with locations in Chicoutimi, Jonquière and Québec City.
Sleep
phone: +1 418 547-5728

address: 3350, rue Saint-Dominique, Jonquière G7Y 1B3

On Rivière aux Sables south of Jonquière. Cycle path, heated outdoor pool, tennis court, restaurant, bistro, 67-room inn with seven meeting rooms.

phone: +1 418-549-7111

address: 460, rue Racine E.

Downtown main street hotel overlooking Saguenay fjord, 85 rooms, three restaurants, boutique in lobby with souvenirs and regional art.
Go next
As the largest city in-region, Chicoutimi serves as a jumping-off point to Lac-Saint-Jean in the west and the Saguenay River to Tadoussac in the east:
Lac-Saint-Jean is famous for its blueberries, to the point where locals in the region are referred to as "les bleuets" (literally, blueberries), with a Trappist monk group manufacturing tasty chocolate-covered blueberries and other confections in Mistassini at the far end of Lac-Saint-Jean. Other key landmarks around the lake are a zoo at St. Felicien, the tourist ghost town of Val-Jalbert (near Roberval) and a good collection of cycling and snowmobile trails.
Tadoussac, at the eastern end of the fjord of the Saguenay River, is notable primarily for whale-watching. Both sides of the Saguenay River fjord between La Baie and Tadoussac - St. Siméon are largely parkland with no services. Boat tours of the river and fjord depart from either endpoint.