Chihuahua
Chihuahua
is the capital of the state of
Chihuahua
in
Northern Mexico
. It has a population of 878,062. The predominant activity is light industry.
The capital of the state of Chihuahua, this is a large prosperous city located in the center of the state. Chihuahua is famous for Norteño food (a form of Mexican cuisine), a delicious if not particularly heart healthy cuisine that makes liberal use of beef, flour, cheese, and chiles. The colonial center of Chihuahua is beautiful and pedestrian friendly. The outer areas of the city, while affluent by Latin American standards, don't likely hold a lot of appeal for the average tourist. The centro has museums dedicated to Pancho Villa (a major folk hero in the north of Mexico), another museum about the national mint, government palaces, and historic churches as well as luxurious mansions and villas. There are also good dining and lodging options for the visitor and a lot of fun cantinas for male travelers (women usually aren't welcome in these). Chihuahua's natives are friendly and helpful and don't show any resentment towards visitors like you might expect to experience in Mexico's more southerly cities.
Understand
Climate

The city is at high latitude and at relatively high altitude, meaning it will get cold here during the winter. It even snows once or twice a year. During the summer, temperatures can reach 40°C. Wear light, fresh, and comfortable clothes. Autumn is a particularly pleasant time of the year to visit the area.

Talk
Spanish
is the official language of Mexico. In academic and professional level, English and
French
are also spoken. Additionally, because this is north Mexico and a lot of the people living here have worked and lived in the US at some point in their lives, it is usually quite easy to find someone who can speak English to you.
Get in
By car
Four hours south of Juarez/El Paso by expressway, it is an easy drive. There are no major towns between the two cities but there are roadside diners to break up the journey.
By plane
General Roberto Fierro Villalobos International AirportTaxi is the best option for getting there and away. Taxi to the city is approximately .
By bus
Chihuahua's bus terminal is located quite a distance out of town. There are buses to all major cities in Mexico.
The Chihuahuense bus line will take you to central Mexico or to Tijuana from the main terminal in Ciudad Juarez, Chihuahua.
By train
Chihuahua is the start of the famous Copper Canyon railway linking Chihuahua with Los Mochis, called
"CHEPE"
. One-way tickets cost range from M$676 (to Cuauhtemoc) to M$3276 (
pesos
)(to Los Mochis) (US$35 to $172) in Regional Tourist Class, and M$348 to M$1891 (US$18 to $99.50) in Economy Class. Advance booking is advisable for Economy Class but essential for Regional Tourist Class. Daily departures in first class; triweekly departures in second class (Monday, Thursday and Sunday).
See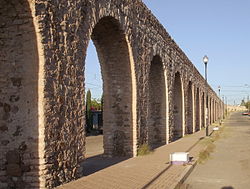 Chihuahua is a great tourist destination; a Professional Bull Riding championship, concerts, art and international festivals take place all year-round, but mostly on mid-October, you will find the city and its people very charming and down to earth.
Even though Chihuahua suffered a massive destruction of colonial buildings during the 1970s in order to widen the main streets and avenues in the downtown, it stills preserves some valuable monuments from the 19th and 20th centuries. Some of the most impressive pre-revolutionary residences in the city are situated
Avenida Zarco
.
Chihuahua Cathedral

phone: +52 614 416 8410

address: Calle Libertad 814

A sample of the Baroque Art in northern Mexico.

Museum of Religious Art

address: Calle Libertad 814

A large hall in the basement of the Chihuahua Cathedral, located at the rear of the Capilla del Rosario, was conditioned to install the Religious Art Museum.

Museum of Contemporary Art Casa Redonda

phone: +52 614 414 9061

address: Colon avenue

What was once the National Railways of Mexico (Ferrocarriles Nacionales de México) workshops is now this museum, known as Casa Redonda (Round House) by its building structure dating from the early 19th century.

Museum of the Revolution

phone: +52 614 416 2958

address: Calle 10a 3010

Former home of Pancho Villa, hero of the revolution. learn the story of Mexico's fight for freedom and view many artifacts including the car that Pancho Villa was killed in.

Mansión Quinta GamerosCity Museum for the Decorative Arts, Art Nouveau style mansion.

Temple of San FranciscoThe original burial place of Fr Miguel Hidalgo.

phone: +52 614 429 3300

address: Calle Libertad 901

Now a modern art museum, and the former jail cell of Fr Hidalgo.

El Palomar ParkOnce one of the worst neighborhoods in the city, now the largest city park. Art, concerts and massive events are held in this modern park.

Mansión Creel

Mansión Terrazas

Mansión Quinta CarolinaFormer summer estate of Don Luis Terrazas. Now in semi-ruined condition, in process of restoration.

Torre Legislativa de ChihuahuaLegislative tower of Chihuahua-state legislators office building.

phone: +52 614 429 3461

address: Venustiano Carranza 911

The State House.

phone: +52 614 439 9100

address: Av Independencia 209

Historical City Hall.

Dancing FountainsLights and water show located besides the Federal Palace.

Church of Santa Rita

address: 1o. de Mayo 1601

Saint Rita of Cascia is the patroness of the city.
Do
Grutas de Nombre de Diosa huge system of caves with stalactites and stalagmites. Easy going as everything has concrete floors and handrailings. To get there, by bus 'Nombre de Dios/Ojo' to the grutas ($6 Pesos, $.50 dollar),

Hike Colorado PeakHike up 300 m to Colorado Peak. You can start after visiting the caves. Don't get into the bus at the cave exit, walk the street about 100 m then turn right ca. 500 m along a 4WD-Road. Cross the street and look for the small path that goes straight up the mountain in front of you. It's only a few km walk up and down, but very strenuous. Wear good shoes, take plenty of water and be prepared for some climbing. You'll be rewarded with a great view over the city. You can find the way at maps.me You can return the path at the other side of the mountain. It's a bit less step and it ends at a shopping mall where you can get pizza, ice-cream and stop taxis.
Buy
Cowboy boots, yee-haw! You will never in your life find a place with higher density of shops selling cowboy boots, and you'll find them in colors you hardly knew existed. Go nuts, you know you want them!

Eat
Be careful! The best chiles rellenos in the world, served on a flour tortilla. The seeds are not removed, making for a fire in your mouth that is unsurpassed.

Sleep
Budget
The cheap sleeps in Chihuahua are all found east of the cathedral, between Calle Libertad and Victoria.
Casa de Huespedes Flores, Calle 12 No. 218 btwn Victoria and Libertad, rooms from 100 Pesos, including bathroom, TV, probably the best value in town.
Hotel Plaza, Calle 4 No. 206, not-too-clean place right behind the cathedral. Rooms from M$130 (singles), M$200 (4 people).
Hotel-ito, Calle 4 Cnr Trias, filthy rooms without windows, (cold) water usually out of order, M$100 (singles).
Hotel Trias, Calle Trias cnr Independencia, as filthy as the others, singles from M$120.
Casa de Chihuahua, Calle Mendez 2203, a brand new hostel conveniently located across the train station. Dorms from 150 Pesos per night. Advance booking essential.
Hotel San Juan, Calle Victoria cnr Decima, central location rooms from about M$145 single, M$155 double, M$165 triple per night. This is the old backpacker favorite, though some say there are better choices these days.
Hotel Roma, Calle Libertad cnr Calle 12, singles from M$125.
Posada Aida, near the downtown honk tonk district rooms from about US$9 per night. Friendly staff.
Mid-range
phone: +52 614 432 2525

address: Periférico de la Juventud 3304

Enjoy consistency, quality, reasonable prices and great service.

phone: +52 614 439 8000

address: Periférico de la Juventud 6100

Very nice business class hotel. As good or better than any Hampton in the USA.

phone: +52 614 432 2200

address: Ave Universidad 1309

Very nice business class hotel. As good or better than any Best Western in the USA.
Stay safe
Northern Mexico, especially the state of Chihuahua, has experienced a sharp increase in violent drug-related crime since 2007. Chihuahua is much safer than
Ciudad Juárez
but still has had its share of cartel killings in the last two years. Most killings have specifically targeted drug dealers and their families, and tourists have rarely been affected by violent crime. Avoid bars and nightclubs that cater to a criminal element. Military checkpoints may be set up in the city and the roads around the city. Always stop at these checkpoints.
Connect
Cibercafe Canaco, Av. Cuauhtemoc 1800 3rd floor, 1416 0000.
Dialing code for Chihuahua City: 01+52+(614)+Phone Number
Emergency phone numbers
Radio Patrols: 060
Red Cross: 065
General emergencies: 066
International Operator: 090
Tourist Security: 01 800 201 55 89