Chillicothe (Ohio)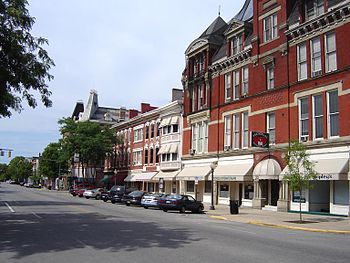 Chillicothe
is a city in
Ross County
in
South Central Ohio
and is the county seat of Ross County. In the 1800s, it was designated as the capital of the "eastern section" of the Northwest Territory. Later the State Constitutional Convention was held in Chillicothe, and in 1803, Ohio entered the Union, Chillicothe became the first state capital of Ohio. The name of the city was derived from a Shawnee word meaning "principal town". It is located along the Scioto River and Paint Creek.
Understand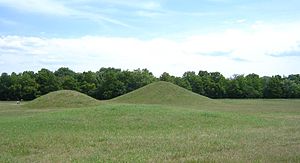 Get in
See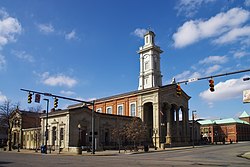 Pump House Center for the Arts

phone: +1 740 772-5783

address: Yoctangee Park

The Pump House was constructed in 1883 as a municipal pumping station for distribution of water from the deep well field in Yoctangee Park. Listed in the National Register of Historic Places, the Pump House is an example of Victorian Gothic architecture housing an ever changing collection of painting, sculpture and art.

phone: +1 740-774-1236

address: 8 Highland Ave

The Mountain House was built in 1850 by a German family named Meggenhofen who operated a winery here for many years, tending the terraced vineyards below the house. Gift shop is open M-F 9AM to 5PM. Reservations are required for a tour. Call at least 24 hours in advance to schedule an appointment.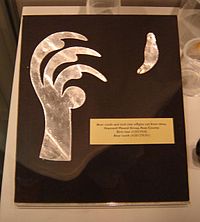 Adena Mansion and Gardens

phone: +1 740-772-1500

address: Adena Road

Home of Thomas Worthington (1773-1827). He was the sixth Governor of Ohio and one of the first United States Senators from Ohio. There is a newer museum and education center. The view from the north lawn to the Logan Range is depicted on the Great Seal of Ohio. Quite a place.

Chillicothe Railroad Museum

phone: +1 740-702-7675

address: Paint and Water Sts

Hopewell Culture National Historical Park

phone: +1 740 774-1126

address: 16062 State Route 104

A group of 23 earthen mounds built by the Hopewell culture, 200 BC to AD 500, destroyed by the US Federal Government to build Fort Sherman in 1913 and then partially rebuilt/restored and turned into a National Historic Park.

James A. Thomas Telephone Museum

phone: +1 740-772-8200

address: 68 E Main St

Dr. John D. Harris Dental Museum

phone: +1 740-634-2228

address: 209 Main St

Bainbridge Hours vary.

phone: +1 740-775-5829

address: 90 W 6th St

Hours vary.

Majestic Theater

address: 45 E 2nd St

Longest running, free standing theater in United States.
Ross County Heritage Center, 45 W 5th St, +1 740-772-1936. Hours vary.

phone: +1 740-622-9310

address: 381 Hill St

Restored Ohio & Erie Canal port village.

Sugarloaf Mountain Amphitheatre - Tecumseh!

address: 5968 Marietta Rd

Huge outdoor stages.
Do
Chillicothe PaintsSingle A, Frontier League Baseball - 90 game schedule

phone: +1 740-634-3333

address: 125 E Main St, Bainbridge

Ohio's oldest country music show since 1965; call for reservations.

Annual Feast of the Moon FestivalA festival that attempts to preserve Native American culture.

Charity Bed Race

phone: +1-740-775-5083

address: 344 Fairgrounds Rd

Easy Rider Rodeo

International Sunflower Festival

Mountain Heritage Camp out

address: Hersch Fruit Farm, 12846 State Route 772

Mid-September. Orchard tours, pick your own apples, apple butter making, corn maze, petting animals, horse drawn wagon rides.
Fall Festival of the Leaves Bainbridge. 3 days in mid-Oct

Lucy and Rutherford Hayes Anniversary Celebration

phone: +1 740-755-1780

Lucy Hayes Heritage Center, 90 West Sixth St. In the last few days of December. Reservations required.

Southern Ohio Storytelling Festival

address: 1 Enderlin Circle

Thursday-Saturday after Labor Day, this festival features several national and regional storytellers in a tent at the Pump House in Yoctangee Park.
Learn
Buy
Bavarian Toy Works

address: 45 N Paint St

Toys for children of all ages.

phone: +1 740-775-3915

address: 1075 N Bridge St, Suite 202

You'll find a wide variety of cookware, bakeware, small appliances, decorative wood, marble and ceramics, great gadgets for every kitchen task, and the best of the kitchen/housewares seen on TV. This company of 200+ locations in 44 states began right here in Downtown Chillicothe.

phone: +1 740-775-5652

address: 100 N Paint St

Providing many national brand footwear such as Birkenstock, Jumping Jacks, Munro, New Balance, Dexter USA, Clarks, Extra Depth, and Drew. And leather goods handcrafted by local artisans.

address: 475 Western Ave

Anyone interested in selling at the market can register between 7AM and 8AM

History Store

phone: +1 740-775-7400

address: 101 N Paint St

phone: +1 740-775-9848

address: 203 W Water St

Long known for its unique and unusual gifts and antiques. The original store started in the cellar (hence the name) and is now expanded to include the main floor.
Eat
Vern's Giovanni's Pizza & 5 Way Chili Parlor

phone: +1 740-773-0042

address: 423 Western Ave

Locally owned and operated, New York style pizza

Max & Erma's Restaurant

phone: +1 740-773-2323

address: 10 River Trace Dr

A high quality chain restaurant specializing in large hamburgers and good atmosphere.

Crispie Creme

phone: +1 740-774-3770

address: 47 N Bridge St

Old Canal Smokehouse

phone: +1 740-779-3278

address: 94 E Water St

phone: +1 740-779-3337

address: 35 N Paint St

Mediterranean restaurant & cocktail lounge. Greek, French and Middle Eastern food plus steaks, salmon, burgers and gyros. Entertainment on weekends. Wireless internet available.

Carl's Townhouse

phone: +1 740-773-1660

address: 95 W 2nd St

Carl's is a family owned, hometown diner style restaurant. Great food for breakfast and lunch... but don't expect dinner there, because they close at 5PM.
County Crust Bakery, 4715 SR 41 South.

The Old Home Place

phone: +1 740-998-4303

1/4 mile north of U.S. Route 35. Amish Bakery - Troyer Meats - Cheese - Bulk Foods.
Drink
phone: +1 740-779-3625

address: 80 E Water St
Sleep
address: 635 Rocky Rd

15-site campground, pressurized water, vault latrines, playground, shelterhouse, pet camping, shelterhouse, horse camp, 22 miles of trails, hunting, playground equipment, disc golf course, volleyball, basketball, horseshoe court.

phone: +1 740-775-7000

address: 1250 N Bridge St

phone: +1 740-779-2424

address: 1003 E Main St

Hampton Inn & Suites' Chillicothe

Country Hearth Inn Chillicothe

Comfort Inn Chillicothe

Christopher Inn And Suite

Scioto Trail State Park, Ross County, south of Chillicothe, east of Route 23 on CR 372. 55 campsites, 40 with electricity, latrines, water, fire rings, picnic tables are provided. A secluded hike-in camp near Stewart Lake has 18 non-electric sites. Two rustic camper cabins are available. Fishing, hunting, twelve miles of hiking trails, 17 miles of bridle trails, nature center, basketball, horseshoe courts, playground, games and sporting equipment to registered campers, basketball, horseshoe courts and volleyball court.
Connect
Go next
Tar Hollow State Park, east part of Ross County, east of Chillicothe, at 16396 Tar Hollow Road, Laurelville, 71 sites with electrical hookups, 11 non-electric sites, 12 walk-in sites, and 5 primitive sites along a backpack trail. Equipped with showers, laundry facilities, pit latrines and a dump station. The beach is close by. Boating with electric motors only, permitted on the 15-acre Pine Lake. Perfect for canoes and rowboats.