Chimayó
Chimayó
is a small town in
North Central New Mexico
. At the base of the
Sangre de Cristo Mountains
, Chimayó is most well-known for its famed church that has a reputation for delivering miracles. Originally a Spanish farming settlement, Chimayó is part of a string of villages along NM 76 that haven't changed much over the course of time, offering a unique look at life in such a setting.
Get in
Albuquerque
is the nearest city with a major airport, although
Santa Fe
has off-again, on-again commercial jet service as well. Chimayó is reachable from Santa Fe on good and scenic 2-lane roads, but be a bit careful driving on them in the winter, as this is high country and mountain snowstorms can make a nasty mess out of a good road in remarkably short order. NM 76 east from
Española
or NM 503 northeast from
Pojoaque
will bring you to Chimayó. The
NCRTD
provides a free bus service on weekdays to Española, with connections to Santa Fe, Taos, and other communities in North Central New Mexico.
See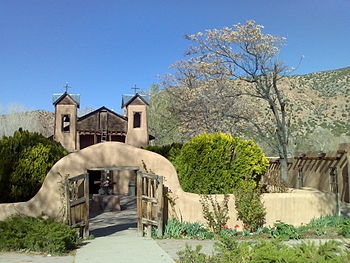 Santuario de ChimayoMore completely named "El Santuario de Nuestro Señor de Esquipulas," the Santuario is a church that dates to the Spanish mission period with a remarkable reputation for miracles, including healing the sick and lame. It's located on the outskirts of the small town, just off NM 503 on the south side of the village, and can be visited for free during daylight hours, although donations are appreciated. The Santuario is quite famous among the towns of the mountains and is the destination for a unique pilgrimage during the week before Easter (see below under Do).
Do
Santuario de Chimayó is the destination for pilgrims who hike (sometimes for several days and many tens of miles) along the highways from the surrounding area as a gesture of faith and also in the hopes of taking advantage of the church's reputation for miraculous cures. If you're Catholic and have some time leading up to Easter, consider joining the throng; if you're just driving in the area then, be extra careful of pedestrians.
Buy
Chimayo blankets, textiles superficially similar to Navajo rugs but woven by descendants of Spanish settlers and much less complex; $50 will buy a good example. Weavers of the Cordova family are considered particularly proficient, and their work can be a little more expensive, but you get what you pay for.
Eat
phone: +1 505 984-2100 (reservations advised)

address: 300 Santa Fe County Rd 98

Definitive "New Mexican" cuisine (stuffed sopapillas, red and green chile, etc.) in a gorgeous setting.
Sleep
phone: +1 505-351-4805

address: 64 Co Rd 100

address: 26 Camino de Mision
Stay safe
Chimayó has a lamentably well-founded reputation as a center for narcotics trafficking, being on the "pipeline" for drugs coming into the United States from Mexico. Mind your own business and you won't have any problems, but this is a place where you do not want to interrupt a drug transaction, even inadvertently. Keeping a low profile in town (which mainly means sticking to the main road) is a very good idea.

Go next
Española
is just to the west on NM 76 and serves as the primary commercial center for the immediate area, with more dining and lodging options. Chimayó is situated near the base of the
High Road to Taos
, a set of roads that lead through several historic and predominately Hispanic villages along the Sangre de Cristo Mountains between Española and
Taos
. NM 76 continues northeast from Chimayó, climbing a steep and winding road to the village of Truchas, where you will get a spectacular view over the valley and the surrounding mountains. From there, it continues into the mountains through several more villages before reaching Taos; detailed directions for the route can be found on the
North Central New Mexico
page.