Chimbulak
Chimbulak
(Shymbulak) is a ski-resort in the mountains near
Almaty
,
Kazakhstan
.
The times when mountain-skiing was only for the most courageous and well off have became a thing of the past. Nowadays, mountain skiing has became more accessible to the masses.
Mountain ski Resort Chimbulak is a peculiar world. Going up the mountain road, one plunges into something unreal: to the left and right and ahead appear grand mountains with snowy slopes and evergreen Tyan- Shan firs.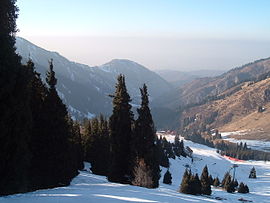 Mountain ski Resort Chimbulak provides comfortable hotels and amusements.
Get in

To get to Shymbulak, you can take the gondola (cable car) from Medeo gondola station (1500 tenge). Operating times are generally 10:00-17:00 (weekdays) and 10:00-18:00 (weekend).
You can also take a shuttle bus from Medeo ski link to Shymbulak gondola station (300 tenge). To get to the Medeo gondola station or Medeo Ski link, take the number 12 bus. This bus travels along Dostyk Avenue starting near the intersection of Dostyk and Abay Avenue. You wait at bus stop opposite Kazakhstan Hotel for bus number 12 (150 tenge).

Get around
There is one gondola and one combination chair lift and gondola. The gondola has two stations, Medeo and Shymbulak (2200m). Upon reaching Shymbulak, riders can unload and walk to the combination station at Shymbulak. There are two entrances, one for skiers and boarders to ride on chairs, and another for pedestrians to ride inside a gondola cabin. This combination lift goes up to two stations, Combi-1 (2800m), Combi-2 (highest at 3200m). The fare is 3500 tenge round trip. A 3-day-pass is 3950 tenge, although it's only valid for one way up and one way down within 3 days. The ride down from Combi-2 to Combi-1 and from Combi-1 to Shymbulak is free. Prices for ski passes may be different.
In summer there are hiking opportunities, althoughs paths are rocky or inexistent. Shymbulak Peak (to the east of Combi-2 is around 45 min at ~3450 m, to the west there are some peaks and glaciers waiting to be explored. One can also hike up from Shymbulak to Combi-1 (1 hour) and from Combi-1 to Combi-2 (45 min). Going down is unpleasant on the rocky slopes, so it's better to take the free gondola.

See
Mountains.

Buy
A souvenir and a small sport shop are located at Shymbulak, where there's also an ATM.

Eat
There are quite a few restaurants at Shymbulak gondola station. At Combi-1 there's a semi-luxury hotel named S.n.e.g. with very good reviews. At Combi-2 there's a Panorama-Cafe and the Bar 3200. Prices for food and drinks are high.

Drink
Shymbulak Resort hotel offers dorm-style rooms.

Sleep
S.n.e.g. hotel at Combi-1: only reachable by gondola, relatively cheap room rates (€55-60 in summer), very cool ambiente