Chinguetti
Chinguetti
is a city in
Saharan Mauritania
. It contains a noted Islamic scholarly centre sometimes called
the library in the desert
and is a UNESCO World Heritage site.
Get in
Cars go from
Atar
to Chinguetti for 2000 oug per person. Be at the place at around 8 a.m. as they depart at different times each day.
Get around
Chinguetti is easily covered by foot.

See
The
Old town
of Chinguetti is noted for its style of indigenous Saharan architecture, featuring reddish dry stone and mud-brick houses.
Friday Mosque of ChinguettiBuilt in the thirteenth or fourteenth century, this mosque includes what is believed to be the second oldest continuously used minaret in all of the Muslim world. The mosque consciously lacks extensive adornment, in line with Maliki school of Islam. It's considered the national emblem of Mauritania. Non-Muslims are not allowed to enter the mosque but may view the exterior.
Do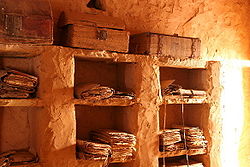 Chinguetti has some of the more postcard perfect sand dunes in the Sahara. You can hire a camel and guide to walk you and your things around the desert, but you won't be actually riding the camel. You can also hire a 4-wheel drive. A better option might be to just go on a hike on your own.
Eat
Naitil

address: Route vers Chinguetti

The only restaurant in town. A decent sandwich shop popular with young people. Indoor and outdoor seating available.
Sleep
There are plenty of
auberges
, with beds for as little as 1500 ouguiya. Camping just outside the city is also a popular option. Unfortunately, with the collapse of tourism in the Sahel, many hotels have been forced to close. If you wander around the town (prefferably in the evening) you'll be very likely invited by the locals to sleep at their family house. They will probably refuse any payment from you.
phone: +222 2205 5056

A small, charming, auberge with just six rooms and a small courtyard. On-site restaurant and library, and it's even possible to get a massage.

La Rose des Sables

phone: +222 27466763

A clean auberge with hot water showers and a friendly host.
Go next
To go to Atar be prepared to leave early in the morning as the locals need to catch a bus to Nouakchott and tend to leave at 5 or 6 a.m.