Chios
Chios
is a region of
Greece
, an island in the Aegean Sea 5 miles off the Turkish coasts.
The population is about 52,290 (census of 2001), with an area of 904 km².
Chios or Chora
; it is a port and the island's chief town. The island is famous for its scenery and good climate. Its chief export is mastic but it also produces olives, figs, and wine. Its international fame is based on the size and quality of its shipping community.
Municipalities
Agios Minas
Amani
Ionia
Kampochora
Kardamyla
Mastichochoria
Oinousses
Omiroupoli
Psara
Cities
— the main city of the island and its administrative center with a well-preserved Genoese castle.
— a tiny seaside village, well known for the nearby stretches of black pebbles of 'Mavra Volia', one of the most popular beaches in Chios.
— traditional village at the north of the island.
— village at the south of the island with strong medieval character, with stone houses closely related, making the village look like a castle.
— village whose houses have black and white decoration at the exterior.
— village atop a hill overlooking pebbled beaches.
Other destinations
— A distinctive area just south of the main town and away from mass tourist, with some interesting country estates still owned by Genoese noblemen and transformed into hotels with unique atmosphere.
Thymiana - A worth to be visited village some 7 km south of Chios town.
Get in
By plane
Domestic flights
There are daily flights from
Athens
airport by Olympic Air and Aegean Airlines .
Sky Express
is operating regular flights from Mytilini, Samos, Rhodes, Heraklion and Limnos. In the summertime there are also flights from Thesaloniki and Rhodes 2-3 times a week. Astra Airlines has scheduled flights from
Thessaloniki
.
From May till October charter airlines fly directly to Chios from some European airports.
Hellaswings from Oslo Norway once a week;
Lilliput from Oslo Norway once a week;
Martin Air from Amsterdam Holland once a week;
Transavia from Amsterdam Holland twice a week;
Lauda Air From Vienna Austria once a week.
By boat
You can take the boat from Piraeus once a day (twice a day in the summer) from NEL Lines or Hellenic Seaways or
Kavala
(operational only in the summer). There is also regular trips from
Samos
and
Lesvos
all year round.
Çeşme
on
Turkish
mainland
just opposite Chios also has ferry connections with the island. The all year round service costing €23 one-way pp (or €25 return) departs at 09:30 AM from Çeşme and takes roughly 30 min. Those doing the trip to island as a day trip can take the return ferry to Turkey departing at 5PM (except Sundays, on which it departs at 4PM) from Chios.
Get around
You can bring a car using the boats, or you can rent one there. Chios is a big island and if you want to get around (out of the place where you are staying you have to have wheels) you better rent a car or motorbike. Renting a bicycle is also an option if you are not traveling big distances.

See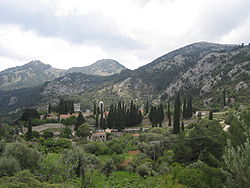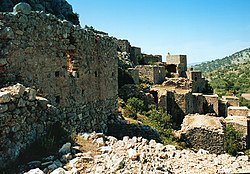 — a UNESCO World Heritage list monastery
— a byzantine village monument with tower-like houses.

Mastiha Museum

phone: +30 2271 072212

address: Θέση Ράχη (Τεπέκι) 82 102

An emblematic museum dedicated to Mastiha (mastic), a unique product coming from the mastic plant Pistacia lentiscus var. Chia.

Maritime Museum of Chios

phone: +30 22710 44139

address: 20, St. Tsouri Street

A private museum that was established in order to maintain, present and preserve the long maritime tradition of the island.
Do
Chios Cooking Lessons If you are interested in Chios cuisine, if you want to go deeper into Greek food or you are just in love with cooking, you are invited to join special gatherings, the Chios cooking lessons. An alternative activity to explore Chios and Greek culture, to unveil Chios secrets like a local. You will make, taste and enjoy traditional Greek recipes and prepare delicious dishes.
Eat
To Mestousiko

phone: +30 22710 76458

address: Mesta, Chios

Small grill with outdoor seating, run by George and Marina Pannadi year-round. The menu has grilled sandwiches, souvlaki, and Greek (horiatiki) salads. Located a block from the town square directly behind the new church of Taxiarchis (Archangels). To reach the restaurant, walk to the right and turn into the first alley. When you see the church, turn right.
Sleep
phone: +30 6932528698

address: Vokaria, Nenita

Sea view apartments just 15 meters from the beach with amazing view of the Aegean and the Asia Minor. Hiden from the noise and mass tourism, ideal for relaxing.

phone: +30 2271071523

address: Emporios, Chios

Haus Fay is a family hotel of studios and apartments renovated to satisfy the needs of every visitor. Overlooking the Aegean, in Notiochora of Chios, just a few minutes walk from Mavra Volia and Foki. Located in the central square in the harbor of Emporios next to restaurants which serve Greek specialties and fresh fish.
Go next