Chipping Campden
Chipping Campden
is a small town in the far North of
Gloucestershire
.
Understand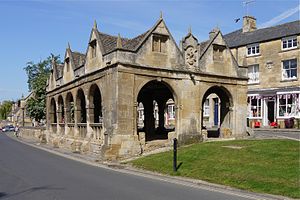 A classic Cotswold town, the relaxed and friendly town is made picturesque by its historic architecture made with honey colored Cotswold stone, a charming 15th-century church, a historic Market Hall that is almost 400 years old, and a decent selection of easily accessible pubs, bars, restaurants and hotels that make it a worthy stop on a trip through the countryside. Chiping Campden was built on the backs of the sheep that are still raised in the area, meaning that the town, like so many in thhe Cotswolds, was built with wealthy wool money. The town proudly supports the tradition of walking the English countryside. In fact, Chipping Campden is the starting point for the
Cotswold Way
, a 100-mile (160-km) walk from Chipping Campden to
Bath
. Chipping Campden hosts the Olimpick Games, a celebration of sports held on the first Friday after the Spring Bank Holiday.
Climate
Chipping Campden experiences classic English weather - rainy weeks during the spring, warm pleasant summers, stunning changes of the leaves in the fall, and snowy days in the winter.
Get in
Chipping Campden is located in a rural area of the county, meaning car is the most efficient mode of transportation to Chipping Campden. However, with patience and planning, visitors can arrive by train, coach and on foot.
By plane
London airports
While often hectic and traffic filled, Heathrow Airport in London is the closest airport to Chipping Campden.
Heathrow Airport is about a 1½-hour drive from Chipping Campden. For those not travelling by car, a mix of trains and buses are the most efficient, averaging about a three hour trip. The Heathrow Express connects at Paddington Station to Moreton-in-Marsh, where travelers connect to a bus towards Stratford-Upon-Avon, eventually arriving in Chipping Campden.
London Luton Airport is little under two hours away via car to Chipping Campden via the M1. A 3½ hour trip by train, travelers take the Luton bus to IBC Vehicles Gate 1, followed by a brief walk to the Luton Airport Parkway train station towards St Pancras International. Head to Paddington Station from King's Cross, followed by a train to Moreton-in-Marsh via the bus to Stratford-Upon-Avon.
Gatwick Airport is little over two hours from Chipping Campden by car, where time on the M25 and M40 eventually puts drivers on charming country roads towards Chipping Campden. By train, you will catch the Gatwick Express to Victoria Station and then take a bus to Paddington Station. Catch a train from Paddington to Moreton-in-Marsh, followed by the Stratford-Upon-Avon bus to Chipping Campden. The train trip is about 3½ hours.
Stansted Airport is a 2½-hour drive to from Chipping Campden via M25. For those traveling by public transport, go from Stanstead Express to London Liverpool Street station and take the tube to Paddington Station, where you'll catch a train to Moreton-in-Marsh, followed by the Stratford-Upon-Avon bus towards Chipping Campden, arriving in little over four hours.
By rail
Wikivoyage has a guide to Rail travel in the United Kingdom.
The
National Rail
serves
Moreton-in-Marsh
, which is away from Chipping Campden.
By car
By foot
Get around
By foot
Walking around Chipping Campden is the most common mode of getting around. The majority of sightseeing, dining and shopping are located in the city centre, which is extremely friendly to walkers.
By car
On a busy weekend, driving can be rather hectic in Chipping Campden due to limited parking. However, the city centre has a car park right in the center.
By bike
The rolling hills of the Cotswolds make for great biking country.
phone: +44 07933 368 074

address: The Volunteer Inn, Lower High Street, Chipping Campden, GL55 6DY

Cycle Cotswolds offers bicycle hire and tours based in Chipping Campden.
See
The majority of Chipping Campden's landmarks are located in the heart of the city, however, beautiful gardens dot the landscape nearby, which are well worth the long walk or brief car ride to see.
Do
Walk the Cotswold WayA National Trail, the Cotswold Way is a 102-mile (165-km) long distance footpath that starts in Chipping Campden and ends in Bath. A beautiful walk across the Cotswolds, the walk is a "must" for any self-proclaimed rambler. It passes through numerous notable places and pass many beautiful sites, including Hailes Abbey, Broadway Tower, Sudeley Castle, and more.
Buy
Eat
Restaurants
phone: +44 01386 840330

address: Cotswold House Hotel and Spa, The Square, Chipping Campden, Gloucestershire, GL55 6AN

Casual restaurant in the Cotswold Hotel with modern twists on brasserie classics and seasonal salads, seafood, pasta, and steak. Great gin and tonics. Reservations recommended for dinner. Breakfast and lunch also served.

phone: +44 1386 840371

address: 21 Church Street, Chipping Campden, Gloucestershire GL55 6JG

Modern pub food that has a following of locals and travelers alike, the Eight Bells offers mid-range dining in a cool atmosphere with a pub. Daily "fishy dishes" are offered, which features fresh seafood. The Eight Bells offers numerous vegetarian and vegan offerings, alongside seasonal asparagus with a soft poached egg, chicken liver parfait, and entrees like a Prime 8 oz Rib Eye, local sausages, and a tasty lamb burger. Kids welcome, dogs in the bar only. Reservations HIGHLY recommended.
Take away and grocery
phone: +44 01386 849 345

address: High Street, Chipping Campden, Gloucestershire GL55 6AG

Toke's has been selling fine wine and cheese in Chipping Campden for over 40 years. A second generation shop, it's a funky shop with English and European cheeses and wine from France, Italy and Spain. A fine spot for take out coffee, too.

phone: +44 01386 849093

address: High Street, Chipping Campden, Gloucestershire GL55 6AT

A self-described "urban farm shop," Fillet & Bone is a very hip food and drink shop that includes take away cheese, charcuterie, meats and local produce. They have a small wine shop that includes English made wines and ciders and all of the meat and seafood they sell is regional, including fresh daily seafood from Cornwall. Also a great place to pick up locally produced jams, oils, and other foodie gifts.
Sleep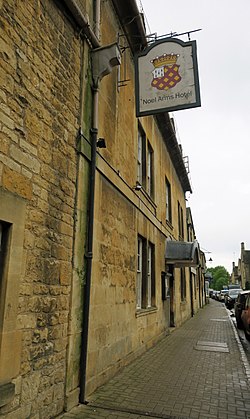 phone: +44 1386 840317

address: High Street, Chipping Campden, Gloucestershire, GL55 6AT

A historic inn, with modern amenities, where it is said that Charles II stayed during the English Civil War. The inn offers 28 en suite rooms located on High Street. Owned by the Cotswold Hotel across the street, the Noel Arms has a coffee shop and a pub which is known for its curries.

phone: +44 1386 840330

address: The Square, Chipping Campden, Gloucestershire, United Kingdom GL55 6AN

A modern and intimate hotel located in the heart of the town, the Cotswold House offers well-sized rooms. Many include baths and all include turn-down service. The property has well-manicured gardens, an on-site spa, and two restaurants. Be sure to say hello to the tuxedo cat that roams the property.
Cope
Chipping Campden Tourist Information Centre

phone: +44 1386 841206

address: The Old Police Station, High Street, Chipping Campden, GL55 6HB

Located in the heart of Chipping Campden, the visitors' bureau has a small gift shop, books by local authors and about the local area, maps, information on cycle, car and taxi hire, and more.

phone: +44 01386 841894

address: Back Ends, Chipping Campden, GL55 6AU

Public bathrooms are located on High Street and Sheep Street.
Go next