Chittagong
Chittagong
(officially
Chattogram
) is the main international seaport and second largest city in
Bangladesh
. Located on the Bay of Bengal, the city is the headquarters of many Bangladeshi companies, including the Chittagong Stock Exchange. According to the British newspaper the Telegraph, Chittagong is one of the ten fastest growing cities in the world.
Understand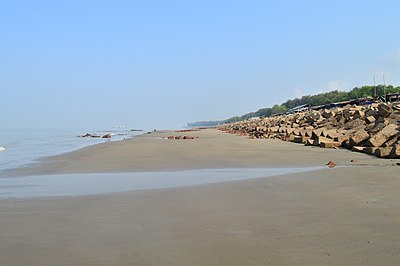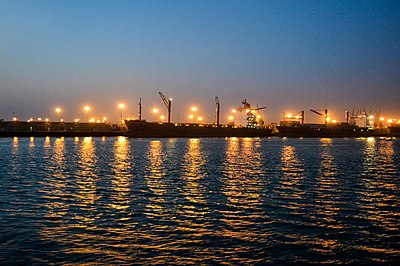 Chittagong is one of the great port cities of
Asia
. It flourished on the
Maritime Silk Road
and was the eastern terminus of the
Grand Trunk Road
. It was visited by famous medieval explorers like the Venetians Niccolo de Conti and Caeser Frederick; the Arab traveller Ibn Battuta; and the Chinese admiral Zheng He. The Portuguese, Mughals and British controlled the port in successive periods until the 20th century. It became a major financial centre and the largest port in modern-day Bangladesh after the Partition of British India.
Today, Chittagong is a fairly large metropolitan area with a population of about 6.5 million. As in
Dhaka
, its streets are filled with masses of rickshaws. Rolling hills and greenery dot the landscape. The Karnaphuli River is a burgeoning hub of shipping. Chittagong puts in a little more effort than other Bangladeshi cities to keep its streets and sidewalks clean. The city's residents are called Chittagonians. Foreigners will notice a distinct increase in nuisance from beggars in certain intersections, like the Central Railway Station. Beggars come from different parts of Bangladesh because Chittagonians are more prone to charity than people in other parts of the country.
The old quarter of the city is home to several historic mosques and Sufi shrines. The Anderkilla Imperial Jame Mosque was built by the Mughals after they conquered Chittagong in 1666. It once formed part of a large hilltop fort. The Sufi Shrine of Bayazid Bostami has a pond full of turtles. The former Portuguese settlement is located in Patherghatta. It is home to the descendants of Portuguese traders, who are known locally as Firingis. The area has several churches, including the Roman Catholic Diocese of Chittagong. Chittagong is also the seat of the Bengali Buddhist priesthood.
The busiest parts of the city are Station Road, Strand Road, GEC Circle and O.R. Nizam Road. The affluent neighborhoods of Khulshi and Nasirabad are home to the city's middle and upper classes. Chittagong has many influential business families.
The city is home to prominent gentlemen's clubs, restaurants and golf courses.
The Chittagonian enthusiasm for inviting people to massive feasts is a bit of legend both locally and elsewhere. Known as
mezbani
these feasts feature a tremendously hot curry, usually of beef. If you're not used to it, approach with caution. You might also be able to find some of the world's best lobsters here, as Chittagong is the center of the Bangladeshi seafood industry.
Climate
Under the Köppen climate classification, the
weather
has a tropical monsoon climate (Am) - hot and very humid during the summer monsoon season (April-September) and drier and cooler in the winter (October-March). The city is vulnerable to North Indian Ocean tropical
cyclone
. The deadliest tropical cyclone to strike Chittagong was the 1991 Bangladesh cyclone, which killed 138,000 people and left as many as 10 million homeless.
Get in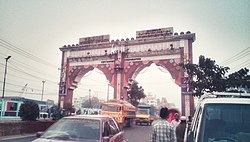 By plane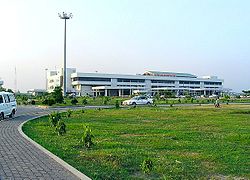 For departing flights:
Allow plenty of time for security screening, especially on those days when major conventions end. Or if possible schedule your flight at another day/time.
To travel between the airport and your Strip hotel:
Taxis cost ৳200–500 from the airport to a Strip location.
Autos cost ৳100–250 from the airport to a Strip location.
Buses cost ৳5-30 each way and departs every 10–20 minutes, sometimes more than an hour.
By train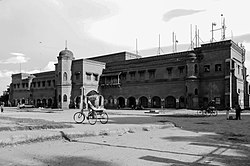 Trains run to Dhaka, Sylhet, Mymensingh and other cities. The main route out of Chittagong runs north to Comilla and Akhaura, from where the routes to Dhaka and Sylhet diverge. The train station is on Station Road just west of Jubilee Road. Chittagong is a terminal station on the metre gauge eastern section of the Bangladeshi Railway. The headquarters of this railway are located here. Train journeys are, in general, cheaper than bus journeys. The best bet for a tourist is to make reservations at the station or a travel agency. Trains are popular so book in advance.
By bus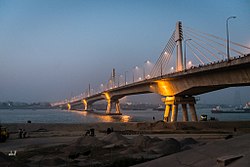 There are 2 spots in the city where the major
private companies
operate from and have offices - just to the south of GEC Circle on CDA Ave, and on Station Road near Hotel Golden Inn. Greenline, Silkline and Shohag are the nicest and have frequent services to
Dhaka
(৳1200, 6-8 hours) and
Cox's Bazar
(3-4 hours). Greenline also offers the only direct bus to
Sylhet
(৳550, 7-8 hours).
Local buses
to
Cox's Bazar
(৳140, 3-4 hours) run frequently throughout the day from Cinema Palace Bus Station, about 1 km north of the Station Rd area.
Bangladesh Road Transport Corporation (BRTC)

phone: +880-2-8357757

address: Station Road

BRTC operates the International Bus Service twice daily with Kolkata and scheduled services with Agartala

phone: +880 1711 798344

address: Zakir Hossain Road

Daily services with Dhaka, Sylhet, Khulna, Cox's Bazaar, Jessore and Kolkata.

phone: +880 2 8331302-4

address: Zakir Hossain Road

Daily services with Dhaka, Kolkata, Sylhet, Cox's Bazaar, Khulna and Bogra.
Chittagong Bus Depot, +031 683423. Station Road at Batali Road, across from the Old Railway Terminal.
Chittagong is the eastern terminus of the
Grand Trunk Road
, a historic highway that runs through parts of four countries — Bangladesh, India, Pakistan and Afghanistan — all the way to
Kabul
at the western end.
By car
Chittagong is the focal point of the national highway system in Bangladesh. Cars can be used to travel from the Indian border, but the border with Myanmar remains closed.
By boat
Get around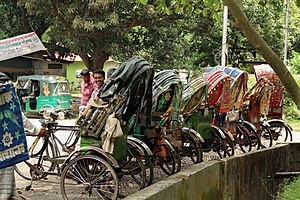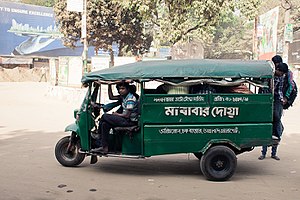 Getting around in Chittagong is always an adventure. Traffic is, by and large, horribly congested and many drivers will think nothing of quoting ten times the going price to a tourist. Agree on prices before setting off. Transport in Chittagong is similar to that of the country's capital Dhaka. There are various bus systems with different routes, taxis, and smaller 'CNG' taxis which are basically tricycle-structured motor vehicles. Also, the traditional manual rickshaws are very common.
By foot
Walking
is also a possibility as the town isn't
too
confusing, but keep an eye out as the streets can be very busy, especially around Station Rd and Jubilee Rd. If travelling along the Strip, walking is a reasonable option as the hotel-casinos are close to each other. However, note that what may look to be a short walk of only a couple hotel-casinos away may be farther than you expected as the resorts often look closer than they are due to their large size.
By bicycle
Many locals of lower-classes often use bicycles as a primary form of transport. They can be useful in their ability to squeeze through tight situations, where traffic may prevent a large vehicle from moving. Some newer roads in the capital have dual bike/rickshaw lanes. Although, there is little opportunity to buy or rent a bike, plus the roads and traffic are in such bad condition that the chance of an accident is high.
By rickshaws
Rickshaws are kind of three-wheeled, pedal-powered cycle with seats in the back to seat passengers and a driver in the front. They are good for short distances, or places which are too far to walk but too short for taking a bus/taxi/auto-rickshaw. Rickshaws don't use meters, so establish a price before getting on. Tk 20-100 is reasonable for most journeys of a few kilometres.
By bus
All parts of Chittagong are well connected by buses and with tickets ranging from Tk 5-50 (Tk 1.42/per km), are very cheap; but also quite crowded most of the time. Some buses are provided air-conditioned service. As bus stops do not have bus routes written properly, it can be difficult to find your way. Asking other people at the bus stop is often the best way to find out about bus routes to your destination. However, the buses are pretty frequent, running every 15-20 min or so on most routes. There is one kind of buses in Chittagong:
Route 1
: runs from to .
Route 2
: runs from to
Route 3
: runs from
to .
Route 4
: runs from to .
Route 5
: runs from to .
Route 6
: runs from to via Agrabad, Tigerpass, Station Road and New Market.
Route 7
: runs from to via Boro Pul, Agrabad and New Market.
Route 8
: runs from to .
Route 10
: runs from to via EPZ, Mahila (Female) Hostel, Customs, Fakirhaat, Barek Building, Agrabad, Chowmohoni, Tigerpass, Lal Khan Bazar, GEC More, Sholoshohor Number 2 Gate and Muradpur..
Counter-bus
Metro Provati counter-based metropolitan bus service, has several stoped around the metropolitan area from Patenga to Bahaddarhat Bus Stoppage.
By taxi
Taxi
(usually with driver) is required to see many of the far-flung sites within and around Chittagong. Taxis ply the roads, some yellow and some black, all with or without meters. Black taxis start the meter at Tk 15 while yellow taxis have slightly higher standards in terms of comfort, and start at Tk 20. Black taxis are typically in notoriously poor condition and lack air conditioning. Yellow taxis are required to have air conditioning; the fleet consists mostly of Toyota Corollas, with some Mitsubishis and Hondas. The yellow taxis are also considered far safer, in comparison to black taxis and auto-rickshaws.
By auto rickshaws
Auto rickshaws
(also called
CNG taxi
, or simply
CNG
) are good for shorter trips. Always in a distinctive
green
livery, auto rickshaws are three-wheeled partially enclosed contraptions that run on CNG and can seat three-four people in the back. In general, they are much cheaper than taxis and can be hailed from the street easily.
By local train
There are limited demo services on Chittagong's railways, but the facilities are a far cry from the user-friendly railway stations. For the most part, train stations are inconveniently located. There is no passenger service on the Chittagong Railway Station outside rush hour.
The Bangladesh Railways website does not accept foreign credit cards.
See
Downtown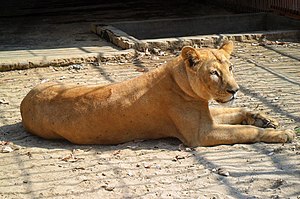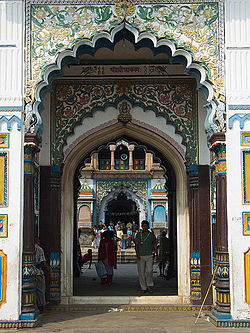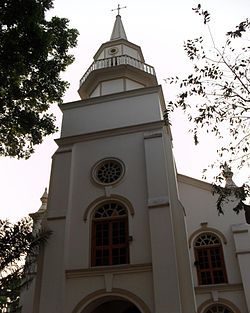 BNS Issa Khan

phone: +1 880-31-740391, +1 880-31-714971

address: New Mooring, Chittagong

Largest naval base of the Bangladeshi Navy. Formally as PNS Bakhtiar, before Bangladesh Liberation War, the base awarded National Standard by the President.

J M Sen Hall

address: K B Abdus Sattar Road

Jatra Mohon Sen Hall is related to the history in 1930, when an armoury in Chittagong was raided. The hall is named after Bengali politician Jatra Mohan Sengupta.
Architectures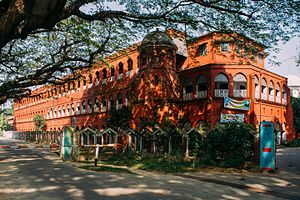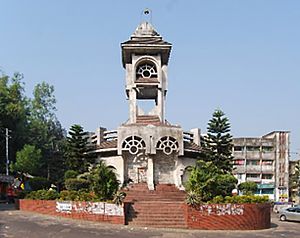 Masjid-e-Siraj ud-Daulah

address: Nabab Siraj ud-Daulah road, Chandanpura

Situated in the old city, the multi-domed mosque is an architectural sight to behold. For its impressive architecture consisting of multiple domes and minarets painted in bright colors the mosque is one of the famous landmarks in the city.
Beaches and river sides
address: South Khulshi

Created in 1924, by building a dam, planned by an English engineer Mr. Foy and built on the initiative of the then Assam-Bengal Railway, amidst panoramic surroundings, this is an ideal spot for outings and picnics, thronged by thousands of visitors. It has been developed into an entertainment and amusement zone. There is an amusement theme park, a lake resort, and a sea world (aquatic theme) park in the lake area. The zoo is next door.
Cemeteries, memorials and sculptures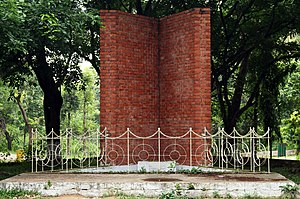 Buddhijibi Smriti Stambh

address: Chittagong University Road, Hathazari

Central Shaheed Minar

address: KC Dey Road

A divisional martyr monument

Shrine of Baizid BostamiThis holy shrine attracts a large number of visitors and pilgrims. At its base there is a large pond with several hundred tortoises floating in the water. According to tradition, these turtles are descendants of evil spirits (djinns) who were cast into this shape because they incurred the wrath of the great saint who visited the place about 1100 years ago.

Shrine of Shah AmanatA very famous saint of Chittagong, Bangladesh. Hazrat Shah Sufi Amanat Khan (R) came from Bihar Sharif, India. At Chittagong he lived in a cottage and accepted service as a pankha wala (hanging fan puller) in the Judge's Court. From the circumstantial evidence it appears that he was a great man of the late 18th century. The family that lives in the compound of Hazrat Shah Amanat Khan's (R) mausoleum and looks after it are Hazrat Shah Sufi Amanat Khan's descendants. They have got in their possession a Persian waqfnama (deed of endowment) of Anwar Khan, the son of Hazrat Shah Sufi Amanat Khan (R). Hazrat Shah Sufi Amanat Khan (R) lived a very simple life. His daily routine was to attend to his duties in the Court and to engage in prayers. No one knew that he was spiritually endowed nor did he pose to be such. His spiritual greatness was revealed through a Karamat (spiritual power with magical elements received from The Almighty Allah) which brought him to the limelight and people came to know that he was a Wali (saint) of the highest rank. When his spiritual attainments became known, he resigned from his job and remained busy with spiritual religious act and meditation. He is ranked among the greatest saints of Chittagong. People visit his mausoleum specially to seek blessings in matters of litigation. Hazrat Shah Sufi Amanat Khan (R) lies buried in a mausoleum to the east of the Laldighi of Chittagong
Parks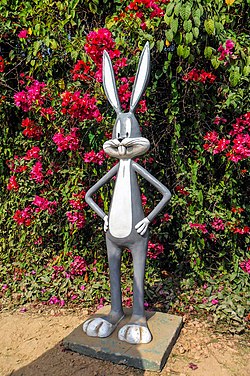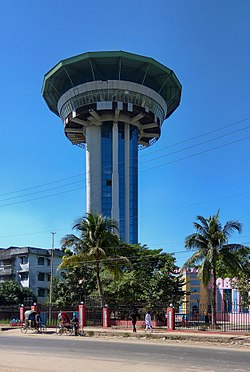 Archives and Libraries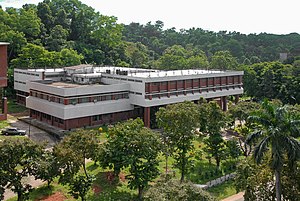 Abdul Karim Sahityavisharad Reference Library

phone: +88 031 726311-14 (PABX Extn. - 4370)

address: Chittagong University Museum, Chittagong University Campus, University of Chittagong, Hathazari

A reference library which contents books to support research about iconography, epigraphy, numismatics, architecture, small and folk art and other cultural resources.
Museums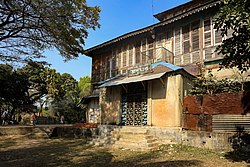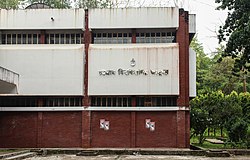 phone: +88 031 726311-14 (PABX Extn. - 4370)

address: Chittagong University Campus, University of Chittagong, Hathazari
Elsewhere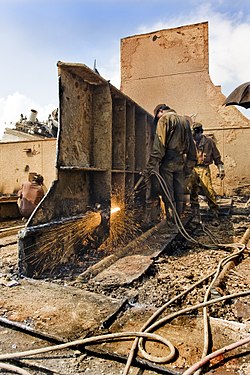 Banshkhali Eco Park

address: Banshkhali Upazila
Do
There are a few amusement parks and public parks in Chittagong:
Fishing
Go fishing for Anabas, Cat fish, Ruhi, Tilapia etc.
Rides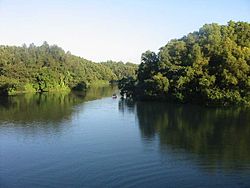 Shows
There are places where you can buy show tickets, but generally not for the really popular shows on the same day of the performance. Most where only cash accepted.
Performing arts
Theaters
Events
Chittagong continues to grow with annual events and festivals held throughout the city.
Buy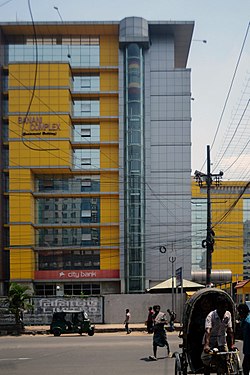 Sales tax
The local sales tax is 15%. Only groceries and prescription drugs are exempt.
Like most of the city, Chittagong has not implemented a tax refund mechanism for international travelers. The only retailers that can sell tax-free items to international travelers are the duty-free shops at Shah Amanat International Airport.
Basics
Most hotel/casino resort complexes in Chittagong have a gift shop open 24/7 that offers basic traveler supplies and sundries. Hotel gift shops are outrageously expensive and should be avoided except for emergencies.
Shopping malls
There are a handful of shopping malls:
Outlet malls
Individual stores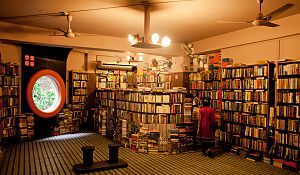 The Bangladeshi book industry is huge, producing annually about thousand of books in English, and obviously far more in Bengali and other native languages. Chittagong is the hub of this industry, so small, specialist bookstores abound. Locally produced books can be very inexpensive and many popular Western titles are published and available here for a fraction of their original cost.
In general, good places to buy books are in Cheragi Pahar, Andarkilla, Station Road, GEC circle, plus shopping malls in the city.
Eat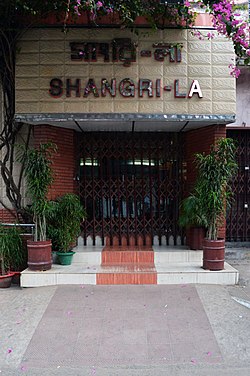 The people of Chittagong love oily and spicy food. This can be a problem for foreigners and lead to upset stomachs. If you are a foreigner you should consider sticking with better restaurants and eating in large hotels. Never eat green salad which comes with your meal as you will not know if it has been washed in sanitized water. Just a handful of restaurants in town use sanitized water to wash salad and this is a recipe for explosive diarrhea.
One oddity in Bangladesh is that restaurants advertise themselves as, for example, "Zaman Hotel and Restaurant" but do not operate a hotel. Where you eat at one of these establishments you can tease them by demanding a room. One-room stores also have signboards advertising themselves as 'department stores'.
phone: +880 31 2513576

address: Jiban Bima Bhaban (Ground Floor), 1053, Sk. Mujib Road

The largest and the latest international standard restaurant in town with a Karaoke corner, seats up to 500 people across 2 floors. Has a huge menu of Continental, Indian, Thai, Chinese, Indonesian and Bangladeshi dishes. Fully air conditioned and tiptop.

Baskin Robbins (Agrabad)

address: Agrabad

Ice cream parlor

Baskin Robbins (CDA Aveneu)

address: CDA Aveneu

Ice cream parlor

Basmati Restaurant

phone: +880 31 651201

address: CDA Ave, GEC Circle

It provides Bangladeshi and Indian food with a classy environment.

phone: +88031-2558551, +88031653558

address: Ramna Trade Center, CDA Ave

Bonanza

phone: +880 31-652079

address: 1692 N1, GEC circle

International standard, large menu and recommended for foreigners who need a break from an upset stomach.

Cafe Milano

phone: +880 1912-345721

address: c/Alameda de Mazarredo 17

Cocoloco

phone: +880 1969-554040

address: 137/B K.B. Fazlul Kader Road

Mexican cuisine

Handi Indian Bistro

phone: +880 1730-341181

address: 2nd Floor D, 805 CDA Avenue

The Meridian

address: Opposite to Bonanza (GEC circle)

The Meridian has an excellent lunch buffet for around Tk 350. The rest of the menu used to be pretty good but as of late it is better to stick to the buffet.

phone: +880 31-632733, +880 31-614656, +880 31-623516, +880 31-623565

address: 805/B CDA Avenue, JB Complex, GEC Circle, Dampara

Royal Hut

phone: +880 1817-203257

address: Shahid Saifuddin Khaled Road

Populer for Chicken Tikka and Paratha

Shangri-La Chinese Restaurant

phone: +880 31 810210

address: 39, Sabdar Ali Road, Agrabad C/A

Smart air-conditioned chinese restaurant.

Sugarbun (Well food)

address: GEC circle

Fast food place from the international chain of the same name. Selling pizza, burgers, fries plus a variety of dishes to Asian tastes in a fast food format. Sugarbun also sells coffee, cakes, bread and other snacks.

Zaman Hotel (there are 13 Zaman hotels in Chittagong)

phone: +880 189 649 138

address: just north of GEC Circle, on west side of street

The menu contains no foreign dishes and this is not a place where foreigners typically eat, though it falls at the top end of middle class Bangladeshi restaurants. The place is clean, the food is OK, the service is good. You can ponder the wisdom in the quote on the menu: "For super disk with quality food to avoid cooking please step with whose family at Zaman Hotel." There are two restaurants of the same name on the same block - this one is the most southerly, with the huge neon sign on the roof.
Drink
Tea and coffee
The teahouses and coffee houses in Chittagong are mostly large, heavily standardized chains. The most common location for various kind of tea is Dalla, besides Agrabad Access Rd. The most common coffee house is
Rio Coffee
, found in multiple locations across the city, most notably around Naval Avenue Rd.
Hookah/sheesha
Bangladeshi bar food, hookah, and an amazing lounge experience. The crowd that frequents these two places is young, hip and trendy.
Bars and nightclubs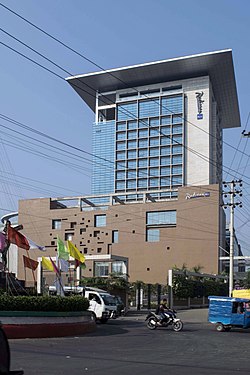 Alcoholic beverages are available at five-star hotels in Chittagong as well as a number of private clubs. Four hotels in Chittagong have bar license; Radisson Blu Chittagong Bay View, Hotel Agrabad, Silmoon Hotel, Saint Martin Hotel Limited and The Peninsula Chittagong. While all the hotels are expensive for drinks. Like the Peninsula is expensive by far (more than Tk 550 for a large can of
Heineken
).
Here you can buy Bangladeshi local branded (Karrew and Co, Darshona) alcohol (vodka, rum, malted, whiskey, gin) from licensed ware houses situated in Shadar Ghat (Kazi & Co.), BRTC, near the railway station (foreign liqueur) and from Dewan Hat.
If you want to go to a bar, then you can go Hotel Shahjahan at Shadarghat, a well-furnished bar, or there is also a bar at BRTC bus stand adjacent to the foreign liqueur shop.
It is possible to buy alcoholic beverages, ranging from local brews to smuggled beer and counterfeit brand alcohol. Local booze is available legally at government licensed shops. There is one in Agrabad on Sheik Mujib Rahman road. It is tucked into an alley way a short distance from the first floor "Siemens" showroom.
Counterfeit branded alcohol is available from illegal traders in Kulshie and other areas. But beware: deaths have been reported from consumption of adulterated liquor, and headaches and illness are more common. Smuggled booze is sometimes available on the sea beach.
phone: +880 31-616722

address: 486/B, OR Nizam Road, CDA Avenue

4-star hotel. The roof of the building has a swimming pool and offers a view of the entire city.
Nightclubs and dancing
There are three private clubs in Chittagong. The premiere club is the Chittagong Club which is located at number one Empress Road. The Chittagong club has a bar license and serves foreign alcohol in addition to local gin, vodka, and whiskey. Chittagong Club membership is closed but foreigners can apply for "temporary membership" for up to two years.
The Chittagong Institute is a far smaller club but it does maintain a bar. It is located in Jamal Khan road.
The Catholic club opens membership to all persons for a small fee but membership applications are only accepted once a year (during December?) It maintains a small bar serving local drinks.
Sleep
Budget
Hotel Miskha

phone: +880 31 610923

address: 95 Station Road

One of the better of the Station Road cheapies, rooms are large, fairly clean and more atmospheric than others in the area with faded old wooden furniture. Prices are a little high but don't even think of asking the stubborn manager for a discount or to throw in a TV. There's a decent restaurant behind the reception desk.
Mid-range
phone: +880 31 636383, +880 1711889555

address: 291 Station Road

3-star international hotel

Hotel Al-Faisal

phone: +880 31 710048

address: 1050 Nur Ahmed Road

This is a good option, mostly because it's far enough away from Station Rd.

Hotel Bandargaon

phone: +880 31 637686

address: 875 Nur Ahmed Road

Near Hotel Al-Faisal, it's also a good choice.

Hotel Eastern View

phone: +880 31 2510567, +880 31 2514935, +88 01727 739 839 (Hot Line), +880 1710 914 448, +880 1811-227 888

address: 225/A, Sheikh Mujib Road, Chowmuhony, Agrabad

Well-equipped, 24 hours service, lift, standby generator, all kinds of food in room, Internet, hot & cold water, secretarial service. It's run by ex-managers of renowned hotels & staff are really good, whole atmosphere is quiet & clean.

Hotel Golden Inn

phone: +880 31 611004

address: 36 Station Road

Across the street from Sylhet Super, it's another decent choice.

Hotel Sylhet Super

phone: +880 31 632265

address: 16 Station Road

This is a very large hotel west of the train station.

address: Jubilee Road

Typical large 3-star hotel. Wireless internet throughout.

phone: +880 1820 141 995

address: Sheikh Mujib Road, Agrabad

address: 1739, Sheikh Mujib Road, Agrabad

phone: +880 31-2557035

address: Road # 1, Plot # 2, O.R. Nizam Road

4-star hotel. Roof top restaurant have trendy with the touch of nature.
Splurge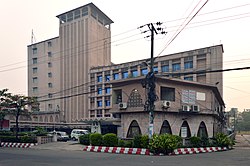 The Peninsula Chittagong Limited

phone: +880 31-616722

address: 486/B, OR Nizam Road, CDA Avenue

4-star hotel. The roof of the building has a swimming pool and offers a view of the entire city.
Connect
Internet
Most hotel charge a separate fee for WiFi usage. Internet cafes can be found around the intersection of Station Rd and Jubilee Rd and around GEC Circle and Agrabad. Price around ৳40-60/hr.
phone: +880 1711 750518

address: 41/42 Central Shopping Complex, 3rd Floor, OR Nizam Road, GEC Circle

Maximum speed 512 kbps+ per PC
Telephone
The country code for Bangladesh is
880
. Add
31
to make a call for Chittagong.
Postal and courier services
phone: +880 312511135

address: Abdur Rahman Road
Private courier companies
address: Shafi Bhaban, Plot #6 Sheikh Mujib Road
Chittagong emergency numbers
Here are the Chittagong emergency contact numbers
Police Commissioner

phone: +880 31 624100

Agrabad Fire Station

phone: +880 31 716326
Cope
ATMs
If you need cash, it's a good idea to get it before going inside bar or club. American Express, Master Card, VISA Card have accepted almost all the ATMs booth in the city. Check ahead to see if your bank has locations in Chittagong. On the Strip, the following ATMs are safer bets:
For the customers, there are ATMs inside the branch at Agrabad Commercial Area.
For customers, there are ATMs inside the district main branch at Sheikh Mujib Road and different places of the city.
Major hospitals
Smoking
In the public places and stand-alone bars, smoking is permitted. However, there are some areas which are smoke-free but may be very close to smoking areas. Nightclubs and lounges may allow smoking if they do not serve food. For all other standalone restaurants, bars, convenience stores, grocery stores and airport facilities smoking is prohibited.
Others
Laundry service
Laundry service is offered in most laundry shops and hotels, even in budget accommodations. If you would rather save the money and do it yourself, buckets are found in almost all public bathrooms - but perhaps wash it out well first.
phone: +8801787864188

address: 1030, Zakir Hossain Road (Opposite M.E.S College), Nasirabad

The Laundry Boy Khulshi Outlet

phone: +8801787864188

address: First Floor, Khulshi Mart, Khulshi
Exercising outdoors is not recommended due to the level of pollution and swimming in rivers is also not recommended. Instead, look for a hotel with a gym or a pool since many offer day passes. You can always try a morning or evening walk in the parks.
Foreign missions and High Commissions
phone: +880 31710264, +880 31716153

address: German Honorary Consulate in Chittagong, c/o M.M. Ispahani Ltd., Ispahani Building, Sk. Mujib Road, Agrabad

Mirza Shakir Ispahani, Honorary Consul

phone: +880 37654148, +880 654201

address: Assistant High Commision of India, Zakir Hossain Road, Khulshi

Shri Anindya Banerjee, Representative
Go next
Chittagong is a great base for exploring the famous hill districts.