Chittagong Division
Chittagong Division
is a region in
Bangladesh
.
Districts
Cities
- a bustling city, the capital of Chittagong Division, and the 2nd largest city in the country
— 4th-largest city in Bangladesh
- a hugely popular beach resort, filled to the brim with affluent Bangladeshi holiday makers.
- a lush and verdant rural area belonging to the Chakma tribe, is open to visitors, as is Kaptai Lake. The lake, ringed by thick tropical and semi-evergreen forests, looks like nothing else in Bangladesh. While the lake itself is beautiful, the thatched fishing villages located on the lakeshore are what make a visit really special. Boats that visit the villages leave from Rangamati. Bring your swimming gear because you can take a plunge anywhere.
Other destinations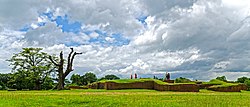 Understand
History
During the Pakistan period Chittagong division included the
Sylhet Division
then as district of East Pakistan.
Get around

From Chittagong a 77 km road amidst green fields and winding hills will take you to Rangamati, the headquarters of the Rangamati Hill District which is a wonderful repository of scenic splendours with flora and fauna of varied descriptions. It is also connected by water way from Kaptai.

See
Kal Bhairab Temple

address: Brahmanbaria Sadar subdistrict (Medda village)

A temple built in the 19th century, dedicated to the Hindu god, Shiva. Present next to the temple is a 28-foot tall statue of Shiva, assumed to be the largest in the world. It is a major pilgrimage site for Shaivites from across the region.
Chittagong Hill Tracts - Decidedly untypical of Bangladesh in topography and culture, the Chittagong Hill Tracts have steep jungle hills, Buddhist tribal peoples and relatively low density population. The tracts are about 60km (37mi) east of Chittagong. The region comprises a mass of hills, ravines and cliffs covered with dense jungle, bamboo, creepers and shrubs, and has four main valleys formed by the Karnapuli, Feni, Shangu and Matamuhur rivers. The hills rise steeply thus looking far more impressive than what their height would imply and extend in long narrow ridges. The highest peaks on the northern side are Thangnang, Langliang and Khantiang while those on the southern side are Ramu, Taung, Keekradang, Tahjindong (4632 ft, highest in Bangladesh), Mowdok Mual, Rang Tlang and Mowdok Tlang. The Hill Tracts is divided into three districts, namely Rangamati, Khagrachari and Bandarban.
It is important to be particularly careful in this area as kidnappings have, can and do occur. Also, the violence shown in this particular region is commonplace, and it is usually due to politics. You should be very cautious, and maybe think again if going to the Chittagong Hill Tracts Region is entirely necessary.
Visit the shipbreaking yards on a day trip from Chittagong, a phenomenal (and dangerous) practice.
Do