Choachí
Choachí
is a small town east of Bogotá, in
Cundinamarca
. It is 1923 meters above see level, much lower than Bogotá and hence with milder weather.
Understand

The road leading to Choachí is the main reason to visit. Beautiful Andean views from your departure. Also, since the road leaves Bogotá right from downtown, you avoid the horrific traffic going to the towns north and west of Bogotá.

Get in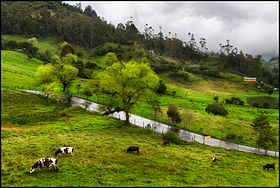 From Bogota to Choachi, it takes about an hour driving over a mountain pass with superb views. The road is paved but has some large pot holes you need you to drive around and many road side stalls offering food and drink.
If you use a locally acquired GPS it may also route you Bogota-Ubaque-Choachi. This is also scenic but has a long stretch of mud track that is easier with a 4WD vehicle.
For COP$7,000, you can take a small charter bus. The buses
do not
leave from the main bus terminal in Bogota - do not go there. You will have to find a bus station on Avenida Calle 6 at Av Caracas, across from a police station.
Get around

Walking should suffice to see town. The hot springs are on a dirty road and a cab ride is in order for most tourists.

See

Main plaza, clean and quiet.

Do

Hot Springs are available at Termales Santa Mónica . Sunday entry is COP$20,000 for adults. Hotel and restaurant services available.

Eat
phone: +57 1 8486 065

Great Swiss restaurant with two locations, one in town (Calle 2 No. 4 – 09, two blocks to the left of the main church in town, +57 1 8486 065) and another just a bit north of town (on the paved road, at the first sharp curve). The north-of-town location is a splendidly converted house with antique interiors and outdoor seating. Try the rabbit or goulash.
Drink
There is an abundance of small restaurants and bars along the main street.
Leaving town towards Bogota there is also a BBQ restaurant with clay oven and excellent views over the valley and mountains.

Sleep