Choctaw Country
Kiamichi Country
(pronounced: kī'ə-mĭsh'ē) is a region in southeast
Oklahoma
south of the Arkansas river. This is the hill and pine woods region of Oklahoma and is also known as
Little Dixie
. It is named after the Kiamichi River. This is a very rural area with mountains, lakes, pine woods and is very sparsely populated, except in the northern areas of the region and western area. There are also some larger towns in the southern region.
Cities
Broken Bow Lake and Beavers Bend Resort Park areas.
Near Rune Stone State Park. See rune stones believed to be left by Vikings in the 11th century.
County seat of Choctaw County.
County seat of McCurtain County and located in the foothills of the Ouachita Mountains.
Oklahoma State Penitentiary is located here.
Home of the "Worlds Highest Hill" and the county seat for Le Flore County.
See the Spiro Mounds Archaeological Park nearby.
Gateway to Talimena Drive.
Robbers Cave State Park and Eastern Oklahoma State College.
Other destinations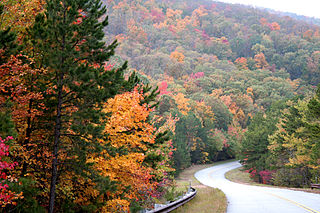 Understand
This area and the people are quite different from the rest of Oklahoma. This is a very rural area with the largest towns and cities being just a few thousand people. In the central-west area, the towns are a few hundred at most and generally under 100 in population. You will find a very mountainous area here with pine forests such as the Ouachita National forest.
Ouachita
is the Indian word Washita with French spelling and means "good hunting grounds". It is a very good region for deer hunting and is a very popular destination during deer season. During your visit do not miss the scenic Talimena Drive, which is mostly in Oklahoma but terminates in
Mena
,
Arkansas
. The area was explored extensively by the French and several of the names in the area are mistaken for American Indian names, but in reality are French.
Get around

Just about the only way to get around in this area is driving.

See
Ouachita National Forest

Robbers Cave State Park near Wilburton.
Rune Stone State Park near Heavener.
Broken Bow Lake a beautiful lake in the far southeast.

phone: +1 918 653-2241

address: Runestone Rd., Heavener, Oklahoma

This is a real mystery. On the side of Poteau Mountain near Heavener is a state park with a beautiful view of the countryside and in the park on a vertical stone there is engraved Viking runes from the 11th century. The mysterious hieroglyphics have been decrypted to be the date "November 11, 1012". This is a day-use park with picnic tables, outdoor grills, playground, gift shop, hiking, nature trail and exploring.

Cedar Lake National Recreation Center

Robert S. Kerr Museum & Kerr Conference Center

Peter Conser Historic House
Go next