Chofu
Chofu
(
Chōfu-shi
) is a western suburb of
Tokyo
, and the main draws are Jindaiji Temple and Jindai Botanical gardens. These twin attractions are next to each other, making a reasonable day trip from central Tokyo. Beyond these two, Chōfu feels like the suburb that it is, particularly on the weekends when the train platform is crowded with parents and their children.
Get in
Chōfu is 15 minutes and ¥230 from Shinjuku. From Shinjuku station, take the Keio line's special express (特急) or semi-special-express (準特急) train. Chōfu is the second stop.
Chofu Airport from
Izu Islands
.
Get around
To get to Jindaiji Temple and Jindai Botanical Gardens, it is reasonable to take a bus. On the north side of the station, take bus number 34 (leaving from bus stop 14), or bus numbers 05, 06, 31 or 56 (leaving from bus stop 13). Only bus number 34 goes directly to Jindaiji Temple; the latter four stop only at "Jindaiji Iriguchi," it is a short walk to the temple from there. All five buses go to Jindaiji Botanical Gardens, fare ¥210. It is 2-3 km from the station to Jidaiji Temple, so walking or taking a taxi is possible.
If you happen to be in
Kichijōji
or
Mitaka
, rather than Chōfu, you can also take a bus to get to Jindaiji Temple and Jindai Botanical Gardens.
See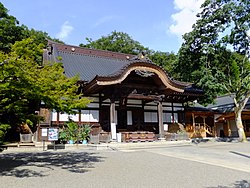 Jindaiji Temple

phone: +81 424-86-5511

address: Jindaiji 5-15-1, Motomachi

This temple of the Tendai sect, constructed in 733, is nearly the oldest in the Tokyo area, second only to Sensoji in Asakusa. Although the temple building itself is modest, the surrounding village of food stands, soba restaurants and waterwheels evokes an image of Edo-period Japan, and makes Jindaiji Temple a hidden gem in suburban Tokyo. The temple complex houses a bronze statue of Shaka Nyorai, a Buddha. The statue is said to date from around 700, and is housed in a separate concrete building.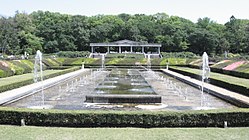 Jindai Botanical Gardens

phone: +81 424-83-2300

address: Jindaiji 5-31-10, Motomachi

Something is always blooming in this large, all-season botanical garden. The park is divided into areas which feature specific plants such as plum and cherry blossom trees; the Japanese azalea garden and English-style rose garden are good. The main gate is on the west side is near the bus stop; you can also enter from the gate adjacent to Jindaiji Temple on the south side.

phone: +81 424-89-5115

address: Parco 6F, 1-38-1 Kojimacho

A one-screen cinema.

phone: +81 424-89-0022

address: Chofugaoka 1-8-1

On the 25th on the month satokagura dance and music numbers are performed. The satokagura dance is a traditional shinto dance.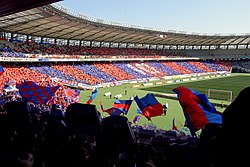 phone: +81 42-440-0555

address: Nishicho 376-3

This 50,000-seat soccer stadium is home field for Tokyo Verdy and FC Tokyo; American football, rugby games and flea markets can also be found here.
Buy

On the north side of the station is a Parco department store. And north of that is the Japanese version of Walmart, Seiyu.

Eat
Ishi-i

phone: +81 424-87-1710

address: Fuda 1-36-10

This lively izakaya restaurant specializes in pork, served on skewers like yakitori. The friendly staff will help you sample almost any part of the pig, including heart, liver, head meat and esophagus, pointing to their own body to describe it, if necessary. They have usual pork and beef dishes as well.

Calends

phone: +81 424-88-3157

address: Fuda 1-43-3

This is a cut-above curry restaurant which has several curries which put the usual Japanese fare to shame. Try ordering the set menu with dessert, rum-topped ice cream is a nice finish after spicy curry. The owner may try to speak some English with you.

Asian Taipei

phone: +81 424-86-3522

address: Fuda 2-28-7

Spicy Thai and Indian style food.
Drink
Sleep
phone: +81 424-89-5000

address: 1-38-1 Kojimacho

The elevator for the hotel is shared with Parco, so you can experience carrying your luggage through a department store.
Go next