Choquequirao
Choquequirao
is a large Inca ruin in
Sacred Valley of the Incas
in
Peru
. Much less visited than its more famous cousin
Machu Picchu
, it is only accessible by a strenuous two-day trek.
Understand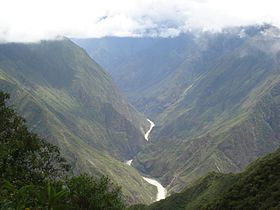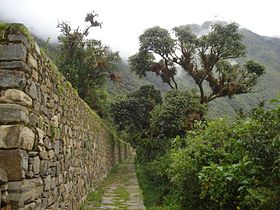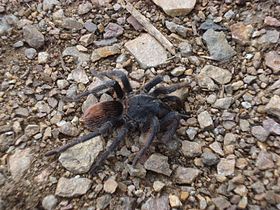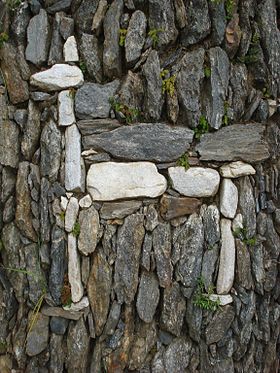 It's a two-day hike to Choquequirao from
Cachora
or Huanipaca. Guides and mules for the trip may be found in Cachora. Cachora is the most popular starting point for travellers who want to see the amazing newly-rediscovered Incan site, Choquequirao. Most people go in and out from Cachora as this is the best maintained and serviced trail. There are several places to buy water, Inca Kola and simple dishes of soup, eggs or potatoes along the journey. Another option is to continue onto
Santa Teresa (La Convención)
or
Machu Picchu
, but you'll need plenty of food. Hiring a donkey or mule is advised.
There are generally only a few tourists each day entering Choquequirao, the park workers are quite helpful in giving directions. The park is quite difficult to navigate with some paths somewhat overgrown. Much of the site is rebuilt: many original large stones have crumbled into smaller pieces, and in places it is easy to identify which sections are original work and which are reconstructed. In the main plaza, concrete beams have been used on one of the buildings. In other places, crumbling ruins are marked with numbers, so if they should fall, they will be able to be reconstructed.
History
Landscape
Steep, rugged mountains.
Flora and fauna
Coral Snakes, Tarantulas.
Climate
Due to the altitude, it's hot in the sun and cold at night, sometimes below 0°C. The air is dry on north side of the mountains, humid on the south sides and in cloud forest.
Get in
There are three trails leading to Choquequirao, one from Cachora, Huanipaca and one from Yanama. To reach Cachora or Huanipaca, take the bus from
Cusco
to Abancay and get off at Ramal - the turn off for Cachora or Huanipaca (just past Saywite), the roads leading to these towns are about 2 km apart. There are at least 3 bus companies that leave for Abancay from Cusco's Terminal Terrestre, but timetables are not usually online. As of July 2011 Breddes buses leave at 05:00, 06:00, 10:00, 13:00 and 20:00. Buy your ticket directly from a bus company, the price should be around S/15 (June 2019). Get off the bus at Ramal, and from there you need to take a taxi or walk down the hill from the main road to the town you intend to hike from. Taxis often wait for the people from the bus, except on Sunday when you might have to wait an hour, or after 21:00. A ride from Ramal to Cachora costs around S/10 (
soles
).
For the Huanipaca and Yamana trails, steep sections make hiking the only option, but the trail from Cachora can be done either on foot or horseback. If you speak a bit of Spanish you should have no trouble finding an arriero and one or more mules or horses in Cachora. Just ask your taxi driver when you get a lift in, or ask at any of the shops in the main Plaza del Armas. Expect to pay at least S/25 per day for an arriero, and S/25 per day per horse. Asking rates will probably start at S/30 per horse/arriero per day but the price can be negotiated. A minimum of 4 days hire is applicable.
The trail from Huanipaca is shorter, steeper and lacks the amenities that the trail from Cachora offers. The trail from Cachora has several sources of drinkable water, campsites, showers, toilets and at least one place where you can buy Inca Kola. Hiking in from Yanama you would need to start in
Mollepata
, Santa Teresa or Machu Picchu Pueblo, these are very long and difficult hikes. If you want to do the 8-day Machu Picchu - Cachora hike it is probably easier to do it in reverse as you will find arrieros much more easily and cheaply in Cachora than at the Machu Picchu end. In either case you will probably need to pay for a return journey for the arriero and mule hire, not just the one way.
At Chicon Expeditions (in the main plaza in Cusco), a package including entrance fees, good equipment, licensed English-speaking guide, transportation with bus, train, mules and driver, cook and food US$430 per person.
Two-day trek from Cachora
Day One
- Start out early from Cachora to make it to camp before nightfall and take in all the views as the sun goes down over the Andean valley. The first day is around a seven-hour hike and 1,500 m elevation change down the mountain. There are multiple campsites, all well-marked, with running water and bathrooms. The tap water is siphoned from streams coming from lakes and glaciers on the Choquequirao side of the Apurimac River.
Day Two
- Finish the hike down the valley to the river to the Playa Rosalina campsite, if you haven't already done so, and you'll reach the fabulous amenities that include a much-needed cold shower. The bridge to walk across the river is complete as of June 2019, so you will not need to use the cable car that has now been disassembled. Get ready for an intense hike up the other side. After 11:00 the sun can make this hike very difficult, with one hiker reporting a walking speed of 500 m per hour, compared to the usual 4 km per hour on relatively flat ground. You will pass 3 potential campsites (Santa Rosa Baja, Santa Rosa Alta, and the small village of Marampata). About 1,800 m up, Choquequirao awaits. It is possible to hike at night, when the air is much cooler; the path is easy to follow.
If you are short on time or don't want to walk the road, take a taxi, S/30, (2019) from Cachora to the at the end of the road to save about 11 km. The road is very dusty and exposed, so taking a taxi or combi is recommended. Be sure to use bug spray as the mosquitoes and sand flies are relentless, especially near the river and in the humid, shaded areas of the north faces.
One-day trek from Huanipaca
Day One - Start walking early in the morning from "El Carmen" road tip, Tambobamba zone, Huanipaca. You will arrive at Apurimac river (Playa San Ignacio) in 3 hours (7.4 km). Near there you can see the small cataract photographed by Bingham during his expedition on 1909. Crossing San Ignacio hanging bridge (at 1460 m asl) you will have to travel 8 km up (about 4 hours) to arrive at Choquequirao campsite, at 2900 m asl. You can buy the entrance ticket at the same campsite (S/60); camping is for free. Everyone will tell you there is no food on the trail, but you can get a cooked meal at Hacienda San Ignacio, about 2.5 km from the river on the Huanipaca side. There are several water sources on the Huanipaca side, so bring your filter. The Choquequirao campsite has no food so you will need to go to Marampata to get any. An alternate start/end to the Huanipaca route which is shorter and steeper is from Kiuñalla, and there are colectivos that can take you out there.
Fees and permits

There is a S/60 fee (2019) that employees of Culture Ministry will collect from those that arrive through Cachora at the checkpoint at the Capuliyoc Mirador or at the Choquequirao campsite, for those that get in through Huanipaca.

Get around
Total time with a 15-kg pack, no guide, no mules: 5 days. Excellent scenery and a great alternative to the
Inca Trail
to Machu Picchu.
With a mule carrying your pack and a good level of fitness it is possible to do this hike in 3 days. This involves hiking the 25 km to Santa Rosa on the first day, the 7 km to the site on day 2, with perhaps 4-5 hours on site, then doing the 7 km back down to Santa Rosa, and finally hiking the 25 km from Santa Rosa back out on day 3. The Association of Arrieros in Cachora don´t like arrieros doing it in 3 days, and will fine them S/30 if they catch them, so those confident in their fitness and wanting to do it in 3 days should probably tip their arriero at least this amount, and pay for 4 days hire which is considered the minimum.
You will need at least one full day at the site, it is difficult to navigate and the chances are your body will be aching. If you skip the lower terraces, your visit can be between 3-6 hours. Carry as little as possible, hike in the cool of the night, and drink from the streams rather than carrying liters of water. It is recommended that water be treated with iodine pills, UV light, or a water filter before consumption. These things are far lighter than the bottles of water themselves.
Talk
The locals are helpful but only speak
Spanish
and/or
Quechua
. The site is an active digging site, there are archaeologists working there, some of whom are American.
See
Sector I - Plaza Superior HananA collection of buildings - including warehouses and priests' residences - fountains and water channels on a hill above the main Plaza.

Sector II - Depósitos Qolqampata TalleresWarehouses and workshops organized as five areas on two levels. There are three entries on the first level and four on the second.

Sector III - Plaza Principal HauccaypataThe central area of the ruins with an open area and several large buildings used for ceremonial purposes.

Sector IV - Plaza Inferior Templo de UrinA two-level, covered structure with access to the rear field and Plataforma Ceremonial Ushno.

Sector V - Plataforma Ceremonial UshnoA semicircular field on a hill, south of the main plaza, that offers panoramic views of the area. It may have been used for astronomical observations and religious ceremonies.

Sector VI - Templo Illapa Vivienda de SacerdotesA temple used by priests with ceremonial terraces.

Sector VII - Terrazas Ceremoniales de CultivoThree wide terraces below the main square. A 300 m stone path runs their length.

Sector VIII - Terrazas de cultivo Las LlamasA series of terraces connected by steep stairs and irrigation channels. The retaining walls are decorated with white stone llamas and other geometric shapes. The path down to the terraces descends close to 100 m, is steep in some sections, and can be slippery if the ground is wet. Near the bottom there is a trail to a viewpoint that looks back on the terraces.

Sector IX - Talleres vivienda PikiwasiA collection of rectangular and single-level circular buildings connected to each other by narrow passageways and stairways. These were thought to be living areas for families or workers.

Sector X - Terrazas de cultivo ParaqtepataTerraces along an edge of a cliff connected by irrigation channels.

Sector XI - Terrazas de cultivo PaqchayoqThe largest sector in the entire complex, composed of over 80 terraces used for cultivation.

Sector XII - PinchaunuyoqA distant group of terraces, approximately 4 km (3 hr) north of the main plaza. Artifacts, such as stone tools, ceramics, and bones have been found on the upper terraces.
Buy
There are several tiny (one-family) settlements at campsites along the way selling cooked food, snacks, beer, bottled water and softdrinks, unless you plan on carrying a lot of water just drink from the taps - it usually comes from small mountain rivers, so treatment makes sense but you may choose to take the risk.

Eat

There are (very simple but filling) cooked meals available at Chiquisca, Santa Rosa and Marampata. A plate of food or bowl of soup will cost you about S/3. These locations also sell soft drinks, snacks, and the ubiquitous chicha.
A local entrepreneur has wisely opened a shop with Gatorade and snacks about 10 minutes before you find another shop. Apologize to the nice lady for having already bought your snacks at the first store. Just past a gate is the top and you are rewarded with the first views of the Incan site and a nice bench to eat lunch at. Hike another hour or so and stake out your campsite. Explore the lower site that day and then see the rest of the sites on the following day. Unless you are in great shape, the relaxing day of exploring the site is necessary and must be done to truly enjoy the site. In every campsite along the way locals have set up shop, so you can buy water, soda, rice, snacks, eggs and fruit.

Drink
Fresh water from the mountain streams. You may want to filter or purify.

Sleep
Camping is not the only option. There are accommodation options in Marampata campsite with beds and showers. S/20 per night. This means that if you hike fast, you can reach the campsite in 1 day without needing a tent. There is now also limited options in Chiquisca for bedrooms. Some agencies book the bedrooms and meals for you in advance and you do the walking by yourself.
Lodging
Tent. Bring your own or hire in Cachora - there are several locations renting tents, sleeping bags and sleeping rolls. Look for 'Carpo Alquilo' signs or ask, if you speak Spanish.
Camping
You can camp near the entrance of the ruins or at several sites nearby and there are designated campsites on the way to the ruins. The main campsites are state of the art with flush toilet with doors, cold water shower, benches, and a kitchen area. There are campsites at the following locations:
Colmena

address: km 4

A homestead owned and run by the Sullcahuasami Lopez family, this is 4 km along the way to Choquequirao, and is a great place to stay the night before beginning the trek, as it gives you a bit of a head start. The Lopez family are very hospitable and can help you with hiring an arriero and mules, although they only speak Spanish. To reach it you can either walk the 4 km down the hill from Cachora, or else it is reachable by taxi.

Capuliyoc

address: km 10

You can camp next to the little huts behind Choquequirao Wasi although in my experience very windy (5 soles). Cold showers and toilets. You can buy snacks and some food and eat any meal of the day there. Generous portions, and menu more varied compared to later campsites

Chiquisca

address: km 16

A simple campsite run by an old couple who have been farming for over 30 years. No snacks or drinks. Water must be brought from the nearby stream.

Cocamansana

address: km 19

A campground and shop a few km above the Apirumac river on the path to Choquequirao, at km 19. The 'standard itinerary' often stays here the first night. It is, however, less pleasant than most of the other campsites, due to the presence of many biting flies that leave tiny blood blisters at the bite site. You can buy simple cooked food, snacks and drinks here. The shopkeeper is very friendly, and may try to feed you chicha or the deadly-strong distilled alcohol caña.

Playa Rosalina

address: km 21

This is a well-fitted out campsite next to the Apurimac river on the trek to Choquequirao, around km 21. Ice cold drinks, snacks and simple cooked food is available, as well as concrete shelters, clean bathrooms and showers. Compared to the other campsites, this one feels less homely and more artificial.

Santa Rosa

address: km 24

Santa Rosa is a campground at km 25 along the path to Choquequirao. There are actually two campsites - both offer room-temperature drinks, snacks, and simple cooked meals.

Santa Rosa Alta

address: km 25

Santa Rosa Alta is a campsite about 100 m higher in elevation than Santa Rosa. Inquire when passing through Santa Rosa if there is food as it may not be available during low season.

Marampata

address: km 28

A small village with several campsites and shops to purchase snacks, drinks, and meals. Most campsites have basic bathrooms and showers, though not all. Rooms with beds are available at some guest houses if you do not have a tent. It has beautiful views of the valley below and, at km 28, it is only 4 km below Choquequirao.

ChoquequiraoA campground that is technically inside the Choquequirao ruins, though you will have to walk at least 30 min to get to the main plaza. Basic bathroom facilities and showers but no food. As it receives less sun than Marampata, it is much colder at night.
Backcountry
No permits are needed.
Stay safe
This is an isolated area but the trail is well maintained and easy to follow and people travel along it most days.
In August 2011, remnants of the Shining Path armed with rifles, machine guns and rocket launchers robbed a group of German and American tourists and ordered them to hand over their food, cameras and other equipment. Nobody was hurt.

Go next
There are three trails out from Choquequirao. They go to Cachora, Huanipaca and Yanama. From Yanama its possible to continue hiking onwards to
Machu Picchu
,
Santa Teresa (Peru)
or
Mollepata
.
Instead of walking the same way back, an easier way out is to go to Huanipaca: Within 5-6 hours if you are traveling light enough (2 hours down to the river, 3 hr uphill) you can reach the hotel "Villa Los Loros" (rooms S/100), which is 17 km along the road from Huanipaca, has a good Italian restaurant and free camping spots. From there you can order a taxi (S/40) to Huanipaca and from there take acshared taxi or bus back to Cusco. Another option is to take the steeper, shorter path to Kiuñalla, where you can get a bed, hot shower (but no towel), tea and soup for S/10. At 04:00 a colectivo leaves Kiuñalla for Huanipaca and on to Abancay. With a heavier bag and some soreness from the Cachora hike, it can take around 12 hours to get to Kiuñalla, or from first light to last light. At that pace, Hacienda San Ignacio can be reached at about midday, and for S/10 you can get your standard cooked trail meal with tea. Also note that the trail signs on the Huanipaca side tend to cater to those entering Choquequirao, not leaving, so keep an eye out for the backside of signs if you hiked in from Cachora.