Christmas Island
Christmas Island
is one of the
islands of the Indian Ocean
, south of
Indonesia
and some distance northwest of
Australia
, of which it is a territory.
Understand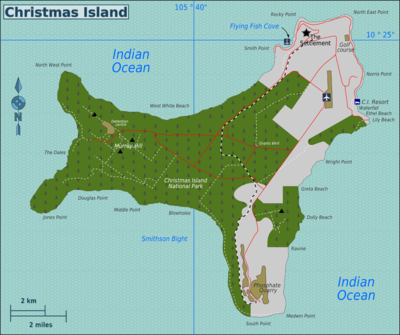 Named in 1643 for the day of its discovery, the island was annexed and settlement was begun by the UK in 1888. Phosphate mining began in the 1890s. The island was initially administered as part of the Straits Settlements, and subsequently as part of the colony of
Singapore
. Sovereignty was subsequently transferred to Australia in 1958. Almost two-thirds of the island has been declared a national park.
The Australian Government in 2001 agreed to support the creation of a commercial
space-launching site
on the island, which now looks unlikely to proceed after funding was withdrawn.
Orientation
Christmas Island rises to a central plateau of stands of rainforest. Its 80-km coastline is an almost continuous sea cliff up to 20 metres high, with a few shallow bays of small sand and coral shingle beaches. The largest of these forms the island's only port, Flying Fish Cove, which is also called "The Settlement". Other settled areas, all in the north east, are Poon Saan, Silver City, Drumsite and Kampong.
Climate
Tropical; heat and humidity moderated by trade winds.
Landscape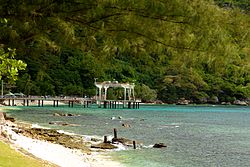 Steep cliffs along coast rise abruptly to central plateau. Rain forest covers the majority of the island, with small areas of the island under rehabilitation from mining. Sandy to rocky beaches scattered along the coastline of the island separated by steep limestone cliffs.
Get in
By plane
Australian Indian Ocean Territories Airlines (+ 61 8 9164 7096, enquiries@travelxch.com.cx) offer the only international flight on a chartered Malaysia Airlines aircraft from
Kuala Lumpur
and
Singapore
every Saturday.
By boat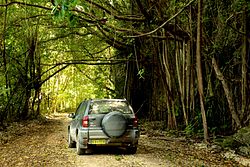 There is no passenger chartered boat services to Christmas Island; however, Flying Fish Cove is frequented by yachts and cruise ships as a stop off.
See
The Dales comprise numerous freshwater streams running roughly parallel to each other. The streams originate from underground caves and eventually flows into the ocean. The streams over the length of time, have worn out gullies between the cliff walls of the coast, and have created unusually step-like formations (terraces). There is a waterfall above the terrace formations, visitors are often fond of taking showers under the waterfall.
The Dales are located in lush tropical rainforest which is known for its unique fauna, such as the blue crab and blind snake and flora such as giant buttrest root trees.
The Dales area has signage and raised walkways/steps installed by the national parks department for visitors.
Located in the national park at the south west portion of the island. The Dales can only be reach via 4WD and trekking by foot.
Lily Beach: Named after a girl who was swept off the rocks at the beach never to be found. The beach comprises a sandy area running down to a bathing pool,which is separated from the open ocean by rocky basalt/limestone outcrops. The pool is constantly fed sea water from the gullies leading to the ocean and the whitewash generated from the waves hitting the cliffs and outcrop.
Caution is advised when venturing past the bathing pool on to the rocky outcrops, as large freak waves have known to swamp the rocky outcrops. Beware, lest you meet the same fate as Lily!
Located in the 'snout of the dog' eastern part of the island, this beach can be accessed by normal 2 wheel drive vehicles when road conditions are dry and only with a 4WD when roads are wet. Wooden pergola and BBQ facilities are available.
Blowholes: A geological feature located along the steep limestone cliffs along the southern coastline of the island, the Blowholes are holes in the ground where air and seawater are blown out due to waves crashing into caves formed along the bottom of the cliffs. Depending on wave conditions, the water and trapped air in the caves are forced out from the holes formed at the top of the cliff caves, leading to spectacular plumes of water thrown up into the air. The distinctive sound of gushing air can heard from the holes when the waves crash onto the cliffs.
Dolly Beach: An isolated beach, 1-hour drive by 4WD over rocky step tracks and then another 45 minutes trek on foot downhill. Well worth the trip.
A white sandy beach sheltered and ringed by black basalt outcrops 5 meters from the shoreline. The rear of the beach is lined with overhanging coconut trees, and there is a clear stream flowing through the middle of the beach from the cliffs above.
A fairly scenic beach, this is a favorite camping site for locals and visitors alike, due to the availability of drinkable freshwater from the stream and 'exotic secluded beach paradise' ambiance.
Dolly Beach is also a favourite nesting location for endangered sea turtles. It is very common on most nights to have one or more turtles make their way up onto the beach from the sea, and lay their eggs into holes dug by the turtles themselves. After laying the eggs, the turtle refills the hole with sand and makes her way back to the sea. Witnessing this event is magically and memorable. If a turtle if startled prior to laying her eggs, she will return to the sea. Therefore, do not shine any torch light in their eyes or make loud noise. Disturbing the turtles or poaching the eggs is illegal.
Other places (More details to be added):
Margaret Knoll
Nursery Lookout
Flying Fish Cove
Administrators House known locally as "Buck House"
Historical World War Ii Artillery Bunker past the Buck House
South Point
Greta Beach
Freshwater Caves
Grotto
West White Beaches
Ethel Beach
Waterfall/Casino
Do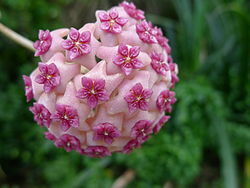 View the spectacular world-famous Christmas Island Red Crab Migration during the December - February months.
Diving or snorkeling off the 'Drop Off' at Flying Fish Cove
Whale shark watching
Game Fishing on chartered boat
Rock Fishing
Caving (warning - seek local advice before setting out to any caves)
4- Wheel Driving, known locally as 'Bush bashing'
Mountain Biking
Relax by the beach or on the patio with a cold beer
Duty-Free cheap drinks at numerous bars and taverns on the island
Historical trail self tours
Hiking
Get around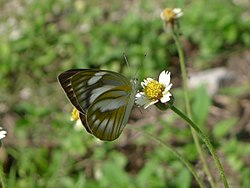 Walk, ride, or hire of cars/4WD/SUV. You can hike around the settled areas of island, as most locals are happy to give a ride to visitors.
Talk

As a territory of Australia, English is the most common language spoken on Christmas Island, but is not universal. Many senior residents speak dialects of Chinese and Malay as a first language. All signs, however, are in English.

Buy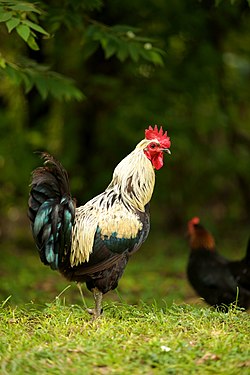 The official currency of Christmas island is the Australian dollar.
The island has "duty free" status, and shop prices for perfume and alcohol are very low compared to the Australian mainland.
Acker Trading: Gas refills M-F 9AM-11AM (+61 8 9164 7575, acker@pulau.cx).
Christmas Island Post Office: Australian Postal Services, Commonwealth Bank agency, stationery, philatelic, passport photos, souvenirs. Contact Michelle or Carolyn (+61 8 9164 8495, cipost@cipost.cx).
Christmas Island Supermarket: Gaze Road, Settlement. Groceries, fresh bread, fruit and vegetables, wine, beer and spirits.
M-F 9AM-6PM, Sa 9AM-1PM Contact Eddie Tan (+61 8 9164 8370, Mobile 043 921 5370, et_cismk@pulau.cx).
Christmas Island Visitor Information Centre - Gift Shop: Run by the Christmas Island Tourism Association located at the Visitor Information Centre, Gaze Road, Settlement. They sell a range of souvenirs from Australia and Christmas Island, including local craft, T-shirts, Christmas Island Books, posters, maps and videos, jewellery, pottery, and postcards. (+61 8 9164 8382)
Gaseng: Australian standard diesel automotive fuel and unleaded petrol, 2-stroke mix for outboard motors, 20L jerricans for loan to refuel yachts, free transport to and from the jetty and able to fuel larger yachts on application. Contact Craig Albanus (+61 8 9164 8313, tmackie@gaseng.com.au).

Gold N Things Duty Free

phone: +61 8 9164 8215

Cosmetics, perfumes, watches, jewellery, sunglasses, leather goods, top shelf liquor, giftware.
Island Pharmacy and News: Dispersing of prescriptions and supply of vitamins, pharmaceuticals, toiletries, make-up, first aid items, suncare and sunglasses. M-F 9AM - 5PM, Sa Saturday 9AM - noon. (+61 8 9164 8337, cipharm@pulau.cx).
Lattitudes 11
Family Hair Design "Service with Style"
Open :Tuesday - Saturday or by arrangement
Phone :+61 8 9164 7061
Mobile :0412 536 263
Whitegoods, stereo equipment and accessories. Music CDs, DVDs, PC and other console games.
Open: M-W 10AM-3PM, Th F 10AM-6PM, Sa 9AM-12:30PM
Ph / Fax :+61 8 9164 8184
Range of clothing and unique giftware from around the world.
Open: M-F 9AM-5PM, Sa 9AM-1PM
Contact Bridgette or Ron Lines :
Ph / Fax :+61 8 9164 8297
The Red Crab Surf'n'sound
ShopSurf wear and accessories, sunglasses, shoes range of music CDs
Phone :+61 8 9164 7176
Email :redcrab@pulau.cx
Reels, rods, lures and expert advise for your fishing trip. Surf and sportswear, camping equipment, ice.
Phone :+61 8 9164 8925
Email :shorefirefishing@bigpond.com.au
All your banking or money changing needs.
Open M-F 9AM-3PM
Contact :+61 8 9164 8221
Gallery, Gifts and Homewares. Unique Gift Ideas, Handcrafted Australian Jewellery, Christmas Island Photography and Art. Located in the Temple Court.
Open :Tu-F 11AM - 5PM; Sa 9AM - noon
Ph / Fax :+61 8 9164 8882
Email :wildpapaya@xiv.cx
Eat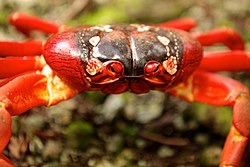 There are several restaurants on Christmas Island serving Western and Asian cuisine.
Lucky Ho Restaurant

address: Lot 236 Poon Saan Rd

excellent value
Christmas Island Resort - Waterfall Restaurant
Western Food and Asian Food - Modern International - Steaks, Pasta, Pizza. Located at the Christmas Island Resort.
Open :Everyday for breakfast and dinner with Sunday Roasts.
Phone :+61 8 9164 8888
Western and Asian Food - Coffee, milkshakes and cool drinks. Located at the Christmas Island Recreation Centre.
Open :Everyday
Phone :+61 8 9164 8106
Rocky Point Complex, Gaze Road Settlement.
Modern International fare, with a dessert selection and coffee. Uninterrupted views of the Indian Ocean from the restaurant verandah
Dinner served 6 nights per week, closed Monday.
Restaurant : 5:30PM - 8:30PM
Bar : 4PM till late
Phone :+61 9164 7967
Mon - Fri :Fresh bread daily including white, wholemeal, wholegrain and 6 cut rolls Red bean paste; Kaya paste; Coconut and Sambal Prawn buns Chicken and Beef Sausage Rolls
Sat :Closed
Sun :Fresh bread and french sticks Available from Boong Trading, Meng Chong Trading, and Metro Enterprises.
Rockfall Cafe

phone: +61 8 9164 7688

Huge range of burgers, rolls, sandwiches, delicious meals and fresh salads, Fresh coffee and cakes. BYO - Eat in or Take away.
Rumah Tinggi Tavern & Restaurant
Gaze Road Settlement. The Rumah Tinggi offers modern Australian fare, fine wine and cocktails. With uninterrupted views of the Indian Ocean and a spacious open air verandah - the perfect location to watch the sunset or the moon rise over the Indian Ocean. Bar open 5PM till late - Dinner - 9PM. Closed Tuesday and Wednesday.
Contact :Mark or Kaz on +61 8 9164 7667
Poon Saan area - upstairs from the Poon Saan Shops. Offers authentic Chinese dishes in air conditioned comfort.
Phone :+61 8 9164 7688
Drink
As Christmas Island is duty-free, alcohol is usually lower priced than the Australian mainland. Some of the bars and taverns are:
Tracks at Drumsite
Golden Bosun
Pool Hall at Poon Saan

Rumah Tinngi

address: coconut grove, settlement

Fantastic ocean view restaurant and bar.
Sleep
Most possibilities for accommodation are in the main settlement, one is located next to the island's waterfall whilst the other is further out in an area called Poon Saan.
List of accommodation available:
The Cabin
Captain's Last Resort
Christmas Island Lodge
Hibiscus House
Mango Tree Lodge
The Retreat
Rumah Biru Cottage
The Sanctuary
Sea Gazin
Sunset
VQ3 Lodge
For further details, bookings or enquiries visit the
Christmas Island Tourism Association website
.
Learn

Christmas Island District High School is the main school on the island, Year 1 to Year 10 is taught based on the Western Australian Curriculum.

Work

It is difficult for non-locals to find employment on Christmas Island. The largest employers on the island are the small scale phosphate mining and federal/local government.
The most common way of obtaining employment on Christmas Island for non-locals is to check government positions advertised on the Australian mainland (Federal Government Employment Gazette), there are occasionally posting for teachers on several years contract from Australia.
National Parks, Federal Police and positions related to the Detention Center are occasional advertised on Newspaper and Government Gazette.
Also check http://apsjobs.gov.au online for posting at Christmas Island.

Stay safe

The island is safe all times of the day in the populated areas, locals usually leave their houses and car unlocked. There are no poisonous or dangerous animals/insects on the island.
The most likely danger is large waves at cliffs and coastal waters during the monsoon (October - February).
There are occasional sightings of reef and hammerhead sharks off the coast near the 'drop offs' (underwater coastal shelf which drops off into the ocean depths, usually 5 - 30 meters offshore); however, there have been no reported shark attacks on Christmas Island in recorded history.
Some 4-wheel drive tracks are steep and slippery during the wet season; caution is advised when driving in national parks areas. Many tracks are 4-wheel drive only, in particular Dolly Beach track and Dales and Blow Holes National Park areas. 4-wheel driving experience is required when venturing into these areas.
It is recommended that you bring a local or get local advice before heading off to any unpopulated national park areas.

Stay healthy

Wear loose fitting clothing suitable for humid tropical climates. A hat and sunscreen is recommended if you're intending to be under the sun at the beach or fishing.
Bring water with you, as in humid environments you will tend to perspire more than normal.
Mosquito repellent should be brought on trips to rain forest areas, no instances of Malaria have ever been reported in recent history.
There are rare occurrences of Hepatitis A & B. However there is no particular vaccination required when visiting the island.

Respect

Nudity is not permitted at beaches; normal beachwear applies.
It's good manners to wave back if waved at by locals when driving.

Connect
Go next
Cocos Islands
is the closest land to Christmas Island and there are weekly connecting flights which take about 1 hour.
One can also take a charter flight to
Jakarta
or
Kuala Lumpur
.