Chubu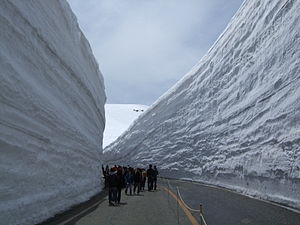 Chūbu
(中部) is the central region of
Japan
's
Honshu
island.
This area is located at the border between West Japan and East Japan, there are many high-altitude mountains such as Mount Fuji and the Japanese Alps.
Food culture is different for each region.
==Understand==
Chubu
means "middle region", accurately reflecting its position straddling the two Japanese poles of
Kansai
and
Kanto
. Often ignored by foreign tourists, many of Chubu's best attractions are in the mountains, particularly
Mount Fuji
and the
Japanese Alps
.
Prefectures
The Chūbu region covers a large and geographically diverse area of Honshū which leads to it generally being divided into three distinct subregions: Tōkai, Kōshin'etsu, and Hokuriku.
Tōkai(東海)
Located the southern Pacific coast.
home to the northern
Japan Alps
and many hot springs
Hokuriku(北陸)
Located northwest of the Chubu region.
Kōshin'etsu(甲信越)
Located east of the Chubu region.
famous for Koshihikari rice and sake
at the foothills of Mount Fuji
Cities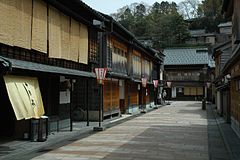 - attractively preserved town and a good starting point for trips to the Japan Alps
- stylish historic city
- Japan's winter sports capital
- Chubu's largest city by far
- Major port city on the northern coast
Other destinations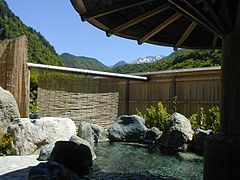 - one of Japan's Three Famous Hot Springs
- the largest and tallest mountain chain in Japan
- the world's most photographed mountain with great views from the Fuji Five Lakes
- 5 remote hamlets full of stunning scenery and some of Japan's best hot springs
- historic castle town in Fukui prefecture
- place of exile home to gold mines and the yearly Earth Celebration
- a well-preserved historic village and World Heritage Site
- the site of the famous battle that ushered in the Tokugawa Shogunate
- popular ski and hot spring resort, the setting of Yasunari Kawabata's Nobel Prize-winning Snow Country
Talk

There are many people who speak in each dialect in this area. For example, some Niigata people use ra instead of standard copula da such as ~raro instead of ~daro ("isn't it?"). Shizuoka people use ~dara instead of ~daro. In Ishikawa and Toyama, people use dara as an abuse word meaning "idiot".

Get in
By plane
Chubu Centrair International Airport
,
Japan
's third major international gateway, is located on an artificial island 30 minutes south from
Nagoya
. Most larger cities around the region have airports, but they generally only serve domestic flights.
By train
True to the name, the Tokaido Shinkansen bisects the southern Tokai region, connecting to
Tokyo
in the east and
Osaka
and
Kyoto
in the west. Northern parts,
Nagano
,
Toyama
and
Kanazawa
, can be reached from Tokyo by the Hokuriku Shinkansen. The Hokuriku region is accessible from Kansai via the Thunderbird.
==Get around==
See
World Heritage Sites
Nirayama Reverberatory Furnace - Part of the Sites of Japan's Meiji Industrial Revolution: Iron and Steel, Shipbuilding and Coal Mining, Izunokuni
Shirakawa-go and Gokayama - old farmouses that have been preserved, Shirakawa-go is the largest of the villages. Gokayama actually consists of two separate villages, Ainokura and Suganuma in Nanto, Toyama
Mount Fuji While the mountain itself is included, the site is actually registered as a "cultural" listing consisting of more than 20 sites, including each of the Sengen Shrines around the mountain.
Castles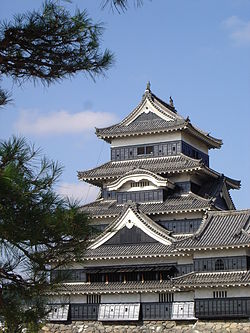 Original Castles
The Chubu region is home to 3 of the 12 original castles remaining in the country.
Inuyama Castle Designated a National Treasure and one of the oldest castles in the nation
Maruoka Castle Located in Sakai, it's a famous cherry blossom spot
Matsumoto Castle An impressive black castle that sits in Matsumoto to the backdrop of the Japan Alps
Reconstructed Castles
Castle Ruins
Gardens
Temples
Shrines
Sengen Shrines
are shrines associated with
Mount Fuji
, and although there are Sengen Shrines outside of the Chubu area, the top are only here in
Shizuoka Prefecture
and
Yamanashi Prefecture
around the mountain.
Do
Winter sports - in the winter, cold, dry air from the Asian continent meets moist Pacific air, the result is a large amount of snow that falls in the Koshin'etsu district, also known as Snow Country (雪国 Yukiguni), since it receives some of the heaviest snowfall in Japan. This makes Chubu Japan's undisputed winter sports capital with attractions like Nagano, site of the 1998 Winter Olympics, and Yuzawa, easily reached from Tokyo.
Hiking - the Japan Alps have some great hiking. Mount Fuji in Shizuoka is a symbol of Japan and a popular tourist attraction, both for viewing and climbing.
==Eat==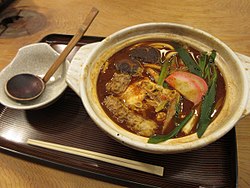 Chubu's regions all have their local specialities. Some include:
Hotaru ika (蛍烏賊. lit. "firefly squid") in Toyama
Tempura shrimp(海老天) in Nagoya
Hatchō miso (八丁味噌) in Okazaki
==Drink==
Chubu is
sake
country and
Niigata
, renowned for its
koshihikari
rice, produces some of the best in the country including famous labels like
Kubota
(久保田),
Koshinokanbai
(越乃寒梅) and
Hakkaisan
(八海山).
Shizuoka
is famous for green tea and
Aichi
specializes in, oddly enough, oranges.