Chugoku
Chūgoku
(中国) is the westernmost part of the main
Japan
island
Honshu
. Aside from
Hiroshima
, most of Chugoku is probably well off the beaten track for a brief visit to Japan; but if time permits, you'll find a region full of memorable sights and experiences, and a side of Japan that's completely unlike the better-known destinations in
Kansai
and
Kanto
.
Regions
Cities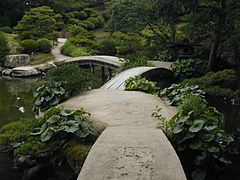 - site of the infamous atomic bomb attack.
- beautifully preserved castle town
- Home to the great Izumo Shrine, the second most holy Shinto Shrine in Japan.
- site of one of Japan's largest and most beautiful historic areas, the Bikan Historic District, as well as the famous Ohara Museum of Art, which is full of famous works from Europe.
- Famous for Matsue Castle, one of Japan's few remaining original castles
- featuring Korakuen Garden, one of Japan's Top 3 gardens and the brooding black Okayama Castle.
- gateway to Kyushu and the Kanmon Straits, best known for turning poisonous fish into gourmet meals.
- Home to Japan's only sand dunes, the Tottori Sand Dunes provide visitors with a highly unique experience, including camel rides.
- a city with many well-preserved temples.
Other destinations
- has the largest plateau and cave in Japan.
- home to Japan's oldest and most respected style of pottery.
- climbers flock to the beautiful Mount Daisen.
- a town with the picturesque Kintai-kyo Bridge.
- Location of Itsukushima Shrine, the most photographed shrine in all of Japan.
- Silver mines, registered as a .
- hillside town with pleasant paths connecting dozens of small temples.
- a quaint town most famous for Bitchu Matsuyama Castle.
- a relaxed town famous for the thousands of cherry blossoms around its castle ruins in Kakuzan Park.
Understand
The name
Chugoku
literally means "Middle Country", the sole surviving relic of a historical division of Japan into "Near Countries" (近国
Kingoku
), "Middle Countries" and "Far Countries" (遠国
Ongoku
), based on distance from the capital
Kyoto
. Strictly speaking, today's Chugoku covers only the Middle Countries along the San'indo and San'yodo roads, and hence
Okayama
is sometimes not considered a full part of Chugoku, as only 1 of its 3 component provinces (Bitchu Province) belonged to the Middle Country. Bizen and Mimasaka Provinces, along with Tottori's Inaba Province, were part of the Near Countries.
In
Japanese
, the characters 中国 and the reading
Chugoku
are also used to mean "
China
". (The same characters are used in Chinese, but pronounced
Zhongguo
.) However, as the Chugoku region is always referred to with the qualifier "-chihō" and the
People's Republic of China
and
Republic of China
can be referenced by their full names, there is usually little scope for confusion.
Get in
Get around
By train
The
JR West Sanyo San'in Area Pass
allows unlimited travel during 7 days in an area approximatively between
Fukuoka
(on
Kyūshū
island) and
Kyoto
(excluding a patch in the north-east), and to the north-east of Shikoku. It includes bullet trains on the San'yō Shinansen (but not the Tokaidou and Kyushu Shinkansen) and many express and local trains. ¥19000 for adults if bought online or in a foreign travel agency, ¥20000 in JR West station ; half of that for children.
See
World Heritage Sites
The Chugoku region is home to four of Japan's s:
Castles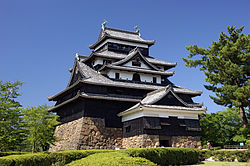 Original Castles
Only twelve original castles remain in Japan, and the Chugoku region is home to two of them:
Bitchu Matsuyama Castle (Takahashi) - Japan's highest castle.
Matsue Castle (Matsue) - One of only four castles designated as National Treasures.
Reconstructed Castles
Castle Ruins
Gardens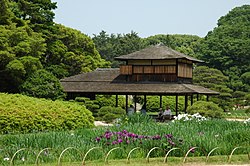 This is a list of some of the areas most famous gardens however, there are many other beautiful gardens throughout the region:
Temples and Shrines
Although temples and shrines can be found in abundance throughout the region, these are some of the most important and most interesting temples and shrines in the Chugoku Region.
Historic Districts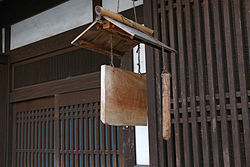 Museums
There are many great museums in the region, and every prefecture has its own
Prefectural Museum
and
Prefectural Art Museum
that are worth visiting, but the following are some of the more unique and famous museums in the region.
Nature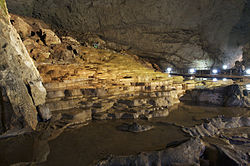 Do
Eat
Famous dishes from the Chugoku region.
Fruits
The region has the perfect climate for growing fruit, so the region is naturally famous throughout the nation for its delicious fruits.
Drink
Some of the most famous beverages from the Chugoku region are:
Daisen Water (Daisen) The water from Mount Daisen has been bottled by Suntory, as well as Coke, and can be purchased throughout Japan in stores and vending machines.
Jersey Milk (Hiruzen Heights, Maniwa) Milk from the cows raised in Hiruzen Heights, it's said to be quite healthy
Wine and Sake
Go next
Shikoku - Japan's oft-ignored fourth island is easily accessed from the southern coast of Chugoku.
Kyushu - Home to the bustling city of Fukuoka, historical Nagasaki, relaxing Beppu, and a variety of natural sites, such as Aso.