Chukotka
Chukotka
(
Russian
: Чуко́тка,
choo-KOHT-kuh
) is a region in the
Russian Far East
and is the northeasternmost region of
Russia
. Located along the Bering Strait, Chukotka is home to beautiful tundra scenery and the indigenous Chukchi people, butt of many Russian anecdotes. Chukotka was governed until 2008 by Roman Abramovich, an extravagant Russian oligarch (and owner of Chelsea football club). Never a province to fit in nicely, Chukotka is also the only region of Russia lying in the Western Hemisphere. It borders three Russian regions,
Yakutia
to the west, and
Magadan Oblast
and
Kamchatka
to the southwest.
Cities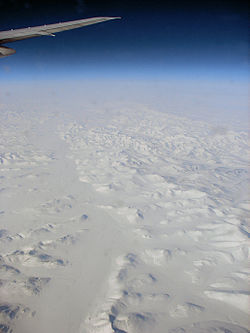 — the capital
— small city on the edge of tundra, site of world's northernmost nuclear plant
— port, village in north-east Chukotka with population of between 2,500 and 3,000
Other destinations
— easternmost island of Russia
— an impact crater lake
— a
Understand
The Chukotka autonomous district is notable as being the closest point that both Eurasia and Russia gets to
North America
and the
United States
. A clear day you can see across the Bering Sea which separates them into
Alaska
. While Chukotka is massive at about , it only has a population of 55,000. With fewer than of road and no railway infrastructure; the population is mostly employed in mining and subsistence hunting.
Read
Classic Chukchi literature of Yuri Rytkheu.
Talk
Like most people in Russia, Chukotkans mostly speak Russian, with several thousand Chukchi and Yukaghir speakers. Most of these people are bilingual in Russian and their native languages.

Get in
The way of getting in would be by either boat or plane at any established points of entry. Passengers of cruise liners are allowed to land on Chukotka and stay for 72 hours without visa and special permission.
By plane
Bering Air offers charter flights from Nome to Provideniya Bay Airport (PVS

) on either a Piper Navahoe, taking 80 minutes or a Beach King Air 200, taking 60 minutes. Flights are weather dependent and each airplane carries nine passengers. Charter flights can be arranged from Nome to Anadyr.

There are flights from Moscow to Anadyr, but not every day. Transaero Airlines, VIM Airlines and Yakutia Airlines have such flights.
By boat
In summer time some cruise ships go from Alaska and stop at Anadyr, Provideniya and more places. Search for "cruise anadyr" on Google. In 2014, Silversea Cruises has such cruises.
Get around
By air
Air is the most used mode of local travel inside Chukotka. Anadyr is the main hub. Chukotavia operates local flights inside Chukotka.

By road
There is no network of roads, and very few local roads near settlements. In winter there is a network of snow and ice roads.

Do