Chulumani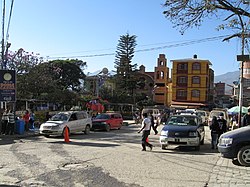 Chulumani
is a town in South Yungas region of the
La Paz department
of
Bolivia
. You can relax there and go to explore the surroundings, including some nice coca fields.
Understand
If you bike
Yungas Road
, you may end in
Coroico
. However, if you want to visit Yungas (for it's warmer climate, coca fields, good views, etc.) but don't want to bike (or has biked beore), Chulumani may be better option. It's nice, not as busy as Coroico, and easily accessible from
La Paz
. Chulumani gets busier when kids have their holidays at school.
Get in
By bus
From La Paz, some buses and shared taxis leave daily from the
Terminal Provincial Minasa Yungas
(they return the same way and with similar frequency, maybe more in the afternoon). These go the same road as you'd bike, but then branch and follow the South Yungas road (gravel with some asphalt segments; not as dangerous as the old North
Yungas Road
, but shares some features). The ride is thrilling, especially if your bus has wider body then suspension, and you happen to sit at the window with most of the cliff. The ride takes 2.5-4.5 hr and costs Bs. 25-35.
You'll arrive to so called
el transito
area (nothing special - just the name), walk down some blocks to reach the main plaza.
On the way you can jump out at Castillo del Loro (ask driver; or you can try to buy the ride exactly there) - ecological park and the hotel in the style of medieval castle. The hotel was under repair before 2018, so before going there you may want to update its operating status (i.e. ask tourist information). You can do some nice hiking there, there are trails.
Get around
Chulumani is a small town, so walking is enough.

See
The main plaza is nice. Chulumani is situated on the hill, so you can watch picturesque surroundings from different places in the town.

Do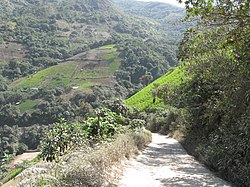 Walk around the town.
Go to the nearby village of Ocobaya (take a shared taxi from the small plaza; 6 Bs., 30 min) to see more picturesque surroundings and coca fields. Ocobaya is a nice village (plaza, church; feels like Spain) in itself, but the best are surroundings. Take a walk to see Yungas slopes, other towns, and coca fields. In and around the plaza you can buy some food or a drink. From the plaza there are three roads. The first goes to Chulumani. The second road goes through nice surrounings (and coca fields) down to the river and Chimpa village, and furher to Cutuzuma village. The third goes down and past the big river. For a walk, the best is the second road (at the river, you can turn back to Ocobaya and hitch-hike someone on the way). Mind the road dust (in the dry season). There may be a few mosquito-like insects (smaller, don't hum, may land on your hands) along the road, you may want to apply some mosquito repellent just in case.
Time to time, in the main plaza and in transit area (where La Paz busses stop) there are parties (people, music, dances) - you may take your part.
Relax in the pool.
Walk to the cross or big trees (ask people about the type of walk and safety).
Buy
There are some food shops in the town and the market place (may be specific days) in the small (second) plaza.

Eat
Some places exist, mostly in transit area where La Paz buses arrive.

Sleep
Some hotels, hostels, and alojamientos close to the main plaza and in transit area.
Alojamiento LopezA big multi-storey place just off the plaza (two houses up the street from the corner; you can see the plaza from balcony). Not that clean in itself, but rooms are OK. Shared bathroom. Not sure if they change sheets after every guest. May get somehow busy (but every accommodation gets) when kids have their school holidays.

Country House B&BResthouse - a good place to read book, no noise, no drunk people. 10 beds, breakfast. The host speaks perfect English (seems to come from Europe or USA, but lives in Bolivia for a long time) and is very helpful about what one can do in and around Chulumani.
Go next
Irupana – Neighbor village offering nice walks. Can be reached from Chulumani by shared taxi.