Chuy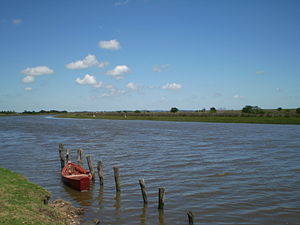 Chuy
is a town in the
Atlantic Coast
region of
Uruguay
, with its twin town of
Chuí
right across the street in Brazil.
The main street in
Chuy
is the actual border between
Uruguay
and
Brazil
. One half of the town speaks Spanish and pays in pesos, while the other half speaks Portuguese and pays in reais.
Get in
Buses stop in the center of town, on Leonardo Olivera near the Plaza Artigas.
The border is open, so you're free to cross back and forth between Chuí and Chuy. If you plan to continue into
Brazil
past the town of Chuí, though, make sure you get your passport stamped at before entering the town. Bus drivers should stop there and wait for you if you ask them to. When leaving Chuí for the rest of Brazil, you'll likewise need to stop at , and the same thing in reverse if you're coming from Brazil to Uruguay.
Get around
By taxi
Radio Taxi Chuy

phone: +598 4474 2073
See
Do
Casinos del Estado

phone: +598 4474 2785

address: Avenida Brasil 545
Buy
Angra Free Shop

phone: +598 4474 2412

address: Avenida Brasil 611

Angra II Free Shop

phone: +598 4474 2412

address: Avenida Brasil 521

Border Free Shop

phone: +598 4474 2266

address: Avenida Brasil 583

Center Shop

phone: +598 4474 2269

address: Avenida Brasil 643
Eat
Restorán Los Leños

phone: +598 4474 3316

address: Gral Artigas 113

Restorán Miravos

phone: +598 4474 4180

address: Avenida Brasil 507

Tango Restoran y Cafetería

phone: +598 91073549

address: Avenida Brasil 321

Restorán Jesús

phone: +598 4474 2766

address: Avenida Brasil 603
Sleep
Alerces

phone: +598 4474 2260

address: Laguna de Castillos 578

Etnico Hostel

phone: +598 4474 2281

address: Laguna Negra 299

phone: +598 4474 6607

address: Ruta 19 Km 9

phone: +598 4474 2055

address: Avenida Brasil 679

Madruga Hotel

phone: +598 4474 2346

phone: +598 4474 2309

address: Arachanes 565

Victoria Hotel

phone: +598 4474 3547
Connect
Stay safe
Cope
Banks
Diplomatic missions
Go next
Seven kilometer west of town is the beautiful Fuerte San Miguel an old Spanish fortress. There are infrequent buses going, but hitchhiking is also an option. If you have to wait for your connection it's worth a visit.
Punta del Diablo – the nearest major beach town, less than an hour away by car or bus