Cidade Velha
Cidada Velha
is a city on the island of
Santiago
,
Cape Verde
. It is the oldest European city in the Tropics. This is an easy half-day trip from
Praia
although there probably won't be enough interest to keep you there any longer. It was declared a
UNESCO World Heritage site
in 2009.
Get in
From Praia, aluguers leave from the Sucupira Market west of Plateau. Cost is 200$ (
Cape Verde escudos
). Ask to be dropped at (the side road to) Forteleza Real de São Filipe. A taxi from Praia shouldn't be more than 1000$.
Aluguers returning to Praia leave every few minutes from the main square where the pelourinho is.
See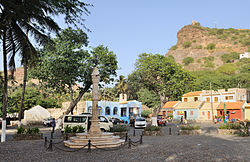 Even without a specific attraction in mind, there is plenty to see just walking around the historic city center, which constitutes a
UNESCO World Heritage site
.
São Felipe Royal Fort

Pelourinho monumentErected in 1512 or 1520, this is perhaps the oldest monument in Cape Verde. It was a symbol of colonial power and of slavery, as rebellious slaves were punished publicly on it.
Do
Walking tour
Start at the fort above the town. Tickets cost 500$ and include a map and pamphlet guide for the town.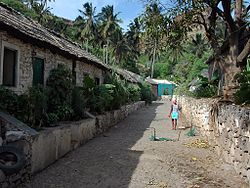 From the fort, follow the path downhill past the ruined cathedral to arrive at the seashore. You can duck down to the beach before continuing on to the main square. The monument here is the Pelourinho ou picota and was a place of execution. Further along the Rua Banana leads up hill. This is Africa's oldest European-built street and leads to the chapel Igreja Nossa Senhora do Rośario.
Eat and drink
There are some bars and restaurants around the main square.

Sleep
Accommodation is available - ask at the tourist office.