Cieszyn
Cieszyn
is a medieval town in
Silesian Voivodeship
,
Poland
. It is one of the principal border crossing points between Poland and
Czech Republic
. The town on the other side of the river Olza (which forms the border between the two countries) is called
Český Těšín
. Both towns were Cieszyn until they were divided by a Versailles Treaty change in borders in 1920.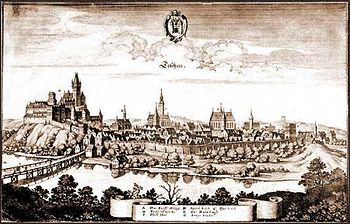 Get in
Bus services depart
Kraków
and
Katowice
regularly from the main bus stations in those cities. The
Cieszyn bus station
is located a bit north of the old town. Right next to it is the . If arriving from Czech Republic or Slovakia, it is best to get a train to Český Těšín and walk across the bridge.
Get around
The centre is close to transportation hubs and small enough to be covered on foot.

See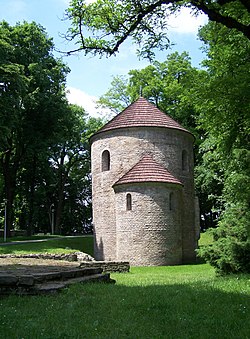 Old Town Square (Rynek) with bourgeoisie houses and Town Hall (Ratusz)

address: Zamkowa 3

Remnants: Piast Castle Tower, Gothic St. Mary Magdalene Church, Romanesque St. Nicholas' Chapel (11th century rotunda)
Jewish cemeteries

address: ul. Tadeusza Regera 6

In the former Larisch palace (Pałac Laryszów, Muzeum Śląska Cieszyńskiego). The oldest continuously working museum in Poland, opened in 1802.

phone: +48 338511630

address: ul. Głęboka 50

Rotunda of Saint Nicholas

address: Zamkowa

A Romanesque rotunda built in the 12th century. It used to be a castle chapel and a stronghold church. This rotunda is also the one that can be seen on the 20 zł banknotes.
Do
phone: +48 33 857 75 90

address: Plac Teatralny 1

phone: +420 558 746 022

address: Ostravská 1326/67, 737 01 Český Těšín
Events
Eat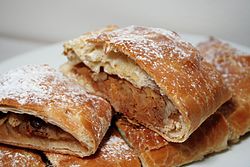 Strudel
Easter Murzin - brown bread pastry with ham and bacon inside.
Drink
Brackie and other beers brewed locally in the Castle Brewery.

phone: +48 338516402

address: ul. Dojazdowa 2

Opened in 19th century and still brewing using classic methods despite being part of huge Heineken/Żywiec group.
Sleep
phone: +48 539 064 539

address: ul. Mennicza 14
Go next