Cilician Mountains
Cilician Mountains
forms the central part of the
Mediterranean Region
of
Turkey
. Despite the name, this rugged part of the ancient region of Cilicia also has an extensive coastline fronting the Mediterranean, which is one of the main drawcards, and the other being numerous ancient ruins and medieval castles dotting the region, although for the most part the foreign travellers have yet to discover them.
Cities
— the southernmost point of Turkey (near 36° N); well known for its banana plantations and a charming fortress on the coast
— a quiet coastal town; nearby caves are habitat of Mediterranean monk seals and Mediterranean sea turtles
— another coastal town situated on one of the (rare) coastal plains
— coastal town between Mersin and Silifke
— small mountain town with preserved stone architecture over the Taurus Mountains
— home of nomadic Yörük tribes
— a town up in the mountains; when coming from Central Anatolia, this is the first place you'll feel the Mediterranean climate, and see the subtropical plants of Mediterranean region, such as bananas, palm trees, cacti, and eucalypti
— primary city of the region situated slightly inland on the banks of azure Göksu River
Other destinations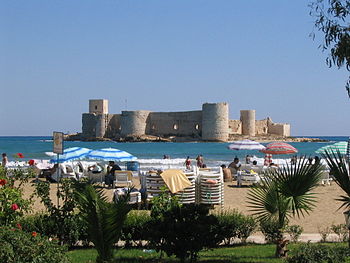 — the ruins of a Roman city, including a surprisingly impressive amphitheatre relative to its size, clearly visible from the highway east from the Maiden's Castle
— between Silifke and Mut. Formed by turquoise Göksu River (known as "Saleph River" in ancient times) by carving the Taurus Mountains in millions of years, this valley, with its deep cliffs, canyons, forests, and lots of citadels dotting the hills has a spectacular scenery. The valley was once used by, among others, the Crusader armies of Third Crusade, on their way to Jerusalem, but the valley also signaled the end to this branch of Crusaders, too, as their leader/German king Frederick Barbarossa drowned in the river when trying to have a bath (in 1190). In the , where Göksu empties into Mediterranean near Silifke, lives 106 species of birds of international importance, 12 of which are endangered species. The delta is also home to 3 species of sea turtles, all endangered.
(Cennet-Cehennem) — two huge chasms located a few minutes of walk from each other, which were formed when ceilings of two underground caves collapsed. They are situated near the town of Narlıkuyu.
(Kızkalesi) — a quite big and well-preserved castle built on an island off the shore. There is a story that a powerful king built the castle in the middle of the sea to protect his beloved daughter from death after hearing a prophecy told by a fortuneteller, but a snake had found its way to the castle (inside a basket of fruits) and, as you have already guessed, had bitten and killed the princess (quite the same myth with the one of Maiden's Tower in Istanbul). The castle is situated between Silifke and Erdemli, very near the Heaven and Hell Caves. It can be reached from the mainland (the town situated across the castle is also named Kızkalesi) by the small boats serving the visitors.
— a small town with Mediterranean architecture. This is the gateway to Cyprus as there are frequent boats to Northern Cyprus from this town's harbour.
Understand
Although nowhere near as widely visited as its western neighbour,
Pamphylia
, Cilician Mountains has a lot to offer to every taste. For history lovers, it offers hundreds of castles, city ruins, temples, inns, and artifacts dating back to Roman, Biblical, Crusade, Seljuq, and Ottoman times. For nature lovers, it may mean mountains, mountains, and again mountains covered with pine forests. For green warriors, it holds the last shelters for endangered Mediterranean monk seals (
Monachus monachus
) and Mediterranean sea turtles (
Caretta caretta
). For sea&sun seekers, it has hundreds of miles of beaches, both sandy and pebbled, spared from pollution, lying under perhaps one of the sunniest skies of Turkey and also of Europe.
Despite its close proximity to Turkey's main touristic areas, still "travelling" (i.e., being a "traveller") is the norm in much of the region (as opposed to "tourism", i.e., being a "tourist"). If you want to have a cup of tea, then you should head for local coffeehouse, not a touristic, fancy, European-looking café. If you'll sleep in somewhere, then it would (most likely) be a guesthouse where other regional guests are staying at, not an "all-inclusive" holiday resort as a part of a package tour. This situation has its advantages: people are more friendly, and prices are lower.
The region—especially the western and southern parts—is mostly rugged and wooded, and is dominated by Taurus Mountains with very little (or no) flatland between mountain slopes and the shoreline. Quite surprisingly, this mountainous area—one of the remotest and most beautiful along Turkish Mediterranean coast—has one of the least population densities anywhere in maritime Turkey and distances between towns are huge. From
Silifke
eastwards, high mountains retreat a little inland, but the coastline still keeps its hilly topography.
In ancient times, this region was called
Cilicia Trachea
, i.e. "rough Cilicia" or more precisely "mountanious Cilicia", as opposed to
Cilicia Pedias
, i.e. "
flat Cilicia
" lying to the east of the region. In modern political terms, Cilician Mountains extend over western and central two-thirds of Mersin Province, as well as the southern panhandle of Karaman Province (rest of which is associated with
Central Anatolia
).
The region is Turkey's main citrus (lemon, orange, grapefruit...) and banana growing region. Almost always sunny climate also allows intensive greenhouse operations, which cater Turkey's central and northern regions (and also parts of the Middle East and Europe) with fresh vegetables in winter.
Climate
Typical Mediterranean climate: Hot and dry/sunny summers (April to early November), mild and rainy winters (the rest of the year). In
Anamur
, on only 1 day a year, is the temperature lower than +5° C (+41° F) on the average.
Talk
In eastern part of the region (i.e. around
Erdemli
), you would probably be fine with a little bit of English, especially in tourism-oriented businesses. Some
German
can also be useful as Germans are the largest number of foreigners visiting Turkey. In more remote places, such as those in the western and southern parts of the region, you will need at least a few
Turkish
words. However, Turkish spoken in parts of the region is a bit far away from standard Turkish (i.e., that is spoken in
Istanbul
), lying in a medium between
Konya
dialect and
Cypriot
Turkish (closer to the latter). So, it may be best to ask for written answers as the pronunciations in the phrasebooks are not exactly how the people of the province pronounce the words. They all understand standard Turkish, though.
Get in
By air
Nearest airport for both international and domestic flights is in
Adana
. For the southernmost part of the region (
Anamur
and its environs), international airport in
Antalya
is another possibility, although it's still a fair distance to the airport.
By train
There is no station (nor any railtracks) in the region. The nearest station with passenger services is in
Mersin
.
By bus
Major regional towns are usually served from regional centres, such as
Mersin
to east,
Konya
to north, and
Antalya
to west, with the most links oriented towards east (Mersin).
By car
D400 highway between
Adana
and
Antalya
enters the region from its one extreme and follows (or at least tries to follow as long as rugged geography permits) the coastline until the other extreme in the NE-SW axis of the region. It traverses all the towns located along the shoreline. D715 from
Konya
in the north also joins D400 in
Silifke
after passing through a pass on Taurus Mountains (Sertavul Pass) and
Mut
.
By boat
There are scheduled ferries from
Cypriot
cities of
Kyrenia
and
Famagusta
to
Taşucu
.
Get around
By bus/minibus
Smaller settlements in the region have minibus services to bigger regional/nearby towns/cities, such as
Mersin
,
Silifke
, and
Anamur
.
By car
The main highway of the region, D400, is wide (mostly 4-lane), smooth and straight in the section between
Erdemli
and
Taşucu
, 15 km west of
Silifke
. All other roads in the region are narrow (only wide enough for two cars passing side by side) and very (in some cases,
extremely
) winding because of the very rugged landscape.
By thumb
People are friendly towards
hitchhikers
. Despite its favourable climate and proximity to Turkey's main touristic areas (e.g.,
Pamphylia
), there are not as many travellers as you may assume, therefore people treat you like guests (but don't expect them to do more than giving you a lift and
may be
offering a fruit). The general problem is that there are not many vehicles in much of the region, and therefore waiting for a lift can take up to 2 hours, under the cruel sun between April and October. Don't forget to take lots of water and sunblock lotion! The drivers that offer a lift also are mostly driving town-to-town, so there is little chance to find a long-haul lift, but that is not such a bad thing as you will experience more of rural/real spirit of
Mediterranean Turkey
.
Drink
Locally produced ayran (no matter pre-packaged or being sold "fresh" in roadside stalls) tends to be saltier than those found in the rest of the country, which is great to recover the sodium you lost by sweating but may take longer to get used to if you haven't had any ayran before.

Buy
In the western and southern parts of the region, always carry an extra amount of cash with you. Most of the settlements you'll come across are far in-between, rural and doesn't have enough population to justify setting up an ATM. Also, supermarkets are rare as well, and the smaller the place you are in, the less chance that your (or any) credit card will be accepted.

Stay healthy
Being located at the same latitude with the
Mediterranean African
cities such as
Algiers
or
Tangier
, sun is very strong in this part of Turkey. Even non-local Turkish people (those from more northerly locations, such as
Istanbul
) can have hard time. Don't forget to drink lots of water to stay hydrated, to have more salt in your diet than you are used to for balancing your sodium loss by sweating (or better drink at least one cup of salty
ayran
evey day), and to use sunblock lotion.
Respect
Respect the nature:
Most of the region is covered with pine forests. Hot and dry Mediterranean climate, which reigns in the area, makes them very vulnerable to wildfires. A forest fire in Summer 2007 destroyed an extremely large tract of forest (the width of damaged area is somewhere around 10-15 km) and couldn't be taken under control for 4 days. Therefore, in wooded areas, be careful with your fire (and your cigarette!), or better, do not use any fire if possible at all.
In some places on the road (even on the highway), you'll see turtle signs. They mean the place in question is used by endangered Mediterranean sea turtles (Caretta caretta) for crossing into their egg-laying area. Don't ask why on Earth the turtles are attempting to cross the road, they just follow their million-year-old habits, and the road was built in a different era, when habits of turtles (and the turtles themselves) weren't much of an interest. Be extremely careful when driving in an area with such a sign. Also, be aware that many of the sandy beaches in the region (especially those in the southern part, i.e. around Anamur) are used by turtles as egg-laying areas, whether there is a sign or not. So be careful when using these beaches, avoid thrusting sharp things—such as beach umbrellas—into the sand, and do not leave behind even the smallest piece of trash.
Connect
The telephone code of the region is 324.

Go next