Cirebon
Cirebon
is a city in the
North Coast
region of
West Java
, not far from the border with
Central Java
.
Understand
Its name is often said to be derived from the
Sundanese
words of '
ci
' (water or river) and '
rebon
' (shrimp). Indeed, the city's main industry is fishery, including shrimps. An alternative
Javanese
explanation is that the city's name is from '
caruban
', meaning "mixture", a reference to Cirebon's complex mix of Javanese, Malay, Sundanese, Chinese and Arabic cultural elements. While Indonesians from outside of Cirebon pronounce the name CHEE-reh-bon, locals say Cheer-BON (with rolling R).
The city weather is hot and humid. Wear cotton clothes. You do not need long sleeves shirt, instead a T-shirt and knee-long trousers are comfortable. Some places like mosques and temples require polite dress such as long trousers/skirts. Hot pants/mini skirts may attract unwanted attention and might be considered impolite.
Get in
By car
Cirebon is along the major west-east motorway connecting
Jakarta
and
Central Java
. If there are no traffic jams, Cirebon can be reached in about 2.5 hours from Jakarta. However, traffic congestion is common and the trip usually takes up to 4 hours. During weekends and holidays, it may even take significantly longer.
There are additional trunk roads to Cirebon from the northwest (
Indramayu
), southwest (
Bandung
and
Sumedang
) and south (
Kuningan
).
By train
The main station of the city is (also known as
Kejaksan Station
). There is on average about 1 train per hour to and from Jakarta (Gambir or Pasar Senen stations in
Central Jakarta
), both during daytime and at night. Almost all of these trains are business or executive class trains (one-way tickets about Rp150,000-250,000), but a few per day are economy class. Travel time between Jakarta and Cirebon is usually about 3 hours.
In the other direction, there are also on average hourly trains to the east. The final destinations of these trains differ, with several trains per day terminating at
Surabaya
,
Kediri
, or
Malang
in East Java, and several others going to cities in
Central Java
, such as
Tegal
,
Semarang
,
Cilacap
, or
Yogyakarta
. Finally, there are three (executive/business) trains per day from Cirebon to
Bandung
via
Cikampek
.
By bus
The main bus terminal of Cirebon is . The terminal is served by frequent buses to and from various bus terminals in
Jakarta
, the port of
Merak
,
Tegal
and
Semarang
,
Tasikmalaya
,
Kuningan
, and
Bandung
, among other cities. There are at least daily bus connections to all larger cities throughout Java, such as
Surabaya
and
Yogyakarta
, and also to
Denpasar
in Bali.
Get around

There are several ways of getting around the town of Cirebon. The most convenient way is by rented car. However, it is advisable to rent a car with a driver if you are not used to driving in Indonesia.
Another way to get around is by angkot (public minivan). There are various angkot routes throughout the city. Angkots follow a fixed route, but there is no fixed schedule and there are no fixed stops. To get on, simply raise your hand. To get off, simply shout "Kiri!" to the driver, so he will pull over on the left (Indonesian: kiri) side of the road. The price of an angkot ride within the city is usually about Rp3,000. It is best to ask a local which angkot route to take, and how to recognise the location you want to get off.
Other options to get around include hiring a becak (cycle rickshaw), ojek (motorcycle taxi) or a regular taxi. Not all taxi drivers are willing to use a taxi meter, so then the price depends on your negotiation skills. Two taxi companies in Cirebon that are known to usually use the official taxi meter are Central Taxi and Bhinneka Taxi. You can also get around by online ojek or taxi that is already available in the city. Install Gojek or Grab application on your phone, then you can order ojek or taxi from your phone almost anytime, to go anywhere in the city.



See
Keraton Kasepuhan

address: Jalan Kasepuhan No. 43

The oldest sultan palace in Cirebon, built in 1447. The decoration on the inside is interesting, being a curious combination of styles. For example, apart from the Sundanese, Javanese, and Islamic decorations, you may find Dutch Delft blue-and-white tiles.

Keraton Kanoman

address: Jalan Winaon Kampung Kanoman

The second sultan palace, established when there was a division in the Cirebon sultanate in the 17th century. This palace is not as well-maintained as the Kasepuhan palace.

Cirebon Kejaksan railway station building

address: Jl. Tanda Barat I / Jl. Stasiun

The station building of Cirebon's main railway station was built during the colonial time, based on a design by Dutch architect Pieter Adriaan Jacobus Moojen. The building is a good example of New Indies Style, combining modern European architecture with local elements.

Grave of Sunan Gunungjati

address: Jl. Sunan Gunung Jati

Sunan Gunungjati was one of the wali sanga, revered saints of Islam in Indonesia in the 15th century. He was the founder of both the Sultanate of Banten and the Sultanate of Cirebon. Just as the graves of the other wali sanga, his grave is a local pilgrimage site.
Gua Sunyaragi
Buy
Cirebon is a centre of
batik
cloth industry. The special 'Batik Cirebon' style can be bought in many places around the city.
Yogya Grand Toserba

address: Jalan Karanggetas

Located at the heart of the city, this Toserba (toko serba ada meaning "shop that sells everything") has4 floors: 1st floor - shoes & bags department, 2nd floor - ladies wear & mens wear, 3rd floor - supermarket, 4th floor - Marina Restaurant.

address: Jl. Doktor Cipto Mangunkusumo No. 26

Shopping centre with a wide range of shops and cafés, as well as a large supermarket and XXI cinema.
Eat
Local cuisines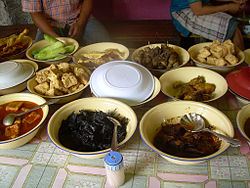 Cirebon is known for a few local dishes, often with fish and seafood products, but also other dishes that show the city's mixture of Sundanese and Javanese influences. Below is a list of some popular local eateries that serve these local dishes.
Nasi Jamblang Mang Dul

phone: +62 231 206 564

address: Jalan Doktor Cipto Mangunkusumo No. 58

Local 'nasi jamblang' cuisine: a buffet with dishes such as tofu vegetables, liver or meat stews, potatoes, fried eggs, cooked chili, stewed fish, etc. Key characteristic is the use of teak tree leaves to pack the rice.

Nasi Lengko H. Barno

phone: +62 812 2277 3991

address: Jalan Doktor Cipto Mangunkusumo

Nasi lengko consists of steamed rice, tempeh and tofu, and bean sprouts, covered with peanuts sauce, garlic chives, and sweet soysauce on top. It is usually served with mutton satay and tapioca starch crackers.

Sate Kalong Jalan Kesambi Dalam

address: Jalan Kesambi Dalam No.102

Sate kalong is Cirebon-style buffalo satay. The word 'kalong' means 'bat', which refers to that the buffalo satay is usually only sold after dark.

Tahu Gejrot Wardi

address: Jl. Lemah Wungkuk / Kanoman

Tahu Gejrot is a spicy tofu dish. It is sold throughout the city at streetfood stalls, often for only about Rp5,000 per portion. A well-known seller is Tahu Gejrot Wardi at the corner of the Kanoman market, near the Kanoman palace.

phone: +62 231 211 055

address: Jl. Raya Ir. H. Djuanda No. 24

Local spicy curry-like beef soup. H. Apud is a famous restaurant selling this dish.

Empal Gentong & Empal Asam Amarta

address: Jl. Ir H Juanda No. 37, Plered

Empal asam is the same as empal gentong, but a small star fruit is added, and no coconut is used, making the taste more sour.
Seafood
Restaurant Seafood Jumbo

phone: +62 231 203 606

address: Jalan Siliwangi No. 191

phone: +62 231 210 033

address: Jalan Parujakan No. 2A
Sleep
Budget
Mid-range
Splurge
phone: +62 231 203 246

address: Jl. Siliwangi No. 69

Near the main railway station. The hotel has a spa, fitness centre, swimming pool, and souvenir shop.

phone: +62 231 829 1888

address: Jalan Cipto Mangunkusumo 26
Go next
Mount Ciremai National Park — the highest mountain of West Java province, just south of Cirebon.
Linggajati — point of entrance to Mount Ciremai, and also the location of the 1946 Linggajati Agreement (now a museum).
Indramayu — to the northwest, Indramayu has various beaches along the Java Sea coast, as well as a few offshore islands.