Ciwidey
Ciwidey
is a village and district about 30 km south of the city of
Bandung
, in the
Parahyangan
mountain region of
Western Java
, Indonesia.
Understand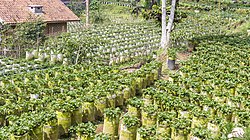 Ciwidey is known for the
Kawah Putih
crater lake, although officially the crater lake is in the neighbouring district of Pasirjambu. Both districts are part of Bandung regency. In addition, Ciwidey and the surrounding regions are also known for their tea plantations as well as strawberry farms.
Get in
By car
The main road from the city of
Bandung
to Ciwidey starts at the
Soroja (Soreang Pasirkoja)
toll road exit in Soreang. From Soreang, the distance to Ciwidey is only about 15 km. The
Kawah Putih
crater lake is further south, about 15 km from Ciwidey. Via the toll road, the drive from Bandung to Kawah Putih takes about one and a half hours.
By public transport
There are regular buses and minibuses from Leuwi Panjang bus terminal in
South Bandung
to in the centre of the village (via Soreang).
Get around

To get from Ciwidey bus terminal to the Kawah Putih crater lake, take the yellow angkot (public minivan), which runs to Situ Patengang lake via the entrance of Kawah Putih (along the main road). It is also possible to charter an angkot which can bring you not only to the entrance, but also to the crater lake itself.

See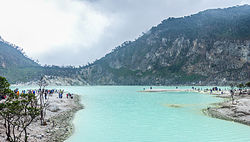 address: off Jl. Raya Soreang Ciwidey

"Discovered" by Alfred Junghuhn in the 1800s, the crater lake was formed because of an eruption of the ancient age. It still features the a typical volcano lake with blue waters, grey cliffs, and white ground that you can step on to get close to the water, and it has had little to no activity for the past four centuries. Formerly a sulphur mine, its smell can be strong at some point — a 30 minute to one hour visit should suffice. Surprisingly, vegetation can still be found within its immediate vicinity. Park a car on site for Rp150,000 or cheaper downhill and then take a minivan, but you must still go through the flights of stairs with stalls at either side to reach the crater. Nuissance, a group with a young couple and a DSLR will be followed by some people, suppose take pre-wedding photos and have to pay more than Rp 100,000.

Situ Patenggang

address: off Jl. Situ Patengan

Lake in the mountains at an altitude of 1,600 metres. Popular among locals for fishing, pedalo, and picnics. The lake is surrounded by tea plantations.
Eat
De Foret

phone: +62 22 8592 0070

address: Jl. Ciwidey

Restaurant/café with a nice garden, with various types of Indonesian food and fresh fruit juices. Along the main road near the entrance of the Kawah Putih.
Sleep
phone: +62 22 592 7995

address: Jl. Ciwidey Ranca Bali Km. 1 No. 17
Go next