Clarksdale
Clarksdale
is a small town in the
Mississippi Delta
. About an hour south of
Memphis
, this little podunk town draws visitors from all over the world for its blues clubs and blues history.
Get in
By car
Downtown Clarksdale is situated a little north of the junction of
Highway 61
and
Highway 49
(the famous "Crossroads").
Memphis
,
Tennessee
is about 75 miles north of Clarksdale on Highway 61. Jackson, MS is about 150 miles south. It is about 15 miles east of the
Mississippi River
.
By plane
Clarksdale is served by a public airport, which is capable of serving large private airplanes. There are no commercial flights into Clarksdale at present, but Memphis International Airport is only 75 miles north of Clarksdale.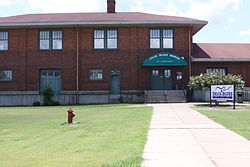 By bus
Greyhound Bus Line, 1604 N State St., +1 662 627-7893.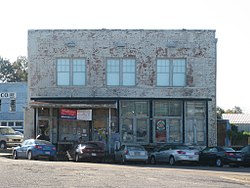 Get around
Having a car is pretty much a requirement in Clarksdale. According to one website, 91% of Clarksdale residents drive to work. However, visiting for a short time does not require driving as the downtown is entirely pedestrian-friendly.
Taxi services:
Jerry's Cab Co., +1 662 624-9222.
Jolly Cab, +1 662 624-9256.
Pro Taxi, +1 662 302-0864. At Your Service 24/7 Pro Taxi
See
The CrossroadsThe intersection of Highway 49 and Highway 61 where Robert Johnson is said to have sold his soul to the devil in exchange for musical genius.

phone: +1 662 627-68

address: 1 Blues Alley Lane

A museum founded in 1979 and dedicated to "the blues," which is in the restored Illinois Central Railroad freight depot.

address: 113 East Second Street
Do
Clarksdale Film Festival (January)
Juke Joint Festival and Related Events (April)
Mini Blues Fest (April)
Crossroads Half-Marathon (Look for date)
Annual Sunflower River Blues & Gospel Festival (August)
Pinetop Perkins Homecoming at the historic Shack Up Inn and Hopson Plantation in Clarksdale. (Oct)
Mississippi Delta Tennessee Williams Festival (October)

phone: +1 310 457-8278

"Shack Up Inn & Hopson Comissary, 001 Comissary Circle. If there is one place where you can say the blues was created it is Mississippi Delta. Learn to play blues harmonica in the heart of the Blues Country at a 5-day seminar filled with classes, jams, and friendship. Travel out to Sonny Boy Williamson's grave, visit Muddy's cabin, and learn and play harmonica with some of Americas great teachers and players.

address: 291 Sunflower Avenue

Offers wilderness expeditions on the Lower Mississippi River, its Back Waters, Bayous, Oxbows, and Flood Plain between the levees. Tours can be arranged by the day or the week.
Buy
Cat Head delta blues and folk art, inc.

phone: +1 662-624-5992

address: 252 Delta Ave

According to its website, "Cat Head Delta Blues & Folk Art, Inc. is a 6-day-a-week store that features a full selection of blues CDs, videos, DVDs, books and collectibles as well as an affordable mix of Southern self-taught, folk and outsider art. 'It's kind of like shopping in a juke joint,' Roger (Stolle - owner) said, describing the building's rustic interior, colorful artwork and down home music. 'It's the kind of store we always dreamed of finding in our Delta travels but never did.'"

Miss Del's General Store

phone: +1 662-624-2381

address: 145 Delta Ave

You can buy pretty much anything here! Interesting browse and food.

phone: +1 662 624-8385

address: 253 Delta Avenue

The Mag-Pie Gift & Art Shop has been open for 96 years. It features unique gifts, home accessories and a Bridal Registry. It is across the street from Cat Head and is within easy walking distance from Ground Zero and other blues venues in the downtown area.
Eat
phone: +1 662-624-9947

address: 616 N State St

At the Crossroads of Highways 61 and 49. Opened in 1924. According to its website, entertainers eating there include ZZ Top, Paul Simon, Big Jack Johnson, Thomas Harris, Steve Azar, Charlie Pride, Conway Twitty. Abe's is famous for its barbecue pork and beef, hot tamales and ribs.

Atzimba Mexican Restaurant

address: 706 S State St

This has become a popular spot in Clarksdale since it opened. The restaurant is usually filled to capacity, but there is never a long wait. If it's your birthday, be sure and tell them as they love to put a traditional sombrero on your head and sing "happy birthday" to you in Spanish.

address: 316 Yazoo Ave

Serving lunch Mon-Sat and dinner on Mondays, Fridays and special occasions, Oxbow serves gourmet fare for under $10 - lightly seared ahi tuna tacos are a favorite, and the classic burger-stand burger with angus beef, gruyere cheese, balsamic shallot jam and housemade pickles is ridiculously good. Specials every day!

Ramon's

phone: +1 662 624-9230

address: 535 Oakhurst Avenue

Fried Butterfly shrimp is one of the favorite dishes at Ramon's, which has a full menu of delicious food. Ramon's is only open evenings.

address: 1907 North State St (Hwy 61)

A family-owned restaurant that opened in 1959. On display are photographs and sports memorabilia that the owners have collected over many years.

Rest Haven

address: 419 State Street

A Clarksdale tradition for more than 50 years. Middle Eastern cuisine shares the same table with traditional southern food, such as black-eyed peas and turnip greens. The speciality is kibbie, and include stuffed kibbie, kibbie patties, kibbie sandwiches, and even raw kibbie. The coconut and chocolate cream pies that have been popular for almost 30 years.

Rust Restaurant

phone: +1 662 624-4784

address: 218 Delta Avenue

Rust Restaurant is a new trendy, upscale restaurant which was opened in March 2008 by Randall Andrews, a Clarksdale native who graduated from the Memphis Culinary Academy. Rust Restaurant's fare includes gumbo, crawfish, and seared tuna.

Stone Pony Pizza and the brick bar

address: 226 Delta Avenue

Its building that has been in Clarksdale since 1912 and has been renovated. The restaurant has five flat screen televisions, Wi-Fi accessibility and a pictorial history of Clarksdale and many of its colorful residents. The food is homemade, hand-tossed pizza.

address: 207 Yazoo Avenue

You can enjoy a cup of coffee and a fresh baked pastry in the cozy atmosphere. Offers free wireless internet.
Drink
Bluesberry Cafe

phone: +1 662 627-7008

address: 235 Yazoo

A dive with live blues on Mondays.

address: 252 Delta Ave

So named because of the wide-spread belief that Clarksdale is where "the blues" began. The club is partly owned by actor Morgan Freeman, who is a native of the Delta area of Mississippi. He helped open both Ground Zero Blues Club and Madidi's Restaurants partly because he wanted some to make sure he had good restaurants when he returned home from Hollywood. Ground Zero has pool tables in the front part of the restaurant, exposed brick walls, rough wooden floors, and purposefully mismatched furniture that could have come from a garage sale. In the evening, it is an excellent place to hear live music and drink cold beer.

Hopson Plantation

phone: +1 662 624-5756

Has a big music hall with live music.

New Roxy

phone: +1 206-683-4917

address: 363 Issaquena Ave

An old movie theater with a roof that caved in, now an open air live music venue.

Red's Lounge

address: 395 Sunflower Ave

A genuine juke joint with regular live music, and one of the last great juke joints in the Delta region.

Rust

phone: +1 662 624-8329

address: 001 Commissary Circle
Sleep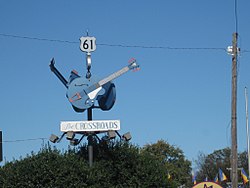 Budget
phone: +1 662 621-1110

address: 350 South State St

Budget Inn

phone: +1 662 624-6541

address: 420 South State St

address: 818 South State St

phone: +1 662 624-9163

address: 615 Sunflower Ave

Formerly "the Afro-American Hospital," the Riverside Hotel in Clarksdale was the site of the dedication of the fourth historic marker on the Mississippi Blues Trail. It's where Bessie Smith died on 26 September 1937 after her auto accident on Highway 61. Ike Turner wrote the first rock n' roll tune of all time here, Rocket 88. Sam Cooke lived here. Howlin' Wolf and Muddy Waters stayed here. To spend your nights at the Riverside is to immerse yourself in the history of the blues, and the proprietors will help you explore the past and present of the town. Accommodations are very basic, with shared bathrooms and window A/C units/gas heaters, but you obviously don't stay here for the luxury, or for that matter, come to Clarksdale for luxury! Very close to Red's.

phone: +1 662 627-9292

address: 710 State St

Royal Inn

phone: +1 662 624-4391

address: 1910 North State St

Southern Inn

phone: +1 662 624-6558

address: 1904 North State St

Uptown Inn

phone: +1 662 627-3251

address: 305 East Second St

Cheap, more reliable than some other motels, and close to Ground Zero.
Mid-range
Go next