Clausthal-Zellerfeld
Clausthal-Zellerfeld
is a town in the Upper
Harz
in
Lower Saxony
.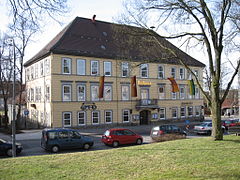 Clausthal-Zellerfeld is the largest town of the Oberharz community with an altitude of 535 m. It is great for winter activities, and for walking and mountain biking during the rest of the year. Clausthal has a well-known University "Aula Academica". It has a picturesque low mountain range landscape with crystal clear waters in more than 60 ponds and flowering meadows
Understand

Clausthal-Zellerfeld consists of two towns: Clausthal and Zellerfeld. The towns were merged in 1924. Buntenbock was added in 1972 it has 700 residents and is about 3 km south of Clausthal
The university was opened in 1775 and used to be a school for children and a centre for mining apprentices. In 1864 it was established as a mining academy, and also taught physics, chemistry, mathematics and engineering. Today the university has about 3000 students.
Clausthal's focus is on university life and the business world, where as Zellerfeld is the tourist centre of the city. The "culture mile" is worth a visit- the St. Salvatoris church with a famous altarpiece by Werner Tübke, the Upper Harz Mining Museum, Kunsthandwerkerhof the former mint. Also every Thursday evening from May to October there is the Zellerfelder popular farmers market. The town offers free parking on Adolph-Roemer-Straße in Clausthal just a stroll through a variety of retail outlets. The houses in the town are built in the style of the typical upper Harz, which are a good photo opportunity.
In the town you can buy various local specialities, such as meat and sausages. Why not try the Harzer witch bread (confectionery Meier), which is produced only in Clausthal-Zellerfeld or the Clausthal Elixir (rats pharmacy).
Both parts of the city have some beautiful historic buildings. In Clausthal is the Market Church "To the Holy Spirit". The original church was destroyed by fire in 1634. It was replaced with a wooden church, which was completed in 1642. It is now the largest wooden church in Germany and can seat up to 2200 people and boasts a massive organ and a great altar. In the south-western corner you can find an alabaster carving of the story of Christ. In Zellerfeld, you can find many craftsman's houses, which have been rebuilt after the fire in 1672. One of the main crafts was the production of silver and gold coins. Special laboratories were designed and built to separate the gold . In 1978 it was converted into a glass-blower craftsman shop. Today you can watch the old traditional craftsmen close up and discover how the glass is blown.

Get in
By plane
Hannover Airport is the closest and is 112 km away and will take 1hr 10 mins .
Paderborn Airport is 203 km away and will take 1hr 51mins. Of those two Hannover has more connections by far.
By car
Clausthal-Zellerfeld is in the middle of Harz, the roads leading to the town are stunning with breathtaking views.
From north:
A7 direction Kassel, take exit 67, B243 direction Osterode, then take the 242 Clausthal-Zellerfeld
From south and west:
A7 direction Hannover, exit 72, on direction Goettingen, then follow the B 27 towards Herzberg, take a left turn direction Osterode on the exit Clausthal-Zellerfeld B241all the way to your destination, which is clearly sign posted.
The road is going up in the mountains, so winter tyres are needed in the snow months.
From east:
Take the new motorway A38 to exit Windehausen. Then on the B4 go direction Nordhausen, Braunlage on the B242 follow all the way to Clausthal-Zellerfeld.
By train
The nearest railway station is located in the District of Goslar, some 20 km away. From there you can catch a bus, which run frequently. Kreiensen and Northeim stops are also within easy reach of Clausthal-Zellerfeld.
By bus
Clausthal-Zellerfeld has a . From there you can catch buses to many other towns within the Harz and the surrounding area. There are good links from Goslar and other local towns. Goslar train station has a direct connection with the bus 830 or 831 of the station forecourt to Clausthal-Zellerfeld. Bus 440 runs from the train station of Northeim. From Clausthall use the Kronplatz bus stop. From Zellerfeld use the Thomas-Merten-Platz stop. Go to http://www.rbb-bus.de for bus routes and time tables.
Get around
Clausthall-Zellerfeld is situated just off the B242.
By bus
There is a major bus station in the town which provides good links to various towns in the Harz area e.g. Goslar and Hanhnenklee . The bus station is found between the districts of Clausthal and Zellerfeld, next to the municipal library. The stop in the Centre of the village of Clausthal is Kronplatz, in the Centre of Zellerfeld Thomas-Merten-Platz.
The buses are operated by the RBB, a subsidiary of DBRegio AG and one of the largest transport companys in Lower Saxony.
By taxi
There are taxi ranks at the Kronplatz and the Bornhardstraße in Zellerfeld in Clausthal-Zellerfeld. Or call a taxi by phone.
Auto Gärtner GmbH

phone: +49 53 23 22 29

address: rolling road 13

Taxi Küster

phone: +49 53 23 83 364

address: Schalke way 11

phone: +49 53 23 17 67
By bike
There are many bike routes around Clausthall Zellerfeld, for routes information go to www.bikemap.net
Mountain biking is very popular in this area. The Volksbank Arena resin is a huge network of signposted routes for mountain bikers in three difficulty levels (62 routes, 1,800 km circuit, 50,000). Seven MTB circular routes start directly at the tourist information in Zellerfed (mountain Str. 31):
See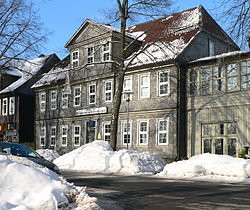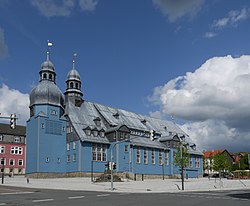 Clausthall Zellerfeld is surrounded by wonderful countryside and provides many local mountain activities.
Tourist Information Centre

address: Bergstraße 31 (Dietzelhaus)

Dietzel House. The Tourist Information Centre is based in Dietzel House a wonderful historic building. Just off the main street.

phone: +49 53 23-98 950

address: Bornhardtstr. 16

The Upper Harz Mining Museum in the Zellerfeld district is one of the oldest museums in Germany dedicated to the history of engineering. You can go back in time and discover the development of ore mining in the Harz, the hard working conditions and the ingenuity of the miners in various exhibitions and you can look at the original mining installations outdoors. One of the highlights is the famous man engine, an adventurous but effective method to get quickly into great depths.

Geo Museum

address: Adolph-Roemer-Str. 2 A

This museum is housed in the main building of the Technical University. The collections of the Technical University are among the largest in Germany.

The Upper Harz Water RegaleThis is a system of dams, reservoirs, ditches and other structures, much of which was built from the 16th to 19th centuries to divert and store the water that drove the water wheels of the mines in the Upper Harz region of Germany. The word Regale stands for the granting of royal privileges or rights in this case to permit the use of water for mining operations in the Harz Mountains of Germany. The Upper Harz Water Regale is one of the largest and most important historic mining water management systems in the world. In the system of the Upper Harz Water Regale there are over 35 such tunnels with a total length of about 30 km. It has been listed as a UNESCO world heritage since 1992.

Market Church To the Holy Spirit

address: Marktkirche 9

The original church was destroyed in the great fire in 1634. It was decided to replace it with a wooden church, which was completed in 1642. It is now the largest wooden church in Germany and can seat up to 2200 people. Inside you have a massive organ and a great altar.
Do
Buy
In the Zellerfeld district from May to October every Thursday evening the mountain farmers market offers a variety of local food. There is also a musical performance every week.
Also the craft courtyard is open every day offering hand-made pieces of wood, glass or silk at affordable prices,.
Clothing
Ernstings Family

address: Adolph Roemer Straße 29

Clothing and gifts

Takko Fashion

address: Osteröder Straße 5

Low cost clothing shop

K & K Shoe Centre

address: Osteröder Straße 3

Shoe shop
Gifts
Mac Geiz

address: Osteröder str. 3

Confectionary and gifts

Tchibo

address: Adolf-Romans-str. 1-3

Variety of clothing and gifts.
Food
Pennymarkt

address: Osterröder Straße 1

Low cost supermarket chain. Other shops are also inside the complex.

Fleischerei Eine

address: Adolph Roemer Straße

Butchers shop which sells specialities, e.g. venison.

Siemann Fleischerei

address: Schulstraße 21

Butcher.
Eat
Budget
address: Adolph-Römer-Str. 33, 38678 Clausthal-Zellerfeld

Pizza parlour, check website for special offers.

address: Osteroeder Str. 4
Mid-range
Splurge
address: An der Trift 19, 38678 Clausthal-Zellerfeld

Traditional specialities to the Hotel such as Saffron pasta with Möhrenpesto and goat's cheese in lemon marinade, Harz red Höhenvieh with Quince, Chestnut mousse with, Bratapfel sauce and a selection of fine wines.
Drink
Croque Inn

address: Schalker Weg 19A

Suitable for families. Serves light bites.

Kellerclub

address: Silberstr. 1

This cellar club is run by students and often has special events taking place. It has a cocktail menu.

Oasis

address: Am Schlagbaum 14

Wild West Pub

address: Graupen Straße

Themed bar.
Sleep
Budget
address: An den langen Brüchen 4, D

The site is located in the middle of the Harz Mountains near Clausthal-Zellerfeld at an altitude of 600 m. The camp site is surrounded by forests and lakes. There is a restaurant and shop on site. The Reception staff speak English, German and Polish.

Ferienwohnung

address: Spiegelthaler Str. 23 b, 38678 Clausthal-Zellerfeld , Clausthal-zellerfeld

Chalet apartment with terrace. Free Wi-Fi. Barbecue area. There is also a free infra-red sauna! Set in the Harz National Park but only a 3-minute drive to the shopping centre.
Mid-range
Pension am Hexenturm

address: Teichdamm 9

3
* guest house with disabled facilities and pleasant garden. Country House Style furnishings. Pets welcome. Satellite TV and Wi-fi available.
Pension Horenburg

phone: +43 1 7101919

address: Hoher Weg 8

4-star guest house. Free wi-fi and free parking. Under 3's free, other children's rates available. Ski storage available.

Ringhotel Zum Harzer

address: Treuerstraße 6

3-star hotel, free Wi-Fi and parking. Children under 6 stay free. All rooms have a TV with satellite channels and work desk. Pets are allowed.

address: Adolph-Roemer-Straße 22

Enjoy a quaint, renovated half-timbered house dating back to the 18th century in the centre of Clausthal-Zellerfeld. Quiet romantic courtyard. 2 double rooms available. Also available the Hayloft with a steam sauna in the bathroom and the Stable with a whirlpool bath.
Splurge
Akzent Hotel Goldene Krone

address: Kronenplatz 3, D

This 4-star hotel has a long history and was first opened in 1690. It has a central location close to many of the tourist sights. It offers a good restaurant with various specialities on the menu.

Hotel Zum Harzer Clausthal-Zellerfeld

address: Treuerstraße 6

This is a luxury hotel in a central location. Its facilities include massage and sauna. The hotel is set beside various outdoor routes for walking and mountain biking and cross country skiing. It also offers a vaulted cellar restaurant.
Learn
Go next
Wildemann - Wildemann is a town in the district of Goslar. It is northwest of Clausthal-Zellerfeld. The pretty Resort owes its name to the old legend of the "wild man" who was though to live in a cave in the forest. There is now a bronze statue to commemorate the tale. You can visit its mining nuseum with 19 tunnels or try out one of its many hiking trails set in quiet valleys, brooks and local pools where you can fish or bathe. In the Winter you can try out the 800-m toboggan run.
Bad Grund - This town is found in a romantic valley, surrounded by forests. It is the oldest of the upper Harz mining towns. You can enjoy the lovely timber buildings in the town or visit the historic iberg dripstone cave which had inhabitants over 3000 years ago. It has a cross mountain trail,and in the winter a cross-country skiing track in two parts which is above bad reason, starting at the Taternplatz. Slopes for tobogganing runs are found above the village.
Badenhausen - This is a district of Bad Grund. On the edge of the town is ruins of the Pagenberg an old fortress, the Hindenburg, also called giant castle that was built by the Count of Katlenburg in 1080. In the public park there is a playground specially designed to interest everyone across the generations. There is also a large sawmill which entered the Guinness Book of Records for the longest sawn wood sheets in the world!