Clayton (New Mexico)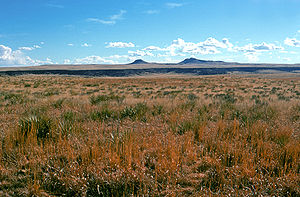 Clayton
is a small town in extreme
northeastern
New Mexico
, in the
United States
. The historic
Santa Fe Trail
passed near here.
Get in
Routes 56 and 64 connect the city with I-25 an hour and a half to the west, at Springer and Raton, respectively.
To the northeast, Routes 56 and 64 combine and connect Clayton with Boise City, Oklahoma.
See
Sleep
Days Inn

address: 1120 South 1st Street

Clean and relatively new.
Go next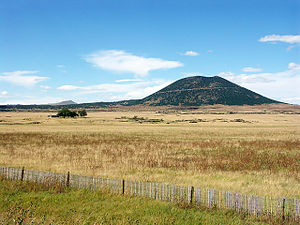 Capulin Volcano National Monument about 80 miles northwest of town preserves a volcanic cinder cone of geologically recent origin. A road leads to the crater rim, and there are a few short trails. Day use; fee $5/vehicle (Park Pass applies). Lodging and other services are almost non-existent between the monument and Clayton; you might as well plan to seek lodging here, and filling your gas tank before heading for Capulin is a good idea.
Clayton Lake State Park is about 12 miles north of Clayton. It has 500 dinosaur footprints, which are readily available to view via the boardwalk the have amongst they tracks. They are best seen early in the morning when good shadows are being cast. The park also boasts an excellent nature trail which is about a mile around. Some of the best fishing is also available at Clayton Lake State Park. Trout, walleye, catfish and bass are stocked in the lake. The state record walleye was caught here. Trout are easily caught with spinners. The visitors center is quite a sight too. It is made from straw bails which can be seen via a glass window within the building. There is also a great video to watch on the dinosaur tracks specific to Clayton Lake State Park. Camping is quite good here, both primitive and electric RV hookups are available. The primitive sites were moved and redesigned in the summer of 2006, and there are now some excellent camping spots overlooking the lake. They have showers and restrooms available also.
Kiowa National Grassland, 575 374 9652, . This park north of town preserves a two-mile section of the Santa Fe Trail, offering some great hiking opportunities and the chance to see an almost untouched Trail landscape.