Clearwater
Clearwater
is a city in
Pinellas County
, a region in
Florida
.
Perhaps most easily recognized as the headquarters city of the Church of Scientology, Clearwater also has miles of beautiful beaches and close proximity to other cities in the Tampa Bay area.
Understand
Clearwater used to be the home of the Tocobaga American Indian people. Around 1835, the United States Army began construction of Fort Harrison as an outpost during the Seminole Wars. The fort was located on a bluff overlooking Clearwater Harbor, which later became part of an early 20th-century residential development called Harbor Oaks. The name "Clear Water" is thought to have come from a fresh water spring flowing from near where the City Hall building is located today. There were many other freshwater springs that dotted the bluff, many in the bay or harbor.
During the
American Civil War
, Union gunboats repeatedly raided the community's supplies, as most of the able-bodied men were away fighting for the Confederate Army. The town began developing in the late nineteenth century, prompted by the completion of the first passenger railroad line into the city in 1888. The area's popularity as a vacation destination grew after railroad magnate Henry B. Plant built a sprawling Victorian resort hotel named Belleview Biltmore just south of Clearwater in 1897.
During World War II, Clearwater became a major training base for US troops destined for Europe and the Pacific. Virtually every hotel in the area, including the Belleview Biltmore and the Fort Harrison Hotel, was used as a barracks for new recruits. The remote and isolated Dan's Island, now the highrise-dominated Sand Key, was used as a target by U.S. Army Air Corps fighter-bombers for strafing and bombing practice.
In 1975, the Church of Scientology, which describes itself as a religious organization, established its world headquarters in Clearwater. As of 2017, it has bought at least 22 buildings in the downtown area for offices, temporary housing, teaching facilities, and a library. It has 2,500 employees, and claims to have 10,000 members living permanently in the area. The organization plans to buy most of the remainder of the inner city to established a retail district managed by the organization.
Clearwater Beach, located on a separate barrier island, is part of the city of Clearwater and fronts the Gulf of Mexico. The connecting road is part of State Road 60 and is called Clearwater Memorial Causeway.
Get in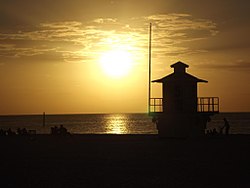 By plane
By bus
Bus services are available. The
Pinellas Suncoast Transit Authority
's (PSTA) services include two express routes that travel to
Tampa
.
By train
Nearby
Tampa
is served by
Amtrak
via its daily
Silver Star
train between
New York City
and
Miami
. A Thruway connecting bus is available and arrives at an , located midway between Clearwater and
St. Petersburg
at 5251 110th Ave N.
Get around
Suncoast Beach Trolley: Explore the unique beach communities from Clearwater Beach to Pass-A-Grille. Trolley does not stop in Kenneth City, Belleair Beach and Belleair Shore. The Suncoast Beach Trolley runs every 20 - 30 minutes daily from 5:05AM to 10:10PM, including holidays, with service until midnight on Friday and Saturday. Look for special trolley bus stop signs located frequently along the route. In addition to the route along the beaches, connector routes run between the coast and downtown Saint Petersburg. All trolleys are wheelchair accessible, and they have bike racks. A special permit may be required to use the bike rack. The bus and trolley fare is $2.25 per ride (2017), or ride all day with a $5 Unlimited Daily GO Card. GO Cards are available onboard the trolleys, buses, or at various locations countywide. The fare boxes are equipped to handle $1, $5 and $10 bills but do not give change.
See
Clearwater Beach

address: 1 Causeway Blvd.

Clearwater Beach is one of the top-rated beaches in Florida. Besides lying in the white sand and swimming in the clear water there are also many activities offered such as fishing, sail boat, kayak, and jet ski rentals, dolphin and sunset tours, parasailing and more. Alongside the beach there are also many restaurants and shops. It is a great family environment. There are always lifeguards and specially colored flags that mean certain alerts such as any rip currents of marine life such as stingrays present. Beach chairs, tents, strollers, and wheelchair rentals are also available.
Do
After spending a long, hot day at the beach, why not head on down to Pier 60 for the nightly 'Sunsets at Pier 60' event. Every night, lots of vendors and entertainers set up shop at Pier 60. It starts two hours before sunset, and ends two hours after the sun goes down. And then, for a few hours, lots and lots of people, tourists and locals, go on down and hang out at the Pier. Souvenirs, from candles to jewelry, are for sale. Sometimes there is a booth where you can get henna tattoos. There are also crazy entertainers putting on shows nightly. Every night, there are live concerts held. All of this is free to attend, and very family friendly. And if you get tired of the crowds, head down the water for a little relaxation.

Tampa Bay SegsOffers the opportunity to see Clearwater Sand Key Park on a Segway Human Transporter. Tours run daily.

Ice skating is a popular activity in Clearwater, and a perfect way to escape the summer heat. Two well-known rinks are in the city: Sunblades Center and the rink in Westfield Countryside Mall.

address: 249 Windward Passage,

The Clearwater Marine Aquarium has many exhibits featuring marine animals such as stingrays, nurse sharks, river otters, sea turtles and of course dolphins. Many of these animals are rescued animals that cannot be returned back in the wild and are housed and cared for by the staff and serve as a way to teach visitors about marine life. There are presentations at different times throughout the day for each animal exhibit. Visitors can not only see the animals through the open exhibits for these animals but they can also participate in encounters with some of the creatures. The aquarium offers interaction with stingrays and dolphins. The aquarium is also home to a dolphin named Winter who was rescued from a crab trap line and lost her tail and two vertebrate. Despite the odds she was rehabilitated and even given a prosthetic tail!

address: 1060 Gulf Boulevard Clearwater, FL 33767

Calm and secluded, Sand Key Park consists of both a park and a beach. There is a playground for children and various nature trails for the whole family or even those just wanting to get a glimpse of the abundant wildlife. There is a boardwalk and even a dog park. On the beach there are lifeguards on a daily basis and one can rent umbrellas, cabanas and kayaks. Beach wheelchair rentals are also available. There are outdoors showers and bath houses also. Besides the beach there is also a salt marsh with benches to view the various waterfowl. There are also shelters and grills that can be reserved.

Philadelphia Phillies Spring TrainingDuring February and March each year, the Phillies prepare for the new season in Clearwater.

Toronto Blue Jays Spring TrainingDuring February and March each year, the Blue Jays prepare for the new season in nearby Dunedin.

Minor League Baseball, . Every year from April through Labor Day, the Clearwater Threshers and Dunedin Blue Jays play baseball.
Buy
address: 27001 US Highway 19 North, Suite 1039

The Westfield Countryside Mall has over 160 stores, over 20 places to eat and a movie theater. They also have a skating rink inside the mall and a WiFi lounge on the upper and lower floor.
Eat
address: 2325 Feathersound Square

Frenchie'sGreat grouper.

Codys for great ribs. Several locations in the area. One is on 19 just south of Tarpon Springs

address: 7570 Starkey Rd

One of the best sushi places around town, very inexpensive menu with great lunch specials and great staff.

Palm Pavilion Beachside Grill & Bar

address: 10 Bay Esplanade, Clearwater Beach

This restaurant serves a wide variety of food including flatbreads, salads, wraps, burgers, steaks, and seafood. They also serve many drinks and have live music every night. It has a great view of the Gulf of Mexico and offers indoor and outdoor seating.
Sleep
Go next
Tarpon Springs — North on 19. Greektown USA. Great Greek food and atmosphere. Try Hellas which is much less pricey then Pappas.