Cleethorpes
Cleethorpes
is a seaside resort on the
Lincolnshire
east coast of England, on the south bank of the mouth of the River Humber. It merges into the neighbouring town of
Grimsby
, and this conurbation and rural hinterland comprise the unitary Local Authority of North East Lincolnshire, also called Great Grimsby.
Like Grimsby, it began as a fishing settlement, but evolved instead into a seaside resort when the 19th-century fashion for sea-bathing developed. This was greatly boosted by the arrival of the railway. It thrived until the 1960s, when the Med became accessible to British holidaymakers, and traditional resorts declined. Today most visitors come on day-trips: the motorway puts it within two hours' drive from the main cities of Yorkshire. Those staying longer are often caravanning.
Cleethorpes is where the Prime (or Greenwich) Meridian of 0 degrees longitude crosses the UK coastline.
Get in
Same options & directions as for
Grimsby
, but reckon on another 10 minutes driving or on the train from inland.
At , note the clock tower, with its ornate ironwork. There's a cafe here, and other facilities on the adjacent promenade.
Get around
Stagecoach buses run frequently between Cleethorpes and Grimsby. Otherwise walk, or cycle to outlying attractions such as Tetney bird reserve or Louth.

See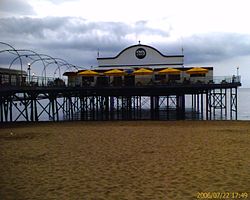 Cleethorpes PierThe Victorian pier is a stubby affair, only 100 m long, so the sea only reaches it at high tide. Originally it was 370 m; it was shortened during World War 2, which does make structural upkeep simpler. It's usually open daily from 11 am to 10 pm, whenever the fish & chips restaurant is open - see "Eat" listing.
Do
Cleethorpes Beach
has been awarded a "Blue Flag" for cleanliness. The strip of sand is narrow so the area near the pier can become cramped during the summer holidays, but further north & south will be quieter. (Parking charges apply 7 days near the pier, but there's free street parking a few hundred yards away.) The sand dunes alongside the boating lake and parts of the beach have been designated a nature reserve as this area is an important stop-off point for migratory birds.
The Humber has big tides, so the sea goes out a long way, leaving a vast expanse of mudflats. Check the tide times before venturing far out, as it will come flooding back in very quickly, and fill channels behind you to cut you off. A red flag may fly at these times.
The beach and
Promenade
stretch out for a couple of miles on either side of the pier, and everything in town is either on the Promenade or very close to it. Walking north, you'll pass the railway station, and eventually reach Blundell Park the home of
Grimsby Town FC
. For more info on the football see under
Grimsby
or the club's own website. Go any further north and you cross into Grimsby, and the beach is swallowed by mud and dockland.
The beach is better going south and has more to see and do. A short way south of the pier is Ross Castle, a Victorian folly, a mock-medieval castle ruin erected in 1885 just to look quaint. (Always open, free entry.) Out to sea, note the two Humber forts built during World War I to defend the estuary. Haile Sand Fort is close to shore at the south edge of town, while Bull Sand Fort stands mid-channel. The forts can't be visited. Far side of the channel, spot the lighthouse and coastguard station at Spurn Head: it would be a 60 miles drive to reach them. Early evening you'll see the ferry making its way downriver from Hull to Rotterdam or Zeebrugge.
Walk a little further south to find the Leisure Centre and steam railway:
Cleethorpes Leisure CentreFacilities for sport and recreation. There is a large heated swimming pool, tennis, squash and badminton courts as well as a gym and fitness suite.

Cleethorpes Coast Light RailwayA narrow gauge railway running for about a mile between the Leisure Centre and the far end of the boating lake. It's just 15" gauge so although it's real steam, it feels like a kiddie-ride.
Continuing south, Pleasure Island Theme Park has gone out of business (though McCormack's bar & restaurant remain open). Nearby on the promenade, note the 100-year old statue of
The Boy with the Leaking Boot
. Of whom the legend goes . . . but there are identical statues in many American and European cities dating to circa 1890, all with their own local legend, and all just as irresistible to drunks and vandals. The Boy is most likely to be 19th-century mass-produced kitsch.
address: Kings Road DN35 0AO

a useful option for a rainy day. Also live shows in summer. Big screens, sound and fully air conditioned.

Cleethorpes Discovery CentreNext to the boating lake. Has an exhibition about the Humber Estuary and the local flora and fauna. There is an observatory providing excellent views over the estuary.

The Jungle Zoo

address: Kingsway

is a very small zoo: a few turtles, meerkats, parrots, lizards etc, so reckon an hour at most. In the years to 2012 there were recurrent concerns about welfare from council inspectors and animal protection groups. Lately these seem to have gone quiet so present management may have improved things.
Kingsway & Winter Gardens
are attractive green spaces near the promenade. Beach and seafront are generally quiet this far out from the centre. Midweek, the only beach action will be a pensioner's dog chasing the seagulls.
Meridian Park
stands precisely on the Prime (Greenwich) Meridian of 0 degrees longitude, so you can bestride the east and west hemispheres. Adjacent to Showground caravan park (the Showground has occasional events, but is mostly draughty and deserted). From here the Meridian crosses the Humber estuary to the Holderness (East Yorkshire) peninsula, again leaves the coast at Withernsea, then has no other landfall on the way to the North Pole – that's 2517 miles from Cleethorpes, according to the signpost.
The
Humber Mouth Yacht Club
are based at Thornes Park DN36 4HD, phone 01246 865044, visiting sailors welcome. Note the big tides and busy shipping lanes: all craft must maintain contact with the marine traffic service. Find the Club at latitude 53.5254 North, and if you don't know the longitude by now, stick to the boating lake.
At the southern edge of town are the
Humberston Fitties
, a well-preserved pre-war colony of chalets. They're on long leases and seldom available to visitors. Then, with Haile Sand Fort just offshore, you cross from Great Grimsby into
Lincolnshire
, and the beach again becomes muddy around the Tetney RSPB bird centre.
Going further afield, railway enthusiasts unimpressed by the 15" system in town may prefer the
Lincolnshire Wolds Railway
, ten miles south at North Thoresby. This is standard gauge, on a remnant of the dismantled Grimsby-Louth line, and usually steam-hauled.
Also near here is Waltham Windmill: see entry under
Grimsby
.
Events
See www.visitcleethorpes.com and www.visitlincolnshire.com for forthcoming events.
Cleethorpes hosts Northeast Lincolnshire's Armed Forces Day. The next event is on Sat 27 June 2020.

Buy
Parkinsons Bazaar on Kingsway: Toys, buckets and spades and other beach requirements such as wind breaks to lessen the effects of the North Sea breeze.
Eat
Numerous small places, both eat-in and carry-out, offer the traditional British seaside fare of fish and chips, pizza, kebabs, chicken foo yong and lamb bhuna, to be followed by more chips. Not so small is the huge fish & chips place on the pier:
Papa's Fish & Chips

phone: +44 1472 601501

address: Pier, Cleethorpes DN35 8SF

500-seater restaurant opened in April 2017, and reinvigorated the pier. Is this the biggest fish & chips shop in the galaxy? It's certainly the biggest in Cleethorpes.

Steels Corner House

address: 10-12 Market St, Cleethorpes DN35 8LY

Possibly the only fish & chip shop in England to earn a Blue Plaque: commemorating a sermon here by John Wesley, the founder of Methodism.
Drink
Willys Pub and Brewery

address: 17 High Cliff Road

Just across from the slipway. Seafront bar with own microbrewery, has a large selection of ales and food.
Sleep
Cleethorpes has many traditional "Bed & Breakfast" guest houses and family-run small hotels; the only commercial chain hotel is Premier Inn. There are three caravan sites in town: Cleethorpes Showground at Meridian Park, Beachcomber on North Sea Lane, then Thorpe Park at Humberston. There are many more sites along the coast down to Mablethorpe.
Stay safe
You've come to the right place, there's seldom much aggro around town. Keep a close eye on children close to the sea's edge: big tides mean strong currents.

Go next
Hull and
Lincoln
can be day-trips from Cleethorpes but deserve a longer visit. Further afield lie
Leeds
,
Bradford
,
York
,
Durham
,
Sheffield
and
Manchester
: there's a good train service to all of them.
Heading south, you probably need a car. You could go inland via Louth, an attractive market town. Or follow the coast road through Mablethorpe and Skegness to approach the Wash, with Boston or delightful Stamford as the next night's stay.