Cloudcroft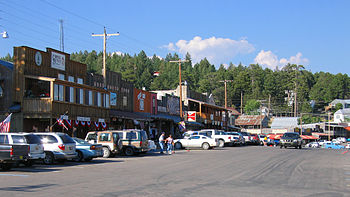 Cloudcroft
is a town in
Southeast New Mexico
with a population of less than a thousand.
Understand
History

High in the Sacramento Mountains, the village was started as a mountain resort (a glorified camp site) in 1899 by the coming of the Alamogordo and Sacramento Mountain Railroad.

Climate

During the summer, temperatures go above and lows are between and . During the winter, the range is from the 40s Fahrenheit to the teens.

Get in
Cloudcroft is located at the junction of Highways US 82 and NM 244. The nearest airport with commercial air service is in
El Paso
,
Texas
, about 96 miles away. Commute to Cloudcroft from nearby
Alamogordo
entails going through New Mexico's only Tunnel and driving through
High Rolls
/
Mountain Park
.
Get around
Cloudcroft has no public transportation, except horse and horse-drawn carriage rentals. The town itself is tiny and easy to navigate on foot. For outlying areas, plan to drive and know that 4-wheel drive is helpful in the winter.

See
The high altitude, low humidity and dark sky ordinance for the village, make Cloudcroft a popular site for day and night sky viewing. It is home to two observatories. Both observatories are located about 16 miles south of Cloudcroft on Highway 6563, the Sunspot Highway: this can be a challenging drive when snow is present.
Do
Most of Cloudcroft is dedicated to forest and mountain activities, although it does have golf courses and resorts.
Sacramento Mountain Historic Museum and Pioneer Village

phone: +1 575 682-2932

Located on 2.7 acres, there are two museum buildings plus eleven buildings in the pioneer village.

The LodgeOne of the highest altitude golf courses in the nation. 18-hole golf course.

Ponderos Pines Golf Course

phone: +1 575 682-2566

address: 878 Cox Canyon Highway

Nine-hole golf course.

Zenith ParkThe west end has ice skating (and rentals), during the winter.
Buy
Burro Avenue has several lovely shops featuring friendly service.
Instant Karma

phone: +1 575-682-2651

address: 302 Burro Ave

Wonderful yoga-studio and shopping experience for clothing, accessories and books.
Eat
Rebecca's at The Lodge.

phone: +1-866-595-6343

address: One Corona Place

Exquisite dining featuring wonderful chefs, live pianists, old-fashion feel, beautiful views and, a rich and mysterious history.

Big Daddy's Diner

address: 1750 James Canyon

A local favorite with a laid back atmosphere.

Jamocha Bean Coffee House & Cafe'

phone: +1 575-682-2332

address: 505 Burro Ave.

Fresh coffees, espressos, cappuccinos and smoothies. Very good sandwiches and desserts made on the premises. The grill closes at 3:00, earlier on Sunday, but coffees and desserts are available until closing. Comfortable environment and free wireless, but you'll have to ask for the key.
Drink
The Western Bar and Restaurant

phone: +1 575 682-2445

address: 300 Burro Ave

Friendly staff, friendly locals and the local watering hole.
Sleep
There are a variety of places to sleep in Cloudcroft.
B&B
address: 608 Burro Ave

A log home overlooking Cloudcroft. Queen beds, private bathroom.

address: 300 Swallow Pl

An old boarding house nestled into the forest.

phone: +1 575 682-5454

address: 56 Lodge Spring Rd

Six miles outside of Cloudcroft in the forest.
Cabins
Hotels & Motels
phone: +1 575 682-2221

address: 1605 Highway 82

Offers six different rooms holding up to eight people each.

Summit InnOne block away from downtown Cloudcroft.
Resort
Stay safe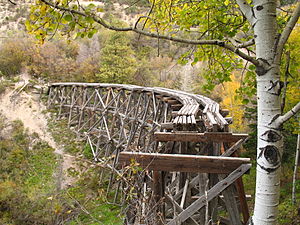 Most of Cloudcroft is above 9000 ft and one of the most likely problems is
Altitude sickness
. One should also understand the risks of mountain forest were there are wild animals and potential harmful/poisonous plants. Emergency services use the standard 911 system.
Go next
Lincoln National Forest, +1 575 434-7200, . It has hiking, camping galore, horse back riding, biking, four wheeling, hunting, cross country skiing, inner-tube rides, skating, and snow-mobiles!