Clydesdale
Clydesdale
is a region in the
southwest
of
Scotland
. It's the catchment and upper course of the River Clyde, historically with many water mills powering local industry, and the Lanarkshire coal mines. This industry was densest in the lower valley, towards Motherwell and Glasgow; but even here there are reaches of sparsely populated unspoilt moorland. The upper valley was never much industrialised. The main railway from Carlisle to Glasgow snakes along the valley, while A74(M) strides over the moors west of it. The main visitor attraction is New Lanark Mills.
Towns and villages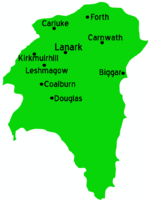 Most visitors arrive from the south, crossing Beattock Summit (315 m) by train or A74(M) to descend towards Abington. However it's simpler to consider it from north to south, from urban to rural:
is the first town of any size. It's ten miles west of Carstairs, where trains from Carlisle divide for Edinburgh and Glasgow, and notable for its state mental hospital.
is a UNESCO World Heritage Site, with fine early 19th C mills, and near the Falls of the Clyde. Although it has accommodation and other facilities, a better place to stay is Lanark a mile north.
has the scrappy remains of a priory. It's by the motorway so you might change buses here.
is a small market town with a rare combination: a gasworks museum and a puppet theatre. Nearby has a fine collection of old churches and other buildings.
has the ruin known as "Castle Dangerous", and other ancient buildings.
is the last or first village north of Beattock summit. A side road climbs west to the old lead mining area of and Wanlockhead (Scotland's highest village) over the border into Dumfries & Galloway.
Get in

By plane then renting a car, Edinburgh Airport has the edge over Glasgow, as it has more flights, and is west of the city so you reach Clydesdale within the hour.
Trains run from Glasgow Central (lower level) every 30 mins M-Sat, hourly Sun, via Motherwell, Wishaw and Carluke to Lanark. From Edinburgh or England change at Motherwell.
By bus: Stuarts Coaches Bus 240X / 241X runs from Glasgow via Wishaw and Carluke to Lanark. It runs hourly M-Sat.
Stagecoach Bus X74 runs from Glasgow via Hamilton, Lesmahagow and Moffat to Dumfries; hourly M-Sat and every two hours Sunday.
Stuarts Coaches Bus 30 / 31 runs M-Sat 3 or 4 times a day from Lanark via Thankerton, Symington, Abington, Crawford and Leadhills to Wanlockhead.
Stuarts Coaches Bus 91 runs hourly M-Sat from Lanark via Symington to Biggar. Whitelaws Coaches Bus 258 runs every couple of hours M-Sat from Lanark via Kirkmuirhill to Lesmahagow.
Stagecoach West Scotland Bus 101 / 102 runs from Edinburgh to Biggar via Penicuik, hourly M-Sat, only four on Sunday. Mon-Sat four buses, and Sunday two, continue to Dumfries via Abington, Moffat and Beattock.

Get around
You'll need a car. The valley roads are busy and not much fun for cycling.

See
Do
Clyde Walkway and cycle track runs along the Clyde for 40 miles from Glasgow (Partick) via Cambuslang, Strathclyde Country Park, Cardies Bridge and Crossford to New Lanark.
Tinto is a prominent 711 m (2333 ft) hill on the west bank of the Clyde near Biggar. From the north there's an easy, well-worn path from the A73 near Thankerton; from the south it's a steep scramble from Wiston.
Horse riding: there's a centre at Lanark, and others.
Sleep

For a place with character, it's either New Lanark Mill, or Cornhill Castle near Biggar.

Go next
Northwest, you can feel the gravitational pull of
Glasgow
, the Jupiter of Scotland.
To the northeast is unmissable
Edinburgh
, while over the hills to the west is
Ayrshire
: admirers of Burns must head for
Ayr
, while Ardrossan has ferries for the
Isle of Arran
.
Roads south cross Beattock towards Carlisle and the Lake District, or branch southwest to
Dumfries
.