Coahuila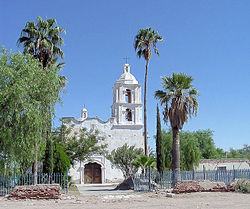 Coahuila
is a state in
Northern Mexico
.
Cities
– state capital
– a nice town close to the Candela Train Station
– on the US (Texas) border
– third largest city in the state
– location of wineries originally established by the old Spanish Dons
– a beautiful city with a high quality and standard of living, on the Texas border
- Second largest city in the state. It is a modern city with several natural, cultural, historical and religious atractions.
Other destinations
– the largest wilderness area in Latin America north of Patagonia, lying just across the rio from Big Bend NP
– a unique ecosystem, the spring-fed pools that fill the valley of Cuatro Cienegas are host to a number of plant and animal species found nowhere else on earth. Much of the valley is a protected natural reserve, though some of the larger pools (called pozas) are open to the public for snorkeling and swimming.
Get in
Saltillo International Airport (SLW)

Eat
Asado de chile colorado – pork with ancho and guajillo chilies and cumin
Charro beans – cowboy-style beans with bacon and chilies
Coahuila sausage – made of pork seasoned with ancho chiles
Enchiladas de olla – ancho chili, tortillas, poblano and grated cheese
Menudo norteño – tripe soup with ancho and guajillo chilies
Cajeta de membrillo – carmelized milk candy flavored with quince