Coast and Karst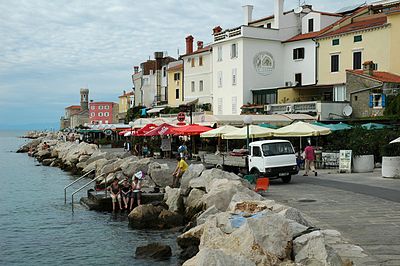 The
Coast and Karst
region of
Slovenia
lies along the Adriatic coast and extends inland into the cave-dotted karst territory.
Cities
— close to the UNESCO World Heritage Site Škocjan Caves
— picturesque settlement
—
— port
— home of the Lipizzaner horses
— picturesque settlement
— industrial port city with a Venetian old city
— port
— Beaches, casinos and package tourism
— Site of the gigantic Postojna caves
— picturesque clustered settlement
Other destinations
(Notranjska) — an area characterised by lakes, caves and wide plains
Understand
Ruled by Venice for five centuries, an Italian influence is clearly visible in the coastal towns of this picturesque area.

Talk
Italian
is a second language in many coastal towns and is therefore widely understood.
Get in
KOPER - there are frequent buses between Trieste and Koper (and on to Piran). Journey time is around 1 hour and the distance is about 20 km. There are also frequent buses and trains from Ljubljana (journey time around 2 hours, 90 km).
NOVA GORICA - there are frequent buses between Gorizia (Italy) and its Slovenian counterpart (1 euro 3 cents, 10 minutes). Buses and trains head north towards Bled and Jesenice (5 euro, 2 hours). Buses and some trains are also quite frequent between the city and Ljubljana (8 euro, 2.5 hours).
SEZANA - on weekdays there are 7 buses a day to/from Trieste (Italy) taking 25 minutes and costing 1 euro. Regular train and bus services run between Sezana and Ljubljana (7 euro, 2 hours)

See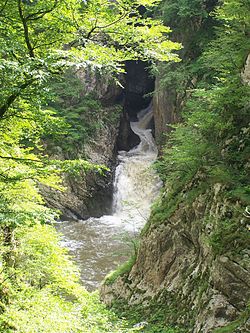 Slovenia is rich in
caves
due to the wide limestone bedrock in the South West, the Coast and Karst that has given name to this particular topography. The
Postojna Caves
in
Postojna
is one of the largest cave systems in the world, containing 20 km of underground galleries, chambers and corridors. The
Škocjan Caves
, near
Divača
, are on the
UNESCO World Heritage List
for its natural and cultural significance.
Drink
phone: +386 5 768 52 52, +386 41 614 196

address: Davorin Jagodič Avber 2 6210 Sežana

Wine tasting, food, wine
Stay safe
With the exception of Koper, Sezana and Nova Gorica all of the settlements are very small and crime is virtually non-existent. In all parts crime is low when compared to all neighbouring countries. Most young people will speak very good English and coastal areas are usually bilingual (Slovene and Italian).