Coastal Kenya
Coastal Kenya
is the region of
Kenya
bordering the Indian Ocean. It includes some of Coast Province and the southern part of Northeastern Province.
Cities
: historic touristic town at North coast
& Watamu: the most scenic beaches in Kenya
- a coastal town where many Europeans live
- Kenya's second largest city, worth visiting for its beaches and colonial heritage
: village at the touristic Diani Beach
: village at the more remote South Coast
Other destinations
Understand
Travel organizations usually offer beach holidays at
South Coast
or
North Coast
, which simply means south or north of Mombasa.
While the
South Coast
(
Tiwi Beach, Diani Beach, Galu Beach, Gazi Beach, Msambweni Beach, Mwazaro Beach
) has the nicer beaches and more primordial nature the
North Coast
near
Mombasa
(
Njali Beach, Bambouri Beach, Shandzu Beach, Mtwapa Beaches, Kikambala Beach
) offers much more activities. The beaches further north (Kilifi, Watamu,
Malindi
) are like South Coast, primordial and tranquil, not as long and broad as Diani Beach but even more photogenic.
Get in
Most tourists come to the coast by plane to
Mombasa
airport and only few via
Nairobi
airport and from there by bus or train.
To reach the
South Coast
from Mombasa airport, most visitors go either by taxi or take the offers of one of the travel agencies at Diani Beach (see:
Diani Beach
/Do/Safaris) that offer pick up services to bring guests to the hotels. The
North Coast
beaches near Mombasa can be reached by taxi or matatu (small minibus "taxis" called
matatus
in Swahili), while to the beaches further north usually by long-distance coaches from Mombasa.
Get around
There are
long distance coaches
that go along the coast with center in Mombasa. From the hotels to the various attractions you can go most comfortable by
taxi
. Every hotel can call you trustworthy drivers and give you a hint about the transport costs. Other transport options are motorbike taxis or tuktuks, a mechanized three-wheeled taxi.
Motorbike taxi
are cheapest but most dangerous and only advisable for short distances and not really on main roads. With
tuktuks
2-3 people can be transported even with goods, shopping bags, etc. They are loud and bumpy but cheaper than a taxi. Advisable for short distances only.
Matatus
are privately owned 9 seater minibuses that ply set routes, run from termini, and are used for both inter- and intra-city travel. They are very cheap but are known for reckless driving and you sit like "like sardines in a tin". Advisable only if you are short in money or want to experience "real African transport".
Uber
works well in Mombasa and Nairobi and you can get fares online. This is useful, as taxi drivers tend to overcharge tourists. An alternative is hostel/hotel transfer:
Hakuna Mutatu Bus
operates on the Kenya Coast, and a ride from Mombasa to Diani or Kilifi costs roughly Ksh 1000. This is a door-to-door service, meaning you will be collected from your current accommodation in Mombasa, Diani, Kilifi or Watamu and dropped directly at your next accommodation.
See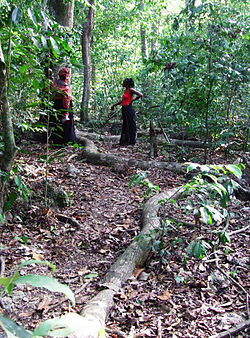 The sacred forests of the MijikendaLocated in Kilifi county, they are inscribed on the UNESCO Intangible Cultural Heritage and UNESCO World Heritage List.

phone: +254 711 479453

address: Diani Beach Road, Diani Beach

A re-adaptation center and orphanage for Angolan colobus in the Kwale County.

phone: +254 704 467855

A semi-forested elephant reserve.

Mwaluganje Elephant sanctuary
Do
Most visitors come to enjoy the wonderful beaches and to go on a safari in one of the many safari parks like
Maasai Mara
,
Tsavo East National Park
,
Tsavo West National Park
and
Shimba Hills National Reserve
.
Diving: There are five marine parks – Diani-Chale, Kisite-Mpunguti, Kiunga, Malindi, Mombasa, and Watamu – protecting the fringing coral reef. Average sea temperatures range from 25°C in August to 30°C in March, and April and May are the wettest months. The sea is calmest from October to March, and whale sharks and manta rays visit between November and February, while humpback whales can be seen from July to October. Dive sites include:
- The deep wall at Nyuli where two currents meet
- The Canyon at Watamu Marine Park – also for wall dives
- Galu Reef – for macro photography
- Kinondo Reef – for large pelagics and shoals of smaller fish
- MV Dania – Cargo vessel sunk as a dive site in 2002
- MFV Funguo – 400 ton fishing trawler sunk as a dive site
Eat
At all tourist places you find a wide range from high end restaurants with international food to cheap local diners with typical african coastal dishes.

Drink
In all bars, restaurants and hotels you will find the world wide known soft drinks, a good beer (Tusker) and most of the famous spirits. Good wines you will get only in upper class restaurants or in the big hotels. Bottled drinking water is available everywhere in the touristic areas.

Stay safe
Especially the south coast and the cost around Mombasa are safe for tourism. North of Malindi towards the Somalian border safety conditions vary and actual information should be looked up on embassy web sides

Go next
. Tsavo East is generally flat, with dry plains across which the Galana River flows with swampy marshland.
: Tsavo West is characterized by a hilly arid landscape. This park is dotted with volcanic cones; dramatic, black lava flows; and a number of rocky outcrops.