Cobh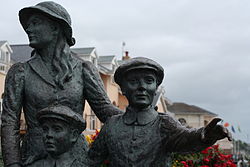 Cobh (Queenstown)
is a small seaport town on Great Island in Cork Harbour,
County Cork
,
Southwest Ireland
. The town faces the sea in rows of terraces rising up the steep hillside, dominated by a tall and handsome 19th century St. Colman's Cathedral, designed by Pugin.
In the era of transatlantic travel it was the first and last port in Europe. In Jules Verne's novel
Around the World in Eighty Days
, the protagonists arrived here from
New York City
. It was the last outbound port of call for the
RMS Titanic
in 1912. It played a major part in the story of Irish emigration with over 1.5 million emigrants passing through on their way to a new life, mostly in North America.
Originally known simply as "the Cove of Cork" it started life as a small fishing village but began to grow rapidly when the British established naval fortifications in the area during the Napoleonic Wars. In 1849 the town was renamed Queenstown following a visit by Queen Victoria but in 1920, during the Irish War of Independence, the town adopted a gaelicised version of "cove" and Cobh became the town's name.
Get in
By road
Cobh (Pronounced Cove) is on an island in Cork Harbour, connected at the north end by a bridge to
Fota Island
at Belvelly which is connected to the mainland by another bridge.
By rail
Cobh railway stationCobh can be reached by Cork's only suburban railway, provided by Irish Rail. By road, Cobh is 20 km from Cork City, crossing the bridge to the island.
By boat
Cobh remains a modern port of call for large cruise ships; scheduled arrivals in Cobh are listed by the
Port of Cork
.
Bus tours
connect to inbound ships at Cobh and Cork to transport cruise passengers locally.
Cobh is 40 km from
Kinsale
. From there, it takes an hour, and requires taking a €4 car ferry that runs from 07:00-23:45. Unlike the ferry from Cork to
Roscoff
,
France
, the ferry to Cobh is poorly signposted.
There are many
cruises
that also run seasonally from Cork to Cobh.
Get around
By taxi
The Taxi Rank is in Pearse Square; it is possible to travel anywhere on the Great Island for around €10 max (2011 price). All taxis have meters fitted and must by law operate them whilst on a journey.
Anthony Cannon

phone: +353 86 862-1783

A Cabs Cobh

phone: +353 21 481-4000

address: 21 Coolamber Drive

Cove Cabs

phone: +353 21 481-2299

Barry's Cabs

phone: +353 87 619-5283

Harbour Cabs

phone: +353 21 481-4444

Island Taxis Cobh

phone: +353 21 481-1111
See
Titanic Memorial

address: Pearse Square

"Commemorating RMS Titanic and her last port of call on her maiden and final voyage, April 11, 1912. In special memory of the Irish emigrants and all those who lost their lives in this great tragedy. Ar Dheis De Go Raibh a N-Anamacha. Memorial erected by the Titanic Historical Society, the Irish Titanic Historical Society, and the people of Cobh."

Lusitania memorial

address: Casement Square

Commemorates a civilian ocean liner sunk by a U-boat attack in the Great War in 1915, with substantial loss of life.

St. Colman's CathedralNeo-Gothic structure with great views of the harbour.

phone: +353 21 481-3591

Museum inside the former dockside building that documents the town's emigration and other history, including the Great Famine and Titanic.

Cobh MuseumLocated at the entrance to the town in an old Presbyterian Church and completely separate to the nearby heritage centre, Cobh Museum has many interesting local artifacts and some genealogical research information. Open from May to October 12:00-16:00.
Do
phone: +353 21 481-3301

In the Old Yacht Club on the harbor. Open M-F 09:30-17:30, Sa, Su 13:00-17:00.

phone: +353 21 481-5211 or +353 87 276-7218 (mobile)

address: Carrignafoy

Michael Martin leads 75-90 minute tours explaining the Titanic story in Cobh, €9, price includes pint of beer at pub at end of tour, daily at 11:00, June to August also at 15:00, meet at Commodore Hotel, private tours available. There is also a Ghost Trail during Summer.

phone: +353 21 481-4412

address: White Star Line Building, 20 Casement Square

Retrace the footsteps of the last 123 passengers who boarded Titanic at Queenstown via cinematic shows, scene sets, holographic imagery and touch screen technology.

Old Church CemeteryOld cemetery 1 km north of town. Contains mass graves of Lusitania victims and many other interesting graves including that of the famous boxer, singer and crooner Jack Doyle.

phone: +353 21 481-1237

address: East Ferry Marina, Cobh

Have fun learning dinghy or cruiser sailing, powerboating or navigation. Enjoyable courses for juniors and adults under the guidance of Eddie English and his crew.
Buy
Parking Discs can be bought in the Tourist Information office or local shops for €.5/hour, maximum of 2 hour parking anywhere in Cobh. The disc zone covers the town centre and some surrounding streets and is marked with signs by the footpath.
Eat
All of the hotels serve food. Good food can also be enjoyed at restaurants.
The Wong Fu Chinese Restaurant, serving Chinese food is on East Beach near the yellow clock tower. is on East Beach near the yellow clock tower. There is a Chinese restaurant, the Hong Kong on West Beach opposite the pier. Takeaways include the Good Food Company and the Ocean Palace Chinese restaurant on Midleton Street at the back of town. The Bella Vista Hotel also operates a Chinese restaurant and takeaway.
Gills Traditional Fish and Chips

phone: +353 21 481-2637

address: 7 Midleton Street

Traditional style takeaway Fish and Chips, Chicken and Burgers.

Jacobs Ladder Restaurant and Bar

phone: +353 21 481-5566

address: Yacht Club Quay, Lower Road

Bistro, seafood, local produce, outdoor terrace with harbour view, beside Cobh Heritage Centre and Train Station on the lower road by the waterfront.

phone: +353 21 481-1343

address: 4 Casement Square

Italian and traditional restaurant, takeaway, fish and chips.

phone: +353 21 481-3539

address: 17 Westbourne Place

Full bar, patio, TV, wi-fi, on waterfront dock near rail station.

Trade Winds Restaurant

phone: +353 21 481-3754

address: 16 Casement Square

Bar, restaurant and patio. Catering service.
Drink
There are many excellent bars in Cobh to enjoy a drink, whether you prefer a quiet atmosphere or music.
Most of the bars (pubs) are located around Casement Square in the town centre, including:
The Mauretania

address: 14 Casement Square

Corner-sited end-of-terrace curved four-bay four-storey house, built c. 1855 and on historic register, now a small, cosy public house named after the famous ocean liner.

Lusitania Bar

phone: +353 21 481-4288

address: 13 Casement Square

Cosy but a bit more spacious, has a maritime feel with lots of photos of old ships and ships paraphernalia.

Ryans Bar

phone: +353 21 481-1539

address: Casement Square

Tarrant's BarFounded 2005, live music.

Kelly's Bar

phone: +353 86 601-5954

address: 19 Casement Square

Small, busy bar at Westbourne Place near the Commodore Hotel. Mezzanine, large-screen TVs, popular with sports fans.
Heading back towards the eastern end of town are three pubs:
Connie Doolans Pub

phone: +353 21 481-4001

address: 26 Westbeach

Olde-world maritime theme, overlooking the sea.

The Well House

address: East Beach/Lynch's Quay

Restaurant and bar; for sale as of 2013.

Anchor Bar

phone: +353 21 481-4674

address: 14 East Hill

Last pub in town, atop a steep hill with a fine view of Cork harbour.
The centre of town gets quite busy (and sometimes noisy) on Friday and Saturday nights so if you want a quiet drink and a chat it's better to head to the back of the town, up that mountainous hill, the area is known locally as the "Top of the Hill". Here you will find the following bars:
The Quarry Cock

phone: +353 21 481-1754

address: 2 John O'Connell St

Nice "local" bar with lovely pine timberwork.

Jack Doyles

phone: +353 21 481-3886

address: 18 Midleton Street

Popular with sports fans, especially fans of Celtic Football Club which has its local supporters club here. Named after the famous boxer, crooner and Hollywood actor Jack Doyle who was from Cobh.

Gilmores Bar

phone: +353 21 481-1965

address: 4 Midleton Street

Old style pub with modern clientele. This was previously in the hands of the Mansworth family for over 100 years.

phone: +353 21 481-1739

address: Orilia Terrace, Tiknock

A lovely old pub, established 1880 at the very top of the hill. Front bar is quite small but widens out at the back. Live traditional music on a regular basis.

The Wolfe Tone Bar

address: Wolfe Tone Street / Roches Row

Settled clientele and not many visitors as its hidden away at the back of the town. Cosy bar with a real coal fire and a friendly atmosphere.
Further afield than these bars you will probably take a taxi. The other bars on the Great Island are:
The Village Inn

phone: +353 12819262

address: Newtownmountkennedy, Wicklow

Pub and former coaching inn, 300 years old. À la carte restaurant, Sunday lunch, bar popular with all age groups. Comfortably furnished, open fire and easy laid back atmosphere. Live music, darts, space for events and parties.

phone: +353 21 481-1629

address: Ballymore Village

Family-oriented country pub, music at weekends, popular with card players.
Sleep
Ard na Laoi

phone: +353 21 481-2742

address: Westbourne Place

A friendly place with 5 rooms.

Bellavista Hotel

phone: +353 21 481-2450

address: Spy Hill, Bishop's Road

18 bedrooms, 4 suites, nice harbour views.

phone: +353 21 481-1277

address: Westbourne Place

A grand 150 year old Victorian landmark which housed Lusitania refugees temporarily.

phone: +353 21 481-5566

address: Yacht Club Quay

18 bright rooms and a harbourside restaurant.

Sheraton Fotaisland Hotel & Spa

phone: +353 21 467-3000

address: Fota Estate, Fota island

131 bedrooms, Championship golf course.
Cope

The town is served by several doctors' surgeries and a number of dentists. For out-of-hours doctors service contact South Doc, Telephone: 1850 335 999.
Dr. Cahill's dental surgery provides out of hours dental surgery in case of emergency. Call 087 27 64 755 for out of hours service only.
There are several pharmacies and chemist shops in the town and they operate a 24 hour service by rotation.
Police: The Garda (Police Station) is located about 300 metres west of the railway station on the Lower Road and is open 24 hours a day. The phone number of Cobh Garda Station is 490 8530 or for emergencies dial 999 or 112.

Nearby
Carrigtwohill
phone: +353 21 481-2678

address: Fota Island

A 75-acre (30 ha) park near Carrigtwohill on the main Cork-Cobh railway line, home to nearly 30 mammal and 50 bird species including giraffes and monkeys in an open setting. Fota House and Arboretum with many rare trees and plants.
Go next
50 km to the west is the charming and equally maritime-historic village of Kinsale.
The world-famous Blarney Castle is also in County Cork, 6 km north-west of Cork city.