Cobourg
Cobourg
is a town of 19,000 people (2016) on the north shore of
Lake Ontario
in Northumberland County, southern
Ontario
. It is approximately midway between downtown
Toronto
and
Kingston
.
Understand
History
United Empire Loyalists fleeing persecution in the United States settled here in 1798. The town began as a group of smaller villages such as Amherst and Hardscrabble, which were later named Hamilton. It was renamed Cobourg in 1818, in recognition of the marriage of Princess Charlotte Augusta of Wales to Prince Leopold of Saxe-Coburg-Saalfeld, who would later become King of Belgium.
By the 1830s Cobourg had become a regional centre because of its harbour on Lake Ontario. The timber and other resources of Cobourg's large hinterland were identified as the key to its prosperity. Peterborough to the north had become the principal source area, and in the 1830s it was still the waterways that were the prime method of bulk transport. Rice Lake and the Otonabee River were brought into use when a steamer ran across the lake and up the Otonabee to Peterborough. But goods and passengers had to cover the last 13 km (8 mi) of valuable timber and mine products. By 1835, a plank road was built to Harwood using 300,000 feet of 3-inch wooden planks, allowing horse-drawn vehicles to haul heavy goods. By 1850 the plank road was breaking up, and was impassible in wet conditions.
By 1852 there was considerable enthusiasm for replacing the plank road with a railway, so plans were made for a 4-km (2.5 mi) long bridge across Rice Lake, to take the railway to Peterborough. By 1854 the rails reached the shore of the lake, and it transported passengers and nearly 2 million feet of lumber from the Rice Lake down to Cobourg that summer. However, all the revenue had to ploughed into building an ill-fated bridge, using hundreds of wooden trestles, 31 Burr Truss spans, and a centre-pivot swing bridge to allow boats to pass. Costs escalated, bond-holders lost their money, and the town council with a debt that was only repaid in the 1930s. The bridge was constructed over the summer of 1854 and was opened on 29 December that year. Three days later it collapsed when ice movements shifted the trestles out of line, splintering the Burr Truss sections. The bridge was stabilized on the southern side, but not on the northern side, and winter ice and shifting lake mud meant that it was frequently unusable.
In 1865 the railway was bought by a consortium of Pittsburgh steel manufacturers, who set up an iron-ore supply route in barges up the Trent River and across Rice Lake to the railway at Harwood. From there it was brought along the railway to Cobourg Harbour, for shipment across Lake Ontario to the steel mills of America. This provided a steady income for the railway and the town until the ore ran out in 1878.
The connections and trade links which developed through the iron shipments brought many American industrialists to Cobourg, which became a popular summer destination. High class hotels were established, followed in the late 19th century and early 20th century by enormous summer homes for wealthy Americans, a few of which still stand. A major ferry service connected Cobourg and Rochester, New York from 1907 to 1952, transporting passengers and cargo across Lake Ontario.
Throughout the late 1980s and early 1990s, the town invested heavily in purchasing property along the waterfront and beautifying the area. A boardwalk was developed to connect the harbour and large sandy beach while further pathways were created to encompass Victoria Park and the historic downtown. Because of this renewal and revitalization, many community activities now revolve in and around these spaces.

Get in
By car
Cobourg is just south of
Highway 401
at exits 472 (Burnham St.) or 474 (Baltimore Rd./Division St.).
By train
===By plane===
The nearest
major airport
is in
Mississauga
.
===By boat===
there is one marina on
Lake Ontario
:
phone: +1 905-372-2397

address: 103 Third St.

Marina with fuel, showers, docking, boat launch ramp, fishing charter boats.
Get around
A segment of Canada's Waterfront Trail is open to cyclists on a former rail right-of-way in the Cobourg area.

phone: +1 905-372-4555

Two hourly local fixed routes, six-day shuttle service to Port Hope, no evening service.
See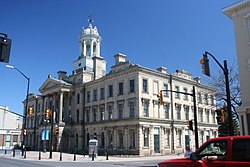 phone: +1 905-372-2210 (concert hall box office)

address: 55 King St. W.

1860 Palladian-style city hall with Old Bailey-style courtroom, Concert Hall and ballroom. National Historic Site with Grecian columns, stone-cut insignia and clock tower. Vintage film festival in late October. Guided tours year-round, site is available as wedding venue. For a brief moment in 1856 the town, with its new railway link to the interior and an east-west rail connection along the Grand Trunk Railway, was feeling secure in its future prosperity, and thought a new town hall would encourage further investment and be an asset to the area. The building serves as the town hall, home of the Art Gallery of Northumberland, the Cobourg Concert Hall, and has a courtroom that is now used as the Council chamber. Victoria Hall was officially opened in 1860 by the Prince of Wales, later to become King Edward VII.

phone: +1 905-372-5481

address: 212 King St. W.

Former home of cinematic star Marie Dressler, now houses a one-room museum. Tourism information on-site. The Marie Dressler Foundation, which restored the 1833 cottage house after a Jan 15, 1989 fire, also presents a Vintage Film Festival in the town.
Heritage Centre: One of the oldest buildings in the town was for many years known as The Barracks, suggesting military connections. However it is equally likely that it was built for industrial uses, either in the very early 1800s or as a malting house and brewery by James Calcutt in the early 1830s. It probably served that purpose until a larger brewery was built by the McKechnies in 1863. The old stone-built building had a variety of industrial and storage purposes, and 20 different owners. In 2000 it was acquired in a run-down state by the Cobourg Museum Foundation, who have restored it and it is now open as the Sifton-Cook Heritage Centre.
Do
phone: +1 905-373-7321

address: South of King Street

Waterfront park, sand beach, boardwalk, picnic area. Bandshell for summer concerts and Shakespeare in the park; Cobourg Concert Band performs free summer Tuesday nights. Cobourg Waterfront Festival on Canada Day weekend, elaborate seasonal decoration at Christmas. Campsites $35-41/day.

address: Hwy 45 at Beagle Club Rd, Harwood K0K 2H0

2,195 hectare (5,424 acre) multi-use forest managed for ecological conservation, recreation and timber harvesting. Protected land with marked, groomed trails.

address: Donegan Park

Annual Scottish festival, late June.

Cobourg Waterfront FestivalCanada Day celebration with arts, food, crafts, entertainment, vendors, events for kids.

Two nine-hole golf courses (Cobourg Creek Golf Course +1 905-373-4444 and Roxburgh Glen +1 905-372-8924) operate locally.
Buy
Farmer's Market

address: behind Victoria Hall

Local produce, apples, preserves and baked goods.
Eat
Buttermilk Café

phone: +1 905-373-7247

address: 44 King St W

Corfu Mediterranean Grill

phone: +1 905-377-8131

address: 8 King St E.

daizies

phone: +1 905-372-7777

address: 74 King St W

Local and organic.

phone: +1 905-372-2263

address: 7 King St. W.

Restaurant, bakery, catering and vending.

Eastern Buffet

phone: +1 905-377-1211

address: 111 Elgin St W

Chinese buffet.

Ginger Thai Cuisine

phone: +1 905-377-0777

address: 39 King St E

Asian.

John's Junction

phone: +1 289-252-1704

address: 609 William St

Asian fusion.

Limestone Steakhouse

phone: +1 905-377-0001

address: 900 Division St

Matterhorn Restaurant

phone: +1 905-372-5231

address: 95 King St W

Swiss.

Red Lantern Buffet Restaurant

phone: +1 905-377-8388

address: 727 William St

Asian buffet.
Drink
Cafés
The Human Bean

phone: +1 289-252-0707

address: 80 King St W

Café, desserts, lunch.
Pubs and bars
Arthur's Restaurant & Bar

phone: +1 905-372-2105

address: 930 Burnham St

Casey's Bar & Grill

phone: +1 905-372-9784

address: 1 Strathy Rd

Sports bar, restaurant.

The Cat & the Fiddle

phone: +1 905-377-9029

address: 38 Covert St

Pub and speakeasy.

phone: +1 905-377-8177

address: 990 Ontario St.

On a nine-hole Cobourg Creek Golf Course (+1 905-373-4444, $25-40/player for one day) in historic 1800s gristmill.

Oasis Bar & Grill

phone: +1 905-372-6634

address: 31 King St E

Spice of Life

phone: +1 905-372-4982

address: 34 Covert St

Bistro and bar.
Sleep
phone: +1 905-372-9231

address: 94 Green St.

Lakeside motel with kitchenettes, cottage and two-bedroom housekeeping units. Can accommodate meetings for 4-10 people. BBQs, sand beach. Jacuzzi, fireplace in some rooms.

Cobourg Inn & Convention Centre

phone: +1 905-372-2105

address: 930 Burnham St.

Indoor pool, Arthur's Restaurant, whirlpool hot tub, business centre, meeting facilities for up to 425 people.

phone: +1 905-372-7007

address: 121 Densmore Rd.

Two-storey economy limited service hotel, continental breakfast, Wi-Fi. Ground-floor rooms have refrigerators.

phone: +1 905-342-5366

address: RR#2, 7100 County Rd. 18, Roseneath K0K 2X0

On south shore of Rice Lake near Harwood. Cottages and condos with fridge/stove/microwave, campground, fishing, BBQ, ice fishing huts and guides in season.

phone: +1 905-372-2228

address: 823 William St.

Motel rooms with refrigerator, microwave. Some rooms have jacuzzi, kitchen. No on-site restaurant.

phone: +1 905-372-5533

address: 1144 Division St.

Motel rooms with refrigerator, microwave. Some rooms have kitchen.

Scotty's Inn

phone: +1 905-373-8880

address: 426 King St E.
Bed and breakfast
Essex House B&B

phone: +1 905-377-3922

address: 351 George St

phone: +1 905-372-6062

address: 1000 Ontario St

Bed and breakfast, indoor pool, next to Cobourg Creek Golf Course,

phone: +1 905-269-7971

address: 77 Albert St

Part of the Cobourg Jail museum site. MacAllisters Restaurant is located in former provincial jail governor's mansion. Spa, meeting facilities.

MacKechnie House B&B

phone: +1 905-372-6242

address: 173 Tremaine St

Willowmere B&B

phone: +1 905-372-9456

address: 197 Water St

phone: +1 905-372-2235

address: 420 Division St

Restaurant and B&B on 1835 heritage estate.
Nearby
Grafton
phone: +1 905-349-3024

address: 10830 Cty. Rd. 2, Grafton

Restaurant and B&B.
Colborne
phone: +1 905-355-2574

address: 262 Orchard Drive, Colborne K0K 1S0

An oversized red apple stands a few stories tall as novelty architecture alongside Highway 401 to promote expensive (about $3/slice or $10/pie) but reasonably good-quality apple pies.
Connect
Wi-fi is available at Victoria Park/Cobourg Marina, at the train station, at the Human Bean coffee shop and at many hotels.

Go next